Math teachers draft lesson plans to educate students ­in general or special math subjects. Homework, assignments, and tests are just some of the tools they use to convey information and knowledge and assess a student's understanding and progress throughout the school year. Mathematics is part of students' core curriculum; therefore, teachers are expected to keep up with the objectives and guidelines of the states to assist students in meeting specified criteria. Most mathematics teachers today are pretty flexible, instructing multiple classes and discussing varying math subjects ranging from beginner algebra to advanced math coursework.
Job Outlook
The future for teaching careers in math is extremely promising, especially now that there is an urgent need for hires in the STEM (science, technology, engineering, and mathematics) department.
Many job opportunities that await math enthusiasts are staggering; however, some states and subject areas have more urgent demands than others. For instance, Alabama (grades 6-12), Arizona, Arkansas, Kentucky (secondary and middle school), and Minnesota endured statewide shortage for math teachers during the school year of 2015-2016.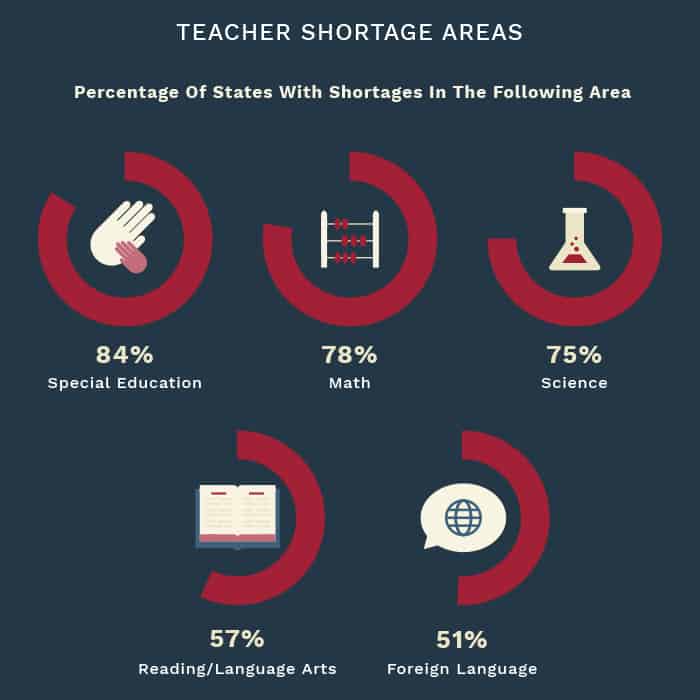 In the future, schools are predicted to hire math education specialists where professionals will serve as a full-time math educator or coach for less-experienced elementary, middle school, and high school teachers. Given that you have complete, if not advanced credentials, there are loads of great opportunities that are yours for the taking.
Personal Qualities
A good math teacher needs to possess certain characteristics to become an efficient educator. One, they should have strong knowledge and skills in the subject of specialization. Two, they should know very well how to communicate to students using math principles, regardless if they are assigned to elementary, middle school, high school, or college students. Moreover, they need to have the patience and comprehension in order to achieve the goal of teaching effectively. These qualities help students in getting the mathematical knowledge they need for more advanced studies and everyday facets of life.