IMPORTANT: THE 2021 ST. PATRICK'S DAY ENROLLMENT PROMOTION HAS EXPIRED. Please check our Limited-Time Offers page for the latest discounts.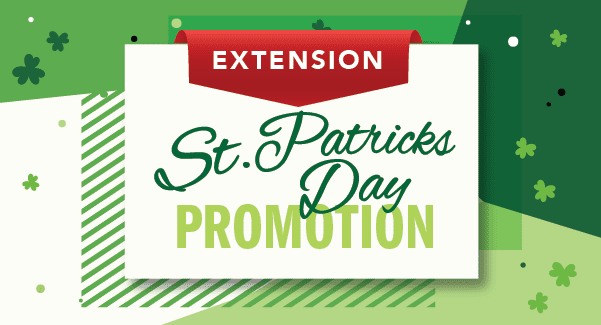 St. Patrick's Day $149 Enrollment Promotion
Texas Teachers of Tomorrow is shaking things up this spring with our unheard-of St. Patrick's Day $149 Enrollment Promotion. This incredible offer will soon expire, so be sure to claim it before it's gone! Until April 11th, when you enroll for only $395 $149 with Texas Teachers, you will unlock access to our nationally accredited curriculum, premium job search resources, exclusive test preparation discounts, candidate services, and more! Our team is dedicated to helping you find your way to the classroom, quickly, affordably, and simply. Are you ready to join the state's most reputable and most preferred program by districts? Well, now you can AND save $246!
How the Enrollment Promotion Works
Claiming your $149 Enrollment Offer is simple! You don't even need a promo code! To enroll and save $246 today, start by filling out your FREE, online application. If you're a visual person, check out how simple the enrollment process is below.

Not only do you get to save $246, but once you enroll, you pay nothing else until you're hired as a full-time teacher earning full pay and benefits! We're confident that our program will set you up for success, which is why after you enroll, you pay no program or monthly fees. Only after you are working as a teacher during your first Internship Year earning full pay and benefits will you assume responsibility for the program fee – until then, leave it to us. We believe in the program and we believe in you. If you're ready to embark on a new, successful career, 2021 is your year. Take advantage of our incredible St. Patrick's Day $149 Enrollment Promotion and begin your journey today.
Why Enroll with Texas Teachers
From enrollment to employment, Texas Teachers is by your side. We are proud to offer you a unique array of benefits. When you enroll, here's what you'll receive from us – and nowhere else:
Save $246. Until April 11th,  enroll for an unheard-of $149!
It's risk-free. Once you have been admitted into the program and have submitted your one-time, low enrollment fee, you'll never pay another Texas Teachers program fee until you're hired as a full-time teacher, earning full pay and full benefits. We have complete confidence in our program, which is why we gladly invest in your success. After you enroll, leave the rest to us! The best part? If at any point, you decide not to continue with the program, you'll never have to pay a cent!
Get job security. Teaching is one of the most secure jobs. Thousands of teaching positions are always available, due to the national teacher shortage and continual demand for more teachers. If you're ready to pursue a stable career, it's time to earn your Standard Certificate with Texas Teachers. Becoming a teacher is a near-guaranteed way to ensure job security and we can help!
Zero deadlines.  We understand that life has the ability to throw a curveball or two! Our program is designed for you to succeed, which is why our online training is 100% self-paced! You'll never have to worry about missing a deadline. This is your program, so find what works for you.
Quality resources. Once you submit your enrollment fee, you'll gain immediate access to over 100 hours of online teacher training, developed by leading educators! Our training is consistently updated to provide you with nothing short of the best.
Claim Your Promotion Before the Deadline
Claiming your promotion is simple! To qualify, you must submit your free online application and enroll in Texas Teachers of Tomorrow before April 11, 2021. After enrolling, clear your path to the classroom by passing your required state exams (check out our exclusive test prep discounts!).
There has never been a better time to reach your dream of becoming a teacher than now! Alongside our incredible promotion comes the knowledge that schools across the state are actively looking to hire year-round! If you're ready to pursue a career with passion and purpose, it's time to answer your calling as a teacher, and join the nation's leading program!

  Enrollment Promotion FAQ  
What do I have to pay right now to enroll?
To enroll, you must pay $149. If you enroll before the deadline on 4/11/2021, you will not be charged an application fee nor monthly training fees.
How do I enroll?
After you submit your application, please read the steps outlined in our enrollment process. Alternatively, you may view our "How to Enroll" video.
How long will it take to process my application and transcripts?
The enrollment process takes between 7-10 business days.
Do you have any additional enrollment promotions or discounts?
Yes! In addition to our current $149 Enrollment Promotion (a $246 savings!), you may learn about our other regular promotions and limited-time offers here.
How long does it take to complete my online Pre-Service Training?
The program is self-paced. Most candidates complete the online training within 2-3 months.
How long do I have to pass my TExES Content Exam and complete my online training modules?
While our program is 100% self-paced, we recommend completing your TExES Content Exam and modules before the summer to place yourself in an optimal position to get hired!
What happens if I don't pass my TExES Content Exam on the first try?
No problem! You may take the exam again!
Will Texas Teachers help me get hired?
Absolutely! We regularly host exclusive job fairs (our next one is in April!) to help candidates land their dream job. Currently, there are over 3,000 open teaching positions.