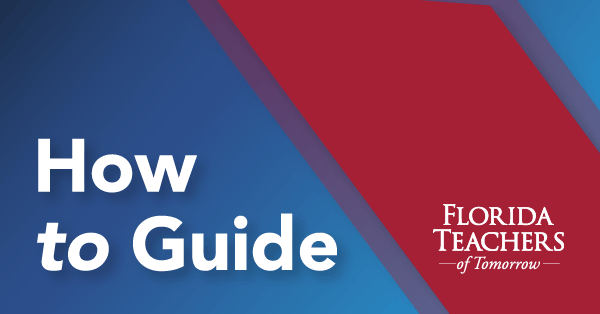 We've streamlined the process to earning your teaching certification. Here's how to do it, broken down into simple, actionable steps.
Let's zoom out to the big picture:

Now we can dial back in and hash out the details.


Making the decision to become a teacher is the first step. If you're here, reading this blog, chances are you've already completed this task!
You're here to become a teacher. Here's why we're here:
Our mission is to guide you, making sure you become the teacher you've always dreamed of being. Our dedicated team is here to encourage you every step of the way. Let's see what the program entails.


Getting the ball rolling is easy. To complete this step, simply apply to the program. That's it. You're ready for step two…


There are a couple things you'll need to gather next. Florida requires every applicant seeking a teaching certification to obtain a Statement of Eligibility (SOE). It's easy to obtain and doesn't require anything too complicated (think name, phone, email, address, certificate type, etc.). If you're interested in pursuing a subject area different from what you majored in, you'll also need to take a Subject Area Exam to receive your SOE.
Once we receive your SOE and transcripts, you may enroll in the program. If you have a minimum GPA of 2.5, one of our trained Program Advisors will get in touch with you. Together, you'll devise your personal education plan, encompassing the steps required for you to earn your certification. Now that you've applied to the program and chatted with an advisor, you're ready to move on to the next step.


Your foot is in the door, keep going! Show the world you're serious about becoming a teacher and begin preparing for your tests.
First up is the General Knowledge Test. Check out this page to see the test breakdown and to find study resources. This test is the real deal, but we know you can do it. Next, you'll prepare for the Professional Education Test. This test covers a variety of topics and serves as the building blocks to becoming an effective teacher. If you're not ready to take these tests – no problem! Many candidates choose to take these during their first year of teaching. Do what feels right for you – it's your program.
You'll also begin your online, comprehensive training, known as your Classroom Readiness Training. Before stepping into the classroom, you'll need to finish this online training.
Consider this portion of your journey learning how to ride a bike with training wheels. We know this is new territory, which is why we have compiled over 275 hours of training. Work through it as slow or fast as you need. The main objective here is to learn, with intention, on your own schedule; you are in control.


You've invested a lot of time and dedication preparing you for this moment. It's now time to take off the training wheels and teach in your own classroom. During your first year, you'll work as a full-time teacher, earning full pay and benefits. There's still a lot to learn, so don't be discouraged. For all those lingering questions, you'll be paired with a Field Supervisor who will help guide and support you. This will help lead to the final step…

After a year teaching in your own classroom, with the guidance of your Field Supervisor, you've made it. Apply for your well-deserved Florida State Professional Certificate. Get out there and go change lives.
Florida, watch out; there's an influx of teachers headed your way!