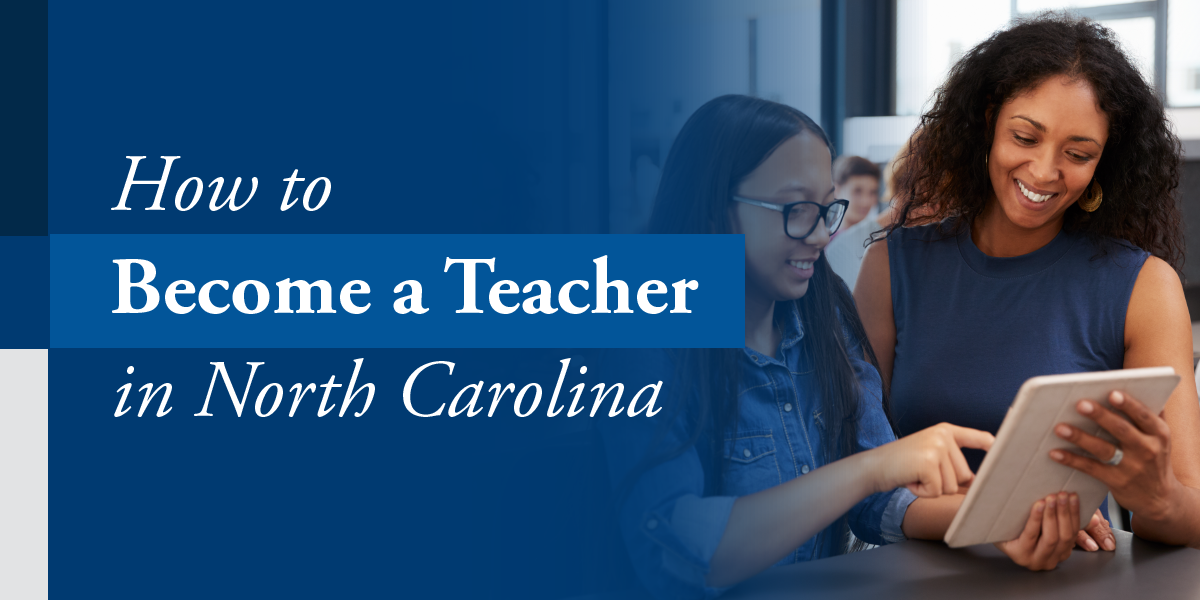 North Carolina is a great state to become an educator. Those aspiring to become teachers must obtain a North Carolina teacher certification to teach in our public schools.  All certification providers in the state must adhere to the North Carolina State Board of Education regulations. For an in-depth view on how to become a teacher in North Carolina, continue reading.
How to Become a Teacher in North Carolina
Those looking to pursue a North Carolina teacher certificate are required to have a 4-year bachelor's degree and complete a teacher preparation program in North Carolina that is state-approved. All interested candidates may apply to North Carolina Teachers for free. Before one may apply for their teacher certification, they must submit required passing exam scores and a background check.
In North Carolina, teachers are required to hold a certification for the subject or grade level they will be teaching. Teaching certificates include the following areas: birth- kindergarten, elementary (grades K-6), middle grades (grades 6-9), secondary grades (grades 9-12), special subjects (K-12), exceptional children (K-12), and vocational education.
Where to Find an Approved Teacher Education Program in North Carolina
The most important step towards North Carolina teacher certification is completing an approved teacher preparation program at an accredited school.
For those who complete an out-of-state educator program, it is essential to look for a program that is regionally accredited. The US Department of Education overlooks six regional accreditation agencies. All schools in the US are generally accredited by one of the six aforementioned accreditation bodies. In North Carolina, schools are accredited by the Southern Association of Colleges and Schools (SACSCOC)
Those looking to pursue teacher certification in North Carolina will need to confirm that any teacher education program offered is from a regionally accredited school and has approval from the North Carolina DPI. Out-of-state or online schools offering teaching programs should be accredited by the corresponding regional agency and approved by the board of education for the state in which they are located.
In addition to regional accreditation, schools may also look for accreditation from the AAQEP Association for Advancing Quality in Educator Preparation  Although AAQEP accreditation is not a requirement, it vouches for the integrity of the program as it speaks to the quality of education provided to program completers.
Education Requirements for North Carolina Teachers
Previously, the most common path to earning one's teacher certification in North Carolina was to complete an approved education program from an accredited school. Now, the newest pathway is alternative certification programs. The alternative certification pathway challenges the college or university path, as it allows those who already have a 4-year degree to earn their teacher certification without returning to college/university. The education requirements to enroll with an alternative certification program, such as North Carolina Teachers, is a 4-year bachelor's degree and a GPA of 2.7+  For those who do not hold a bachelor's degree, the only option is to pursue certification through a 4-year degree program.
Testing Requirements for North Carolina Teachers
Testing requirements for North Carolina teacher certification include the Praxis Subject Assessments for middle, secondary, and K-12 licensure areas. Those looking to obtain an Exceptional Children certification: General Curriculum are also required to take the Pearson Test for North Carolina: Foundations of Reading and General Curriculum. At the time of application, candidates applying for a North Carolina teaching certificate must have already met the minimum passing score on the appropriate exams.
Additional North Carolina Teacher Certification Requirements
While most school districts in North Carolina will require that all candidates complete fingerprinting or a background check before employment, it is not required by the actual state of North Carolina (most other states do).
North Carolina Teacher Salary Averages
8 Most Common Teacher Interview Questions in North Carolina
Learn how to answer your interview questions with confidence and land your dream job. Read article.