How to Get a Teaching License in South Carolina
South Carolina is a great state with many opportunities for people who love teaching to become educators. South Carolina Department of Education (SCDE) requires a license/certification to teach. If you've thought of becoming a teacher in South Carolina teacher, you accomplish this in multiple ways. While there are several pathways to doing this, your options depend on your level of education and experience.
South Carolina has developed a how-to guide to help you determine the pathway that's right for you at any point in your career.
This could be the beginning of your journey and you need to know about the state's teacher certification process or this maybe the middle and you want to learn how to progress to advanced certification and specialize, or you're a teacher looking to move to South Carolina from out of state and want to understand how teacher reciprocity works.
The great news is that you will find all the answers here!
Getting Started with Requirements for Teachers
A chronic teacher shortage in South Carolina has left school districts in dire need of certified teachers. Eager to remedy the situation, the state has funded initiatives to attract and retain teachers where they are needed most. The South Carolina Department of Education has helped by increasing alternative options for certification. Individually, some school districts offer hiring bonuses to fill positions in the most critical areas. As a certified teacher in South Carolina, you'll be in demand, with many attractive opportunities to pursue a rewarding career in teaching.
The traditional route to South Carolina teacher certification includes earning a bachelor's degree or higher from a college or university that has a state-approved teacher education program. Additional requirements include achieving the required scores on basic skills, pedagogy and content area assessments. Fingerprinting for a criminal records check by the South Carolina Law Enforcement Division (SCLED) and the FBI also is required. This traditional route to certification leads to a three-year nonrenewable Initial Certificate.
Before your Initial Certificate expires, you must qualify for a Professional Certificate. This includes completing the Assisting, Developing and Evaluating Professional Teaching (ADEPT) summative evaluation process through a South Carolina public school district. If you did not complete a state-approved teacher preparation program prior to your Initial Certificate, you must meet the pedagogy requirement as well as completing the ADEPT program. A valid National Board teaching certification also qualifies you to transition to a Professional Certificate.
A Professional Certificate is issued according to your credentials at the time of your application. Professional Certificates are categorized by bachelor's degree, bachelor's degree plus 18 hours, master's degree, master's degree plus 30 hours and doctorate levels of education.
If you hold an Initial Certificate and teach in a South Carolina public school, but did not meet the requirements for a Professional Certificate before your Initial Certificate expired, your employing school district can request annual renewal. If you hold an Initial Certificate and are employed in a South Carolina non-public school in a position that requires certification, your certificate can be extended every year indefinitely when requested by your employer. You can pursue a Limited Professional Certificate when employed by a South Carolina non-public school in one certification area for a minimum of three years over the previous seven years. A valid Initial Certificate and successful completion of an annual performance evaluation also are required.
Other options for certification include a one-year Alternative Route Certificate for graduates of a Program for Alternative Certification or a one-year Temporary Certificate, which allows teachers who did not meet the full Initial Certification requirements to teach while they fulfill their missing qualifications.
Minimum Education Requirements for South Carolina Teachers
A bachelor's degree is the minimum education requirement for South Carolina teachers. Initial certification candidates also must complete a teacher education program through a regionally accredited institution or from a state institution that has teacher education programs approved by the South Carolina Board of Education or the National Council for Accreditation of Teacher Education (NCATE). College credits or degrees presented for the advancement of teaching certificates from Institutional to Professional must be from institutions that meet the same criteria.
Student Teaching
Student teaching, or a student internship, is required for completion of approved teacher education programs in South Carolina. You must ensure that your Department of Education application files are complete six months before your student teaching begins. A one-year Internship Certificate, requested by your employing school district, is required for student teaching. You also must submit to electronic fingerprinting for a criminal background check by SLED and the FBI prior to the start of your student teaching assignment.
Before you begin student teaching, you must complete at least 100 hours of diverse field experiences at the undergraduate level or at least 75 hours of diverse field experiences at the graduate level. Your student teaching experience must last at least 12 weeks or 60 full days with at least 10 full days of independent teaching in one setting. If you meet all the requirements for certification except student teaching and have three years of teaching experience, you may be able to bypass student teaching if your experience occurred in the area for which you desire certification.
Pass South Carolina Certification Exams
You must pass South Carolina certification exams for an Initial or Professional Certificate. Prior to entering a state-approved teacher preparation program, you must fulfill a basic skills requirement by achieving acceptable scores on the Praxis Core Academic Skills for Educators assessments in Reading, Writing and Mathematics. SAT or ACT scores that meet state minimums can be substituted for the basic skills assessment.
If you are applying for an Initial Certificate after completion of a teacher preparation program, you must achieve required scores on the Praxis II: Principles of Learning and Teaching (PLT) pedagogy assessment that aligns with the grade levels you intend to teach. You also must submit passing scores for the Praxis II subject area assessments that align with your certification.
To qualify for a Professional Certificate, you must complete the formal ADEPT summative evaluation process. Qualifying scores from the Praxis II: Principles of Learning and Teaching (PLT) pedagogy assessment are required for a Professional Certificate if you did not take the assessment as part of a teacher education program prior to an Initial Certificate.
Apply
You can apply for South Carolina teacher certification by completing an application online or on paper. In addition to an application form, you also must submit official transcripts from every college or university you attended. Electronic transcripts must be sent directly to the DOE from a registrar's office or transcript service; paper transcripts must be mailed in a sealed envelope.
Your required teacher examination scores must be submitted directly to the DOE from the testing service. You also must provide a completed Verification of College Preparation Recommendation for Teacher Certificate form signed by an official representative of your teacher preparation program. An Experience Verification Form signed by an appropriate representative of the educational entity where you completed your teaching experience also is required. These forms can be submitted via email or fax if you are applying online or mailed in your application packet.
SLED and FBI background clearances performed by the state's approved fingerprinting provider, MorphoTrust USA, within 18 months of your application also are necessary. In addition, you must mail or fax a copy of your U.S. Social Security Card and pay a non-refundable application fee.
What is the salary for a South Carolina Teacher?
South Carolina teachers earn salaries based on their levels of education and experience. These different levels and factors such as a master degree and the subject taught can also affect teacher salaries. The average South Carolina teacher is listed below.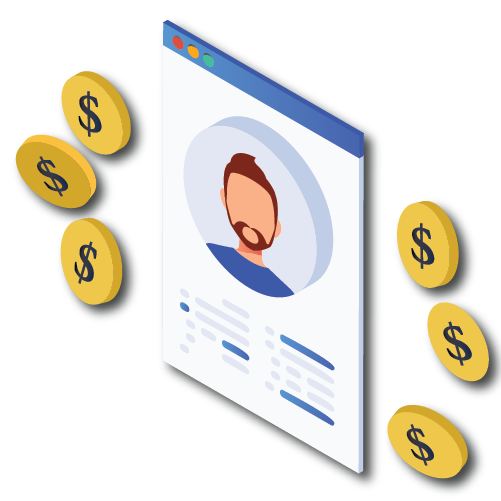 | POSITION | AVERAGE SALARY |
| --- | --- |
|  Childhood Educator | $29,250 |
| Elementary School Teacher | $48,480 |
| Secondary School Teacher | $51,670 |
| Special Education Teacher | $57,910 |
| School Administrator | $92,510* |
| School Principal | $95,300** |
Source: U.S. Bureau of Labor Statistics Occupational Employment Statistics; *U.S. Bureau of Labor Statistics Occupational Outlook Handbook **General poll survey of SC Principlas
Alternate Teaching Certification
At South Carolina Teachers ACP, we want nothing more than to do our part in combating the teacher shortage. That's why we've created the quickest route to becoming a certified teacher. To apply to our program, all you'll need a 4-year bachelor's degree and a qualifying GPA. That's it!  All content areas require a 2.5 GPA or higher. Once you've sent in your application, you'll need to speak with a program advisor to review program details and send us your official transcripts to evaluate your college coursework.  From there, we will assign the appropriate subject exam based on our program 21 credit hour guidelines.  To view a full list of critical need content areas in South Carolina, click here.
Once we've received these documents, you'll be able to enroll in our program! A Program Advisors will get in touch with you and help you create your personalized education plan. Your journey to certification is unique and we want to help you throughout every step!
State Testing
After you've enrolled in our program, it's time to prepare for your exams. To register for your exams, you'll need to create an account with the ETS Praxis website. Once you've created your account, you'll be able to see available testing dates and register for the time of your choosing. And remember, you can take your Praxis exams from home!
You'll need to take two exams: The Praxis II Subject Assessment(s) and the Praxis Principles of Learning and Teaching (PLT). The type of Subject Assessment(s) you take is dependent on which subject area(s) you are approved for based on your transcript review.
The Principles of Learning and Teaching exam is required to be passed during the first calendar year of teaching on your certificate. You can take this exam before you begin teaching, but most candidates wait until they've gained experience in the classroom since this test is focused on the application of pedagogy in the classroom. South Carolina Teachers does not have any testing deadlines for your Praxis II subject exams, so allow yourself as much time as you need to prepare. We recommend looking into The Learning Liaisons for test prep, as they have been helping people ace their exams consistently for a great price! They've given all of our South Carolina Teachers candidates an exclusive 15% discount, so take advantage of the reduced price on this amazing test prep! To view more information on state testing and study materials, check out our State Tests Resources page.
Complete Training
South Carolina Teachers knows it can be daunting to start training for a new career path. That's why our fully online training program is split into two phases. We want you to be able to complete your training at a pace that fits you and your schedule. Our research-based curriculum is designed to help you be the best teacher you can be!
Phase I: Classroom Readiness Training is completed before you get in the classroom. It consists of different teacher training courses, such as Educator Professionalism and Components of Effective Instruction. All this training is done online and can be done at your own pace. The sooner you complete it, the sooner you get in the classroom!
Phase II: Excellence in Teaching and Learning is completed during your Internship Year. While you're teaching, you'll be completing courses such as Developing English Language Proficiency and Digital Tools for Today's Classroom. This coursework is dependent on the requirements that the state has for your area of certification. To learn more about how training works, please click here.
Start Teaching: Your Internship Year
When you start your Internship Year of teaching, you'll be paired up with a Field Supervisor to support you in the classroom. Field Supervisors are experienced teachers and administrators who will offer advice and strategies to help you succeed during your first year of teaching. You receive a Field supervisor once you are hired as a full-time teacher of record. They'll get in contact with you and set up meetings with you, visit your classroom periodically to review your teaching and answer any questions you have along the way. They are there to provide you with consistent, positive support throughout your teaching journey.
During your first year, your Campus Administrator is there to help you acclimate to the on-campus culture. They will evaluate your performance and discuss your progress with you regularly. At the end of your internship year, your Field Supervisor and your Campus Administrator will submit a recommendation for your Professional License. South Carolina Teachers will handle this part for you, so no action is required on your part.
In addition to completing your training during your internship year, you'll need to submit six skill-based projects to South Carolina Teachers. This is to show us that you fully understand and comprehend the learning objectives of a specific group of courses and that you exhibit the skills teachers need to be proficient in their field. To learn more about your internship year, click here to visit our Internship Year resource page.
#GetHired
Once you've completed 3 years of teaching on an Alternative Route certification, you are officially ready to apply for your South Carolina Professional License! You'll be able to apply for full-time positions anywhere in South Carolina.  You have a multitude of options at your fingertips, so go and take them! South Carolina Teachers is committed to your success, which is why we've compiled resources to help you #GetHired. We also post job fairs occurring all over the state of South Carolina, so be sure to check our Teacher Job Fair Page regularly.
Apply Today, Change Tomorrow
The South Carolina teacher shortage is a real and serious issue that is affecting the lives of students everywhere. We want to help you do your part in combating the shortage and providing the young minds of tomorrow the quality education they deserve. Are you ready to take the next steps towards becoming a teacher of tomorrow? Apply today!