How to Earn A Teaching Certification in South Carolina
South Carolina is an excellent state for a career in education. Those aspiring to become teachers must obtain a South Carolina teacher certification to teach at public schools. All certification providers must adhere to the South Carolina Department of Education regulations for the certification process. If you're looking for more information on how to earn your certificate to teach in South Carolina, continue reading our ultimate guide!
How to Become a Teacher in South Carolina
Candidates looking to pursue a South Carolina certificate must hold a bachelor's degree and complete an approved teacher preparation program, such as South Carolina Teachers. Before you may apply for your teacher certification, all state-required exams must be complete with a passing score. Those who hold a bachelor's degree and 2.5+ GPA are eligible for the Initial Educator certificate, which is valid for three years. To advance to a Professional Certificate, candidates must continue education, earn acceptable teacher evaluations, and pass the Pedagogical Knowledge Assessment.
Finding Approved Teacher Education Programs in South Carolina
The most crucial step to becoming a South Carolina teacher is completing an approved teacher education program at an accredited institution. All accredited institutions must be approved by the South Carolina Department of Education. In addition to regional accreditation, schools may also look for national accreditation from the Association for Advancing Quality in Educator Preparation (AAQEP). This is not a requirement, but it is preferred. South Carolina Teachers is proud to say we are fully accredited through AAQEP. This means that we have shown commitment in providing all of our candidates with the highest quality of education to ensure their success in completing our program. To learn more about our accreditation, please click here.
Education Requirements for South Carolina Teachers
Previously, the most common path to earning one's teacher certification in South Carolina was to complete an approved education program from an accredited school. Now, the newest and most popular pathway is alternative certification programs. The alternative certification pathway challenges the traditional college or university path, as it allows those who already have a 4-year degree to earn their teacher certification without returning to college or university. The education requirement to enroll with an alternative certification program, such as South Carolina Teachers, is a 4-year bachelor's degree and 2.5+ GPA. For those who do not hold a bachelor's degree, the only option is to pursue certification through a 4-year degree program.
South Carolina Teacher Testing Requirements
As required by the South Carolina State Board of Education, all candidates seeking certification must take and pass the Praxis Principles of Learning and Teaching (PLT) and Praxis subject assessments. The specific exam you take will depend on which subject area(s) you seek certification. Teacher candidates typically complete the edTPA assessment during their teacher preparation program; in some cases, passing scores can substitute for the PLT exam. To learn more about testing requirements, test prep discounts, and study materials, check out our State Testing resources page.
Additional South Carolina Teacher Certification Requirements
South Carolina requires all prospective teachers to submit fingerprints for a state and federal background check. South Carolina has an entirely online fingerprinting system for all state residents, and out-of-state residents submit a manual card scan.
South Carolina Teacher Salary Averages
Take a look at average teacher salaries in the state of South Carolina!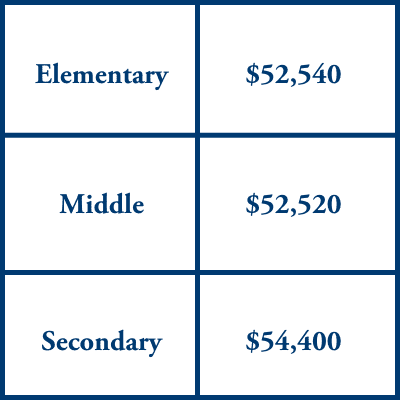 Ready to Get Certified? Let's Go!
Pursuing a career in education is a fulfilling journey towards your dreams. Getting started is easy and the best part is you can start as early as today! We are committed to your journey in becoming a teacher and we have made it our mission to help people jumpstart their teaching careers. South Carolina Teachers has helped over 70,000 candidates get in the classroom and we are confident we will do the same for you. We can help you start teaching this fall and help shape the future of younger generations!