WILL TEXAS TEACHERS HELP ME GET HIRED?
Absolutely! You ultimately choose which districts to apply with, but Texas Teachers has a team of representatives that work closely with schools across the state. We provide thousands of candidate lists to schools every year and host both in-person and virtual job fairs. We notify candidates regarding teacher hiring events and list the schools that have recently requested our candidates. We also provide a wealth of resources to help you prepare to get your first teaching job, from online webinars and seminars to resume review services and portfolio guidance.
WHAT DO I NEED TO GET HIRED?
Currently, the only item required to get hired is your Statement of Eligibility. If you have passed your content exam, your Enrollment Letter will also help!
WHAT IS A STATEMENT OF ELIGIBILITY?
Your Statement of Eligibility (SOE) is a document which states that you are currently enrolled in Texas Teachers and are eligible for hire. You can find this document in your Intern Portal under the "Menu" and the sub-section called the "Enrollment Letter / SOE" tab. When you are offered employment, you will take your blank SOE to your hiring school district. After your principal or HR department fills out your SOE, they will return it to us and we will complete it and recommend you for your Intern Certificate. Please make sure you complete your "I Got a Job Form" in the intern portal and pay for your intern certification and fingers prints with TEA once you accept a teaching position.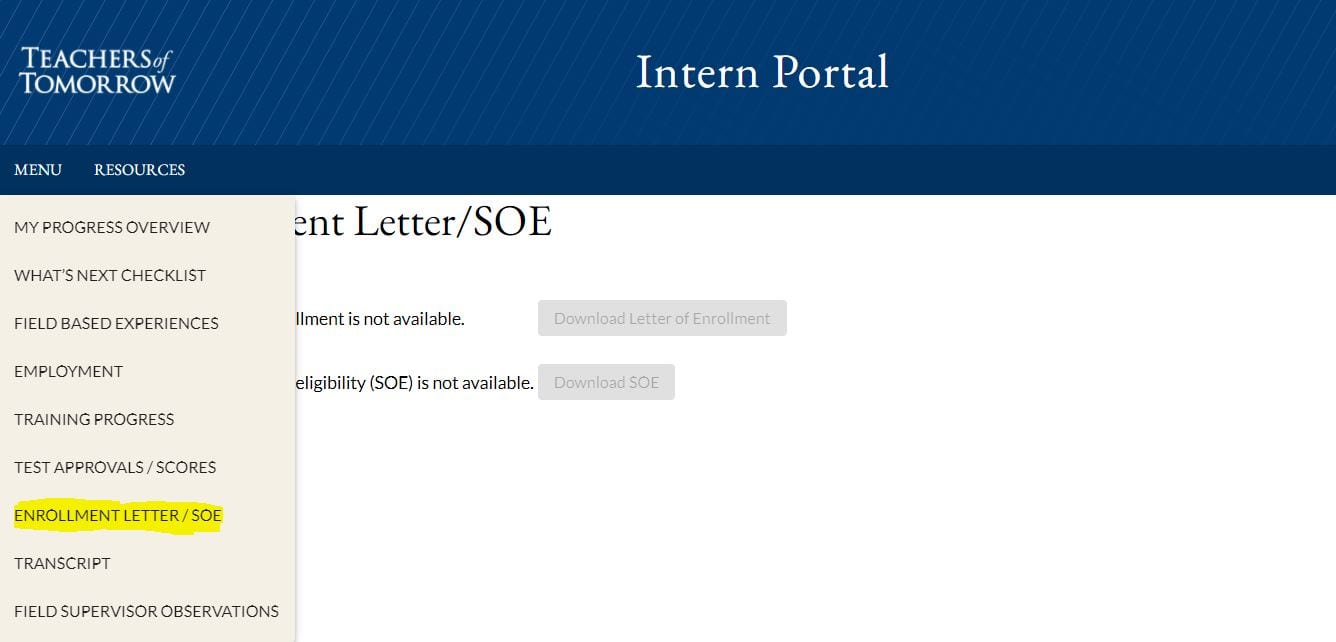 When do I have access to my SOE?
You can access your SOE once you have completed your pre services requirements that include your content test, required training modules, and field-based experiences (FBEs). The SOE can be downloaded in the intern portal under the "Menu" and the sub-section called the "Enrollment Letter / SOE" tab.
WHAT IS AN ENROLLMENT LETTER?
Your Enrollment Letter is available after you demonstrate subject matter knowledge by passing a content exam. Your SOE will attach as a second page to your Enrollment Letter. You can find this document under the "Menu" and the sub-section called the "Enrollment Letter / SOE" tab.
WHEN SHOULD I START MY JOB SEARCH?
We recommend starting your job search as soon as you have received your Statement of Eligibility!
WHAT TYPE OF POSITIONS SHOULD I APPLY FOR?
To qualify for an Intern Certificate, you must be hired by a TEA-accredited campus as a full-time teacher of record for the subject(s)/grades in which you have demonstrated subject matter knowledge (or have been approved for an exam).
I HAVE QUESTIONS ABOUT A JOB APPLICATION; WHO SHOULD I ASK?
You should call the school Human Resources department, as each district application is unique. We recommend you attach both the Enrollment Letter and SOE when submitting a school application. If you apply with only the Enrollment Letter, submit a new application or amend your previous application once your SOE is available, and then call the school HR department to notify them of the change.
WHAT SHOULD I DO AFTER I RECEIVE A JOB OFFER?
Congratulations! After you receive a job, it is extremely important to submit the "I Got a Job" form in your Intern Portal under the "Menu" tab and under the subtab "Employment". We will then work with the school district to process your SOE and recommend you for your Intern Certificate.
REQUIRED: Steps to complete with TEA after you submit the I Got A Job Form.
Background Check / Finger Prints with TEA
Apply for Intern certification with TEA
All 3 steps must be required before Texas Teachers can recommend your Intern Certification.