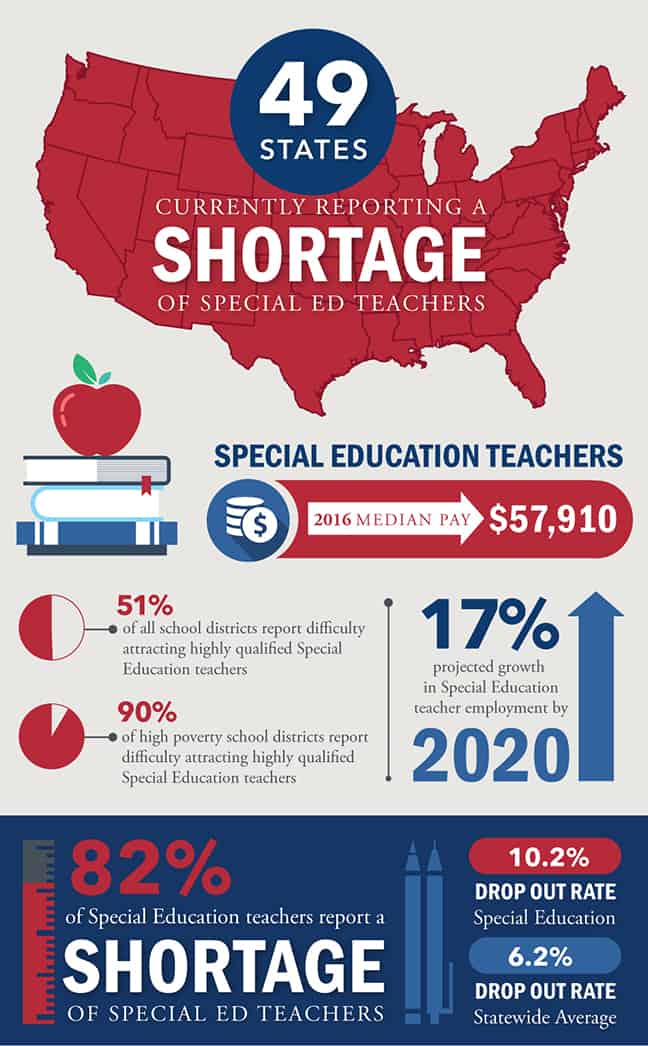 Steps to Become a Special Education Teacher
Apply for free. You must have a bachelor's degree from an accredited institution with a minimum GPA of 2.5 to become a teacher in Texas
Submit your bachelor's degree transcripts to Texas Teachers
Pass the following certification exams:
*Core content exams: EC-6 or 4-8
*Special Education EC-12
Complete the online training. Our training covers everything you need to know so that you are prepared, confident and ready to start teaching. Texas Teachers provides students with educational resources, a mentor, a study community and specialized training in Special Education areas like Life Skills, Co-teaching, Inclusion, IEPs, etc
Should that be start instead of starting?
What can I Expect as a Special Education Teacher?
Classroom Environment. Not all students with special needs attend contained classes. In fact, 66 percent of students with learning disabilities spend 80 percent or more of their school day in general education classrooms, according to a 2014 report by the National Center for Learning Disabilities. Overall, however, special education classroom sizes are smaller which allows for a more personal connection.
Individualized Education Plans (IEP): a written statement of the educational program designed to meet a child's individual needs. Every child who receives special education services must have an IEP, and it includes things like student performance, goals, accommodations, etc.
High Demand: It's no surprise that 49 states report a shortage of special education teachers, and 82% of special education teachers report that there are not enough professionals to meet the needs of students with disabilities. In fact, the Houston Chronicle reported a 21 percent growth for special education teachers at the preschool through elementary school levels, and a 20 percent growth rate at the middle-school level.
Higher Pay. According to the Bureau of Labor Statistics, the median pay for special education teachers in 2016 was $57,910. On top of that, many districts will pay special education teachers a $1,000-$3,000 stipend each year.
Want to learn more about becoming a teacher? Check out our free guide on How to Start a Teaching Career or speak with one of our Program Advisors at 1 (877) 888-2640.