Alabama is a great state to pursue a career in education, especially since there is currently a statewide teacher shortage. If you're looking to help the state of Alabama combat the teacher shortage and fill these vacancies, then you've come to the right place! Those aspiring to become teachers must obtain an Alabama teacher certification to teach in our public schools. All certification providers must adhere to the Alabama Department of Education regulations for the certification process. Continue reading our ultimate guide to teacher certification for more information on your dream career path.
How to Become a Teacher in Alabama
Candidates looking to pursue an Alabama certificate must hold a bachelor's degree and complete an approved educator preparation program, such as Alabama Teachers. Before one may apply for their teacher certification, all state-required exams must be complete with a passing score.
Once the basic requirements for certification are met, a Professional Educator Certificate is issued. Professional development hours are required to keep the certification valid. Candidates looking to earn advanced certificates can do so by earning a master's degree.
Where to Find an Approved Teacher Education Program in Alabama
The most crucial step to becoming an Alabama teacher is completing an approved teacher education program at an accredited institution. All certification programs and institutions must be recognized by the state of Alabama. Alabama Teachers is state accredited and a part of the nationally accredited company Teachers of Tomorrow. This means we are committed to ensuring we are providing the best education possible to our candidates. To learn more about our program and how we help our candidates succeed, please click here.
Education Requirements for Alabama Teachers
Previously, the most common path to earning one's teacher certification in Alabama was to complete an approved education program from an accredited school. Now, the newest and most popular pathway is alternative certification programs. The alternative certification pathway challenges the traditional college or university path, as it allows those who already have a 4-year degree to earn their teacher certification without returning to college/university. The education requirement to enroll with an alternative certification program, such as Alabama Teachers, is a 4-year bachelor's degree with a 2.75+ GPA. For those who do not hold a bachelor's degree, the only option is to pursue certification through a 4-year degree program.
Testing Requirements for Alabama Teachers
To obtain teacher certification in Alabama, candidates must take two tests. The first required exam is the Alabama Educator Certification Testing Program: Basic Skills Assessment, which tests reading, writing, and mathematics. Additionally, candidates must take the subject and grade-level specific Praxis Subject Assessments in the subject area they are pursuing. To learn more about state testing, test prep discounts, and study resources, check out our State Testing resources page.
Additional Alabama Teacher Certification Requirements
Alabama requires both a state and federal background check before the teacher certification application is submitted to the Department of Education. The background check requires the submission of fingerprints. Once prepared, it can be submitted through Cogent for a background check by the ABI and FBI.
Alabama Teacher Salary Averages
Check out the average teacher salaries for the state of Alabama!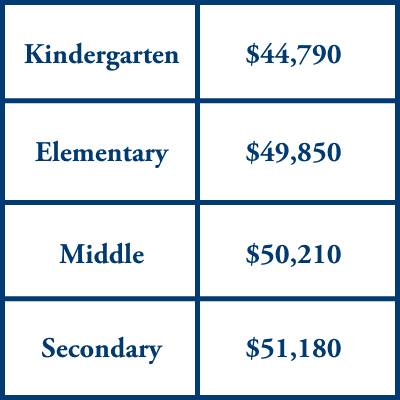 Ready to Get Certified? Let's Go!
A career in education is gratifying and makes a huge difference in students' lives. Getting started is easy and the best part is you can start as early as today! We are committed to your journey in becoming a teacher and we have made it our mission to help people jumpstart their teaching careers. Alabama Teachers has helped over 70,000 candidates get hired and we are confident we will do the same for you. We can help you start teaching this fall and help shape the future of younger generations!

FAQ:
Is Alabama a good state for teachers?
Alabama is a good state for teachers because of many reasons. It is a great place to start your Alabama teacher career, network with other teachers in the field, and gain relevant work experience to add to your resume. 
How to become a substitute teacher in Alabama?
In order to become a substitute teacher in Alabama, there are a variety of prerequisites that you must be able to provide or pass. First, you must have a high school diploma. You must also be able to pass a background check and complete the necessary steps in applying for a substitute license from the state. 
What is required to be a teacher in Alabama? 
When looking at how to become a teacher in Alabama, there are a few prerequisites to consider. In order to be an Alabama teacher, candidates must have at least a bachelor's degree. If they are pursuing a traditional route, the bachelor's degree must include a state-approved educator prep program. For an alternative route, individuals can pursue an alternative teacher certification approach, like Alabama Teachers of Tomorrow. From there, they must pass all necessary exams. 
How do I become an elementary school teacher in Alabama?
In order to become an elementary school teacher in Alabama, individuals must complete an education program. In addition to this, they will need to complete 32 hours of study in a specific field. Once individuals receive this certification they can teach grades K-6. 
How to become a math teacher in Alabama?
Becoming a math teacher in Alabama has a similar path to becoming a certified Alabama teacher. You must have your bachelor's degree and complete an Alabama Educator Certification Program. Once you have passed the necessary tests, you can become a math teacher in Alabama by applying for your Initial Certification as a Mathematics Teacher in Alabama.