Teaching in elementary education provides a rewarding career where you help provide the building blocks to learners' education. It's a position of great privilege as you influence the future of the next generation. Teaching in Indiana is becoming increasingly attractive as lawmakers use financial strategies to address its teaching shortage. 
The average annual elementary teacher salary in Indiana as of May 2022 was $54,200. Salary ranges can vary widely depending on the city and many other important factors, including education, certifications, additional skills, and the number of years you have spent in your profession.
In this guide, Teachers of Tomorrow highlights the salaries for elementary school teachers in Indiana. We'll also share the steps you need to take to become an elementary teacher and available alternative teacher certification options. 
What Is an Elementary School Teacher? 
An elementary school teacher in Indiana works with learners from kindergarten until sixth grade. Educators at this level try to cultivate a love of learning as they introduce children to foundation subjects such as reading, writing, math, science, social studies, and the arts. 
In Indiana, children must be at least five years old by August 1 of that year to begin kindergarten. Thus, elementary school teachers work with learners as young as five and as old as twelve, guiding curious minds through a period of extraordinary developmental and physical change. 
Becoming a successful elementary school teacher requires cultivating the following skills: 
Listening:

To understand and deliver what your learners need and maintain productive relationships with co-workers, you need to hear them. 

Patience:

Curious young minds combined with high energy require calmness and understanding as you direct them into activities and lessons

Reason and problem-solving:

Learners and colleagues can create unique and challenging situations daily. It requires creativity, logic, and adeptness to find solutions that keep the classroom and activities running smoothly.  
Teachers in Indiana are expected to continue learning after their certification to ensure they stay up-to-date with the latest information on child development, classroom techniques, and technological advances. 
How Much Do Elementary School Teachers in Indiana Make?
The average annual salaries for elementary school teachers in Indiana as of May 2022 according to the Bureau of Labor Statistics:
Highest salary – $75,290

Average salary – $54,200

Lowest salary – $38,320
Elementary school salaries in Indiana vary depending on where in the state you work, education level, additional skills, certifications, and the number of years of experience.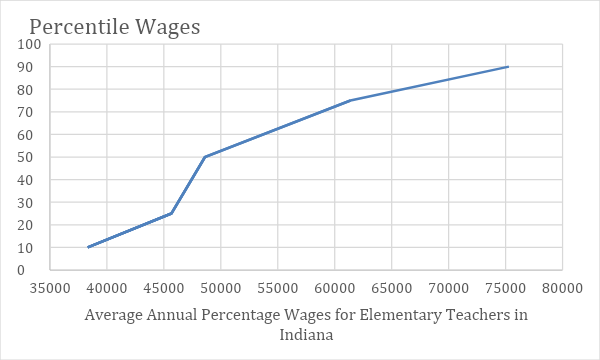 How To Become an Elementary School Teacher in Indiana 
Becoming a teacher in Indiana requires a bachelor's degree like everywhere else in the country. However, the steps after that vary as each state has its own rules regarding licensing and certification. 
According to the Indiana Department of Education (IDOE), the steps to becoming an elementary school teacher include: 
Obtain a bachelor's degree with a 3.0 on a 4.0 scale:

If you attend an Indiana-accredited college or university and study elementary education, the teacher preparation component is part of the course. 
Or
Obtain a bachelor's degree with a 2.50 on a 4.0 scale and five years of relevant professional experience: You can obtain the necessary experience through being a substitute teacher. 
OR
Obtain a bachelor's degree from a local university and pass state-approved teaching tests. 
Once you have obtained your teaching license, you can start applying for elementary school teaching positions in Indiana. You can look at school district websites, education job fairs, and for openings on job boards such as Indeed and Glassdoor.
Alternative Route to Certification for Elementary School Teachers
Indiana has been hit particularly hard by the country's teaching shortage. One of the ways the state is trying to address it is through its Transition to Teaching programs, such as the one provided by Teachers of Tomorrow. It allows candidates to immediately begin working as a teacher while working towards a Practitioner License.
Transition to Teaching is open to people who hold a regionally accredited bachelor's degree, and it does not have to be in education. Those participating in the program are hired by an Indiana school corporation and granted a three-year, non-renewable T2T permit. 
The steps to take part in the Transition to Teaching include:
Already have a bachelor's degree or higher from a regionally accredited institution and the official transcripts. 

Complete Indiana Teachers' application and interview. 

Receive the Indiana Teachers Letter of Acceptance.

Get hired

as a teacher in an Indiana school. 

Work with your Indiana Teacher advisor. 

Do your Classroom Readiness Training and Field-Based Experience

Complete the

CPR/AED/Heimlich

certification. 

Complete the

Suicide Prevention

certification. 

Follow the IDOE's

step-by-step instructions

to apply for your Transition to Teaching permit.

Begin teaching once you have your T2T permit. You will teach on it for two years and complete the requirements for your Practitioner License in your first year.

Pass the

Praxis Content and Principals of Learning and Teaching Exam

for your grade level.

Complete two years of teaching.

Receive a recommendation from the Building level Administrator and Field Supervisor at the end of your Internship Year. 

Present all documentation and coursework to IDOE to obtain your Indiana Practitioner License.
What is the Highest and Lowest Paying Elementary School Teaching Job?
As a certified elementary school teacher in Indiana, you can work in various settings:
Public schools:

Indiana elementary public school salaries vary depending on years of experience and where the position is based. The lowest paying jobs are generally for beginner teachers in rural or underprivileged areas with lower housing prices.

International schools:

Indiana does not have a set definition of which private schools qualify as "international." But their biggest provider uses a more challenging curriculum than used throughout the country. Thus, rather than a standard high school degree, graduates are awarded an International Baccalaureate® (IB), which is respected at the world's top universities and may give an edge when applying to more prestigious US universities. Salaries at these schools are generally slightly lower at the elementary school level but are significantly greater in high school.

Charter schools:

Indiana's

charter schools

receive state and federal funding, typically more than they give their public schools. However, unlike public schools, charter schools receive no local funding. According to data from

salary.com

and

ZipRecruiter

, average teacher salaries are lower at charter schools than public. 

Private schools:

Indiana's private schools receive some state funding through Indiana's Choice Scholarship Program, but the rest comes from private tuition fees. Salaries at private schools have a wider range than public schools. Some institutions offer the same or slightly higher to public schools, but many offer significantly lower salaries. 

Online teaching

: Online teaching jobs are growing in demand in Indiana. These salaries typically pay the least but vary widely, depending on the platform, organization, and the hours.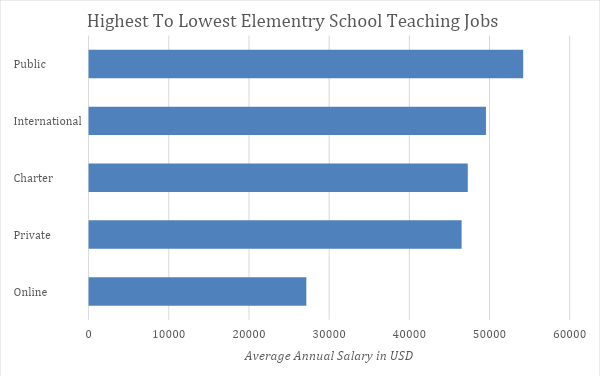 At Teachers of Tomorrow, we look forward to helping you achieve your career goal of becoming one of Indiana's best elementary school teachers. Don't wait to help inspire the next generation.