Before you look into how to become a high school teacher, think about the reason why you want to become a high school teacher. High school teachers are a critical part of many students' lives. They not only help shape the minds of students, but they also are teaching students at a time that is very pivotal. Many times, the purpose of a high school teacher is to help guide and educate students before they take a big step toward receiving a college degree or going into the workforce. 
High school teachers are also called secondary school teachers, and there are a few requirements before an individual can become a high school teacher. A prospective high school teacher will need to complete an accredited teaching program, gain student teaching experience, and pass the state's licensing tests where they want their certification. They will at that point be able to obtain their teaching certification and be qualified for the position. 
High School Teacher Job Description
In short, the main part of a high school teacher's job description is to be an educator who adequately helps prepare students for college or other higher education. If you choose to become a high school teacher, you should expect to spend lots of time in the classroom teaching a specific subject. You should also know that there may be quite a bit of responsibility outside of the classroom, such as meeting students for office hours and going over exams or essays.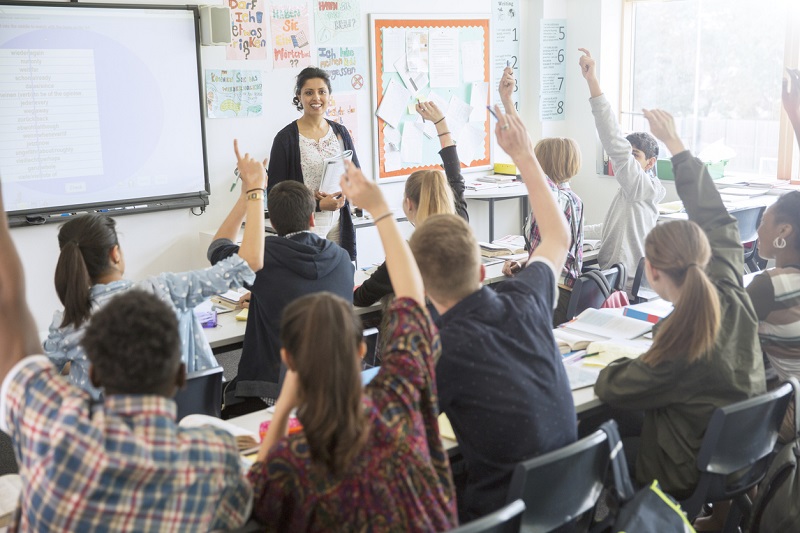 When looking to become a high school teacher, you should consider if you feel you would be a good fit for the job. You should not only love to help others grow their knowledge, but you should be interested in learning more yourself. You should feel passionate about a specific subject and want to share that with your classroom. In comparison, many elementary school teachers have a more general curriculum. They are in charge of one class and teach many subjects, while high school teachers have a specialty. 
Responsibilities of High School Teacher
Below is a list of responsibilities of a high school teacher: 
Developing lesson plans in the relevant subject area and grade, and ensuring all lessons align with curriculum objectives – This is key to students grasping the material and feeling like they can become masters in the subject matter before the class is over. 

Drawing up classroom rules and safety regulations and ensuring all students understand them – Not only will this teach students responsibility, but it will also keep them accountable during your class. 

Using a range of teaching materials and methods to deliver content – Not all students learn in the same way, so by using different teaching methods and mediums, you are more likely to have a wide variety of students grasp the material. 

Providing additional support and interventions for struggling students and extra resources to those who are ahead of the class – Offering office hours is a great way for students to feel supported, especially when they are unable to understand the material presented to them. 

Preparing students for tests, exams, presentations, experiments, and other assessments – All of the class activities and homework assignments should have the goal of helping students prepare for larger events in the year, such as presentations and exams. 

Grading assessments and providing feedback and reports to students and parents – Doing this in a timely manner will allow students to see what they may have done wrong and how they can improve for the future. 

Attending staff and parent meetings to provide helpful recommendations or voice concerns – If a student is not doing well or the parents have concerns, showing up to meetings shows that you care and can be a support for the student. 

Establishing rapport and professional relationships with students, staff, and parents – Gaining the respect of students, being a kind colleague to coworkers, and showing parents you care, are all parts of being more integrated into the community as a high school teacher. 

Supervising students in class, during events, and on field trips – As the teacher, you are the responsible adult while students are in class and doing school-related activities. It's important to show up and watch over students in case anything goes wrong. 

Monitoring students' overall well-being and liaising with school counselors and other staff members when there are concerns or issues – Paying attention to students' performance in class is important. Sometimes, you may be able to catch underlying problems that might be going on between other students or at home. 

Attending ongoing learning initiatives like workshops, lectures, conferences, and other events where you are able to expand education networks – Continuing your own education will only make you a better teacher to the students in your class. You can learn more about the subject you teach and swap knowledge with others who are passionate about the topic as well. 
Requirements to Become a High School Teacher
There are a variety of requirements to become a high school teacher. One of the most important requirements is obtaining your bachelor's degree. If you are interested in teaching in a public school, you will also need to obtain a state teaching license or certification. This can be done online through an alternative teacher certification and preparation program, like Teachers of Tomorrow. You can also choose to go through a traditional program, however, it may take more time and will likely be more expensive. If you are looking to teach in private schools, you may not be asked to have a certification, however, it is still preferred. Preparation programs contain a wide variety of helpful courses and will require a student teaching internship which will provide individuals with invaluable experience. 
How to become a high school teacher 
Earn a bachelor's degree with a major in a preferred subject 

Complete a student teaching internship

Take the teaching and subject-area tests for teacher licensure required in your state

Apply for your teaching license

Begin applying for open positions in your subject area 
Salary for High School Teachers
The salary for high school teachers varies based on different criteria. The district, state, and grade level can all take part in changing how much a teacher may get paid. The median salary for high school teachers in 2020 was around $62,870. The top 25%, who got paid the most in 2020, received a salary of about $81,410. On the other end, the lowest-paid 25% only made around $49,990. Below is a list of the highest- paying states for high school teachers in the country: 
New York ($88,890), 

California ($86,900), 

Massachusetts ($84,130), 

New Jersey ($78,900), 

Connecticut ($78,510).
Job Outlook for High School Teachers
The job outlook for high school teachers is a growing one. Unfortunately, there is a national teacher shortage, meaning that teachers are in need now and will be  many years into the future. This means that being a teacher provides job security in many cases. From 2020 to 2030, high school teacher employment is projected to grow by 8%. On average, each year, over the decade, there are about 77.400 job openings for high school teachers. Not only this but there are also high-need fields to consider if you are wanting to pursue a career as a high school teacher. This could mean that if you are specialized in one of these fields, you may be hired faster than if you are not. Below is a list of these high-need fields and occupations: 
Mathematics

Science, including, but not limited to, computer science

Foreign language

Reading Specialist

Bilingual education

English language acquisition

Special education
Starting Your Teaching Career
The first thing you should consider when starting your teaching career is getting a teaching certificate. Without this certificate, you will not be able to start teaching. Consider the support Teachers of Tomorrow can give you while you are trying to obtain your teacher certification. Do this, and you will be one step closer to becoming a high school teacher!