Teaching in New Jersey is an active and inspiring career choice that invests in our nation's future. The hours are family-friendly, allowing people to achieve a fulfilling life/work balance. New Jersey, ranked as the third-best state to live by CNBC, is experiencing a teaching shortage like the rest of the country. Their lawmakers are working hard to create incentives to fix the shortage. 
The New Jersey Department of Education (NJDOE) reported that in the fall of the 2022-2023 school year, they had 116,698 classroom teachers for their 1.3 million students in public enrollment and 58,569 in charter schools. The numbers are not meeting the needs of students, so New Jersey is looking at ways to make becoming a teacher easier and more attractive. 
New Jersey's commitment to addressing the shortage makes it an excellent time to enter the profession. However, each state has its unique requirements for becoming an educator. In this guide, we've highlighted essential information on teaching in New Jersey, including the pathways to becoming certified.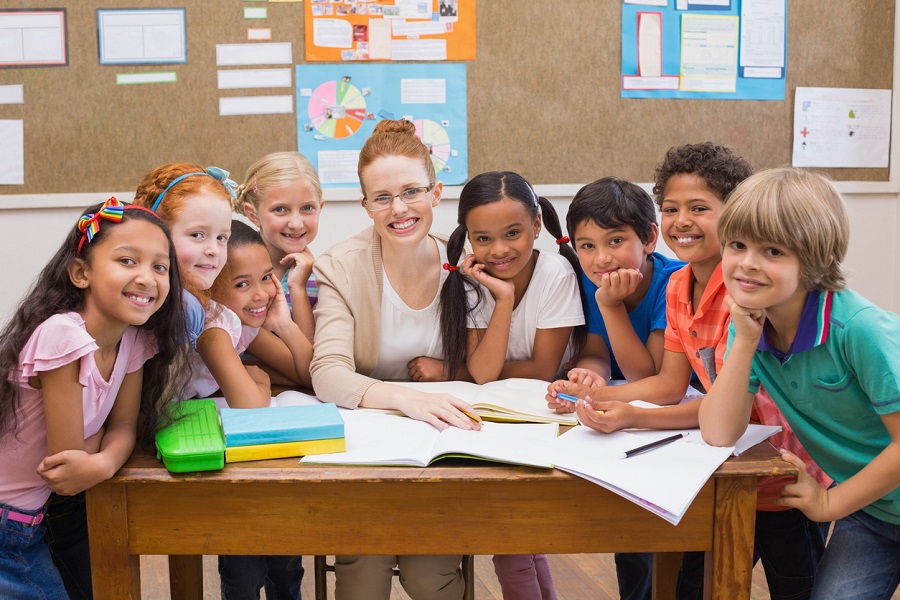 Is Teaching the Right Career for You? 
There are many excellent reasons to consider teaching. The enriching vocation expands the minds of the students and the educator. 
The profession appeals to those who enjoy variety, as the role continuously evolves, and students bring the unexpected. But the unpredictability means teachers must be adaptable and flexible and are routinely pushed to think outside the box. These demands do bring a degree of fatigue to the mind and body. 
But for many, the high demands of teaching are worth it despite the profession not earning as much as a doctor or Wall Street investor. The vocation is an investment in the community and the future of the next generation, providing its own unique rewards. Nonetheless, the work does come with fairly good job security, health and retirement benefits.  
The pay ranges and benefit packages for teachers vary between states. For example, the average annual salary in New Jersey is $79,045 whereas in Vermont, it is $62,866. 
State Requirements for Teaching in New Jersey
The pathways to becoming a teacher vary across the country. In addition, each state's requirements depend on grade level and subject being taught. However, due to the teaching shortage, most states offer alternative routes for those considering teaching after achieving a bachelor's degree. 
New Jersey is currently reviewing their requirements for teaching in their state. For instance, in the summer of 2023, lawmakers proposed a bill to drop the local residency requirement for teachers. While the bill's fate looks promising, along with many other changes, they have yet to receive Assembly approval. 
Thus, for 2023, those wishing to teach in New Jersey must be a state resident and meet the following requirements. 
1. Bachelor's Degree
New Jersey, as with the rest of the United States, requires a bachelor's degree to teach. A candidate must have achieved a cumulative 3.0 GPA out of 4 if they graduate after September 2016. Those who graduated before September 2016 may have a cumulative 2.75 GPA. 
It is recommended to obtain a degree in elementary or secondary education while taking courses in any specialty or subject area you want to teach. 
A bachelor's degree in education provides valuable skills and knowledge to achieve success in the teaching profession, such as: 
How to assess and evaluate students.

Teaching techniques and theories.

Child and human development.

How to create a lesson plan and integrate a curriculum.

Classroom management.
New Jersey universities and colleges offer a variety of educational degrees, including:   
Elementary Education, BA 

Elementary Education STEM

Secondary Education BA 

Educational Foundations BA 

Secondary and Special Education BSE 

Biology and Education with an Endorsement in Secondary Education BS 
1. Complete an Accredited Teacher Preparation Program
New Jersey requires candidates to have taken a teacher preparation program with a minimum of 13 semester-hour credits. The courses must be taken by a NJDOE-approved provider. 
New Jersey colleges and universities combine these requirements with an educational degree, some of which result in graduates being awarded a master's in addition to their bachelor's. 
1. Gain Student Teaching Experience
Student teaching is an NJDOE requirement to complete through an accredited teacher preparation program. Candidates must complete a minimum of 175 field hours. 
Lawmakers are pushing to award student teachers a stipend of $7,200 per semester for up to two semesters. However, that legislation remains in progress in 2023.   
1. Pass Content Tests
New Jersey requires teachers to pass Praxis tests. The exact test(s) depends on the grades, field, and/or subject the candidate wishes to teach. 
As of March 2023, NJDOE has provided a chart on Praxis Flexibility, where the scores required to pass the tests depend on a candidate's GPA. 
For example, those who fail to meet the requirement of a 3.0 GPA may be able to achieve a teacher certificate if they score 10% higher than the passing score. On the other hand, those with a 3.5 GPA or higher can score 5% lower than the passing score. 
Please note: the NJDOE has stated that the score requirements are subject to change without notice. 
1. Pass a Background Check
The NJDOE mandates that all applicants for school positions must pass a background check conducted by the Office of Student Protection Unit (OSP). OSP works through the New Jersey State Police and the FBI to conduct a Criminal History record check. Full instructions are provided on the NJDOE website, and additional information is provided on their FAQ page. 
The objectives of the background check are to determine a new employee or volunteer's trustworthiness around students and to ensure the person is qualified to perform the role. Applicants will be disqualified if they are found on the sex offenders list, guilty of endangering the welfare of a child, or committed any first-or second-degree crimes. 
1. Get Certified
Teachers must get certified according to their state's requirements. The NJDOE is currently using the NJEdCert certification system, replacing the TCIS. They have also provided a 10-Point Checklist for all applicants to use while applying.  
The NJDOE has historically required payment for this service; however, from July 2023 to June 2024, it is free. Discussions of lengthening the fee waiver are ongoing. 
The NJDOE provides three types of certificates:
Instructional

Educational Services

Administrative
Teachers must have an instructional certificate. Those who provide counseling and speech-language pathology must have an Educational Services certificate while anyone wishing to work in administration, such as being a school principal, requires an Administrative certificate. The NJDOE has provided a chart detailing which certificate a candidate requires and how to identify any specific endorsements. 
1. Consider Getting A Master's Degree
New Jersey does not require a master's degree to teach. However, many of the state's top universities and colleges run a 5-year educational program that awards a bachelor's and master's upon completion. Thus, these candidates have an edge when applying for teaching positions. 
In addition, some approved institutions that provide an accredited teacher's program have a master's degree for those with a non-educational bachelor's degree. As with above, the master's degree will help candidates stand out during the job application process. 
Alternative Pathway To Teaching in New Jersey
New Jersey provides alternative teaching pathways for those with a bachelor's degree who did not major in education or go through the formal teacher preparation process at an accredited college or university. 
The alternative pathway programs allow candidates to teach for pay, unlike student teaching, while they complete the coursework. Classes are often available online, and the entire process typically takes two years, far less than the 5-year traditional programs. Candidates are often allowed to take the course at their own pace within the two-years. 
To take part in an alternative program, a candidate with a bachelor's degree must: 
First, apply and obtain the

Certificate of Eligibility (CE)

from the NJDOE.

After receiving the CE, a candidate must obtain a teaching position.

Once hired, a candidate may begin the coursework provided by their alternative pathway program.
Getting Hired as a Teacher
Getting hired as a teacher in New Jersey first requires obtaining the necessary education and completing the certification process or obtaining a CE and being part of an alternative pathway program. 
Before embarking on the exciting job-hunting journey, review the following to raise your chances of success. 
Polish Your CV
Modify and update your CV to highlight the education requirements, skills, and previous work experience that New Jersey schools seek in teachers. 
In addition, look at sample CVs of other teachers. Consider the layout, getting ideas from internet sites such as Pinterest. 
Once you think you have your CV ready, ask a trusted individual to take a look. Have them provide constructive feedback and point out any typos. 
Once your CV is edited and polished, save it as your New Jersey teacher's template. Before sending the CV to prospective positions, tailor it to suit each specific role. 
Upgrade Your Skill Set
While there is a teaching shortage in New Jersey, certain positions remain competitive, especially those in better-paying school districts. Thus, the more you invest in your skill set, the greater the chances you outshine other applicants. 
New teachers can still demonstrate skills development through their student teaching, previous employment, and volunteer work. 
Teaching skills that attract the attention of schools include:  
Problem-solving:

Schools and classroom environments provide continuous challenges. Regardless of whether it is conflicts, unexpected events, or tight budgets, successful educators are skilled at finding unique solutions to keep things running harmoniously and reach goals. 

Collaboration

: Teachers are often the only adults in the classroom, but they do not work alone. They succeed by working with learners, colleagues, parents, guardians, and community members. Those who can lead and thrive in a team will be more effective.

Digital literacy

: The days of teachers only using a chalkboard and pen and paper are over. Technology has integrated itself into all aspects of education. Candidates who can demonstrate a high level of digital and IT skills have the edge over those who can barely work a smartphone.  

Time management:

School curriculums are packed, yet students still require time to ask questions, seek help, socialize, participate in other activities, and have fun. It takes excellent organization and pacing to ensure everything gets done without feeling rushed.  

Imagination:

Creativity keeps lessons fresh and relevant to diverse student needs. Fresh outlooks and new designs keep a classroom inviting and help keep students motivated. A wide imagination is also crucial when working in teams and assisting with extracurricular activities. 
Begin Your Job Search
New Jersey is eager to hire more qualified teachers. The NJDOE has an Education Employment Opportunities Careers Webpage for job seekers. Other excellent places to look for teaching positions include:
Lastly, consider contacting the school districts you'd like to work in. If they are not currently seeking qualified educators, ask them to keep your CV on file for when a suitable position becomes available.
Join a Professional Organization and Network
All teachers require support, advice, advocacy, and connection. Joining a professional organization or network will help. 
Some options in New Jersey include the following:
Ace Your Job Interview
A job interview is essential to obtaining a teaching position in New Jersey. We've compiled a few tips to help you prepare for the big day. 
Learn about the school and district.

No two schools are alike. Find out as much as you can about the demographics the district serves, the educational ethos and philosophy, any community challenges, school accolades, and the overall environment. The knowledge will help you frame your answers and pick the most relevant stories and examples to share from your experiences. 

Position students first in your answers.

You want the job, but your potential employers are most interested in how you can serve the students and the school. Consequently, your replies should focus on what your skills and background can bring to the classroom. 

Dress professionally.

Life has become a lot more casual even when teaching. However, interviews still require candidates to show up in traditionally professional attire. Seek out advice from trusted individuals and research current standards. Aim for a modern classic with a touch of personality, but shy away from cartoon ties and whimsical prints. 
Career Outlook & Salary in New Jersey
New Jersey is eager to hire quality teachers. According to the US Bureau of Labor Statistics, the demand for teachers is projected to grow by 5% from 2001-2031. However, the state faces an increasingly bigger problem as their demand grows and the number of qualified teachers drops. 
Despite these challenges, New Jersey public schools are ranked #3 in the country, and their early education systems are ranked #4. Teachers' pay is also above average. The Bureau of Labor Statistics reports that the average salary of an elementary teacher in New Jersey is $71,150, and for secondary teachers, it's $79,460. 
Those seeking a teaching position in New Jersey can find openings on the NJDOE website. According to the 2022-2023 US Department of Education Teacher Shortage Area report, New Jersey has particular needs for educators in English as a second language, world languages, mathematics, science, and special education. 
Become a Teacher in New Jersey
New Jersey is an excellent place to be a teacher. The rewarding vocation is family-friendly, comes with good health benefits, invests in the community, and inspires our nation's youth. 
New Jersey provides its residents with an excellent quality of life. It is ranked as the 3rd best state to live in and one of the safest in the nation thanks to its low crime. Its location also means residents can enjoy the beach yet can still pop over to New York to experience big-city life. 
If you seek a dynamic career as a teacher in New Jersey, Teachers of Tomorrow, the largest national alternative certification provider, is excited to help you realize that goal.