Becoming an English teacher allows you to shape future minds by sharing your love and expertise in language and literature. English teachers help students become independent learners by equipping them with writing, speaking and listening skills.
Teaching English makes you more creative since it's a fun and engaging subject. You have great job security while making a difference in students' lives and sharing your love for learning. Let's look at how to become an English teacher, what an English teacher does and the benefits.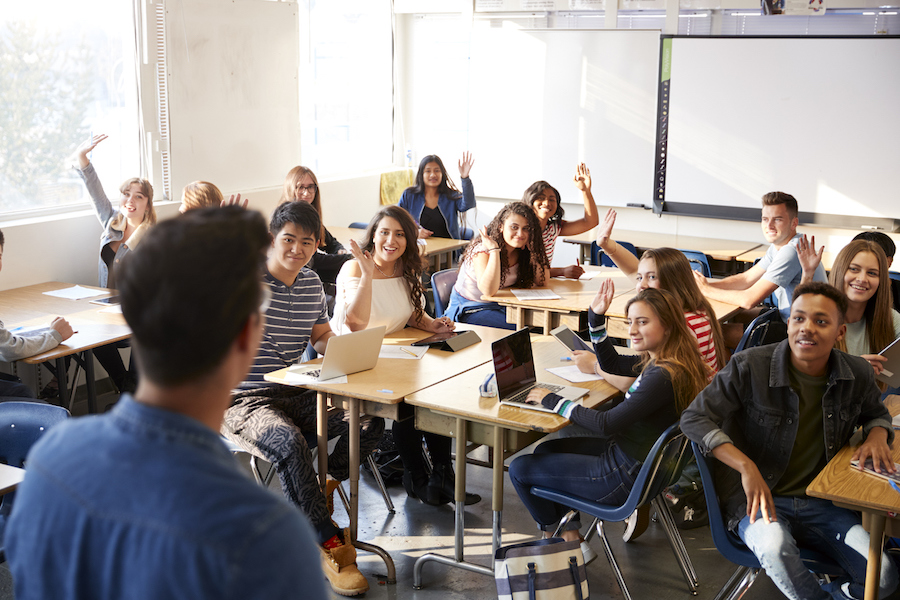 English Teacher Job Definition
An English teacher helps students master the English language by becoming fluent and competent. With a deep understanding of grammar, sentence structure, pronunciation and vocabulary, they help students understand the language.
The teacher also creates lessons, tracks students' progress, and communicates with the parents. English is taught in Elementary, Middle or High School and English teachers follow the set curriculum to execute the lessons.
As an English teacher, you'll have the pleasure of teaching students the magic of poetry, literature, and comprehension.
English Teacher Responsibilities
The responsibilities may differ depending on the class, but at the minimum, the English teacher helps student develop their oral and written skills and problem-solving abilities. The job definition includes the following: –
Lesson planning and assessment

– The English teacher develops lessons using the students' needs and the curriculum as a guideline. The teacher also develops assessment tools, grades the students, and provides feedback to help students improve in English.

 

Assisting students to become better in written and spoken English

– E. g encouraging students to give a presentation, having interactive grammar and spelling lessons, and more.

Tutoring students

– English teachers may have to offer additional tutoring to learners who need extra help to catch up with their peers.

Organizing discussions covering English literature

– English teachers often host discussions to discuss writers of English literature. The discussions help students advance their analytical and comprehension skills.
English Teacher Skills
To be effective in their teaching, English teachers at all levels need to have these set of skills:
English Knowledge
Teaching English requires a great command of the English language, which involves written, verbal and even technical. This includes:
Understanding of the English language-  correct pronunciations and grammar.
Excellent verbal and written communication skills- This vital skill enables teachers to deliver English lessons effectively, create the right assignments and give feedback.
Strong vocabulary- English teachers need to use new words in different situations, giving their students new experiences with a wide array of words.
Teaching Abilities
Teaching English requires patience, creativity, confidence, great organization and even conflict-resolution abilities. As a teacher, patience helps you to explain subject matters repeatedly till the students understand.
Creativity is what makes learning fun and interesting for your students. You also need to be enthusiastic and love teaching the English language. Conflict resolution skills come in handy, especially in middle and high school, where you may need to diffuse tense situations among students.
Interpersonal Skills
Interpersonal skills help you establish a good relationship with students and other people in your school. They include teaching insights, social awareness and understanding. Interpersonal skills allow you to read the room and determine "appropriate" responses in different situations.
How to Become an English Teacher
To become an English teacher, you must meet educational requirements, acquire the necessary work experience and pass your certification exam to acquire your teaching license. Here are the steps to becoming an English teacher:
Step 1: Get a Bachelor's Degree
At the minimum, an English teacher needs to acquire a bachelor's degree in English or Education. You can acquire a Bachelor's degree in English with a teaching specialization. Additionaly, you can also get a bachelor's degree in education with a specialization in English.
A bachelor's degree in English teaching from an accredited institution equips you with the following:
English teaching strategies

Classroom management and instruction strategies for different students

Techniques for assessing students' progress
Once you complete your Bachelor's degree classwork, you'll need to take a teacher-training. This includes serving as a teaching aide to teach students in a classroom. The program takes a semester to complete, and you're required to report to your teaching location and interact with students and other teachers.
Step 2: Obtain a Teacher's Certification
Once you're done with your degree and teaching internship, you're eligible for your state's teaching certification exam. The state certification tests your knowledge and professional skills.
The state exams may vary in different states. But, you can expect questions in:
Literature

Media literacy

General knowledge of reading and writing

Oral communication
Note: Some states have permanent or provisional reciprocity agreements on teacher certifications, allowing you to transfer your certification and apply for teaching positions in a different state.
Step 3: Pass the Background Check
Since teachers work with children, the government requires background checks to ensure students are in safe hands. Background checks for teachers identify any criminal records and other red flags.
School districts carry out federal criminal background checks on teaching applicants. To become an English teacher, you need to pass background checks which may also include employment history, credit reports and military records.
Step 4: Polish Your Resume
Polish and organize your resume to capture your academic qualifications, experience and skills. Your resume should include:
Teaching skills such as excellent communication and organization

Practical experiences such as developing lesson plans, evaluating student performance and grading

Certifications and academic qualifications
Step 5: Apply for English Teaching Jobs
Ultimately, prospective teachers must apply for English teaching jobs to become English teachers. As you submit your application, showcase confidently that you're the perfect fit for the teaching role. The job may require you to submit documents such as:
Letters of reference

Application letter for the role

Application fee for the necessary background checks

Exam transcripts from the university and schools attended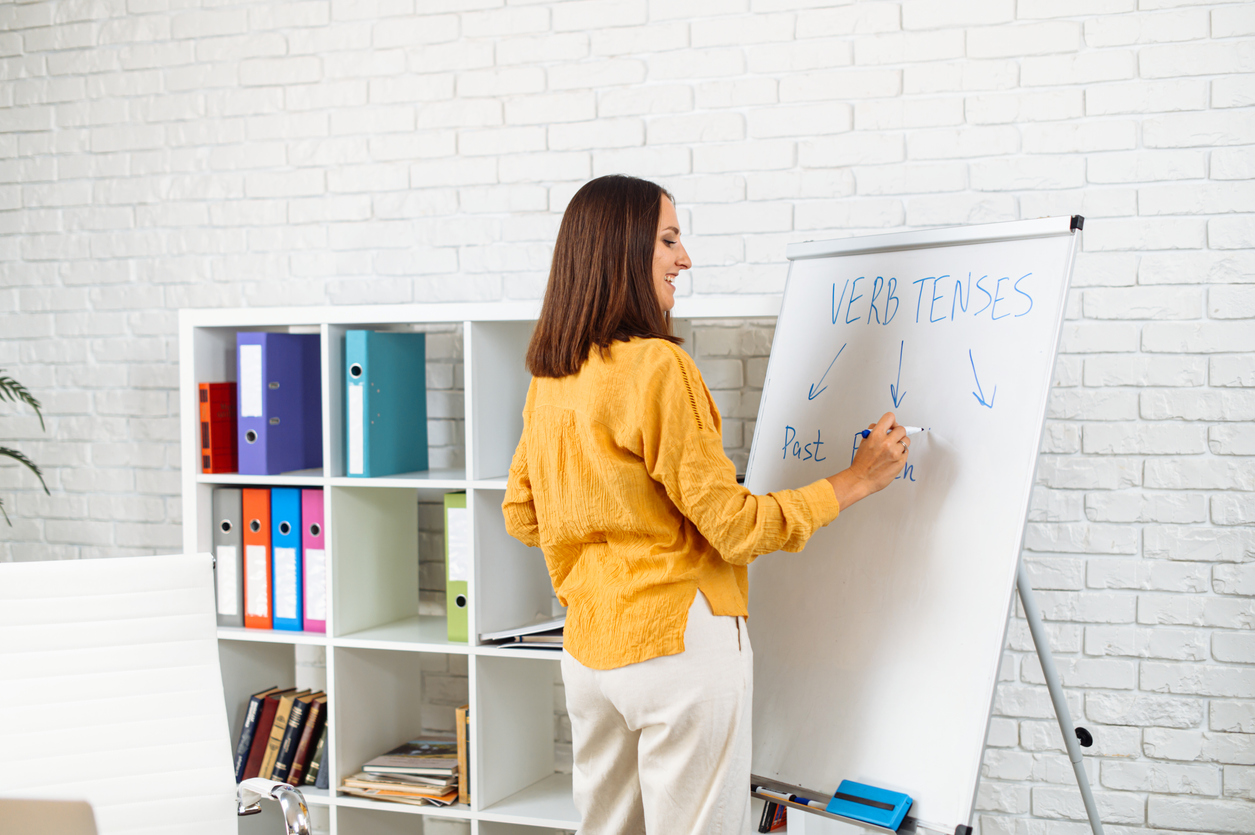 Alternative Certification for English Teachers
Alternative certification for teachers was introduced to help bridge the gap created by teacher shortage. Alternative certification has been accepted, and teachers have been earning their licenses through this route. With alternative routes, people who have not completed their coursework in education are licensed to teach in public schools.
In most states, if you have a bachelor's degree in a non-education field, you can get alternative from an institution like Teachers of Tommorrow. A masters degree will also give you a competitive edge.
Reasons to Become a Teacher
Teaching is a true vocation. You get to inspire the next generation and influence young lives with visible results.
And, teachers have great job security as the National Education Association rates teaching job security rating at 4.4 out of 5. Teaching is a high-demand job, and currently, our country is facing a 300,000-teacher shortage. You should also consider becoming a teacher because:
Salary
An English teacher earns an average salary of $51,602. But, the salary may range between $42,007 and $71,369. The salary ranges based on education certifications, years spent teaching and even additional skills.
Career Outlook
Teaching has a clear progressive career path. As an English teacher, you can move and get a high school teaching position and earn slightly more. E.g. Moving from middle school to teach English in high School. You can also progress to becoming a department head, head teacher or other administrative roles. The US Bureau of Labor Statistics projects a salary growth of 4% in the next four years.
Work Environment
Teachers work in a "positive" environment with lots of support, safety and organizational encouragement. Teaching is not a risky career; educators get support from their peers, accountability, and equity from school boards and districts.
Tips from Successful English Teachers
As you apply for an English teacher role, highlight what motivated you to become a teacher. You can also describe your teaching style and the teaching methods you use. Successful teachers also note that you must develop yourself daily to become a better version of yourself.
To be a successful English teacher, you can also:
Download English Teaching Apps
Apps and other technologies give you ideas for making English learning more exciting for your students. They give you new teaching ideas and give your students a break from the traditional classroom while still giving the right lessons in fun ways.
Learn from Other English Teachers
Observing other English teachers will help you improve your self-awareness and classroom management skills. You'll also know how to create a conducive social climate in a socially diverse environment.
Keep Up to Date by Taking Courses
Additional courses help English teachers enhance their knowledge. They can help you improve your listening, speaking and reading skills and other skills that can make you a better English teacher.
Consider Getting a TEFL/TESOL/ ESOL Certificate
English teachers should consider getting TESOL certified. This qualifies them to teach non-native English speakers living in English-speaking countries like the USA. TEFL would be ideal if you'd like to teach English in non-native-speaking countries like China or Brazil.
ESOL( English as a Second Language) certification is ideal for teachers who intend to work with students who speak multiple languages and are learning Enlish as a third or fourth language.
Gain Teaching Experience
Teaching experience will help you build your confidence, become a better English teacher and even land the job faster. You can increase your experience by practising public speaking, teaching online and even volunteering in schools. 
Make the Most of Online Resources for Teachers
You can get lots of free material online that will give you additional knowledge and free skills. From ed-Tech websites to publications, ensure you keep yourself informed to stand out.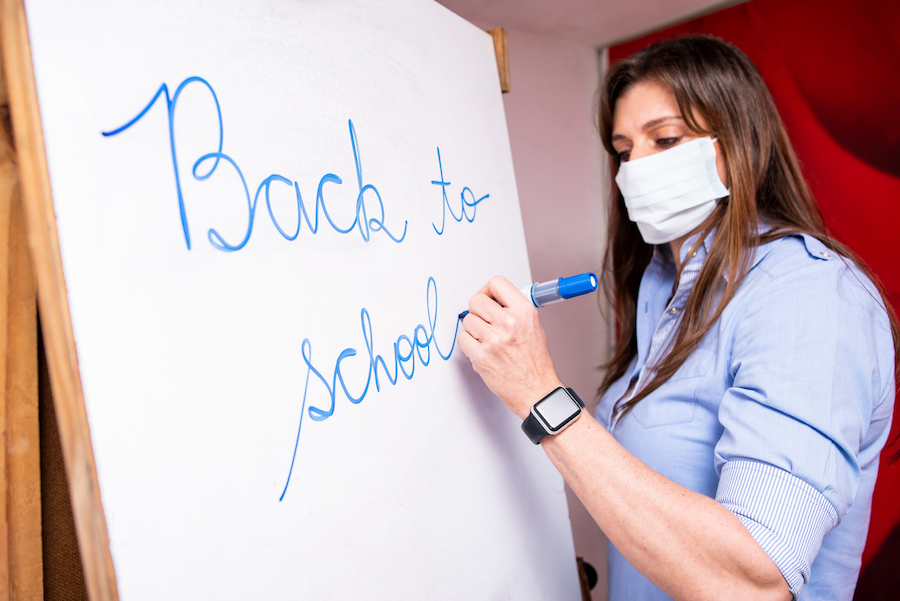 Take the Next Step to Your English Teaching Career
English teachers have their summers off, enjoy a flexible working schedule and have solid and secure careers. What's more, they get to impact young lives and introduce the beautiful world of poetry, literature and communication.
Becoming an English teacher has now been made easier by our certifications. As we've seen, you need to obtain an English teacher's certification after your Bachelor's degree. Contact us today, and let us guide you on the English teacher certification and help you become an English teacher.