Nevada holds abundant opportunities for anyone passionate about shaping the minds of our youngest learners. In education, few roles are as influential as that of a kindergarten teacher. As a kindergarten teacher, you have the incredible privilege of introducing young children to the wonders of learning and laying the foundation for their academic journey.
The average kindergarten teacher salary in Nevada as of May 2022 is $60,959. However, salary can vary widely depending on the city and other factors such as the level of education, certifications, additional skills, and the number of years you have spent in your profession.
In this guide, Teachers of Tomorrow will cover how a kindergarten teacher earns in Nevada. We will also cover how you can become a kindergarten teacher and share some insights on how we can help you with alternative teacher certification.
What Is a Kindergarten Teacher?
A kindergarten teacher educates and nurtures young children in their earliest years of formal education. Kindergarten is a child's first experience in a classroom environment. It lays the foundation for their academic and social development.
To excel as a kindergarten teacher, you need to be patient and understanding because young children may require additional support as they adjust to the school setting,
You must have strong communication skills to engage with young learners and explain concepts clearly.
Kindergarten teachers should also be creative in designing engaging lessons and learning activities that cater to young children's learning needs and interests. 
Your daily responsibilities as a kindergarten teacher vary depending on the school but commonly include the following:
Creating lesson plans that align with school educational standards and objectives.

Evaluating student performance and progress through observations and assessments.

Managing classroom activities such as group work, individual assignments, play-based learning, and hands-on experiences. 

Communicating with parents or guardians to share updates on student progress and discuss strategies to support learning at home.

Collaborating with other educators, support staff, and administrators through meetings and professional development activities to enhance their teaching styles.

Creating a nurturing classroom environment to promote positive relationships among students and themselves.
How Much Do Kindergarten Teachers Make in Nevada?
According to the Bureau of Labor Statistics, as of May 2022, these are the average salaries of kindergarten teachers in Nevada:
Highest – $85.010

Average – $60,959

Lowest – $49,059
Kindergarten teachers' salaries in Nevada vary according to certain factors:
Experience

: Teachers who've been in the profession for years get a higher salary due to gradual annual increases.

Qualifications:

Educators with more than the standard qualifications, for example teachers with special education and American Sign Language certifications, receive higher salaries.

School district:

Some school districts pay more than others due to resource allocation or geographical location. For example, school districts in big cities with a higher cost of living like Reno and Henderson pay more than rural areas.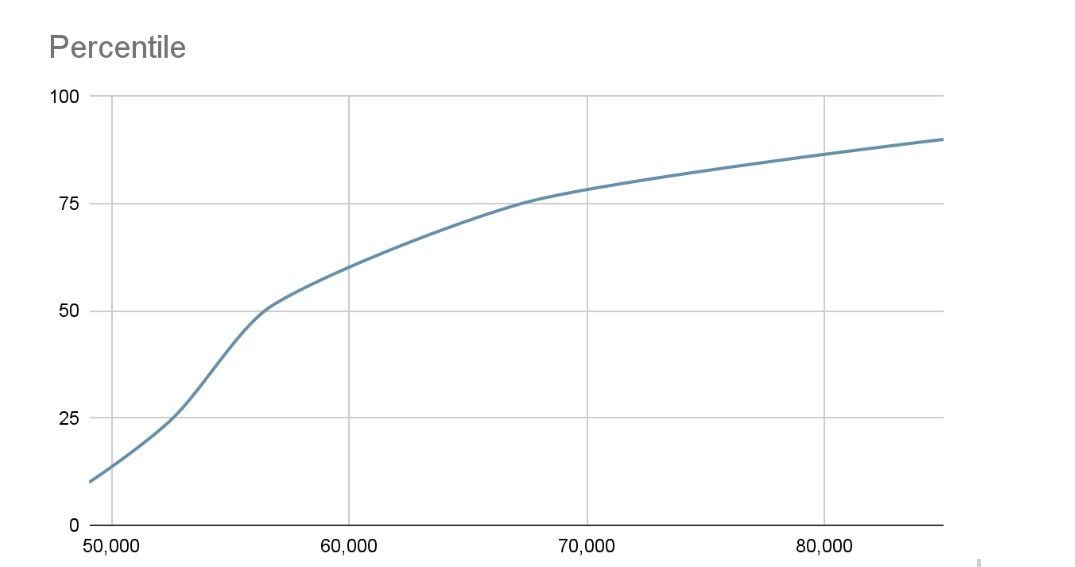 Average Annual Kindergarten Teacher Salary in Nevada (USD)
How to Become a Kindergarten Teacher In Nevada
To become a certified kindergarten teacher in Nevada, you must go through the following steps:
Obtain a bachelor's degree from an accredited institution:

You need to earn a bachelor's degree in education or a related field from an accredited college or university. The degree program you choose should meet the requirements set by the Nevada Department of Education.

 

Complete a teacher preparation program:

After obtaining your bachelor's degree, you must enroll in a teacher preparation program that is approved by the Nevada Department of Education. The program typically includes coursework related to early childhood education, instructional strategies, child development, and classroom management and it's designed to help you become an effective teacher.

Complete student teaching:

As part of your teacher preparation program, you will be required to complete a student teaching experience. This involves spending a certain number of hours in a real kindergarten classroom, working alongside a mentor teacher.

Apply for a teaching license:

You can apply for a teaching license through the Nevada Department of Education. You must submit your education transcripts, demonstrating that you have successfully completed the required coursework and student teaching.

 Pass the Praxis exams:

In Nevada, aspiring teachers are required to pass the Praxis Core Academic Skills for Educators exam, which assesses your basic skills in reading, writing, and mathematics. You will also need to pass the Principles of Learning and Teaching exam, which focuses on pedagogical knowledge and teaching practices specific to the grade level you wish to teach (in this case, kindergarten).

Pass a criminal background check:

A criminal background check meant to ensure the safety and well-being of the students you will be working with. The background check will involve fingerprinting and may include a review of your criminal history records.
The Nevada Department of Education will review your application, and if you're cleared, you'll receive your teaching license.
Once you have obtained your teaching license, you can apply for kindergarten (link to future article: How To Become a Kindergarten Teacher in Nevada) teaching positions. You can find opportunities on job boards, school district websites, and school websites.
Alternative Certification for Kindergarten Teachers in Nevada
The alternative route to certification provides a pathway for those with a bachelor's degree but who did not complete a traditional teacher preparation program to become certified teachers.
This alternative route is designed to attract people from diverse backgrounds and experiences to the teaching profession. It also helps to address teacher shortages and increase the pool of qualified educators.
In Nevada, alternative certification is available through the Alternative Route to Licensure (ARL) program.
The ARL program in Nevada allows you to teach in a classroom as you complete stipulations for full teacher licensure. 
To participate in the ARL program as a prospective kindergarten teacher in Nevada, you need to follow these steps:
Hold a bachelor's degree from an accredited institution.

Pass the Praxis Core Academic Skills for Educators.

Secure a teaching position in a Nevada school district or charter school. The school should provide you with a mentor.

Collaborate with your mentor or supervisor to develop the Professional Learning Plan (PLP) you'll undertake to meet the requirements for full licensure.

Complete the required coursework and professional development as per Nevada state standards.

Apply for a Provisional License. This license allows you to continue teaching while completing the remaining requirements for full licensure.

While teaching under a Provisional License, pass the Principles of Learning and Teaching exam and meet any other stipulations set out by the ARL program.
After completing all the requirements, you can apply for a full teaching kindergarten license in Nevada.
The Highest and Lowest Paying Kindergarten Teaching Jobs In Nevada
Licensed kindergarten teachers in Nevada can work in settings other than traditional public schools: 
Private schools:

These often offer smaller class sizes, different curricula, and different educational philosophies. 

Charter schools:

These are publicly funded schools that operate independently from the traditional public school system. They have unique educational approaches, specialized programs, or specific focuses such as arts and Montessori.

Early childhood education centers:

The centers can be privately owned or part of larger child care organizations.

International schools:

These schools cater to a diverse population of students, including expatriate and local children. They offer competitive salary packages and the chance to experience different cultures and educational systems.

Online schools:

These schools deliver education remotely, allowing teachers to instruct students from a distance. Teaching online requires technological proficiency and the ability to engage with students virtually.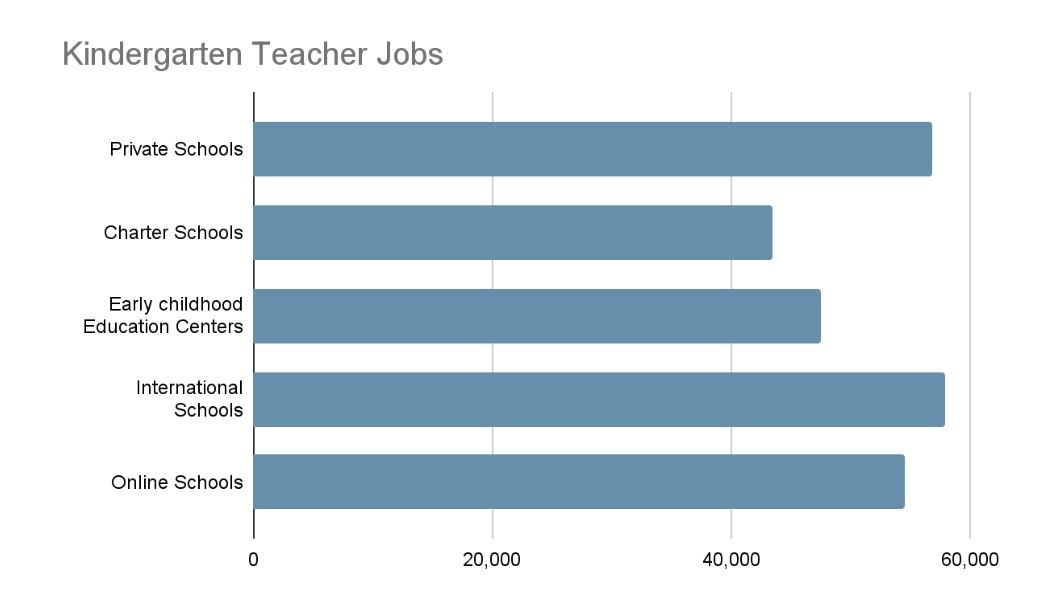 Number of Kindergarten Teachers in Different Teaching Jobs in Nevada
At Teachers of Tomorrow, we can't wait to join your journey in becoming one of the best kindergarten teachers in Nevada. What are you waiting for? Take the leap!
Related Careers
How Much Does a High School Teacher Make? Salary and State Guide
How Much Does a Preschool Teacher Make? Salary and State Guide