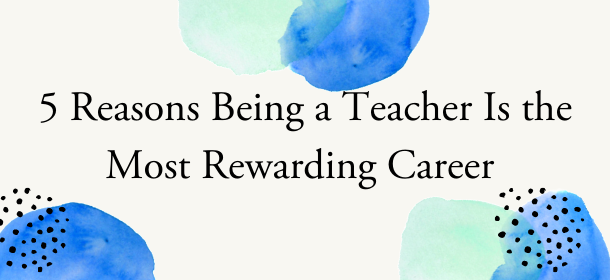 Teachers can make impressions on the minds of our young children that last a lifetime. If you can recall your favorite teacher giving you advice that changed the course of your life, you probably know the impact a teacher can have. Molding future generations, assisting in building personal philosophies, and helping us understand essential skills for our adult lives are just a few ways a teacher can impact society. From watching students achieve an A+ in your classroom to witnessing them become the latest addition to NASA's team of scientists, you will be rewarded daily for the impact you have on the lives of your students.    

Each student in your classroom will be different from the student next to them. They have different life experiences, learn differently, and progress at different rates in any curriculum. Regardless, through your guidance, each of them will push their limits to go further, achieve higher goals, and even grow as a person. When they have these "A-ha!" moments, it makes teaching all the more rewarding.

Teachers model as shining examples of what a functioning adult should be. When students look up to the front of the class, they see a functioning member of society who demonstrates mastery over their field of study, shows how inspired they are to learn and teach each day, and conveys how much they care about their success. By being a role model students can look up to, teachers can impact the lives of students. Just being there and showing that you care about their success can propel them forward and be rewarding for them and you!  

In some states like Texas, for example, teachers receive quite a competitive salary and full benefits. As of September 27, 2021, the annual teacher salary is an average of $58,545, with ranges typically falling between $51,113 and $67,591.  With an added vacation spanning the entirety of summer each year, a recession-proof job, and better pay than ever, becoming a teacher can be a rewarding career for your financial wellbeing as well. 

Ultimately, teaching is more than just a job anyone does for the pay. Making a difference in the lives of their students is what it is all about for so many teachers who prepare lesson after lesson to see them grow. The honor of teaching itself is a reward, and if you feel a calling for teaching, desire to inspire others, shape the world and its young minds, or you want to be the next role model for a student in need, we encourage you to learn more about Teachers of Tomorrow. Speak with a program advisor and learn more about our program when you apply for free today!