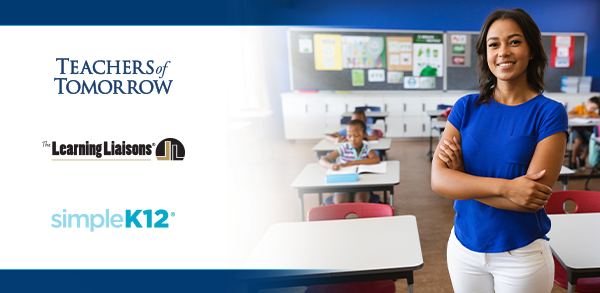 It's always been the goal here at Teachers of Tomorrow to help educators and to always support them along the way.
Over the last year, we have made strides in supporting our educators with the additions of The Liaisons and Simple K12. We are excited to have acquired The Learning Liaisons and SimpleK12 platforms to help with certification as both brands combine to offer online, self-paced support to educators through certification preparation and professional development programs.
Let's call it Teachers of Tomorrow's holistic approach to creating and building better educators in this evolving frontier of education.
This way when you choose Teachers of Tomorrow as your alternative teacher certification provider, you do so knowing that we will be there to support you throughout your teaching journey. Collectively, Teachers of Tomorrow, The Learning Liaisons, and SimpleK12 are the most comprehensive provider of teacher services in the United States.
You will have our support throughout the lifecycle of your teaching career, starting with your preparation to becoming a certified teacher and through your necessary ongoing development in the classroom.
"One of our mission pillars is to provide quality educators in the classroom," said Teachers of Tomorrow CEO Trent Beekman.  "We believe SK12, through professional development and TLL with testing, allows to us help make a lasting impact on the communities we serve."
Here is a breakdown of our three industry-leading Brands and what they have to offer you!
TEACHERS OF TOMORROW
Teachers of Tomorrow is the nation's largest alternative certification provider, where we have helped transform over 75,000 teacher candidates into certified teachers who are now making a difference in their classrooms across the country.
Our online certification program allows you to go at a pace you are comfortable with while preparing you for the teaching career that you desire. Getting you certified to teach is part of what Teachers of Tomorrow offers. We are there every step of the way with our intern teachers, providing you with a Field Supervisor who will be there as a guide and sounding board during your Internship Year.
Teachers of Tomorrow candidates are hired in high-need areas including STEM, bilingual, and special education. Our teachers are consistently awarded Teacher of the Year merits and we have also had teachers be recognized as National Science and Math Teachers of the Year candidates.
We are fully accredited through the Association for Advancing Quality in Educator Preparation, which is a distinguished organization that helps monitor the success and impact of both educator programs and universities.
THE LEARNING LIAISONS
The Learning Liaisons is a top-performing platform that delivers teacher exam preparation via interactive video courses and workshops. The company was founded in 2014 and empowers teachers with the knowledge, skill, and attitude that they need to pass their state's teacher and leader certification exams through the use of interactive video courses and bootcamps.
The Learning Liaisons employ high-quality educators to help teachers understand and apply concepts to scenarios that will enable them to pass exams.
What The Learning Liaisons offers teachers most is needed support and that is what distinguishes TLLrom others. Here at Teachers of Tomorrow, we are committed to helping teachers successfully enter the education workforce, The Learning Liaisons is an integral part of the process as a provider of quality test preparation.
SIMPLEK12
SimpleK12 is an award-winning professional development platform designed to help educators grow in their classrooms and evolve with the changing needs of their students.
SimpleK12 provides premium professional-development content via a user-friendly, video-based platform. With hundreds of videos with over 25 categories. SimpleK12 reaches over 800,000 yearly. SimpleK12 was founded 35 years ago and has evolved from providing face-to-face technology training to now producing 100% digital content to meet the demands of a rapidly changing industry.
Here at SimpleK12, we have expert educators who are trainers, thought leaders, and industry professionals who create high-quality professional development content that addresses the needs of teachers and schools. We offer flexible professional development through on-demand training, live sessions, and virtual workshops that support learning on your schedule. SimpleK12 is a resource where the Professional Learning Community can connect and share with peers.
SimpleK12 not only expands our services at Teachers of Tomorrow but the platform is also a strong cultural fit and contributes to our mission which is to develop confident educators.
Now is the time to teach! Choose Teachers of Tomorrow, The Learning Liaisons, and SimpleK12!