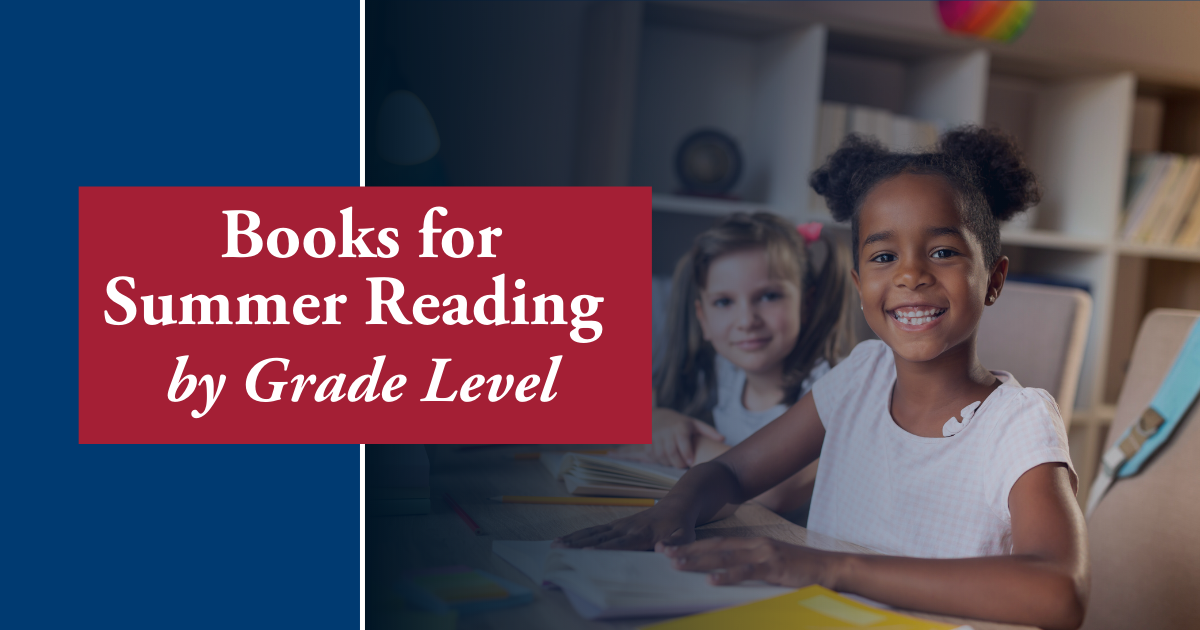 Need a little help with your summer reading list? We've got you covered! We know summer equals fun, but so does a good book. We want to help your students have fun while reading this summer, so we set out to find the perfect books to have your students wrapped in suspense, or even tickling with laughter. We've compiled a teacher-curated list of favorites books at every grade level from elementary to middle school to high school.
First Grade
For beginning readers, these books are filled with sight words and pictures, perfect for this stage of reading.
Don't Worry, Bee Happy: An Acorn Book (Bumble and Bee)
The main characters may be an unlikely trio, but no matter what these friends dream up, you can count on them for hilarious, unexpected fun in this easy-to-read picture book.
The Big Purple Book of Beginner Books  
The Big Purple Book of Beginner Books is the perfect book for students who just can't get enough of reading! This collection of stories includes A Fish Out of Water by Helen Palmer, I'll Teach My Dog 100 Words by Michael Frith, Fred and Ted Go Camping by Peter Eastman, and more! This book is sure to keep your students hooked.
Mac and Cheese (I Can Read Level 1)
This book is about two cats named Mac and Cheese and it's sure to keep your students engaged! It contains easy, short sentences and familiar words, which is great for encouraging your students to start reading on their own.
Second Grade
If you are looking for books to help readers with developing and practicing their skills, these stories are a perfect balance of fun and practice!
The Dragonsitter (The Dragonsitter Series, 1)
The Dragonsitter is the first book in a chapter book series and is sure to keep your students hooked! The story is told entirely through emails and it details Eddie's struggles while he's babysitting his uncle's dragon. It has just the right amount of humor that'll make your students laugh out loud!
Mystery Club (Mr. Wolf's Class #2) 
This story follows a trio of friends who have noticed a lot of unanswered questions surrounding their elementary school. In order to answer those questions, they decide to start a mystery club! This book is easy to read and a good transition book for your students who are just starting to read chapter books. Perfect for mystery lovers, too!
Clover's Luck (The Magical Animal Adoption Agency, 1)
Clover's Luck is a fascinating story about a usually unlucky girl stumbling upon a magical animal adoption agency deep in the woods. This book details her courageousness and teaches young readers that kindness is more powerful than luck. Students will love it!
Third Grade
Do your third graders like books about friendship, mystery, or magic? Here are some that they won't be able to put down!
Doodle Adventures: The Search for the Slimy Space Slugs! 
This book is for all of your artistic students! The reader draws themself into the story and follows a duck named Carl on an adventure in search of a specific object in space. This interactive book is fantastic for students to practice both their reading and art skills this summer.
The Great Shelby Holmes: Girl Detective
Shelby Holmes is a 9-year-old girl detective in her Harlem neighborhood. When a boy named John Watson moves in downstairs, she has to learn how to become a friend. Together, they solve the mystery of a dog-napping case that makes them use teamwork and their individual talents. This mystery book is a perfect display of friendship, acceptance of others, and a wonderful retelling of the great Sherlock Holmes!
Fairest of All (Whatever After #1)
Fairest of All is an exciting twist on the classic Snow White fairytale. It includes a girl and her brother magically appearing in the Snow White fairytale, and they must successfully stop Snow White from getting poisoned and get her to fall in love with prince charming. This story is filled with adventure and is sure to keep your students glued to its pages!
Fourth Grade
By the time fourth grade comes around, most students begin to read and follow book series. To keep them reading at least once a day, introduce them to the books below! 
This series begins when a set of twins, Alex and Conner, are swept into a different world where they meet the characters of the fairytales they grew up listening to. This series is full of magic and fun, and it's a perfect transition into series reading for your students.
This series follows a group of friends after the creation of their babysitting club. Kristy, Mary Anne, Claudia, and Stacey have to learn to deal with cranky toddlers, huge dogs, scary neighbors, and more, but they learn they can do anything through friendship! With its graphic novel style and dramatic humor, your students will fall in love with this fun series!
Percy Jackson and the Olympians
This series is beloved by many and it's sure to enthrall your students! It follows a boy named Percy Jackson, son of Poseidon, god of the sea. He attends a summer camp full of other demi-god kids and embarks on many adventures to save Olympus. Each book tells stories of fighting monsters, meeting gods, and making friends!
Fifth Grade
As your students dive deeper into reading, it's important you give them books that will prepare them for the next levels and prepare them for middle school. Here is a list of action-packed titles that will keep them up to speed!
Charlie Thorne and the Last Equation 
This book is about a young girl named Charlie who is gifted and extremely smart. Suddenly, she is thrust into the midst of danger when a group known as the Furies discovers a hidden equation, written by Albert Einstien, that could destroy the world. Together with the CIA, she must crack the code and save the world before it's too late. This book will have your students on the edge of their seats this summer!
The book Holes is about a kid named Stanley Yelnats, whose family has been under a curse since his great-great-grandfather was alive. In accordance with his luck, he's been sent to a detention center called Camp Green Lake, where all the boys are told to dig holes all day, every day. Stanely spends his time there uncovering the truth about the holes and makes new friends along the way. This tale about justice and redemption is going to have your students turning every page with excitement!
President of the Whole Fifth Grade 
In this book, fifth-grader Brianna adores celebrity chef Miss Delicious, and when Miss Delicious accredits her success to being the president of her fifth grade class, Brianna is determined to follow in her footsteps. However, when she finds out the new girl, Jasmine, is also running for president, she has to make some tough decisions about how to win her votes. This is a hilarious story with the perfect amount of fifth grade drama and big, heartfelt dreams!
Sixth Grade
Your students have reached a new reading level and are beginning another journey at a new school! Woohoo! Here are some books that will get them ready and excited for their new chapter in middle school.
This mystery story begins when Stella and Tom, a pair of siblings, move into their new home in London. They notice the neighbor's elderly dog disappears for long moments of time and he always returns soaking wet. They decide to find out where he's been disappearing off to and in the midst of this, they discover that they've traveled back in time 100 years. This book had loads of secrets, plot twists, and heart-pounding adventures that will have your students wanting more!
This thrilling story about a boy allergic to sunlight will have your students gripping the pages. Jack Phillips is confined to his home, the risk of life-threatening burns if he steps into the sun too large to take. His favorite pastime is shadow jump at dawn, where the sun is not in sight to hurt him. As his condition worsens, he and his friend, Beth, must find a cure for him before it's too late. Every plot twist and truth reveal is perfect for your mystery-loving readers!
Ben Archer and the Cosmic Fall
Ben Archer's story begins when he sees a UFO crash into the fields next to his grandfather's house. The government sends agents to quickly clear all evidence of aliens and the media is told that it was remnants of meteors. However, things get complicated when Ben realizes he's been entrusted with an alien power that could potentially harm human life on Earth. This thrilling book will have your students hanging onto every word as Ben and his alien friend, Mesmo, figure out how to save the world!
Seventh Grade
As your students get older, their tastes for books may change. These books are perfect for students who are looking for a more mature plot.
Based on a true story, A Long Walk to Water details the stories of two young children, one of a girl in 2008 and one of a boy in 1985. Every day, the girl, Nya, must make a two-hour trek to get water for her family. The boy, Salva, becomes one of the "lost boys" of Sudan, a refugee in the African continent. This book tells the stories of these young children and shows how, despite being from different years, their stories intersect in incredible ways. It's gripping and stunning and by the end, it will have your students feeling hopeful for the future.
This book follows the story of a young girl named Liesel Meminger in the year 1939. The Nazis have occupied Germany and she currently lives with a foster family. She steals books when she leaves her house and learns how to read with the help of the Jewish man her family is hiding in the basement. This intense book is incredibly well-written and your students will be left with a profound sense of understanding the importance of books.
If your students are showing an interest in poetry, this book is a perfect segway into poetic literature. The Crossover tells the story of a set of twin brothers who are prodigies in the sport of basketball. As they grow older, they begin to grow apart, encountering problems both on and off the court. They must learn to deal with issues regarding family, dating, and their relationship as brothers. This touching book is fantastic for students learning about poetry!
Eighth Grade
Your students are going to enter high school soon. How exciting! To help them get ready for more advanced reading, here are some books that can help them ease into a higher level this summer.
The Hobbit, or There and Back Again
The Hobbit, or There and Back Again, is a classic children's fantasy novel. It follows a hobbit named Bilbo Baggins as he goes on an adventure to get a share of the treasure that's guarded by a dragon named Smaug. This book has lots of fantastical creatures and each chapter delves deeper into the world J. R. R. Tolkien has created!
This novel takes place in a world where books are illegal. A fireman named Guy is tasked with destroying these books, along with the houses they are found in. He never questions his duty until he meets his neighbor, Clarisse, who shows him bits of the past where people expressed their ideas through books, and he begins to question everything he knows. This dystopian, futuristic story remains a classic sixty years after it was published and continues to enrapture young readers to this day.
The Strange Case of Dr. Jekyll and Mr. Hyde
This novel, more commonly known as Dr. Jekyll and Mr. Hyde, was written in 1886 and takes place in London. Dr. Henry Jekyll is kind and well respected in his community. One day, he creates a potion that reveals his alter ego, the evil Mr. Edward Hyde. The story shows how there is good and evil in every person and displays a split personality in a thrilling way. This book will teach your students about the duality of man in a way that is exciting and chilling.
Ninth Grade
Your students have just begun their first year of high school! They're at a new reading level and prefer to read books that are more mature with deeper themes and concepts. This reading list will give them the edge they want to read this summer!
Your students have probably heard about the film that is based on this book, and that's even more reason to have them read the original story. The Hate U Give tells the story of a young girl named Starr who witnesses the fatal shooting of her best friend, Khalil, at the hands of a police officer. She faces pressure and intimidation by the police and a local drug dealer in her community. She is the only one who knows exactly what happened that night and what she says or does could upend her community. This riveting story delves into prejudice, injustice, and bravery in ways that will have your students pondering over long after they finish.
This novel about a dystopian society has been keeping readers on their toes for the past seventy years. Winston Smith is tasked with rewriting history to satisfy the Ministry of Truth, and with every lie he writes, he grows to hate the Party that only seeks more and more power. As he grows more resentful, he becomes increasingly aware that he cannot continue to think for himself. After all, Big Brother is always watching. This haunting novel will have your student having important conversations about mass media, surveillance, and the importance of having free will.
Clap When You Land is a story about two young girls who lose their father in an airplane crash. They know nothing of each other, having lived in different countries all their lives, and only learn of each other's existence after their father's death. Together, they must navigate the grief of losing a parent, learn how to be sisters, and learn to understand their different paths in life. Written in free verse poetry, this novel is heartwrenching and beautiful and will have your students reflecting on their own lives.
Tenth Grade
Here are age-appropriate novels for your tenth graders, based on spanning fiction, non-fiction, and more:
In Morrison's bestselling novel, Pecola Breedlove, an 11-year-old Black girl, loves blond, blue-eyed children. She prays for her eyes to turn blue so that she will be beautiful, and people will look at her, so her world will be different.
The story of a young black man caught in a downward spiral after killing a young white woman in a brief moment of panic. 
Persepolis: The Story of a Childhood
Through black-and-white comic strip images, Satrapi tells the story of her life in Tehran from ages six to fourteen, years that saw the overthrow of the Shah's regime, the triumph of the Islamic Revolution, and the devastating effects of war with Iraq.
Eleventh Grade
They may be nearing the end of school but that should never stop them from getting some summer reading in, take a look at the list for eleventh-grade students:
Author Deborah Wiles uses stories and images to tell the riveting story of a particular time and place — and of kids who, in a world where everyone is choosing sides, must figure out how to stand up for themselves and fight for what's right.
This book follows two teens brought together just when it seems like the universe is sending them in opposite directions. 
In the first book of its series, readers explore the diary of Will Henry, orphan and assistant to a doctor with a most unusual specialty: monster hunting.
If you enjoy exploring different books, apply to Teachers of Tomorrow, we can turn your passion for reading into a career in the classroom!