When Michigan Teachers of Tomorrow first applied to Michigan, we knew there were some teacher shortages – but even we were shocked by how bad it is getting in Michigan.
Part of the problem is that students are not going into educator preparation programs in Michigan colleges and universities. The graph below is from the Federal Title II Database and shows a 66% drop in ed school enrollment in the last 7 years! That is a HUGE drop.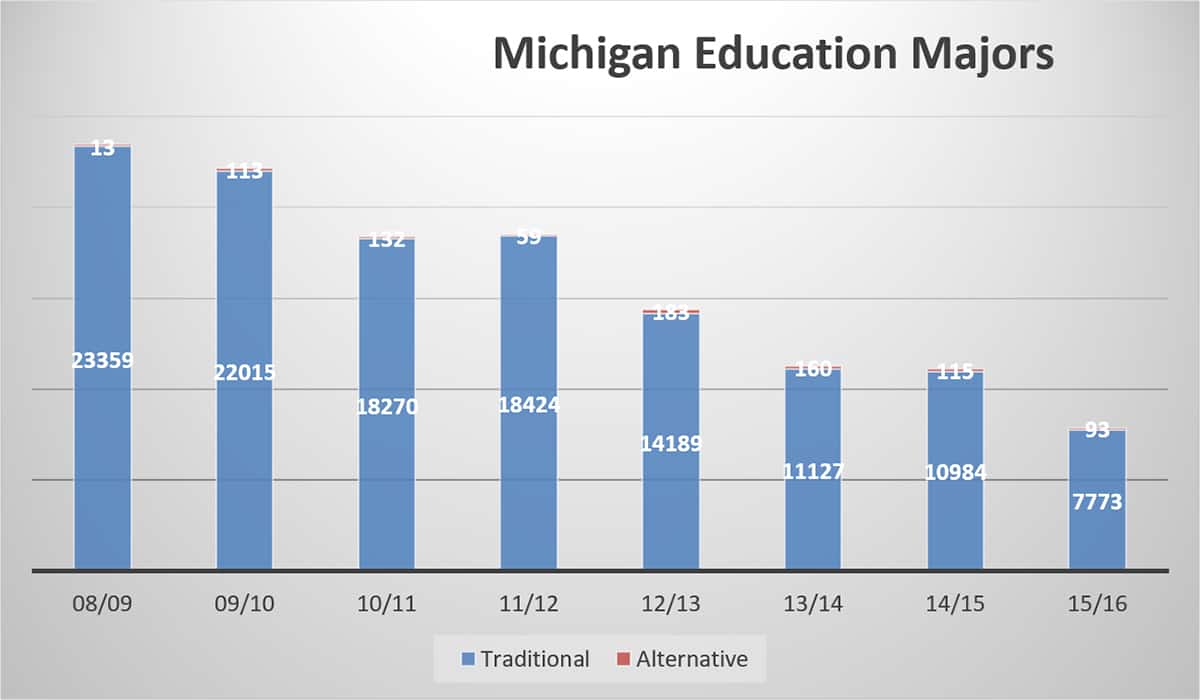 Teacher shortages have hit the Michigan cities for a while – but now it is truly statewide. According to a Detroit News article on September 10, 2018, Michigan School Districts are reporting widespread teacher shortages.
In the U.P. (upper peninsula if you are not from Michigan), 29 of 36 school districts have open positions after school opened.  Other districts like Flint, Romulus, Waterford, Farmington, Pontiac and Benton harbor all have vacancies at the start of school ranging from 15 to 45 open positions.
Detroit started school at least 200 teachers short.
So what does that mean to you? It means you can get a teaching position and there has never been a better time to become a teacher in Michigan. Detroit started Teach 313 to help more teachers move to Detroit with a $1500 discount on a home and a discount on a GM vehicle.
We have placed teachers in over 50 different school districts in the state this year – and that we really our first year of operating!
The teacher shortage is real and we know that every child deserves a great teacher – so please – start your teaching program today.