Your Schools Deserve the Best Teachers
Here at Michigan Teachers, it is our primary goal to help fully staff your schools with qualified teachers. We believe that looking to hire teachers, you should never have to settle. Michigan Teachers is proud to supply your district with teacher candidates who receive the highest caliber of preparation. Over the past few years, we've listened to your request for more Special Education (SPED) teachers. Previously, Alternative Route Providers, such as Michigan Teachers, were not permitted by the Michigan Department of Education to offer this endorsement area. This restriction led to the increased deficit of SPED teachers. To support our shared mission of mitigating the teacher shortage, we set out to change this law. After much deliberation, Michigan Teachers is exceptionally proud to announce the long-awaited approval to offer a SPED endorsement.
Michigan Teachers is proud to be the first alternative route provider to offer a SPED endorsement!
Special Education Endorsement Paths
Michigan Teachers has worked hard, fighting on your behalf to change the law. This significant change now provides another alternative for all educators to advance their careers and provide all students with the teachers they deserve.
To help illustrate the new paths we have created – both for future teachers and current teachers, please review the charts below.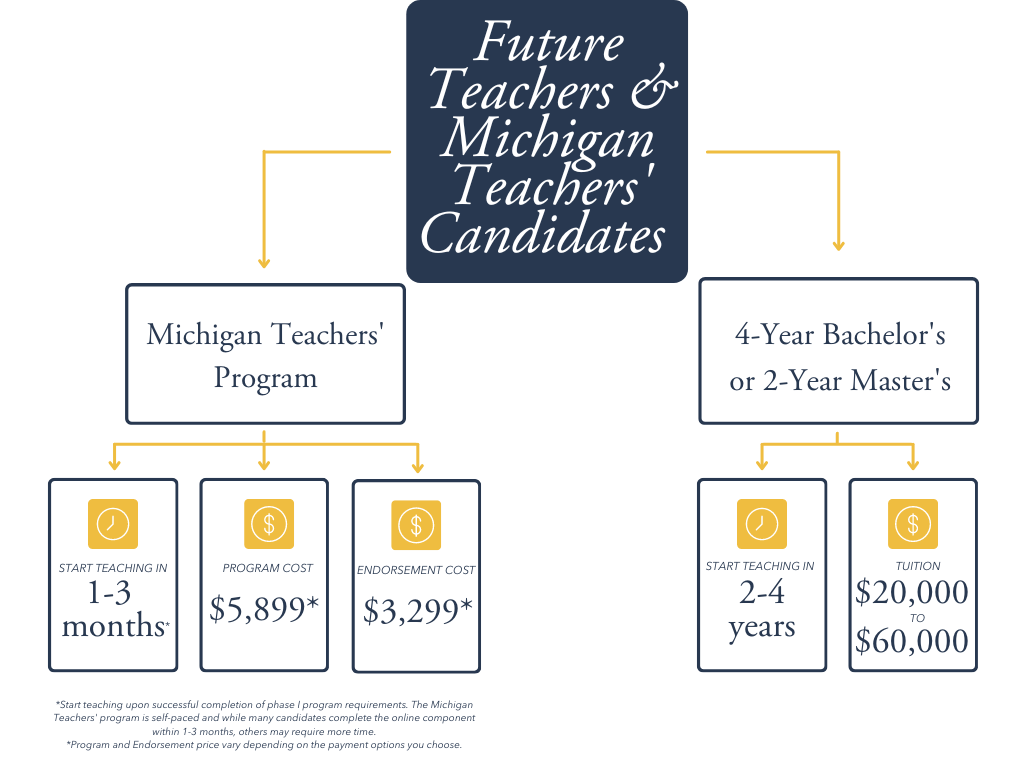 FUTURE TEACHERS PATH  (Available to future teachers or currently enrolled Michigan Teachers of Tomorrow candidates working towards their Standard Certificate.)
As outlined above, Michigan Teachers offers future teachers the opportunity to earn a SPED endorsement in a timely and cost-effective manner. Our Program now allows any future educator or any Michigan Teacher of Tomorrow candidates to become SPED certified teachers through the Michigan Teachers endorsement program in a fraction of the time and cost – without sacrificing curriculum quality. We are thrilled that Michigan Teachers is the first provider in the state offering this incredible opportunity. Our innovative program allows candidates flexibility so they can get into the classroom at their own pace. As always, we strive to provide qualified, dedicated future teachers with the highest caliber of training.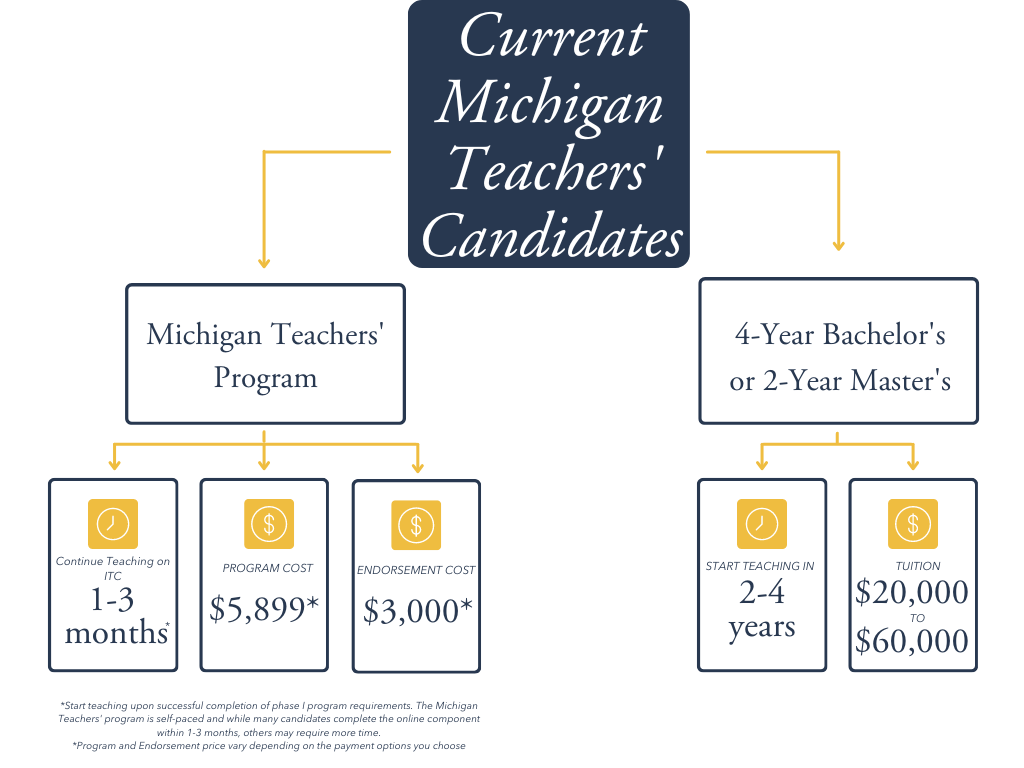 STANDARD CERTIFIED PATH  (For Teachers who currently hold a valid Standard or Professional Michigan Teacher Certification.)
Alternatively, for teachers who already hold a valid Standard Certificate, Michigan Teachers also offers this group of individuals a simple, affordable path to add a SPED endorsement to their certification. Previously, the only path available to earn a SPED endorsement was to complete a 4-year degree program or a 2-year master's degree program. For current educators already teaching on a Standard Certification, this option is costly, time-consuming, and ineffectual – as demonstrated by the dire need for SPED teachers. Our more accessible path for Standard Certified teachers aims to increase the number of SPED endorsed teachers.
Change on the Horizon
We are so thankful that you form part of our Michigan Teachers family! Your continued partnership has not only helped us realize our vision but has aided us in achieving astounding feats. With your support, we have managed to change a groundbreaking law. Becoming a SPED teacher is arguably one of the most rewarding careers, and we are honored that attaining a SPED endorsement is now more accessible. Together, we can work to remove SPED from the teacher shortage list in Michigan – one teacher at a time!
Supply More SPED Teachers in Your School
Michigan Teachers has top teacher talent, just for you. Should you wish for your current teachers to obtain a SPED certification, our Talent Acquisition Team would be pleased to assist you. We encourage you to reach out to your Regional Hiring Consultant. Only together can we work to carry out our shared mission of providing all students with the great teachers they deserve.
 SPED FAQ 
Does the Michigan Teachers' certification program offer SPED?
Yes, we do! Please submit a free application to start the process if you are not already enrolled.
How do I become a SPED teacher in Michigan?
You can become a SPED teacher through the Michigan Teachers certification program. Please submit a free application to start the process if you are not already enrolled.
How do I add a SPED endorsement if I am currently enrolled with Michigan Teachers?
If you are currently enrolled with Michigan Teachers and are interested in pursuing a SEPD endorsement, please contact your Michigan Teachers' Advisor via email by clicking HERE.
Be sure to use the Subject Line: Requesting SPED Endorsement
What are endorsements?
Endorsements indicate which subject area and grade levels you are certified to teach. All teachers have the opportunity to earn additional endorsements to their certifications. Michigan Teachers is the only program that allows you to add multiple endorsement areas. Furthermore, we offer unique endorsement areas available nowhere else.
If I am not currently enrolled with Michigan Teachers, how can I earn my Standard Teaching Certificate with a SPED Endorsement?
Please start the enrollment process by submitting free application. When you speak with a Michigan Teachers' Advisor during the enrollment process, inform them that you are interested in pursing SPED.
If I am enrolled with Michigan Teacher and currently teaching on Interim Teaching Certificate, can I add a SPED endorsement?
Yes, you may! If you are working toward earning your Standard Teaching Certificate with Michigan Teachers, it is possible to add a SPED endorsement. While it is possible to add a SPED endorsement after your Interim Teaching Certificate is issued, we highly recommend speaking with a Michigan Teachers' Advisor and advising us beforehand, if possible. For inquires regarding SPED, please email Teach@MichiganTeachers.org.
If I am currently teaching on Standard Teaching Certificate but did not obtain it through Michigan Teachers, am I still eligible to earn a SPED endorsement through Michigan Teachers? 
Yes, absolutely! We help teachers add a SPED endorsement to their Standard or Professional Teaching Certificate, regardless if they went through our program or not.  If you would like to add a SPED endorsement to your certificate, please submit a free application to begin the process.
Can I earn my Standard Certification with only a SPED endorsement?
No, you may not. The Michigan Department of Education requires that a SPED endorsement must be paired with another endorsement (commonly referred to as "Dual Endorsement"). Once you earn you Standard Teaching Certificate, you may add multiple endorsements to your certificate, allowing you to teach more than one area of interest.