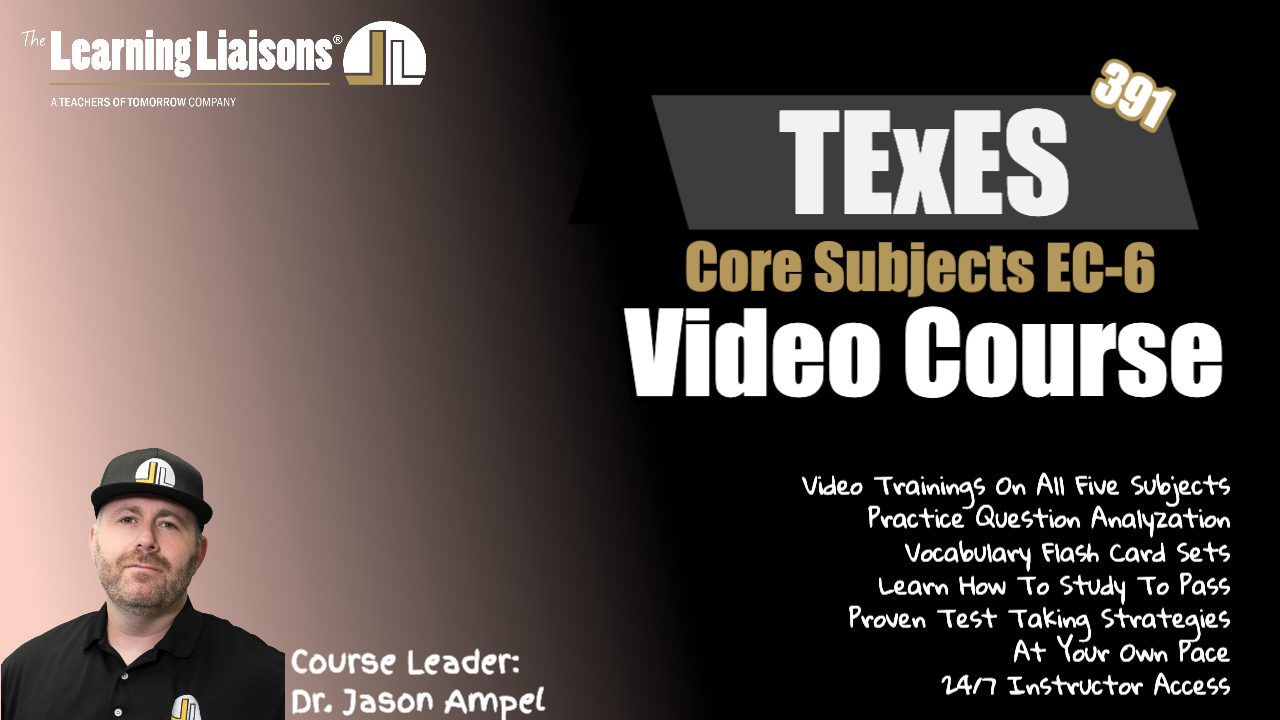 Do you want to pass your Core Subjects EC-6 on the first attempt? How about clear up the confusion on this test and actually be confident and prepared to pass?  You do know the test has changed and you want to be up-to-date on how to pass on your first attempt!
Register today and get access to a recent online five-hour training led by Dr. A of The Learning Liaisons.  Dr. A goes through ALL five content areas: ELAR, Math, Social Studies, Science & Fine Arts/Health/PE. This course also gives you access to hundreds of vocabulary flashcards on all concepts you need to know for this exam.

This course does NOT teach you all of the content tested on this exam.  The focus is on how to analyze test questions and how to prep smart to pass on your first attempt.  Content review and extra practice are in our EC-6 Boot Camps for each content area.
Strategy is KING when passing this test.  Don't take our word for it, check our hundreds of Facebook and Google reviews! See you on the inside!
Why You Should Take This Course
As educators, one of the main objectives is to help students reach their potential in the classroom, as well as in life after school. However, certain exams can be the one thing preventing you from getting into the classroom. One of these exams is the Core Subjects EC-6 Test. Contrary to what you might've heard, or experienced in your own attempt at this test, you can and will pass this test.
Most test prep material out there doesn't have what you need to pass this exam. They provide you with content materials, like study guides or textbooks, instead of actual exam strategies. When you get to the exam, you'll find problems or questions that weren't included in the prep you purchased and you'll ultimately have wasted your time and money.
The great news is The Learning Liaisons does! This five-hour online training led by our Founder, Dr. A, will get the ball rolling with your study process. This training will go through each of the five subtests and teach you the knowledge, skill, and attitude needed to pass. In this session, you will be introduced to a series of proven test-taking strategies through the analysis of test questions. This workshop focuses on the most effective test-taking strategies teachers MUST practice to help guarantee success on this exam. The real work comes with practicing the proven strategies modeled in this course and completing our corresponding content boot camps for each content area.
Attending this session + Completing online courses = Passing your EC-6!
This training and your video courses will help you:
Practice the strategies introduced.
Teach you all about the ins and outs of the test, along with some inside tricks!
Help you review the concepts tested, per the Texas DOE.
Provide activities to self-assess and practice.
Then ultimately put you in the best possible position to pass!
Register today and get everything you need to pass this exam, so you can get on to more important things, like teaching your students. As a top-rated Teacher Certification Prep resource, Dr. A works with dozens of school districts and universities to help educators prep smarter for their Certification Exams. Save money and time by attending and getting what you need for 1st attempt success. The Learning Liaisons have helped over 8,500 teachers pass their various certification exams over the past few years. Don't take our word for it! Check out reviews on Facebook & Google!
Our students have a 90% pass rate. Want to become one of those students? Let's go!