Teaching is more than just a profession — it is a noble and vital vocation that plays a significant role in shaping the future of our society.
However, becoming a teacher requires meeting certain standards and certifications that vary depending on where you live. 
Michigan, like other states in the US, has its own rules and standards for the teaching profession.
Whether you're a recent college graduate or a career changer, this article will cover all the relevant information on how to become a teacher in Michigan. We'll discuss the steps you need to obtain your teaching license and the required certifications.
Reasons to Become a Teacher
Teaching is a rewarding and fulfilling career that offers a wide range of benefits and opportunities. Here are some of the most compelling reasons to seek a career as a teacher:
Inspiring career

–

Teaching allows you to positively impact students' lives, shaping their futures and contributing to their growth and development. You have the opportunity to inspire and motivate students to achieve their full potential and witness their progress and success.

Well-known benefits-

You enjoy long vacation breaks during winter, summer, and spring. Teaching is also an in-demand profession with job stability.

Teacher shortage in many states

–

Many states, like Michigan, are experiencing a teacher shortage. Qualified teachers are in high demand and can often find a job quickly. This allows you to start teaching in the classroom as soon as possible and positively impact your students' lives.
Teaching is the ideal career for you if you enjoy working with children and adolescents and would love to make a difference in the lives of young learners. It's also a great career if you're looking for a dynamic environment in which you can easily thrive since you get daily challenges and opportunities.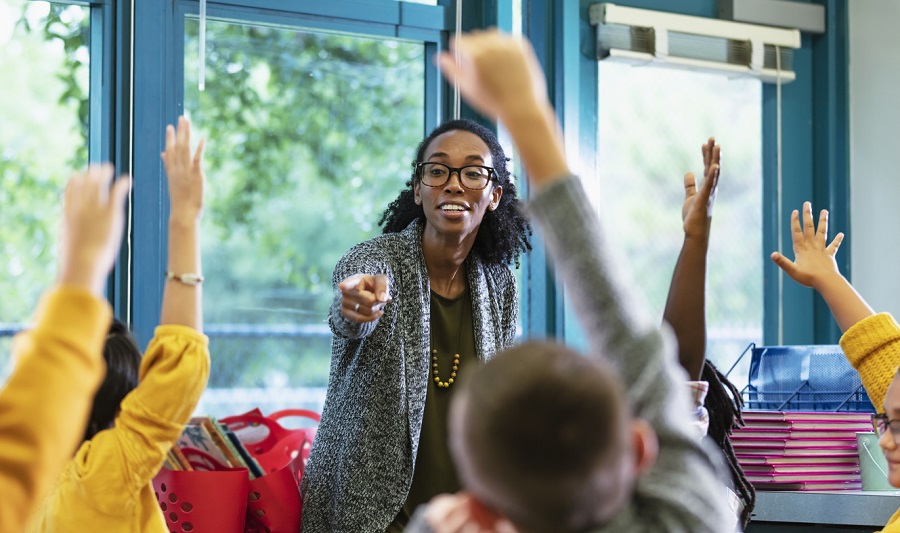 A Day in the Life of a Teacher in Michigan
A typical day for a teacher in Michigan will vary depending on their grade level, subject area, and school district. Here's a general outline of what a typical day might look like:
Morning

Creating lesson plans according to state and national standards, incorporating appropriate curriculum materials and instructional strategies.

Devising and enforcing classroom rules, establishing expectations for behavior and academic performance.

Enforcing school-wide rules, ensuring students follow school policies and procedures.

Instructing classes of students, delivering engaging and effective lessons to facilitate student learning.

Monitoring student comprehension and progress, checking for understanding, and providing feedback as needed.

Identifying the learning challenges of particular students and directing them to resources, such as interventionists or special education services, as appropriate.

Collaborating with interventionists and other teachers to create individual education plans (IEPs) for students with special needs, to support their academic progress.

Lunch

Overseeing students during lunchtime, maintaining a safe and orderly environment.

Informally interacting with students, building relationships and addressing any behavioral concerns.

Early Afternoon

Assigning work for students to complete in class or at home, providing guidance and support as needed.

Administering formal assessments and evaluating student performance and progress.

Grading assignments and assessments, providing feedback, and recording grades.

Planning and preparing for upcoming lessons or activities, adjusting instructional strategies as needed.

Late Afternoon

Overseeing students on school grounds, outside of classrooms, such as during dismissal or extracurricular activities.

Discuss student performance and/or behavior with parents or guardians, providing updates and addressing concerns as necessary.

End of Day

Reviewing and reflecting on the day's lessons and activities, adjusting for future instruction.

Participating in staff meetings, professional development, or other school-related activities as required.

Organizing and preparing materials for the next day's lessons.
Note: The specific schedule and responsibilities may vary depending on the school, grade level, and subject area taught, as well as individual teacher preferences and school policies.
Steps to Becoming a Teacher in Michigan
To become a teacher in Michigan, you need to follow the steps below:
Step 1: Complete your college education:
All schools in Michigan require prospective teachers to have at least a bachelor's degree.
The specific degree subject may vary depending on the grade level or subject area you want to teach. 
For example, elementary-level homeroom teachers can get degrees in elementary education, while high school teachers may need a degree in a specific subject such as math or history.
Consider your career objectives, interests, and strengths when choosing a degree program. 
Research the requirements of the school district or grade level you aspire to teach, as some districts may have specific requirements or preferences for certain degrees.
Step 2: Complete a Teacher Preparation Program:
In Michigan, you must complete a state-approved teacher preparation program as part of the certification process. 
The key learnings of the teacher preparation program include:
Contemporary issues in education

Types and methods of student assessment

Literacy

Teaching methodologies

Educational psychology
There are multiple pathways to becoming a teacher in Michigan, including traditional, expedited, and alternative routes.
The traditional pathway typically involves completing a bachelor's degree in education or a related field, followed by a teacher preparation program at a college or university.
Expedited and alternative pathways may allow you to work as a full-time teacher while completing your certification requirements, providing opportunities for career changers or those with relevant work experience.
Step 3: Pass the Michigan Test for Teacher Certification
The Michigan Test for Teacher Certification (MTTC) is a set of exams administered by the Michigan Department of Education that assess the knowledge and skills of individuals who wish to become certified teachers.
You take the MTTC once you're done with the teacher preparation program. 
There are two types of MTTC exams: 
The Basic Skills Test and the Subject Area Test- Evalates your knowledge in reading, writing, and mathematics. 

The Subject Area Tests- Evaluate your knowledge in specific subject areas such as social studies, science, mathematics, and language arts.
The passing score for the MTTC exams is 220 out of a possible 300. The exams are typically taken on a computer and are offered at various testing centers throughout the state of Michigan.
Step 4: Apply for a teaching certificate:
Prospective teachers can apply for a teaching certificate from the Michigan Department of Education.
When applying, you're expected to submit:
All of your college transcripts

Proof that you've completed an approved teacher preparation program

Proof of passing scores on your MTTC exams

Proof of first aid/CPR certification

Completed application form

Payment for the application.
The teaching certification is valid for five years. As you advance in your teaching profession, you may apply for professional or advanced professional certification.
Step 5: Apply for teaching jobs
Once you're certified, you're now qualified to teach in the Michigan public school system. 
To find open teaching positions in Michigan, search for job openings on various job boards and search engines. Some popular options include Indeed, Monster, and Glassdoor. 
You can also visit the Michigan Department of Education's website to see if there are any job openings in specific school districts or charter schools. Additionally, networking with current teachers, attending job fairs, and reaching out to school administrators can also help you find teaching opportunities in Michigan.
Teacher Certification Types
Getting your basic teaching credential is necessary to teach in Michigan. In addition, two levels of teaching certification are available via the Michigan Department of Education (MDE).
They include:
1- Standard certification
The standard certification is one of the most common types of certification for Michigan teachers. It is issued to teachers who have completed a bachelor's degree, a state-approved teacher preparation program, and passed the Michigan Test for Teacher Certification (MTTC) in their subject area.
This certification is valid for five years and is renewable upon completion of certain requirements, which may vary from grade to grade.
To be eligible for a standard certification, you must also complete an approved reading instruction course, hold a valid first aid and CPR certification, and pass a background check.
2- Professional Certificate
If you already hold a basic certification, you can upgrade to professional certification. Here are the requirements:
Minimum of three years of teaching experience

At least six semester hours in reading methods coursework for elementary teachers.

A minimum of three semester hours in reading diagnostics and remediation, including field experience.

At least 150 hours of education-related professional learning or a master's degree in education. 
The professional can be renewed every five years.
3- Advanced Professional Certification
The MDE only offers this Certification at its highest level. To qualify for the advanced professional certification, you must hold a relevant professional certification. 
You must also become certified by the National Board for Professional Teaching Standards or graduate from a Michigan Teacher Leader program. 
To qualify, you need to have received a rating of "highly effective" or "effective" on at least three of your last five-yearly teacher evaluations without receiving any ineffective ratings. This accreditation is also renewable after five years.
For each level of certification, consult the Michigan Department of Education website for more information on the requirements for each certification type.
Endorsement Options for Teachers in Michigan
In addition to holding at least a bachelor's degree and completing an approved teacher preparation program, Michigan law requires that teachers obtain an endorsement in the subject area they wish to teach. 
You can earn an endorsement in the grades you intend to teach. This includes:
Early Childhood Teacher
The Early Childhood Teacher endorsement is designed for individuals who wish to teach in early childhood education settings such as preschool and early elementary schools.
You're required to complete specific coursework and classroom training in early childhood education.
With this endorsement, you'll be qualified to teach young children a range of subjects like language and literacy development, math, social studies, science, etc. 
The test topics for this endorsement include communication, child development, and learning, content area learning, etc.
Elementary School Teacher
The Elementary School Teacher endorsement in Michigan is for individuals who wish to teach in grades K-5. This endorsement allows you to teach all subject areas, including language arts, math, science, social studies, and other specialized areas, such as music and art.  
The fee to take the Elementary Education Test is $130 and to qualify for an elementary endorsement, you need to get a score of 220.
An extra MTTC in the content area you plan to teach, such as language arts, is required if you want to teach students in grades 6-8.
Middle School Teacher
The Middle School Teacher endorsement in Michigan is perfect for you if you want to teach in middle school. 
It allows you to teach a specific subject area, such as math, science, social studies, English/language arts, or a specialized area, such as physical education, music, or arts.
High School Teacher
The High School Teacher endorsement is right for you if you'd like to teach in grades 9-12. The MTTC you take as a secondary school teacher candidate varies depending on the subject focus in your teacher preparation program.
Consult with your program advisor to select which test to take. The MTTC will then assess your knowledge in that subject.
Teacher in a Specialized Area
This endorsement will be great for you if you want to focus in specialized areas such as special education, English as a Second Language (ESL), or career and technical education.
To obtain a special education endorsement in Michigan, you must focus on a specific special education population unless you wish to teach at the early childhood education level. In this case, you only need to take and pass the Early Childhood Education exam. 
By taking the associated MTTC, you can gain a special education endorsement in one of the following areas:
Learning Disabilities

Cognitive Impairment

Physical or Other Health Impairment

Emotional Impairment

Speech and Language Impaired

Hearing Impaired

Visually Impaired

Autism Spectrum Disorder
Teacher's Work Environment in Michigan
In Michigan, schools typically follow a 10-month school year that starts in late August or early September and ends in late May or early June. The school week for teachers usually runs from Monday to Friday.
Typically, teachers in Michigan spend their work time in classrooms or on school grounds, engaging in instructional activities, classroom management, and student assessments. 
However, it is common for educators to work beyond regular school hours, including evenings and weekends, to prepare lesson plans, grade assignments, and participate in meetings or professional development.
Job security is an important factor for teachers in Michigan. According to the Michigan Department of Education, teachers in Michigan are covered by the Teachers' Tenure Act, which provides job security for tenured teachers. 
The act requires school districts to follow specific procedures before dismissing a tenured teacher, including providing the teacher with written notice of the reasons for the proposed dismissal and an opportunity for a hearing.
Michigan is home to several in-demand teaching careers, with opportunities ranging from early childhood education to high school instruction. 
As of 2023, the state's education system is experiencing a shortage of qualified educators, creating a pressing need for individuals passionate about teaching and with the necessary skills to succeed in the classroom.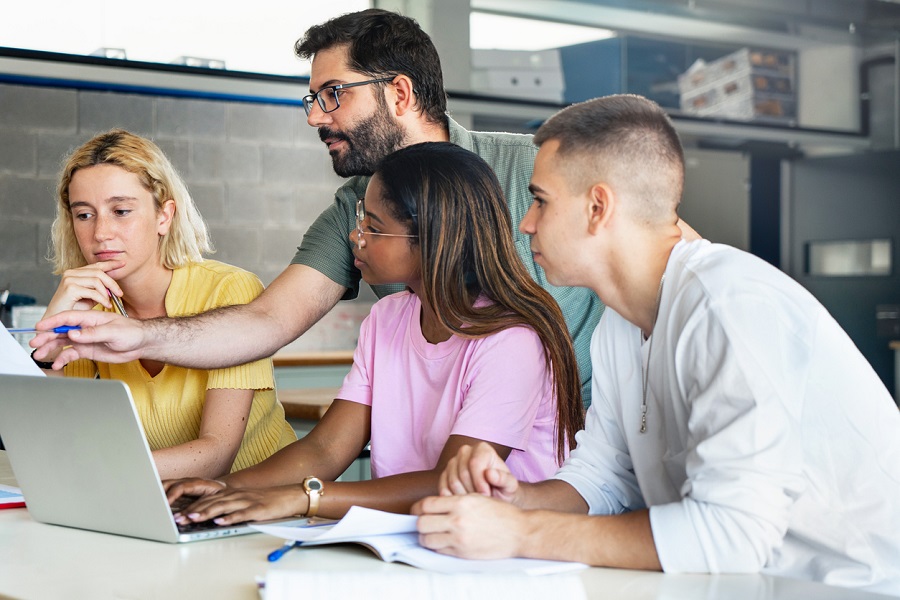 In-Demand Teaching Careers in Michigan
Michigan has a high demand for teachers in various fields due to retirement, population growth, and increased student enrollment. 
According to the Michigan Department of Education, several in-demand teaching careers in Michigan offer competitive salaries and excellent job prospects for qualified candidates.
Here are some of the most in-demand teaching careers in Michigan:
| | |
| --- | --- |
| Teaching Career | Projected Growth |
| Elementary School Teachers | 6% |
| Special Education Teacher | 3% |
| High School Teacher | 4% |
Other in-demand teaching careers in Michigan include:
Kindergarten and elementary school teacher

Middle school teacher

Special education teacher

Instructional coordinator
These careers require different levels of education and Certification, with some requiring a bachelor's degree and others requiring a master's degree or higher. Additionally, some teaching careers may require specific certifications or endorsements.
If you're interested in pursuing a career in teaching in Michigan, consider the current demand for certain fields and the qualifications needed to succeed in those roles.
Teacher Salary in Michigan
One of the elements that can influence a teacher's job satisfaction is their salary. This section will explore the average teacher salary in Michigan and provide a breakdown by grade.
As of March 28, 2023, the average teacher salary in Michigan is $57,303.
The salary ranges can vary depending on the city, education, certifications, additional skills, and years of experience. 
The average teacher's salary in Michigan varies by grade level. According to Salary.com, here is the average salary per grade:
$62,950 – Secondary School Teacher Salary

$ 69,050 – Elementary School Teacher Salary
The average Public School Teacher salary in Michigan is $56,379, with the range typically falling between $47,080 and $68,754.
The level of education may also determine teacher earnings. For instance, teachers with a Master's degree or higher typically earn higher salaries than teachers with a Bachelor's degree. Then teachers with additional certifications or skills, such as special education or bilingual education, may also earn higher salaries.
Teacher Job Outlook in Michigan
Michigan's education sector is facing a significant challenge as the state grapples with a teacher shortage that has escalated into a crisis. Data from the National Center for Education Statistics reveal that this issue is not unique to Michigan. 
Across the country, 53% of public schools reported feeling understaffed at the beginning of the current school year. 
Additionally, an overwhelming majority of 69% of schools nationwide reported experiencing difficulties in hiring teachers. 
These statistics highlight the severity of the teacher shortage problem, impacting both Michigan and the broader education landscape in the United States.
Ready to Build Your Teaching Career in Michigan?
If you're considering a career in teaching, Michigan is a great place to start. With a strong education system and a growing demand for qualified teachers, the state offers a range of opportunities for aspiring educators.
Michigan is home to several excellent public and private schools, and as a teacher, you'll have the opportunity to make a real difference in the lives of your students. In addition to the satisfaction of helping others, there are several other benefits to pursuing a teaching career in Michigan.
Teachers of Tomorrow offers alternative teacher certification options that can help you fasten your journey of becoming a teacher. Visit us today and get your professional teaching certificate.