High school teachers hold a vital role in the education system. They are responsible for providing quality education and preparing students for their future academic and professional endeavors. 
Texas offers a competitive salary for its teachers. The average salary for a high school teacher in Texas is around $60,470 per year, which is very close to the national average of $61,820.
Texas has a growing population, which means that there is always a demand for qualified teachers. The student population is also very diverse, providing teachers with a rich cultural experience.
Suppose you're considering pursuing a career path as a high school teacher in Texas, or you're already enrolled in a program to become one. In that case, this guide will equip you with all you need to know about salary expectations as a high school teacher in Texas.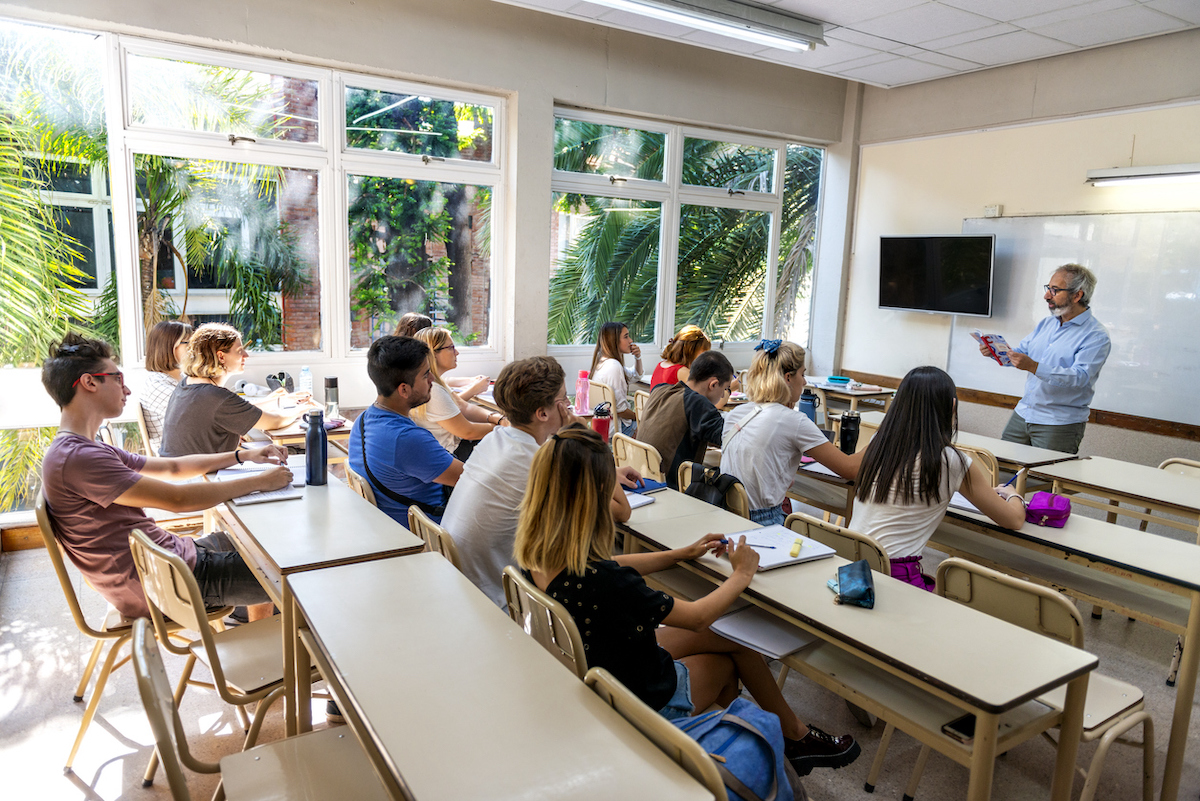 What Is a High School Teacher?
A high school teacher is an educator who teaches academic subjects to students in grades 9 through 12 in a high school setting.
High school teachers may specialize in one or more subjects such as math, science, English, social studies, or foreign languages.
High school teachers play an important role in shaping the future of their students and helping them achieve their academic and personal goals.
The responsibilities of a high school teacher include the following:
Planning and delivering engaging lessons that align with the curriculum and meet the needs of their students.

Grading assignments and providing feedback

Maintaining records of student information such as grades and attendance

Providing academic support to their students by answering questions and providing additional instruction when needed.

Creating a positive classroom environment that's safe, welcoming, and conducive to learning.

Communicating regularly with parents and guardians to provide updates on student progress

Participating in ongoing professional development to stay up-to-date with new teaching methods and technologies.

Supervising extracurricular activities such as clubs, sports teams, or other student organizations.

Providing guidance to students on college or career planning
How Much Do High School Teachers In Texas Make?
Data from the Bureau of  Labor Statistics suggest that the average salary of a high school teacher in Texas is $60,470.
The salary ranges vary widely, with the highest earning $77,600 and the lowest earning $50,500.
| Lowest Paid In Texas | Highest Paid in Texas | Average Hourly Wage | National Average |
| --- | --- | --- | --- |
| $50,500 | $77,600 | $30.01 | $61,820 |
The wage variation between the highest and the lowest paid can depend on a number of factors, such as:
School District

Education level

Certifications

Experience
How to Become a High School Teacher In Texas
As a high school teacher, you become a mentor and role model to your students as you prepare them for higher education and careers ahead. Therefore, you must be skilled and well-prepared to nurture them for future success.
To become a high school teacher in Texas, you can follow one of these two methods:
Traditional method

Nontraditional approach
The traditional approach to becoming a high school teacher in Texas
The traditional approach to becoming a high school teacher involves the following steps:
Obtain a Bachelor's degree:

You'll need to obtain a Bachelor's degree in education or a related field. Ensure that the bachelor's degree program you choose is accredited by an accrediting agency recognized by the

Texas Higher Education Coordinating Board

(THECB).

Complete a Teacher Preparation Program:

After obtaining a Bachelor's degree, you must complete a teacher preparation program. This program will involve teaching students in a classroom setting, which will give you hands-on experience in a classroom setting.

Obtain a Teaching License:

To teach in a public high school, you must obtain a teaching license. The Texas teaching license requirements include passing a state-approved teacher preparation program and passing state-specific certification exams.
Alternative certification 
The alternative certification approach to becoming a high school teacher is a non-traditional route that allows individuals who have not completed a traditional teacher education program to become certified teachers. 
This approach is often used by individuals with a Bachelor's degree in a field other than education but who wish to become a teacher.
Alternative certification programs are a great opportunity for individuals who have a passion for teaching and want to make a difference in students' lives.
The basic steps for becoming a high school teacher through an alternative certification program include:
Complete a teacher certification program:

You'll be required to complete a teacher certification program, which may involve coursework, classroom observation, and student teaching.

Pass teacher certification exams:

To become certified to teach in Texas, you must pass Texas-mandated teacher certification exams, such as the Praxis exams.

Secure a teaching job:

Once certified, you can apply for a job in a high school or another educational setting. 
Our alternative certification programs offer job placement assistance to help candidates find teaching positions.
What Is the Highest and Lowest Paying High School Job?
In Texas, the teacher salaries are determined by the individual school district and depend on several factors. For example,
The demand for teaching positions:

Some teaching positions, such as STEM subjects and English as a Foreign Language, are in high demand, and the educators are well remunerated.

Location of the school district:

School districts in big cities such as Houston, Dallas, and Austin are paid more than those in rural areas.

Type of school:

Some schools, such as specialized schools, pay their teachers more or less.

Teaching experience:

The number of years a teacher has taught in the State of Texas also influences the average salary.
The table below shows the top-paying careers in High school for teachers in Texas.
| Subject | Average Annual Salary |
| --- | --- |
| Science | $54,416 |
| English as a second language | $51,401 |
| Computer | $62,090 |

Become a High School Teacher In Texas
Becoming a high school teacher is a rewarding and fulfilling career choice, and Texas has a lot to offer prospective teachers. 
As a high school teacher, you can significantly impact the lives of your students, inspiring and guiding them in their academic and personal lives.
As a high school teacher in Texas, you have ample opportunities for professional development, which can enhance your skills and knowledge.
You also get stability due to the increase in student population, which causes an increase in teacher demand.
If you're considering a career in teaching, Texas is an excellent place to start your journey. So, take the first step towards becoming a high school teacher in Texas and join the ranks of dedicated educators making a difference in the lives of young learners.
Related Careers
How to Become an English Teacher: A Detailed Step-By-Step Guide
Middle School Teacher Salary In Texas
Elementary School Teacher Salary In Texas
Kindergarten Teacher Salary In Texas
Pre-school Teacher Salary in Texas