Kindergarten teachers play a crucial role in shaping the minds of young children and preparing them for their academic journey. 
In Florida, the average annual salary for a kindergarten teacher is $58,990, according to the Bureau of Labor Statistics (BLS). 
There is a growing need for educators in the state due to population growth and many young students enrolling in schools.
With more students entering the education system each year, there is a need for skilled teachers who can provide high-quality education to meet the demand.
Today we'll take a closer look at the earnings potential for kindergarten teachers in Florida and explore some factors contributing to their salaries.
What Is a Kindergarten Teacher?
A kindergarten teacher is an educator who specializes in teaching young children who are commonly five or six years old. 
Kindergarten teachers help children develop foundational reading, writing, math, and socialization skills. 
Kindergarten is the first year of formal education for most children. Therefore, kindergarten teachers play a critical role in shaping their educational experiences. 
They must have patience, creativity, and good communication skills to create a productive learning environment for young children.
Here are some of the key duties of a kindergarten teacher:
Planning lessons that align with the curriculum and are appropriate for their students' developmental level.

Maintaining order and ensuring that all students are following the rules in the classroom.

Assessing student progress and identifying areas where they may need extra help.

Communicating with parents to keep them informed about their child's progress.

Decorating the classroom, establishing routines, and building positive relationships with their students to create a welcoming learning environment.
Being a kindergarten teacher is challenging because educators have to handle very young children from various backgrounds and help cultivate their love for learning. It is also very rewarding to make an impact on young minds and see them learn and grow.
How Much Do Kindergarten Teachers In Florida Make?
According to the Bureau of Labor Statistics, the average annual salary for kindergarten teachers in Florida is $58,990 as of May 2022. 
However, the average annual salary for a teacher can vary, with the highest earning $71,544 and the lowest earning $49,329. These variations are caused by factors such as years of experience, location, and level of education. 
For example, a kindergarten teacher with a master's degree may earn a higher salary than those with a bachelor's degree. 
Furthermore, the salary for kindergarten teachers can also vary by the school district or type of school they work in. For instance, private and public schools differ in how they remunerate their teachers, while some school districts may receive more funding than others.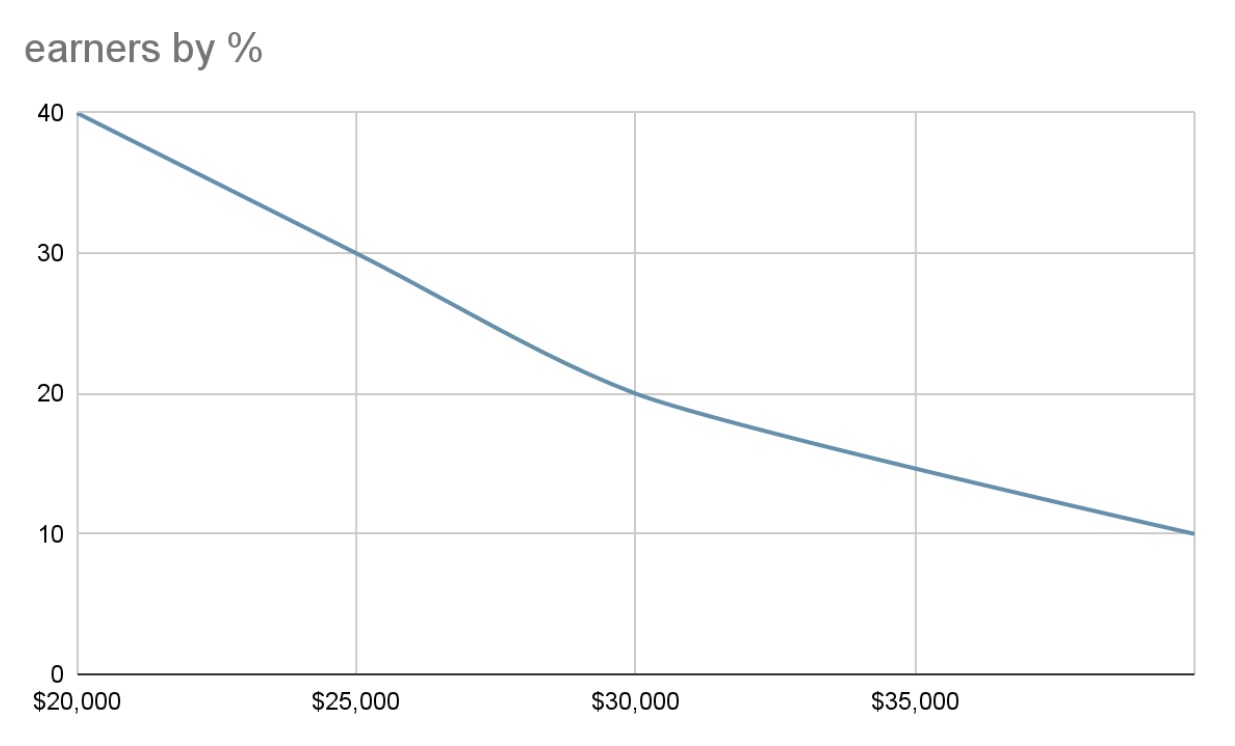 The average annual salary in $
How to Become a Kindergarten Teacher In Florida
As mentioned, kindergarten is a foundational stage where you introduce young children to learning basics. Therefore, you must undergo proper training to ensure you're fit and qualified to teach young children.
The steps of becoming a qualified kindergarten teacher vary by state. To become a kindergarten teacher in Florida, you must go through the following steps:
Earn a bachelor's degree:

First, you must pursue a bachelor's degree in education or a related field. Your bachelor's degree program should include coursework in early childhood development, educational psychology, curriculum design, and teaching methods.

Complete a teacher preparation program:

Once you have earned your bachelor's degree, you'll need to complete a teacher preparation program. This program will provide you with hands-on teaching experience and help you develop the skills to become an effective kindergarten teacher. Most degree programs include a teacher preparation program that's taken toward the end of the last semester.

Pass a certification exam:

To become a certified teacher in Florida, you must pass the

Florida Teacher Certification Exam

(FTCE). The FTCE consists of several subtests, including a general knowledge test, a professional education test, and a subject area test specific to early childhood education.

Apply for certification:

Once you have completed all the above requirements, you can apply for certification with the

Florida Department of Education

. You'll need to submit your application, official transcripts, and test scores and pay a fee.

Undergo a background check:

Before you're licensed to teach in a Florida school, you must undergo a background check. This will include fingerprinting and a criminal history check.
Once you have completed all these necessary steps, you'll receive your certification, and you can begin your career as a kindergarten teacher in Florida.
Alternative certification for kindergarten teachers in Florida
The Florida Department of Education offers several alternative certification routes for prospective teachers. These programs help provide a pathway for aspiring educators to obtain the necessary training and certification to become qualified teachers in Florida.
To be eligible for alternative certification, you must hold a bachelor's degree and have completed certain coursework.
You can find a list of approved programs on the Florida Department of Education website.
You'll need to complete the course requirements and take Florida certification Exams to be eligible for certification.
Which Is the Highest and Lowest Paying Kindergarten Job?
As a licensed kindergarten teacher in Florida, you have several options to explore beyond working in a traditional public school classroom. Here are some possible options:
Private schools:

You may find a private school specializing in early childhood education or focusing on a specific teaching philosophy, such as Montessori or Waldorf.

Online education:

You may explore opportunities to teach remotely from your home or a designated workspace in the many online education platforms available today.

Childcare centers:

Many childcare centers include educational activities and hire licensed teachers to lead their curriculum.

Head Start programs:

Head Start is a federally funded program that provides education, health, and nutrition services to low-income families with young children. Some are located in public schools, but some are run by community organizations or non-profits.
The graph chart below shows the salary expectations for each option above.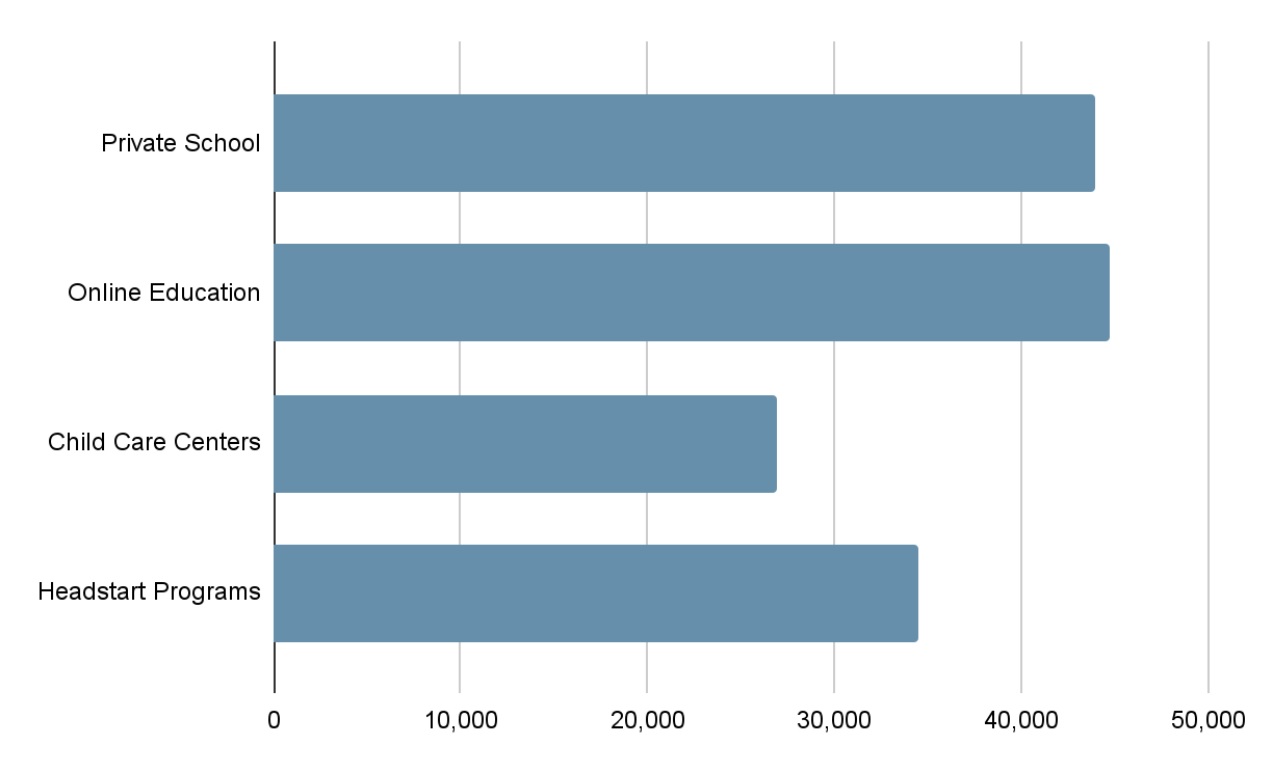 Average earning in $
Become a Kindergarten Teacher In Florida
If you're passionate about teaching and working with young children, Florida offers many opportunities to build a fulfilling and rewarding career as a kindergarten teacher. 
Florida values education, and there are many opportunities for skilled teachers. In addition, Florida's warm and sunny climate, diverse population, and high quality of life make it an attractive place to live and work. 
So, if you're considering a career as a kindergarten teacher in the sunshine state, take the steps and start building a fulfilling career today.
Related Teaching Careers
How Much Does a Preschool Teacher Make? Salary and State Guide
How to Become a Music Teacher In 2023?
The 4 Best Ways to Become a Teacher In 2023