Teaching kindergarten is a calling. It's where you nurture inquisitive minds and introduce them to essential life skills. Indiana needs more qualified kindergarten teachers to help guide the next generation. Its low cost of living makes it an attractive place to build an educational career. 
The average annual kindergarten teacher salary in Indiana as of May 2022 is $53,340. Salary ranges can vary widely depending on the city and many other important factors, including education, certifications, additional skills, and the number of years you have spent in your profession.
In this guide, Teachers of Tomorrow highlights the salaries for kindergarten teachers in Indiana. We'll also share the steps you need to take to become a kindergarten and available alternative teacher certification options. 
What Is a Kindergarten Teacher? 
A kindergarten teacher in Indiana works with learners as young as five. Children are introduced to the foundations of reading, writing, math and enjoy learning science, art, and music. Kindergarten teachers also greatly emphasize social skills, such as taking turns, sharing, and listening. Motor skills are also developed, such as holding a pencil and scissors.
Becoming a successful kindergarten teacher requires an aptitude for skills such as:
Enunciation:

Young learners have short attention spans and are still developing fluency and listening skills. Kindergarten teachers are constantly communicating and must be able to speak clearly to be understood. 

Monitoring:

Parents are always saying they need eyes on the back of their heads. But for kindergarten teachers, it's essential to keep up with their busy learners. In addition, the "temperature" of the room is always changing, and it requires constant vigilance to stay on top of it to keep the classroom a calm and nurturing environment. 

Stamina:

Kindergarteners have seemingly endless energy, meaning their teachers must be the educational equivalent of marathon runners. 
The Indiana Department of Education (IDOE) takes early learning seriously. They are always updating their standards for this crucial learning phase, requiring kindergarten teachers to continuously improve their skills and learning about child development. 
In the classroom, kindergarten teachers have many responsibilities, such as:
   

Prepare and present lessons and activities that enhance their cognitive and social development and work on motor skills.

   

Assisting children on how to resolve conflict.

   

Monitor the learners progress and update guardians and parents.

   

Creating a safe, nurturing, and engaging classroom learning environment.
How Much do Kindergarten Teachers in Indiana Make?
The average annual salaries for kindergarten teachers in Indiana as of May 2022
according to the Bureau of Labor Statistics are:
Highest salary – $69,850

Average salary – $53,340

Lowest salary – $38,950
Kindergarten school salaries in Indiana vary depending on certain factors:
Experience:

The longer you are in the teaching profession the higher the pay.

Location:

Certain areas of the state are wealthier than others. Schools in higher tax districts tend to pay better but may also come with a higher cost of living.

Type of school:

Indiana has many types of schools: public, private, charter, international, and online. Generally the better paying jobs are in the public schools, but there are exceptions.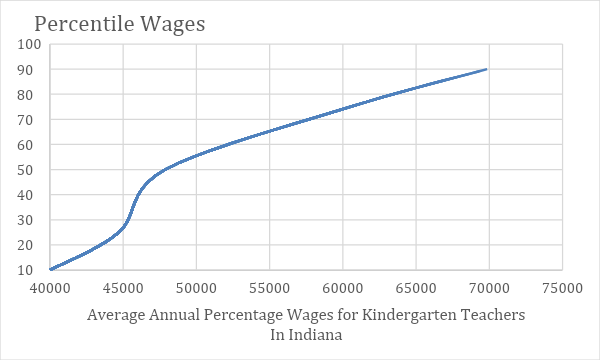 How to Become a Kindergarten Teacher in Indiana 
Becoming a kindergarten teacher in Indiana requires a bachelor's degree, like everywhere else in the country. However, the steps after that vary as each state has its own rules regarding licensing and certification. 
According to the IDOE, the steps to becoming an kindergarten teacher include: 
Obtain a bachelor's degree with a 3.0 on a 4.0 scale.

If you attend an Indiana-accredited college or university and study elementary education, the teacher preparation component is part of the course. 
OR
Obtain a bachelor's degree with a 2.50 on a 4.0 scale and five years of relevant professional experience. You can obtain the necessary experience through being a substitute teacher. 
OR
Obtain a bachelor's degree from a local university and pass state-approved teaching tests. 
Once you have obtained your teaching license, you can start applying for kindergarten teacher teaching positions in Indiana. You can look at school district websites, education job fairs, and openings on job boards such as Indeed and Glassdoor.
Alternative Route to Certification for Kindergarten Teachers
The nation is experiencing a teaching shortage, and Indiana is working hard to make a career in education more attractive, such as through its Transition to Teaching programs. It allows candidates to immediately begin working as a teacher while studying towards a Practitioner License through qualified programs, such as the one offered by Teachers of Tomorrow.
Transition to Teaching is open to people who hold a regionally accredited bachelor's degree, and it does not have to be in education. Those participating in the program are hired by an Indiana school corporation and granted a three-year, non-renewable T2T permit. 
The steps to take part in the Transition to Teaching include:
Already have a bachelor's degree or higher from a regionally accredited institution and the official transcripts. 

Complete Indiana Teachers' application and interview. 

Receive the Indiana Teachers Letter of Acceptance.

Get hired

as a teacher in an Indiana school. 

Work with your Indiana Teacher advisor. 

Do your Classroom Readiness Training and Field-Based Experience

Complete the

CPR/AED/Heimlich

certification. 

Complete the

Suicide Prevention

certification. 

Follow the IDOE's

step-by-step instructions

to apply for your Transition to Teaching permit.

Begin teaching once you have your T2T permit. You will teach on it for two years and complete the requirements for your Practitioner License in your first year.

Pass the

Praxis Content and Principals of Learning and Teaching Exam

for your grade level.

Complete two years of teaching.

Receive a recommendation from the Building Level Administrator and Field Supervisor at the end of your Internship Year. 

Present all documentation and coursework to IDOE to obtain your Indiana Practitioner License.
What is the Highest and Lowest Paying Kindergarten Teaching Job?
As a certified kindergarten school teacher in Indiana, you can work in various settings:
Public schools:

Indiana kindergarten public school salaries are heavily influenced by where the school is based and years of experience. Thus, the lowest-paying jobs are generally for beginner teachers in low-income areas.

International schools:

Indiana does not regulate who can call themselves an "international school." But their biggest provider uses a more challenging curriculum than used throughout the country. Thus, rather than a standard high school degree, graduates are awarded an International Baccalaureate® (IB), respected at the world's top universities, and may give an edge when applying to more prestigious US universities. But the salaries are generally slightly lower than public until high school. 

Private schools:

Indiana's private schools receive some state funding through Indiana's Choice Scholarship Program, but the rest comes from private tuition fees. Salaries at private schools have a wider range than public schools. Some prestigious institutions offer higher wages than the public, but many offer significantly lower salaries. 

Charter schools:

Indiana's

charter schools

receive state and federal funding, typically more than they give their public schools. However, unlike public schools, charter schools receive no local funding. 

Online teaching

: Online teaching jobs are growing in demand in Indiana. These salaries typically pay the least but vary widely, depending on the platform, organization, and the hours.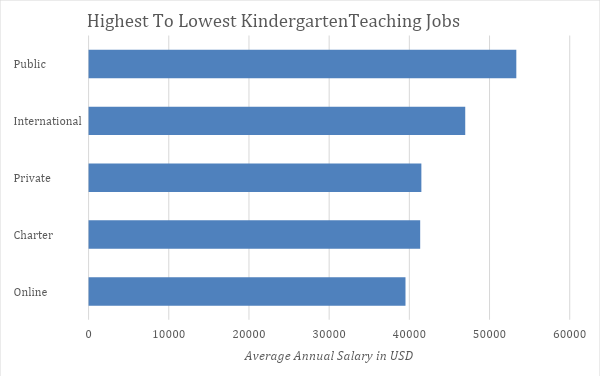 At Teachers of Tomorrow, we look forward to helping you achieve your career goal of becoming one of Indiana's best kindergarten teachers. Start your journey now so you can inspire the next generation.