Teaching middle school is an impactful vocation where you help learners transition from children to teens. The classroom energy is dynamic, where kids are becoming blunter and sharpening their sense of humor yet still have respect for their leader (you). Indiana has a shortage of quality middle school teachers to work with this challenging yet fun and rewarding age bracket.
The average middle school teacher salary in Indiana is $58,300 as of May 2022. Salary ranges can vary widely depending on the city and many other important factors, including education, certifications, additional skills, and the number of years you have spent in your profession.
In this guide, Teachers of Tomorrow highlights the salaries for middle school teachers in Indiana. We'll also share the steps you need to take to become a middle school teacher and available alternative teacher certification options. 
What Is a Middle School Teacher? 
A middle school teacher in Indiana typically works with students in grades six through eight. In Indiana, children may start kindergarten as early as five, although many are six, meaning the learners may be as young as 11 in grade six and as old as 14 in grade eight. 
The Indiana middle school curriculum has a broader range of subjects than elementary school, and teachers must specialize in certain areas, such as English, math, and science. As the learners progress through middle school, their classroom style and teaching shift away from a primary classroom as in elementary and begin to rotate in a system similar to high school. 
Becoming a successful middle school teacher requires cultivating the following skills: 
Persistence:

Middle school is a period where life can feel heavy, and not all learners want to be there. It takes determination and tenacity to penetrate these defensive walls, gain their trust, and nurture enthusiasm for knowledge. 
Engagement:

Learners at this age will not quietly suffer boredom and quickly turn their attention to more entertaining and probably disruptive activities. Teachers must find inventive ways to keep students engaged in lessons and school activities.

Adaptability

: Middle schoolers are dealing with a surge of hormones, giving them complicated feelings and large mood swings. Learners may laugh one moment and be near tears the next, declaring their life "ruined." Teachers need to be able to switch gears in a heartbeat and empathize with this challenging period in child development. 
In the classroom, middle school teachers have many responsibilities, such as:
   

Prepare material for lessons, evaluation, and activities

   

Support students who need extra guidance

   

Maintain a conducive classroom learning environment

   

Communicate regularly with guardians or parents
How Much Do Middle School Teachers Make in Indiana?
The average annual salaries for middle school teachers in Indiana as of May 2022
according to the Bureau of Labor Statistics are:
Highest salary – $80,050

Average salary – $58,300

Lowest salary – $40,300
Middle school salaries in Indiana vary depending on certain factors:
Experience:

Pay tends to increase the longer you teach.

Subject and Grade Level:

Middle school salaries are often higher for junior high grades than the lower. In addition, being qualified in a scarce subject, such as math and science, often pays better than a subject where there are many qualified teachers.

Location:

Certain areas of the state are wealthier than others. Schools in higher tax districts tend to pay better but may also come with a higher cost of living.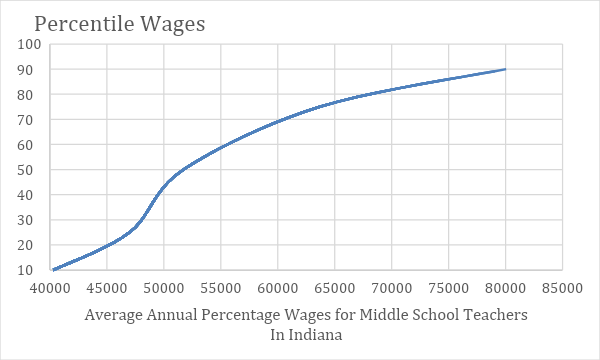 How to Become a Middle School Teacher in Indiana
Becoming a teacher in Indiana requires a bachelor's degree, like everywhere else in the country, although each state has particular rules and regulations. 
Candidates wanting to teach middle school often choose a degree in secondary education, specializing in at least one subject area, allowing them to teach grades five to twelve. Those who choose to study elementary education can only teach up to grade six. 
According to the Indiana Department of Education (IDOE), the steps to becoming a middle school teacher include: 
Obtain a bachelor's degree with a 3.0 on a 4.0 scale.

If you attend an Indiana-accredited college or university and study elementary or secondary education, the teacher preparation component is part of the course. 
OR
Obtain a bachelor's degree with a 2.50 on a 4.0 scale and five years of relevant professional experience. You can obtain the necessary experience through being a substitute teacher. 
OR
Obtain a bachelor's degree from a local university and pass state-approved teaching tests. 
Once you have obtained your teaching license, you can start applying for middle school teaching positions in Indiana. You can look at school district websites, education job fairs, and openings on job boards such as Indeed and Glassdoor.
Alternative Route to Certification for Middle School Teachers
Indiana has a significant shortage of middle school teachers, so they've devised an alternative route to certification called Transition to Teaching. The program allows candidates to work as teachers while preparing for their Practitioner License through IDOE-approved providers, such as Teachers of Tomorrow.
Transition to Teaching is open to people who hold a regionally accredited bachelor's degree, and it does not have to be in education. Those participating in the program are hired by an Indiana school corporation and granted a three-year, non-renewable T2T permit. 
The steps to take part in the Transition to Teaching include:
Already have a bachelor's degree or higher from a regionally accredited institution and the official transcripts. 

Complete Indiana Teachers' application and interview. 

Receive the Indiana Teachers Letter of Acceptance.

Get hired

as a middle school teacher in an Indiana school. 

Work with your Indiana Teacher advisor. 

Do your Classroom Readiness Training and Field-Based Experience

Complete the

CPR/AED/Heimlich

certification. 

Complete the

Suicide Prevention

certification. 

Follow the IDOE's

step-by-step instructions

to apply for your Transition to Teaching permit.

Begin teaching once you have your T2T permit. You will teach on it for two years and complete the requirements for your Practitioner License in your first year.

Pass the

Praxis Content and Principals of Learning and Teaching Exam

for your grade level.

Complete two years of teaching.

Receive a recommendation from the Building level Administrator and Field Supervisor at the end of your Internship Year. 

Present all documentation and coursework to IDOE to obtain your Indiana Practitioner License.
What is the Highest and Lowest Paying Middle School Job?
As a certified middle school teacher in Indiana, you can work in various settings:
Public schools:

Indiana middle school salaries vary across the state, dependent on the district's local funding and years of experience. Thus, the lowest paying jobs are typically beginner teachers working in a low-income district.

International schools:

"International" is not officially defined by Indiana. But, the biggest provider uses a more challenging curriculum than most other US schools. Thus, rather than a standard high school degree, graduates are awarded an International Baccalaureate® (IB), respected at the world's top universities and may give an edge when applying to more prestigious US universities. However, while these schools pay high school teachers significantly more than public schools, their middle school salaries are slightly less. 

Charter schools:

Indiana's

charter schools

receive state and federal funding, typically more than they give their public schools. However, unlike public schools, charter schools receive no local funding. While middle school salaries are generally less than public schools, they are sometimes much higher in areas with severe shortages, such as math.  

Private schools:

Indiana's private schools receive some state funding through Indiana's Choice Scholarship Program, but the rest comes from private tuition fees. Salaries at private schools have a wider range than public schools. Some prestigious institutions offer higher wages than the public, but many offer significantly lower salaries.

Online teaching

: Online teaching jobs are growing in demand in Indiana. These salaries typically pay the least, but the middle school sector is becoming increasingly competitive, nearly equaling the average salaries offered by private and charter schools.