Middle school teachers bring important key values to the US educational system. They help students develop foundational skills in core academic subjects and help them develop a lifelong passion for education.
Typically, a middle school teacher handles students in grades six to eight. However, grades five or nine students are considered middle school in some school districts.
If you're passionate about sharing your knowledge and expertise with young children, a middle school teaching career may be the best fit.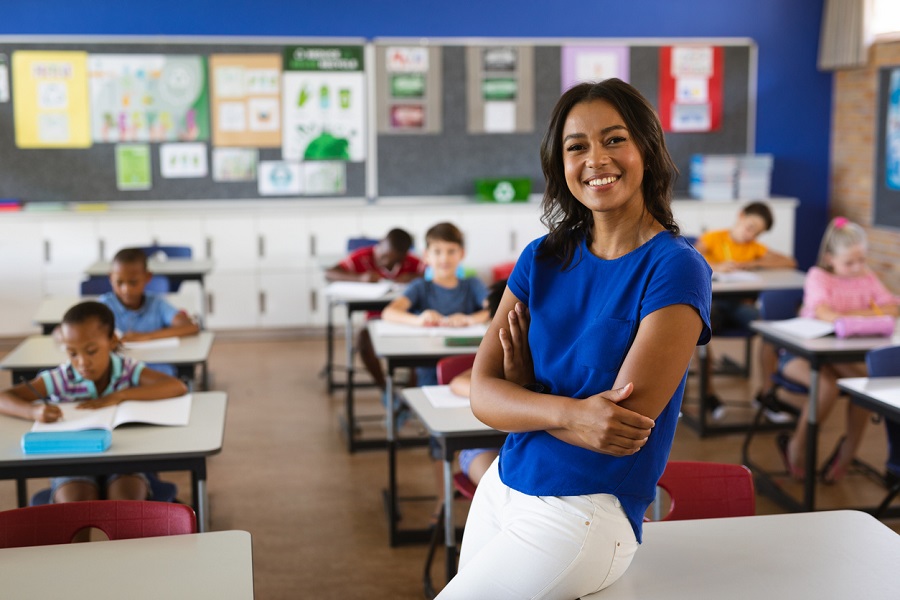 In this article, we'll discuss all the steps to becoming a middle school teacher. From educational requirements to state-specific requirements, this guide will provide you with all the details you need to pursue a career as a middle school teacher.
What Is a Middle School Teacher?
A middle school teacher is an educator who specializes in instructing and guiding students in grades six through eight.
In some school districts, grades five and nine are also included in middle school.
Middle school teachers can work in a variety of settings. For example:
Public schools

Private schools

Charter schools

Online schools

Homeschooling programs

Alternative education programs
Middle school teachers typically teach specific subjects. For instance, one teacher may teach a history class in different grades while another teaches math or science.
Teaching in Middle School
The middle school curriculum in the US is focused on providing students with education and skills that prepare them for high school and beyond.
Middle school is the transition phase between elementary and high school. For teachers, the experience of teaching middle school students differs from high school and elementary.
The table below shows the differences in teaching approach between middle school, elementary and high schools.
| Middle school | Elementary | High School |
| --- | --- | --- |
| Focus on building skills and knowledge in core subjects such as math, science, social studies, language arts, and science | Focus is on the learning fundamentals such as reading, writing, and math | Focuses on preparing students for college |
| Students move between classrooms for different lessons | Students have one teacher and stay in one class for all subjects | Students move between classes and get to have elective courses depending on their interests |
| Introduction to more advanced concepts such as algebra and geometry | Curriculum is designed to teach basic knowledge | More advanced coursework such as physics and calculus |
The different approaches applied to teaching middle school students try to integrate elements of elementary and high school.
Prospective middle school teachers must know that their students are just entering adolescence. They should devise ways to support and manage them as they go through this transition.
By doing so, they can connect and create a positive learning environment which in turn leads to academic success for their students.
Benefits of Becoming a Middle School Teacher
There are many benefits to becoming a middle school teacher. For example:
Helping children learn and grow:

Middle school teachers employ different instructional strategies to help their learners develop academically, socially, and emotionally.

Meeting new people:

During their career, middle school teachers engage with colleagues, and support staff and go to career development programs that help them meet new people all the time.

Making a difference in the community:

Middle school teachers have the opportunity to positively impact the young minds of future leaders, therefore, making a positive contribution to the community.

Helping students as individuals:

Middle school teachers engage on a personal level with every student and adjust their instructional approach to suit the students' learning styles.

Strengthening personal and professional relationships:

As they collaborate with colleagues, parents, and students, middle school teachers are able to form lifelong positive relationships.
Responsibilities of a Middle School Teacher
Middle school education focuses on a wide range of academic and personal development areas. For example, math, social studies, English, science, art, and physical education. The main goal is to prepare students for success in high school and beyond.
The responsibilities of a middle school teacher can vary depending on their subject area, school, grade level, and the needs of their students.
The most common responsibilities include:
Planning and delivering lessons in one or more subject areas such as math, English, or social studies.

Evaluating students' performance through assessments

Tracking the progress of students and preparing reports

Giving and grading assignments

Offering feedback and specialized help to different learners

Enforcing classroom rules and resolving conflicts between students

Coordinating with special education teachers and other staff members to help every student meet their educational goals.
Steps to Becoming a Middle School Teacher
There are certain steps on how to become a middle school teacher. Next, we'll explore each step in detail.
1. Complete a bachelor's degree.
The first step towards middle school teaching certification is to obtain a bachelor's degree. Most states require a bachelor's degree closely related to the subject area you wish to teach.
For example, you can pursue a bachelor's degree in secondary education and double major in the subjects you wish to teach, such as math, history, or music.
Education degree programs mostly incorporate teacher preparation programs where aspiring teachers learn about child development, classroom management, and instruction.
Other degree programs aspiring middle school teachers can pursue include:
Bachelor's degree in a subject area

Master's degree in education
2. Gain several weeks of student teaching experience.
Aspiring middle school teachers typically have to teach in a real classroom before they're certified.
Here, they're paired with a mentor teacher who watches them give instruction and manage a classroom. 
This is done through substitute teaching, tutoring, or volunteering in a classroom. Many teacher preparation programs incorporate teaching experience to give future middle school teachers hands-on experience.
3. Get certified.
Once you've completed your bachelor's degree and teacher preparation program, you should obtain middle school teaching certification.
In most states, all public school teachers must be licensed before teaching in a classroom.
To get certified, you may need to pass a general teaching certification test which varies by state.
Visit your state's Department of Education website to learn about the specific requirements for certification and how to submit your certification application.
4. Create a great resume.
Once you've obtained your teaching certification, you must create a good resume to go with your teaching job applications.
Highlight your qualifications, skills, and experience to help you stand out as a qualified candidate for a middle school teaching position.
5. Submit job applications.
Once you've completed all the steps we've discussed you can now start applying for middle school teaching jobs in your state.
You can find jobs on:
Public school district websites

Online job boards such as Indeed and Glassdoor

Private schools websites
Carefully review the job requirements, so you can tailor your application for the job. This will put you ahead of other candidates seeking the same position.
Education Requirements for Middle School Teachers
The most common route for aspiring middle school teachers is through obtaining a bachelor's degree in secondary education.
To meet middle school education requirements, you also have to demonstrate subject area expertise in the subjects you wish to teach.
The following are middle school subjects and what you teach in each:
Biology:

Introduction to cells, genetics, basic ecology, and environmental science

Mathematics:

Operations with whole numbers, decimals, and fractions. You also get to teach concepts of algebra, equations, and geometry.

Chemistry:

Basic concepts of chemical reactions, states of matter, and introduction to the periodic table.

English:

Reading comprehension, composition, and analysis of fiction and non-fiction texts.

Social studies:

World history, maps, US constitution, and democratic principles.

Art:

Fundamentals of art, techniques of drawing, painting, and sculptures. You also teach art history.

Physical education:

Different types of exercises and their effects on the body. You also cover different sports and games as well as wellness topics.
Required Classes for Future Middle School Teachers
The classes you take as a future middle school teacher highly depend on the subject areas you specialize in.
They are also determined by the grade level you'll be teaching in. For instance, the Secondary School Degree program prepares students to teach in middle schools as well as high schools.
Here are some of the foundational courses and the key learnings for each:
Adolescent Development:

Knowledge of the physical, cognitive, and emotional changes that occur during adolescence and how they impact development.

Creating a Positive Classroom Climate:

Understanding the importance of positive student-teacher relationships and strategies for achieving that.

General Psychology I:

Basic knowledge of psychological theories and concepts such as learning, memory, and perception.

Ethics:

Awareness of the importance of ethical responsibilities in personal and professional contexts.

Evaluation of Instruction:

Understanding of various methods of instruction and tools for assessing the instruction effectiveness.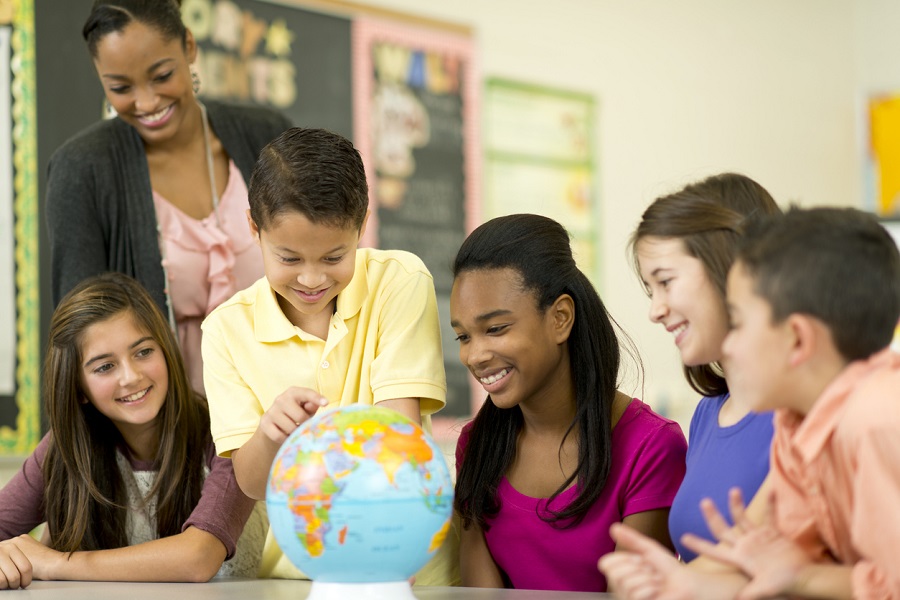 Helpful Skills for Middle School Teachers
As a middle school teacher, the following skills will help you succeed with your students:
Computer literacy:

This will help you incorporate technology into your teaching methods.

Classroom technology proficiency:

This will help you create engaging lessons that cater to different learning styles as well as prepare students for the digital world.

Classroom management:

You'll be able to create a positive learning environment with minimal disruptions.

Lesson planning:

This will help you create engaging and challenging lessons that meet curriculum standards and students' needs.

Organizational skills:

This will help you manage time effectively in order to manage your workload. 

Excellent communication and presentation skills:

This will allow you to effectively convey concepts to students as well as build positive relationships with students, parents, and colleagues.

Decision-making skills:

You will navigate challenging situations effectively and make choices that promote your students' learning and development.

Calm:

Maintaining a calm demeanor helps you manage unexpected situations effectively and model positive behavior for your students. 

Fairness:

This helps you create a sense of equity and respect in the classroom where every student feels valued.

Patience:

Being patient allows you to understand and build positive relationships with students who may be struggling with certain concepts.
How Long Does It Take to Become a Middle School Teacher?
Becoming a middle school teacher requires you to finish a series of exams. This could take you 4–5 years to complete.
The table below shows the steps and how long it takes to complete each.
| Step | Completion period |
| --- | --- |
| Bachelor's degree | 4 years |
| Teacher preparation program | 1–2 semesters |
| State specific certification requirements | At least 8 weeks |
As said, there is an alternative pathway to becoming a middle school teacher. This takes between one and two years. It's a self-paced program that you can pursue at your own convenience.
Teaching Certificates for Middle School Teachers
Middle school teachers must be certified in the state they intend to teach. Certification requirements vary from state to state, but most states have similar requirements.
The most common requirements include:
A bachelor's degree

Teacher education program

Student teaching experience

Passing certification exams

Completing a variety of clearances in order to work with children, For example, a criminal background check.
Salary Expectations for Middle School Teachers
According to the Bureau of Labor Statistics, the median middle school teacher salary was at 61,320 in May 2021.
The lowest 10% earned less than 45,510 with the highest 10% earning more than 99,470.
The table below shows the highest-paying states for middle school teachers and their average rates.
| State | Average Middle School Teacher Salary |
| --- | --- |
| New York | $94,690 |
| California | $92,350 |
| Massachusetts | $85,740 |
| Washington | $83,460 |
| Connecticut | $82,790 |
Job Outlook for Middle School Teachers
Data projections from the Bureau of Labor Statistics show that employment of middle school teachers is expected to grow by 4% between 2021 to 2031.
There are about 47,300 openings expected annually for middle school teachers within the period.
This means that there will be more opportunities for those who complete the requirements of becoming middle school teachers.
Middle School Teacher Work Environment
Middle school teachers teach in schools, but they can also teach online. They teach several classes each day to different groups of students.
Middle school teachers' schedules are aligned with the school day and school calendar. They have a flexible work schedule, including time off during holidays and during summer breaks.
Ready to Become a Middle School Teacher?
Middle school is a time of significant growth and development for students. As a teacher, you get to make a profound impact on their academic and personal development during this critical period.
You also receive a competitive salary with health insurance, a retirement plan, and paid time off.
As we've discussed, you must complete the education requirements to be certified as a middle school teacher in your state.
Take the first step into this career path by exploring the certification options that will enable you to achieve your dream.