As a preschool teacher, you get to play a critical role in shaping the future by providing young children with a strong foundation for academic and social success. 
The work of a preschool teacher may have some challenges, but it's also immensely rewarding. You have the opportunity to make a difference in the lives of your students, and you also receive a competitive salary and benefits package — an average of $$37,130 annually.
In this guide, we'll:
Explore the average salary for preschool teachers in Texas. We'll also 

Focus on some of the factors that can impact your earning potential. 

Highlight some of the careers a certified preschool teacher in Texas can pursue.
Whether you're just starting on your career path or are a seasoned educator looking for new opportunities, this guide will provide the information you need to make informed decisions about your future as a preschool teacher in Texas.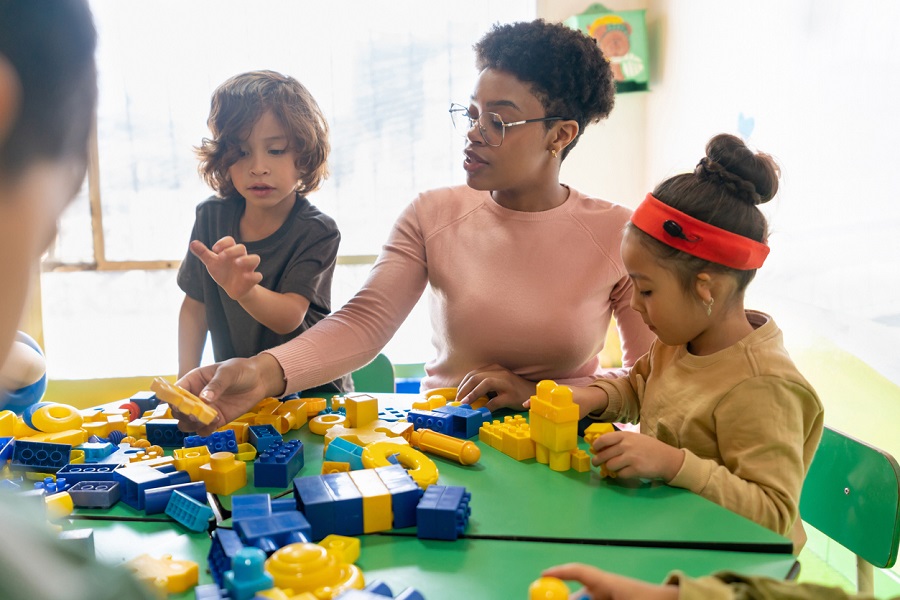 What Is a Preschool Teacher?
A preschool teacher is an educator who teaches young children between the ages of three and five years old. 
Pre-school teachers teach children basic academic, social, and emotional skills. They also help them develop their creativity, curiosity, and love of learning. 
Young preschool children react differently during their first year of learning. Some take it hard, and for others, it's seamless.
Preschool teachers must therefore create a safe and nurturing environment for children to learn and play. They must be highly skilled in designing and implementing age-appropriate lesson plans that promote children's cognitive and social development.
The daily responsibilities of a preschool teacher include:
Planning and implementing lesson plans and activities that align with the state curriculum 

Ensuring that all learning materials and equipment are age-appropriate and in good condition.

Encouraging and promoting positive behavior and social skills among the children

Providing updates to parents on their child's progress and discussing any concerns or questions.

Providing individual attention and support to children who may need additional assistance.

Maintaining accurate records and documentation for class attendance and progress reports.
How Much Does a Preschool Teacher In Texas Make?
The salary for a preschool teacher in Texas can vary depending on several factors. For example, the teacher's experience, education level, and the location and type of school they work for. 
According to the Bureau of Labor Statistics, the average annual salary for a preschool teacher in Texas as of March 2023 was $37,130. 
Salaries can range from around $19,000 for entry-level teachers to more than $52,000 for experienced teachers with advanced degrees or additional certifications.
Preschool teachers who work in private schools or childcare centers may earn different salaries than those who work in public schools.
The table below shows the preschool salary in Texas as compared to the national average.
| Texas Preschool Teacher Salary | Hourly Average | National Average | National Hourly Average Wage |
| --- | --- | --- | --- |
| $37,130 | $17.84 | $30,210 | $14.52 |
How To Become a Preschool Teacher In Texas
To be a licensed preschool teacher in Texas, you must follow these steps:
Earn a degree in early childhood education or a related field:

Pursuing a degree will help you gain the knowledge and skills needed to be a successful preschool teacher. Some employers may require a minimum of an associate's degree, while others may prefer a bachelor's degree.

Obtain relevant work experience:

Many preschools require some level of work experience in a related field, such as child care, before hiring teachers.

Obtain any necessary certifications:

Depending on the specific requirements of your school district, you may need to obtain additional certifications or licenses, such as a Child Development Associate (CDA) credential or a Texas Teacher Certification.

Complete any required background checks:

In Texas, all preschool teachers are required to undergo a background check before they can be hired.

Apply for preschool teacher positions:

Once you have completed the necessary education, training, and certifications, you can start applying for preschool teacher positions. 
You may want to consider applying to a variety of schools and programs, such as public schools, private schools, and childcare centers, to increase your chances of finding a job fast.
Alternative Certification for preschool teachers in Texas
Alternative certification programs offer an alternative pathway to becoming a certified preschool teacher for those who did not initially earn a degree in education or complete a traditional teacher preparation program. 
these programs are designed to provide aspiring teachers with the knowledge and skills necessary to be successful in the classroom. They also offer practical experience through classroom observation and student teaching.
In Texas, alternative certification programs are offered by a number of different organizations, including universities, school districts, and nonprofit organizations. 
In this kind of program, you'll be required to:
Hold a bachelor's degree

Complete coursework in education and child development

Pass the certification exam

Complete a period of supervised teaching in a daycare center or a classroom setting.
One of the benefits of alternative certification programs for preschool teachers in Texas is that they offer a flexible and accessible pathway to certification. 
Alternative certification can be a more practical option for individuals who may not have the time or financial resources to pursue a traditional teacher preparation program.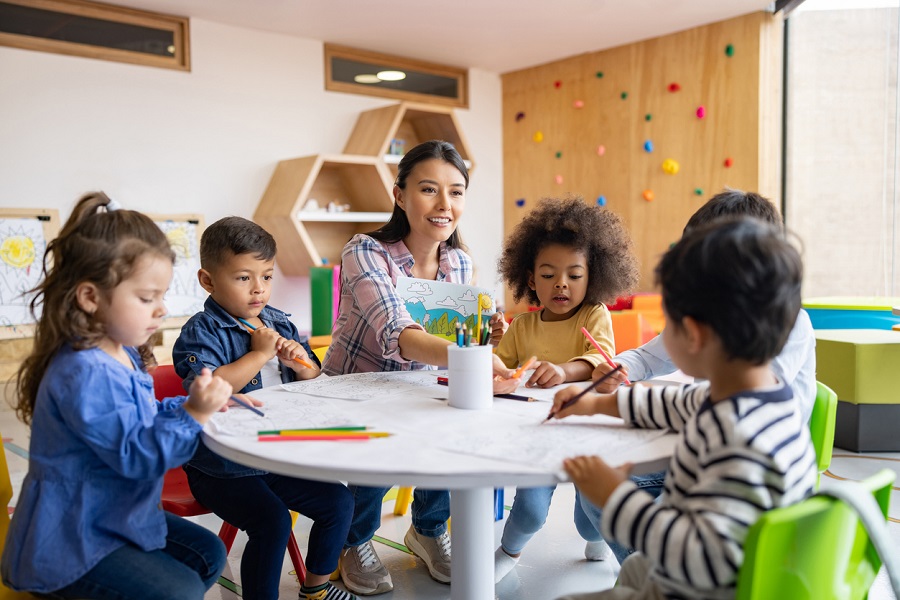 Which Is the Highest and Lowest Paying Preschool Job In Texas?
Once certified as a preschool teacher, you can work in a variety of settings, depending on your preferences and credentials. For instance:
Public or private preschools

: Many preschool teachers work in traditional preschool settings, either in public or private schools. These programs may be part of an elementary school or may be standalone preschools.

Head Start programs:

Head Start is a federally-funded program that provides early childhood education, health, and family support services to low-income families. Preschool teachers with a CDA credential may be eligible to work in Head Start programs.

Childcare centers:

Preschool teachers can work in child care centers, which provide care and education for young children on a full- or part-time basis.

Homeschool:

Some preschool teachers may choose to work with homeschooling families in a home-based or community-based setting.
The average pay for a preschool teacher in these different settings can vary.
The table below shows the average hourly wages of the different jobs a certified preschool teacher can undertake.
| Preschool Teacher | Average Hourly Wage |
| --- | --- |
| Public School or Private school | $17.84 |
| Homeschool | $11.54 |
| Head Start | $16.60 |
| Daycare centers | $18 |
Become a Preschool Teacher In Texas
If you're passionate about working with young children and are looking for a career that allows you to make a real difference in your community, then pursuing a career in early childhood education in Texas may be the perfect choice for you.
With a growing demand for qualified preschool teachers, there has never been a better time to embark on this rewarding career path.
Whether you're just starting out or are looking to advance your career in early childhood education, there are a wide range of resources and support systems available to help you achieve your goals.
From alternative certification programs to ongoing professional development opportunities, there are many paths to success in this exciting and dynamic field.
So if you're ready to take the first step towards a rewarding career as a preschool teacher in Texas, we encourage you to explore the certification programs and resources available to you and to follow your passion for early childhood education.