A teaching career gives you the joy of purpose– allowing you to pass on knowledge and skills, creating thoughtful, productive, and reasonable members of society. 
Pennsylvania is home to more than five hundred school districts and is home to 108,756 teachers. The state provides you with adequate teaching opportunities and for career growth and advancement. 
There is an increasing demand for qualified educators in Pennsylvania, making it an excellent state to teach in. 
As with every state, Pennsylvania has its requirements regarding qualifications for each teaching education level, licensing, and experience. 
Pennsylvania is experiencing a 65 percent annual decline in new teachers joining the workforce.
This guide provides all the steps, requirements, and key information to help you build your rewarding teaching career in Pennsylvania.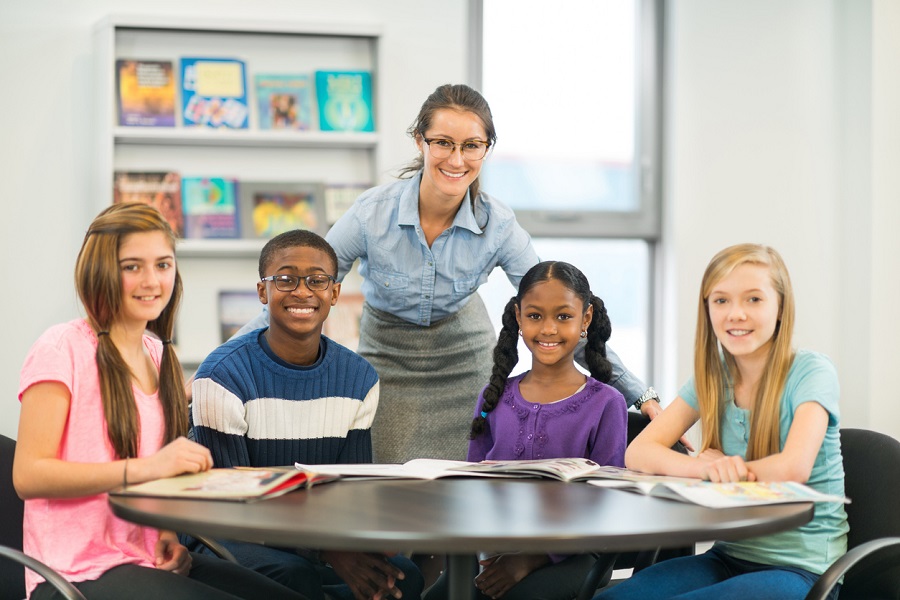 Is Teaching the Right Career for You?
Teaching is a great career choice. With adequate subject knowledge and good communication skills, you effectively manage your classes and collaborate with other educators.
With the right teaching skills, you efficiently engage learners in the classroom, creating in them the value of real-world learning and lifelong appreciation of knowledge. 
Most teachers view their career as a vocation that models good values in society and leaves a worthy legacy.
Teachers are also actively involved with their learners, parents, and the surrounding communities. This demands that you have excellent communication and interpersonal skills. 
Teaching offers many motivating factors besides money. You get a stable career and enjoy long vacations while impacting young generations.
Teacher compensation varies from state to state; for instance, the average annual salary in Pennsylvania is $56,370 compared to $45,574 in Mississippi.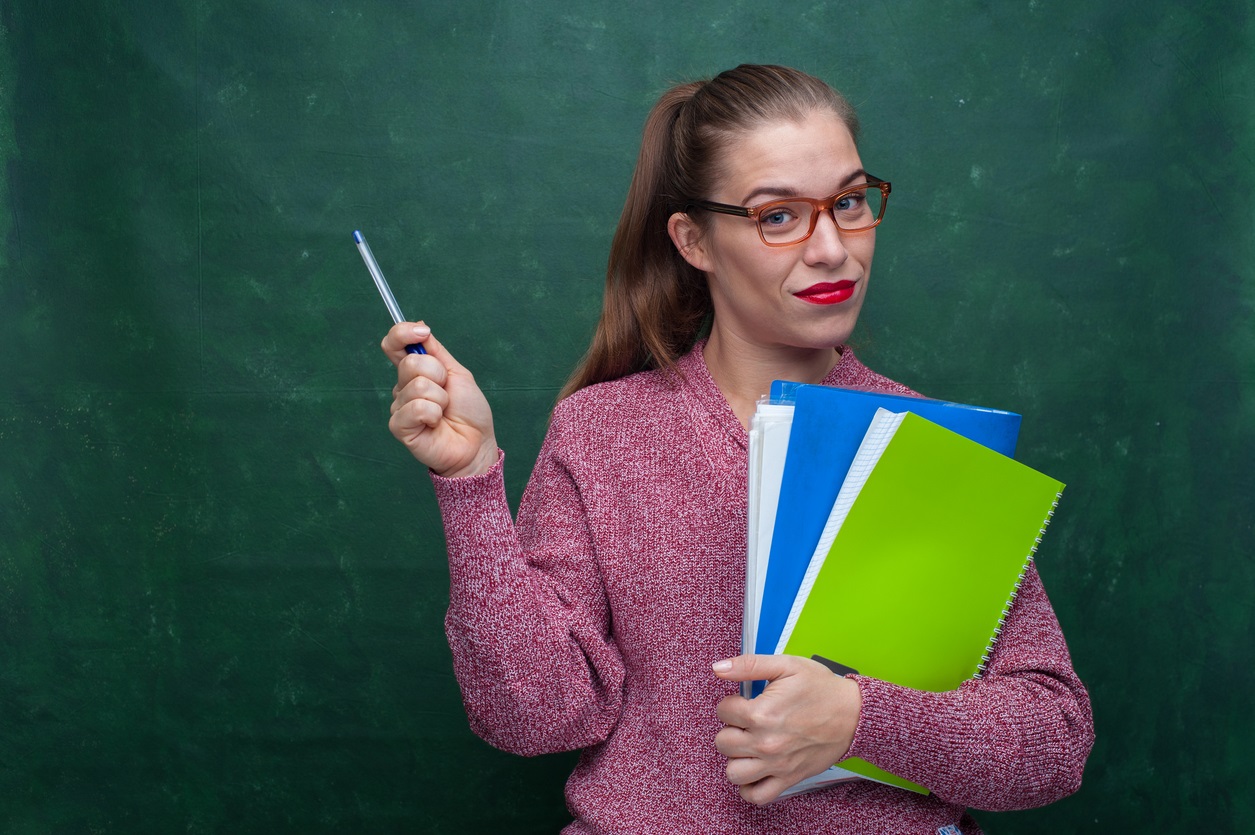 State Requirements for Teaching in Pennsylvania
Different states have different requirements for hiring teachers. 
The requirements reflect the current staffing situation in the state. For instance, a state experiencing a severe teacher shortage will have fewer requirements for teacher certification than other states. Also, states will have fewer certification requirements in the subject areas they are experiencing shortages in. 
Teacher certification requirements may also vary depending on the educational level you're interested in: primary, secondary, or high school. 
1. Bachelor's Degree
As in all other states, Pennsylvania expects its prospective educators seeking certification to hold a bachelor's degree. You must also undertake a teacher preparation program approved by the Pennsylvania Department of Education (PDE). 
A bachelor's degree will equip you with the following essential learnings and skills that will help you to carry out your duties efficiently: 
Creating a conducive learning environment.

Providing effective learner feedback.

Collaborating effectively between teachers and learners.

Understanding and having knowledge of responsibilities.

Implementing and testing of curriculum.
Here are some bachelor's degree programs that lead to initial licensure into a teaching career:
Bachelor of Science in Early Childhood

Bachelor of Arts in Special Education and Elementary Education

Bachelor of Science in Mathematics Education

Bachelor of Science in Science Education (Middle Grades)

Bachelor of Arts in History for Secondary Education 

Bachelor of Science in Elementary Education with an Emphasis in STEM
2. Complete an Accredited Teacher Preparation Program
To acquire a bachelor's degree, you must complete a PDE-approved certification program to qualify for licensure in Pennsylvania. 
PDE offers various options to meet the requirements for certification:
Complete a PDE-approved teacher licensure program.

Pursue a bachelor's degree in education and acquire student-teaching experience. 

Acquire a bachelor's degree in a non-education major, and complete an approved teacher preparation program. 

Complete the licensure program in another state, and invoke Pennsylvania's reciprocity agreement.

Show evidence of certification in another state with at least two years of teaching experience. 
Teacher certification improves the quality of learning in education systems by ensuring you possess the necessary competencies to effectively pass knowledge and skills to learners. 
Certification will also increase your value and credibility as an educator.  
3. Gain Student Teaching Experience
The PDE requires that you complete a 12-week supervised classroom experience to qualify for certification. 
The 12-week practicum is integrated into the bachelor-level coursework and the certification programs. 
The hands-on practicum session is meant to equip you, through field experience, with lesson planning, classroom management, assessment, and feedback skills.
4. Pass a Background Check
A background check is a process that employers use to confirm that you are who you claim to be. It assesses your criminal record, education, social media interactions, employment history, and other activities. 
To be considered for a teaching position in Pennsylvania, the state requires that you pass a local and federal background check. In these checks, the state seeks to ascertain that your history is free of child abuse or neglect allegations. 
The background checks also include a fingerprint check. Some of these checks require you to pay a small fee. 
To allow the state to process your checks and clearances in time, send in your documents eight weeks before beginning your student teaching program. 
5. Get Certified
Each state has a different certification process and approved licensure examinations for teachers. The Pennsylvania state requires you to earn additional certifications. 
These examinations include:  
The Pre-service Academic Performance Assessment (PAPA)

Praxis Core, and other relevant Praxis subject exams
The tests assess your understanding of child development, mastery of teaching areas, and other required skills for dealing with children. 
6. Consider Getting a Master's Degree
Different states are continually requiring that their teachers be holders of master's degrees or acquire one within the first five years of teaching. 
A master's degree gives you a competitive advantage over your competitors when seeking similar opportunities.
Alternative Route to Teaching in Pennsylvania
Besides the traditional pathway, you can use the alternative route to become a teacher in Pennsylvania. Alternative teacher certification takes one to two years, compared to the traditional route, which requires a minimum of four years.
If you have a bachelor's degree outside of education, you can enroll in teacher programs leading to a certificate or master's degree. 
In Pennsylvania, the teacher preparation program must be approved by the PDE. You can complete some certificate programs in a year. 
Getting Hired as a Teacher
Education, in-classroom experience, and certification are the most relevant requirements to get hired as a teacher in Pennsylvania. 
But, to get hired as a teacher in Pennsylvania, the following steps are significant:
Polish Your CV
For your CV to effectively present you as the most qualified candidate, it must be tailored as per each job ad. 
Check what most hiring schools in Pennsylvania require from their teachers to help you adjust your CV accordingly. 
Upgrade Your Skill Set
Some skills are significant in realizing a fulfilling teaching career. Here are some that you should seek to acquire and include in your resume: 
Critical thinking

– These skills will help you carefully integrate your learner's best interests into the institution's goals and vision. 

Communication

– A greater part of your job as a teacher will involve communicating with your students, your colleagues, and your student's families. Communication skills, both written and spoken, are essential. 

Organization

– If you teach in a public secondary or primary school, you will often have thirty or more students. You require good organizational skills to effectively manage your learner's materials and books.

Leadership

– Leadership skills will be useful when interacting with colleagues as well as the school administration. These skills will also help you model behavior for your learners, develop their interest in learning, and grow their sense of responsibility. 
Begin Your Job Search
To find teaching jobs in Pennsylvania, check through teaching sites such as PAeducator and the Pareap. 
You can also directly contact the school districts you are interested in teaching via email or phone to find out if they are hiring. 
Sending your credentials and resumes to schools you wish to work in, even if they are not hiring, increases your chances of getting hired.
Join a Professional Organization and Network
In Pennsylvania, joining some of the following professional organizations and networks may be valuable in your career growth:
Networking with other educators in Pennsylvania helps you to compare notes on classroom management, teaching techniques, and learning styles. Also, you can share lesson plans and visual teaching aids. 
Ace Your Job Interview
Before you get hired, you must successfully pass an interview to assess your readiness. To ace your teaching job interview, here are some tips:
Convey your passion for teaching

– The administrators want to be convinced that you are joining them because you are passionate about education. Refrain from giving generic answers to questions on why you want to teach. Instead, find something specific that communicates your passion. 

Research

– Research should include the school philosophy, their co-curriculum activities, and their educational culture. Craft a response on how your skills would help grow particular key areas in the school philosophy and culture.

Gather your documents and credentials

-These should include your portfolio consisting of sample lesson plans, assessment and grading rubrics, Praxis scores, and transcripts. 
Career Outlook & Salary in Pennsylvania
Pennsylvania continues to experience a teacher shortage. Teachers are in demand, especially in the areas of foreign language, general elementary, special education, English Language Learner, English Language arts, science, and mathematics.
According to a report by Adweek, teacher salaries in Pennsylvania have been increasing over five years as in the country. 
Here is a summary of annual teacher salaries in Pennsylvania over four years. Note that Pennsylvania's yearly average teacher wages have always been above the national average.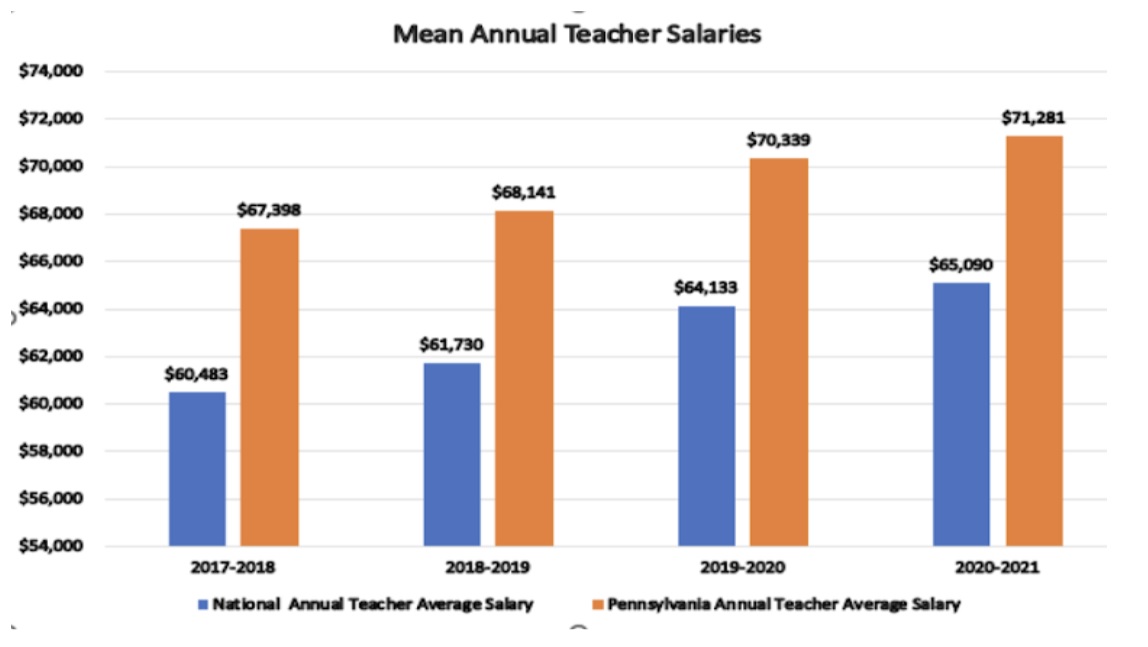 Annual Average Teacher Salaries in Pennsylvania vs. National Average
Become a Teacher In Pennsylvania
A study published in Business shows Pennsylvania as one of the best states to teach in. The average teacher salary in the state increased by 28.5 percent between 2020-2021 compared to other occupations. 
Also, Pennsylvania boasts of a rich and family-friendly environment that would be rewarding to live in. 
Teaching is a gratifying career, and once you meet all the requirements, you can start your journey to making a difference in the next generation's lives.  Stepping into the noble profession of teaching in Pennsylvania implies not only guiding the next generation towards a bright future but also continuously evolving in a role that shapes society at its core. As you ascend through each procedural step toward becoming an educator, embrace the journey with passion and commitment, knowing that your impact will extend far beyond the classroom, seeding knowledge and values that will flourish in the minds and lives of your students for years to come.