The digital transformation has brought numerous changes, especially in the education sector, and has made online teaching a norm. 
We're seeing a high demand for online teachers as schools strive to put in place teaching strategies capable of withstanding uncertainties like unpredictable weather or pandemics that may derail students' learning.
An online tutor is a professional who takes students through their studies on a digital platform while connected to the internet. The student and the teacher don't need to be in a traditional classroom.
Online tutoring gives online teachers complete control over their time. It also makes the student performance assessment process more manageable because there is little to no paperwork. 
Here is all you need to know before starting your online teaching career journey.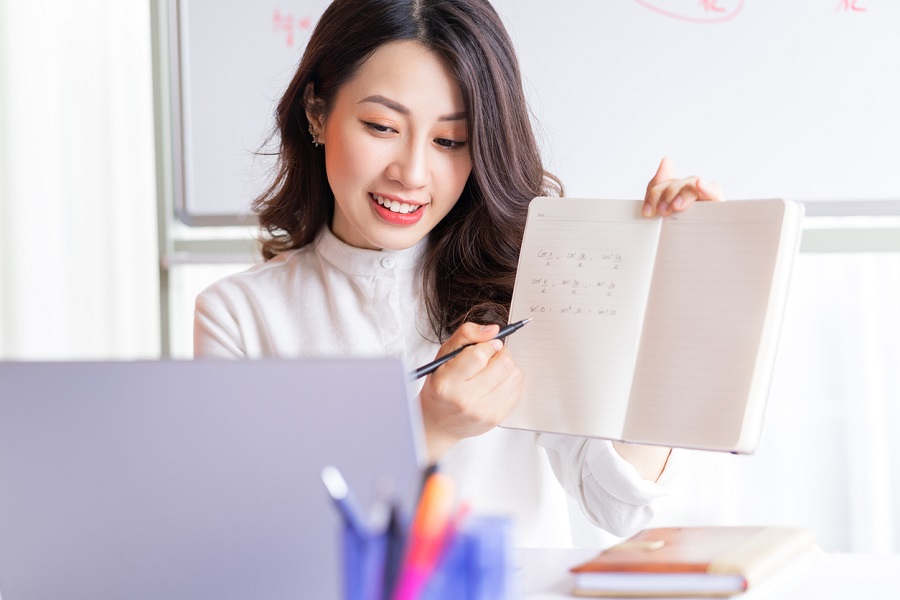 What Is an Online Teacher?
An online teacher is an instructor who teaches, directs, and provides feedback to students through online or digital means. As an online teacher, you do not meet with the students physically or face-to-face.
Online teachers can teach using traditional teaching methods such as homework and lectures. Alternatively, you can use purely digital teaching techniques like interactive slideshows and pre-recorded videos.
Your value as an online teacher is indispensable. You develop and execute novel teaching strategies to keep students engaged. Besides offering students flexibility, you are tasked with creatively keeping the students interested in the subject or topic.
With the change in times, online teachers are setting the pace toward the future of learning. The time you put into exploring the field of online teaching and developing strategies to teach effectively is critical to sustaining advancements in teaching and learning.
You can teach online with or without a teaching certificate. Every state has its rules regarding the need for a teaching certificate to teach online.
Responsibilities of an Online Teacher
The responsibilities of an online teacher do not differ as much from those of an in-person teacher. These are some of the duties online teachers undertake:
Developing lesson plans

– Online teachers must analyze the curriculum and develop lesson plans that satisfy the standards outlined by their district or school. The lesson plans are developed in collaboration with other departments through online communication.

Instructing students

– Just like in-person instructors, online teachers must provide clear instructions and guide students through live lectures or recorded clips. The teacher lets the students know when they would meet earlier enough to ensure the live sessions run smoothly.

Communicating with parents or guardians

– They provide timely updates to parents or guardians concerning the behavior and performance of their children through email or text messaging. Some teachers prefer video calling the parents or sending recorded video reports.

Issuing homework or classwork

– They delegate classwork and homework to encourage personal studies and practice among students. Based on the online platform, the teacher might score the homework and classwork instantly or provide feedback later.  

Assessing students' work

– After assigning varied tasks to students, online teachers must go through the tasks and provide feedback promptly or after a while. Assessment reports guide students in improving their understanding of the subject area.  

Collaborating with other online teachers

– Comparing notes with other online teachers improves the teacher's productivity. Also, online teachers who reach out to others for help and discussions expose themselves to better opportunities.  

Availing results reports to stakeholders

– Schools and school districts require online teachers to provide test grades and results for evaluation. Student reports are also a key performance indicator of the online teacher's effectiveness.
Online vs. In-Person Teachers
Online and in-person teachers have a common goal – to ensure students receive a comprehensive education. But, they achieve their goal differently.
Let's compare an online teacher to an in-person teacher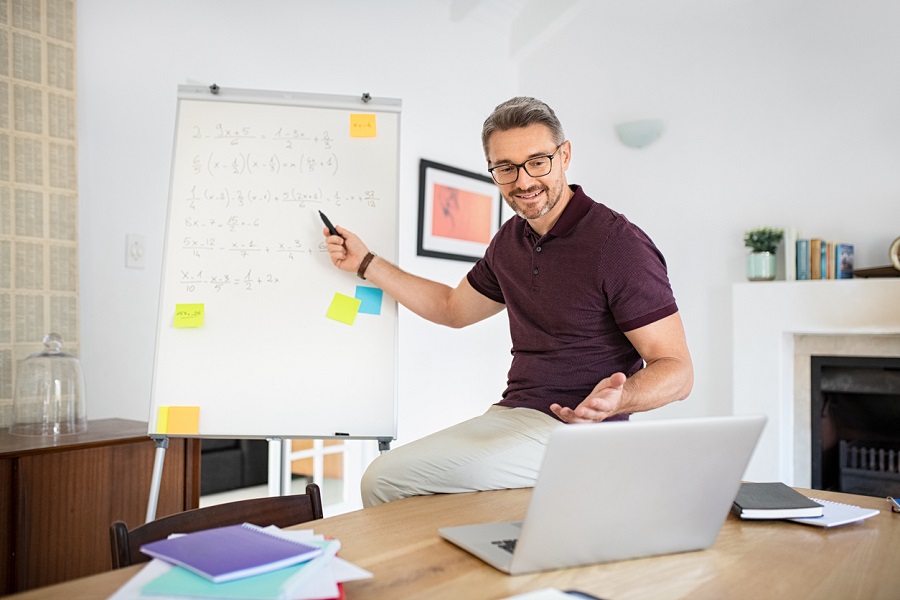 Online Teachers
The teaching experience and methods of online teachers differ from those of an in-person teacher in the following ways:
Multiple formats

– An online tutor can use traditional ways of teaching through live video teaching or record themselves teaching and share the video with the students. They can also create other digital teaching materials, such as notes or slides, and share those as part of the learning process. 
Time flexibility

– Online teachers can decide when to teach. They can work full-time or part-time but are not constrained to attend classes as per the timetable. They can reschedule some classes in case of an emergency and cover the topic of discussion later. Some pre-record videos while teaching and avail the videos to the learners to watch at their convenience.

 
Digital work –

Online teachers interact with students online and don't have to deal with paperwork because students submit their homework and classwork digitally.

 
The number of students-

The capability to teach online breaks the boundaries of teaching a limited number of students. The constraints of the number of students the tutor can handle are determined by the online education platforms' capabilities and the school's or teacher's subscription limits. Sometimes, students who have not registered for the class can attend as long as they have the time and the link to participate.
Student location-

Online teachers instruct learners from diverse backgrounds and different places, some international. As long as the students have access to online education platforms and are connected to the internet, they can attend the class.
In-Person Teachers
In-person teachers' teaching conditions differ from those of an online teacher in the following ways:
Tactile tools

– A traditional teacher uses traditional supplies such as books and digital tools like mobile and video devices while teaching.

Set hours

– In-person teachers work for specified hours and cannot extend their class time to cover more about a topic. They are allowed within the school for a specific number of hours.

Physical work

– Students must attend physical classes and submit their homework and classwork in physical form, including books and worksheets. All the assessments involve a lot of paperwork.

Local students

– All the students taking the classes of a traditional teacher must live close to the school, including the teacher. However, the students and teachers can hail from different parts of the country or world.

The number of students

– A traditional teacher instructs a limited number of students based on the size the physical classroom can accommodate. The students must also register for the class to attend the lessons.
Steps to Becoming an Online Teacher
Let's look at the steps you need to take to become an online teacher.
1- Consider Your Options
Before starting your online instructor studies, take time to select a subject of interest. Also, consider whether you want to be part of a private or public organization or school. These two choices determine whether you would be forced to have a teaching license to fulfill your dream of teaching online.
2- Obtain a Bachelor's Degree
A bachelor's degree is a universal prerequisite. All teachers must hold a bachelor's degree in education or a related field. You can also major in another field and take an education major simultaneously. 
3- Pursue Certification
Review the teaching requirements of your state to determine if you need a certification. If the university you are studying at includes a certification program as part of the course work, undertake it even if you plan to join an organization or private school that does not need certification.
4- Gain Teaching Experience
Develop in-class teaching experience by tutoring online classes or enrolling in after-class teaching programs. Practice writing and executing digital lessons to give you a competitive edge during the job application period. You can also develop and teach online courses.
5- Consider Getting a Master's Degree
If you desire to teach college-level students and hold post-secondary roles, you must take a master's degree or advanced degree. You can also opt for a doctorate to give you a boost during the job-hunting period. 
The greater the level of study you achieve, the higher your chances of receiving more significant compensation.
Downsides of Being an Online Teacher
Traditional and online teachers do share some downsides. Though, some are uniquely linked to online teaching, and they include:
It becomes challenging to offer motivational support-

Since you don't interact with the students physically, it becomes difficult for them to provide motivational support whenever the students find it hard to work on their class or homework.
Online teachers deal with technical issues-

Sometimes, technological issues such as platform malfunction and poor internet connectivity disrupt the class. If you don't know how to troubleshoot the problems, the class will come to a complete halt.
There is a need to offer at-home support outside of school hours-

Online teaching works with the help of students' self-drive and motivation. To sustain the two aspects, online instructors must sometimes offer at-home support outside of school hours. At-home support is especially critical for students not intrinsically inspired to study.
Online teachers must work on their on-screen presentation skills

– Presenting in a face-to-face setting varies from online because learners rarely benefit from the teacher's body language. You must devise techniques to improve your on-screen presentation skills, such as proper lighting, framing, and live presentation.
Work Environment for Online Teachers
Online teachers can work from any place with the condition that they have access to the internet and a computer. The computer can be a personal computer or a smartphone.
Many teachers prefer teaching from home. They set up a teaching area within their home, hosting requirements such as a camera, a laptop, study materials, and a presentation board.
Some online teachers tutor both digitally and in person. Many attend their in-person teaching classes and later serve their online teaching obligations.
Salary Expectations for Online Teachers
ZipRecruiter states that the average yearly salary for online teachers in the US is $43,808. The entry-level wages for an online teacher are $30,839 annually. On the higher level, an online teacher is likely to earn up to $66,356 per annum.
Various factors determine your earnings as a prospective online instructor, including years of experience, degree, and study area.
Having in-class teaching experience and a bachelor's or advanced degree creates more opportunities for high-paying jobs. 
If you teach technical subjects like STEM (Science, Technology, Engineering, and Mathematics) and Computer Engineering, you will take home more income than other online teachers.  
Job Outlook for Online Teachers
The demand for online teachers is increasing. People also find it attractive because of its flexibility.
Here are the roles online tutors can hold:
Adult Education Online Instructors
An adult online instructor has a Master's or Bachelor's degree, experience, and training in adult education. They teach adults different topics like family living, welfare, and health.
Course Developers
An online course developer is tasked with assessing a school's curriculum and designing online courses that align with the curriculum. They create educational content, develop instructional material, and evaluate the system's usefulness.
College Teaching Faculty Members
A college teaching faculty member is a professor who teaches at a university or college. In an online environment, a college teaching faculty member takes students through courses, research, and published work with an online platform. They also serve on committees and offer advice to the students.
Kindergarten Through 12th Grade Teachers
A grade K-12 online teacher builds lesson plans, grades assignments, and tests, and communicates with the parents and school departments through an online platform. They also create the time to serve students during off-class durations.
Subject Matter Experts
A subject matter expert has extensive expertise and knowledge about a specific field or topic. They are called upon to advise and guide other teachers in learning or contributing to the area. Some are involved in the creation of training and educational resources for students.
ESL Online Instructors
An ESL online instructor teaches English as a Second Language to English language learners at a personal level or for an organization or teaching institution. 
An online English teacher develops the lesson plans, tests the students, grades them based on their performance, and provides feedback regarding their progress.
Instructional Designers
An instructional designer collaborates with subject matter experts to develop and curate educational and training material and programs. 
In an online scenario, they create or guide the creation of multimedia resources, including interactive representations and videos used to instruct students. They can also take part in the development of lesson plans.
Finding an Online Teaching Job
Many private companies and schools post online teaching jobs online. As a prospective online teacher, you can search for a national or international job rather than restraining your reach to local employers and schools.
If you desire to teach in a public school, apply directly on their website. In the case of private schools, you can apply on their website, search through job boards, or register with a teacher placement service.
Whenever you seek a job as an online teacher, you must focus on the teaching area and precise role to find the correct open position. For example, as an ELL instructor or online English teacher, you are unlikely to be accepted as a K-12 online teacher.
When applying for a position, review the qualifications. Some of the positions may require you to have a university degree, while others dismiss it. Generally, most online teaching positions will need you to have the following qualifications:
A Bachelor's or Master's degree

English proficiency

Comfort and proficiency with online technology and computers

Experience using various online course management systems and platforms like Angel and Blackboard.
Besides checking various qualifications, recruiters also check whether you have the suitable skills to be a successful online teacher. Critical skills to include in your resume include empathy, patience, communication, time management, flexibility, field expertise, and technology skills.
Become an Online Teacher
As an online teacher, you can teach from anywhere, at home or even while traveling. All you need is a stable internet connection and some technical knowledge about using the online study platform and navigating and troubleshooting connection issues.
You have the liberty to experiment with traditional or digital ways of teaching. You can offer live lectures or record your lessons earlier and share them with students to self-learn during their desired period.
The flexibility online teachers get is way more than what traditional teachers enjoy. 
And, there are lots of online teaching resources that can help you improve your skills and teach better. You can share digital notes and presentations with students to help them expand their field knowledge.
Besides teaching online, you can also offer guidance and counseling to your students to motivate and support them. Take this rare opportunity to be a part of the future of online learning by getting a certification to start your new career as an online teacher.