Kindergarten teachers are experienced professionals and educators who teach young children who are at least five years old. They are responsible for building the foundations of crucial subjects like writing and reading. In addition, they also have the duty of teaching young children basic social and emotional skills. 
Kindergarten teachers play a crucial role in the lives of kindergarten students. The foundations they build and foster in them have long-lasting effects that last until adulthood. 
The work environment of a kindergarten school teacher varies by industry, grade level, and the subject they teach. Kindergarten teachers can work in schools, hospitals, and child daycare services.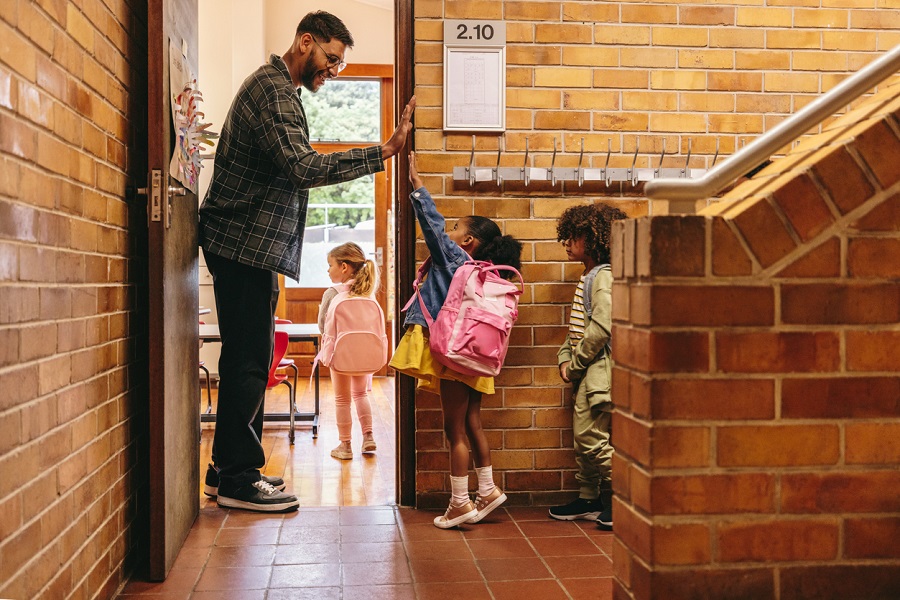 All aspiring kindergarten school teachers can expect to begin their day even before class starts and well after it ends. While in class, kindergarten school teachers must actively monitor and assess their student's progress to ensure their effective development.
What Is a Kindergarten Teacher?
Kindergarten teachers are skilled professionals with the expertise and training to educate children five and older. They teach fundamental skills such as reading, writing, drawing, singing, and basic math. They design lesson plans that foster a love and joy for learning.
Working with very young children separates kindergarten teachers from other types of teachers. Their teaching style involves encouraging kindergarten students to learn and have fun, growing, and developing essential social and emotional skills crucial for developing their well-being. 
This makes kindergarten teachers valuable to every young child's life and the entire educational system. Kindergarten students who are put under the guidance of a good and experienced kindergarten teacher can give them many advantages throughout their life. 
Why Become a Kindergarten Teacher?
There may be several reasons why someone would want to become a kindergarten school teacher. Here are some of the most common reasons:
Passion for teaching –

Observing young children explore, express curiosity, and develop can be a rewarding experience.

Joy of working with young children

– For some, the opportunity to work with young children is a reward in itself.

Making a difference

– Many aspiring kindergarten teachers believe that being an exceptional educator for young children can significantly contribute to societal improvement.
Kindergarten teachers are individuals with remarkable patience, empathy, and creativity. They have a powerful love for the well-being and guidance of young children. Consequently, some kindergarten teachers often form strong bonds with their students, caring for them deeply.
Responsibilities of a Kindergarten Teacher
The responsibilities of a kindergarten teacher can vary by context, but typically, they include the following:
Developing age-appropriate lesson plans –

Teaching kindergarten students necessitates patience, creativity, and engaging activities. A successful kindergarten teacher's lesson plan must have all these traits.

Organizing fun learning activities

– Kindergarten students require a different teaching approach than older students. Their teaching method should incorporate stimulating and entertaining activities that foster a love for learning.

Fostering social and emotional growth

– As young children's brains continue to grow and develop, kindergarten teachers play a vital role in supporting this aspect of their development.

Communicating with parents

– A great kindergarten teacher must be able to speak to the parents of their students about their assessment, findings, and observations regarding their child's progress and other issues. 
How Does a Day In a Life of a Kindergarten Teacher Look Like?
Kindergarten teachers typically start their day by preparing lesson plans and creating a safe and welcoming environment for kindergarten students to learn and grow. They may decorate their classrooms with colorful and engaging displays to make the young children feel comfortable and eager to participate in the day's activities. 
During class, kindergarten teachers guide their students through the day's lesson and objectives, introducing new concepts and providing opportunities for hands-on learning. They closely monitor their progress and support those struggling to understand the material. They also monitor their student's progress, provide feedback, and communicate with parents. Kindergarten teachers use storytelling, singing, crafts, and games to foster engagement and critical thinking.
After class, the kindergarten teacher must reflect on the day's events and assess their progress based on the lesson plan they had created. This time is also crucial for the kindergarten teacher to make any necessary adjustments and prepare for the next day's classes.
Common Skills of a Kindergarten Teacher
These are some of the common skills an aspiring kindergarten school teacher must have:
Patience

– this is a critical skill that every kindergarten school teacher must have because kindergarten students are still trying to learn how to express themselves.

Communication skills

– kindergarten teachers must be able to communicate their lessons to kindergarten students beyond words and in ways young children can understand. 

Creativity

– so that they can develop unique methods to teach lessons and foster a love for learning.

Passion for teaching young children

– every aspiring kindergarten teacher must possess this skill to teach kindergarten students. 
Where Does a Kindergarten Teacher Work?
Three industries that employ kindergarten school teachers:
Elementary schools –

Kindergarten teachers typically work in public or private elementary schools. The critical distinctions between these settings involve class conduct, school systems, and curriculum requirements.

Child day care services –

Kindergarten students may participate in childcare programs with after-school activities or specific kindergarten-focused curricula.

General medical and surgical hospitals –

Some kindergarten teachers work in healthcare settings to support young children undergoing medical treatments or surgeries, ensuring their educational and emotional needs are met.
In every professional setting, aspiring kindergarten teachers can anticipate working with children at least five years old. Although managing very young children can be demanding, it is often a gratifying endeavor for those pursuing a career in kindergarten education.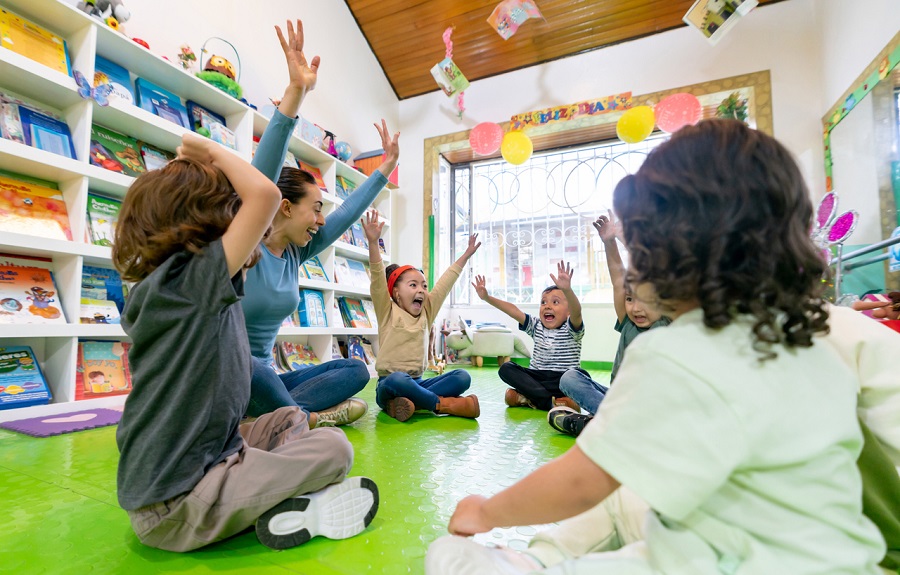 The Salary for a Kindergarten Teacher
The salary of a kindergarten school teacher varies by state and industry, but on average, kindergarten school teachers make about $64,490 annually. 
The highest-paying states for kindergarten school teachers are California, Massachusetts, and New York, while Montana, Idaho, and Louisiana are the lowest-paying states for kindergarten school teachers.
The average entry-level salary for kindergarten school teachers is about $38,390 annually. The factors that can impact this amount include location, licenses and certifications, relevant work experience, and educational credentials. 
Job Outlook for a Kindergarten Teacher
The average growth rate for kindergarten school teacher jobs is about 4% annually. At the current rate, it's projected that there are about 120,000 job openings for kindergarten school teachers every year. 
The states with the highest demand for kindergarten school teachers are Texas, California, and Florida. In contrast, the states with the lowest demand for kindergarten school teachers are Hawaii, Alaska, and Idaho. 
How to Become a Kindergarten Teacher?
Becoming a kindergarten teacher differs across states and industries, but generally, some common requirements include:
A bachelor's degree in early education

A teaching certification

A state license to teach

A master's degree
The conventional path to becoming a kindergarten teacher involves obtaining a bachelor's degree and acquiring the necessary teaching certification or license. Alternatively, aspiring teachers can complete a state-approved alternative teacher preparation program and then obtain the required teaching license.
How Long Does It Take to Become a Kindergarten Teacher?
Becoming a kindergarten teacher depends on several factors, but typically, it can take 5 to 7 years. This includes obtaining a bachelor's degree, applying for the certification or state license to teach, and, in some cases, a master's degree. The alternative path can be shorter since alternative certification programs typically take one to two years to complete without including the time it takes to obtain a bachelor's degree.