Teachers of Tomorrow is giving recognition to the most respectable and consistently updated blogs of this generation. These teacher websites contain views and reflections on education's current events, technology, creative strategies, valuable resources, and personal experiences.
We've reviewed hundreds of educational blogs, but these 50 better captured our amusement for having indispensable content, out-of-the-box classroom ideas, thought-provoking insights, and entertaining media as a whole. If you want to grab awesome concepts for use in the classroom or even at home, we strongly suggest that you check out our exclusive rundown of the best teacher websites of 2017.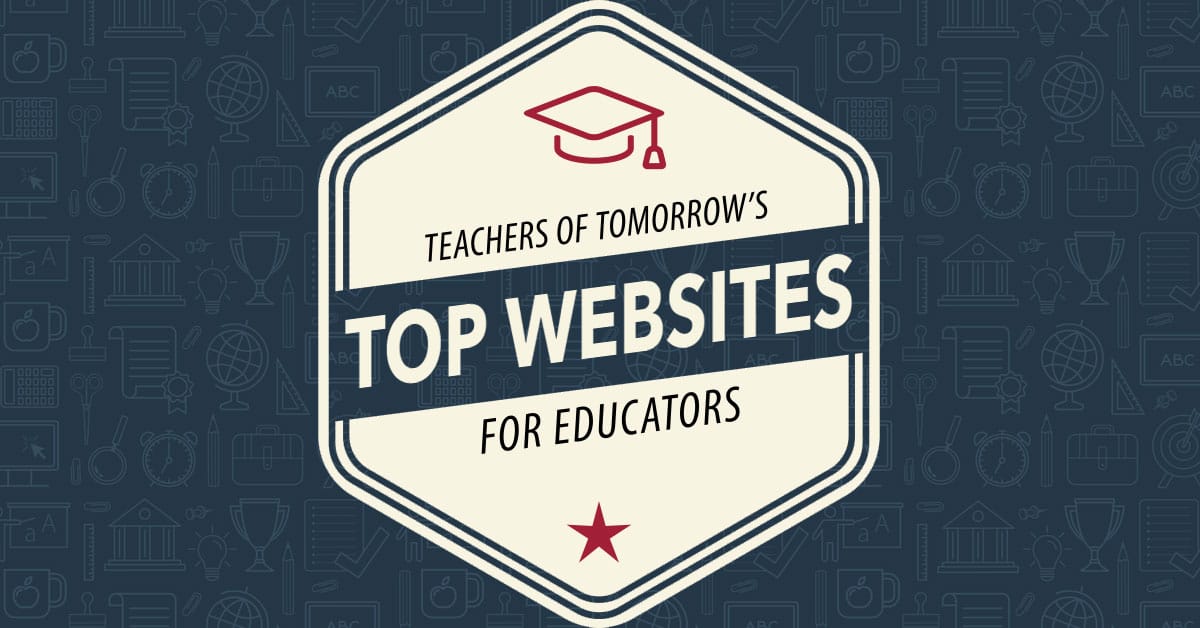 The sites are in no particular order, but we did organize them by site type:
Education and Learning Blogs

A comprehensive resource for
project-based learning,
social and emotional learning, comprehensive
assessment, teacher development, integrated studies, and technology integration. Browse through hundreds of helpful content and videos, or simply join the growing community of Edutopia to be able to connect, collaborate, and share resources with fellow education enthusiasts.
Contact: Nora Fleming, Editor
Twitter: @norafleming1

Technology, teaching strategies,
and classroom management – this blog got these all covered. Publishing content few times each week, it teaches about using technology and practical teaching strategies. It also lets you learn how to utilize classroom resources to build stronger relationships with students.
Contact: Annie Condron, Author
Twitter: @anniecondron
Library Stuff
A law librarian's weblog that shares

daily bits of education news, current state, conferences, periodicals, and tons of other information that can be exhausted for professional development. Be in the loop with the latest updates on education by subscribing to this personal teacher website.
Contact: Steven Cohen, Author
Twitter: @librarystuff
Education News Blogs


An all-in-one ed blog that compiles teaching resources and tools, strategies and ideas, fun student activities, good books and authors, and hot ed news in a single setting. The website also lets you in some amazing devices for new and experienced teachers alike.
Contact: Alexander Russo, Author
Twitter: @alexanderrusso

For passionate educators, EdWeek
offers bunches of daily news and fantastic advice on addressing everyday classroom scenarios.  Browsing this blog will let you have easy access to heaps of e-books, professional development kits, and links to follow-worthy blogs related to education.
Contact: Ryan Lanier, Marketing Manager
LinkedIn: @ryan-lanier-92111710
Need daily updates of technology
and innovation? Look no further than eSchool News. Aside from brilliant featured articles, they also feature tons of teacher resources, classroom improvement ideas, and professional development tools for avid educators, whether in written or video format.
Contact: Meris Stansbury, Editorial Director
LinkedIn: @MerisCCI
AEIdeas is more than just an
ordinary public policy blog.  It's a multifunctional website, featuring works of valued authors in education. Follow AEIdeas to stay in-tune with the latest education news, innovation, reforms, events, and opportunities for career development.
Contact: Megan Cahill, Media Relations and Marketing
Twitter: @megcahill3

Showcasing in-depth journalism at a whole new level, The Hechinger
Report deals with the freshest innovation and everyday issues on education and academics. The website tackles a plethora of timely topics including blended learning, early education, higher education, high school reform, teacher preparation, and so much more.
Contact: Liz Willen, Editor
Twitter: @L_willen

A delegated learning website that
supports creative expression, civic engagement, and problem solving by means of multimedia, digital devices, experiential activities, and professional tools in education. It also features noteworthy articles about Arts, Post-Secondary ESL, Science, and News & Civics.
Contact: Christina Reagan
Twitter: @KQEDedspace
An education policy and politics
blog composed by Andrew J. Rotherham, the Co-founder and Partner at Bellwether Education Partners. It is open for collaboration with guest authors who are passionate about policies and politics in the broad field of education.
Contact: Andrew J. Rotherham
Twitter: @arotherham
Education and Tech Blogs


Started as a technology and learning magazine in prints.  Right now, it has taken publication into new heights, providing an all-in-resource for school administrators, teachers, as well as students. It allows them to manage, educate, and learn using the website's cutting-edge information.
Contact: Kevin Hogan, Author
Twitter: @techlearning
To inspire today's educators – this is what Lucy Gray designed her blog for. Here, she shares not only ideas and resources, but also downloadable PDFs and multiple useful links for the savvy teacher. Plus, you'll get easy access to her YouTube workshop by joining in!
Contact: Lucy Gray
Twitter: @elemenous
Blog lets you in to a wide selection of useful education-related information, ranging from Math tools, Social Studies and Sciences, reading and writing, educational technology, to fresh teaching strategies. You'd also get instant updates on the latest events and workshops for professional advancement.
Contact: Monica Burns
Twitter: @ClassTechTips
To create education opportunities based on how it can and should be – this is Kelly Tenkely's purpose in creating this edutech weblog. Apart from updates on her everyday journey as a teacher, she also lets readers to take part in tips on integrating technology in the classroom for more effective education.
Contact: Kelly Tenkely, Author
Twitter: @ktenkely

Blog of a high school math teacher, who is also a techie and a learning addict. Author is passionate about making lessons feel like play. Grab practical hints on using technology, making creative project ideas, and how to transform monotonous lessons into dynamic and fun-filled discussions.
Contact: Stacey Roshan
Twitter: @buddyxo
A blog owned by a commerce and information technology teacher, aiming to make immersion of technology happen in classrooms all over the world. Her blog highlights her recent collaborations in the ed industry, newest projects, guest blog posts, along with the latest presentations she participated with.
Contact: Anne Mirtschin, Author
Twitter: @murcha
Blog targets to help schools and teachers alike,
especially those who are new to educational technology. It covers educational website and app tutorials, lesson ideas using effective EdTech, setting up and using class management technology, setting up a 'bring your own device' scheme, and tons of other useful stuff.
Contact: Neil Jarrett, Author
Twitter: @edtechneil
An incredible resource for updates on educational technology news and reviews. This teacher website also contains a full load of ingenious lesson plans and strategies for incorporating technology in everyday classrooms, helping teachers to easily incorporate technology to the curriculum.
Contact: Michael Karlin, Author
Twitter: @etroundup
A jam-packed reference guide

specializing in AT hardware and software solutions to address a number of areas including communication, writing, organization, reading and multimedia for special needs students. Nevertheless, the ed blog is written for both general and SPED teachers looking for ways to increase students' awareness on using technology devices for learning.
Contact: Brian Friedlander, Author
Twitter: @assistivetek
A blog created and maintained by
an instructional technology specialist based in Central Philadelphia. The site is dedicated for sharing innovative teaching strategies using digital media and the latest technology devices to further engage students and provide millennial educational experience.
Contact: Jamie Forshey, Author
Twitter: @edutech20
A tech integrator's avenue for
disclosing classroom management tips, classroom and technology integration ideas, non-conformal teaching techniques, imaginative student project ideas, and loads of other tech stuff that both parents and teachers can use, whether at home or in school.
Contact: Matt Bergman, Author
Twitter: @mattbergman14
News and technology blog designed by a teacher based in Oslo, Norway. The website combines a myriad of fantastic resources for getting more creative at drafting lesson plans, incorporating technology in the classroom, as well as improving teaching in general.
Contact: Ann Michaelsen, Author
Twitter: @annmic
Teacher Blogs

A weblog written and edited by a speaker, author, and learning
evangelist who aims to help educators and school administrators to better understand social media and technology through humorous learning approach. Engage in his articles, interviews, and philosophies in the future of education.
Contact: Steven W. Anderson, Author
Twitter: @web20classroom
An influential teacher's blog provided by deputy headteacher working in an inner-city school in London, UK. Sink your teeth into real-world tips on teaching, training, resources, books, articles, and creating lesson plans. Stay updated with the latest ed news and policies through this site.
Contact: Ross McGill, Author
Twitter: @teachertoolkit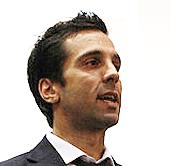 A teacher's journal presenting his daily experiences in learning and leading in education. Focused on innovative teaching and learning, author has also published inspiring books and shared viable resources covering effective teacher-student relationships, visionary leadership, leading a learning community, revamping professional learning, and loads more.
Contact: George Couros
Twitter: @gcouros
An encouraging teacher blog sharing inspiration, ideas, and support for fellows in the field of education. Featured in prominent names in media such as Forbes and The Washington Post, Cool Cat Teacher shares cool teaching secrets, technology utilization ideas, education trends, and multitude of cool stuff for keen teachers.
Contact: Vicki Davis
Twitter: @coolcatteacher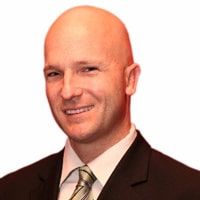 A Texas principal's medium for sharing views about on educational leadership, effective technology integration, best practices, and creating a student-centered learning culture. It also boasts his innovative approach to teaching, and how to adapt relevant methods to capture lasting student engagement.
Contact:Eric Sheninger
Twitter: @E_Sheninger
A teacher's blog revolving around modern learning and schooling. Its main mission is to orient educators and schools in terms of technology, learning and everything in between. Run by Will Richardson, the blog lets you join in his wonderful journey in teaching and inspiring future educators.
Contact:  Will Richardson
Twitter: @willrich45
A nerdy teacher's guide to everything education and techie. Learn to become an improved leader, learner, and teacher by browsing through his nerdy articles, which give out tips and ideas to maintain student interest and engagement.
Contact: Nicholas Provenzano
Twitter: @thenerdyteacher
A blog maintained by Kathy Schrock, an
instructional technology specialist and retired public library librarian. She also authored over a hundred education and technology articles and multiple books about educational technology. Kaffeeklatsch offers a perfect place for learning and chatting about anything related to education.
Contact: Kathy Schrock
Twitter: @kathyschrock
Site is developed by Dr. Wesley Fryer,
a speaker, author, and teacher in Oklahoma City. Blog is created to digitally document his journey and collaboration with educators and learning enthusiasts across the globe. His main interest is using media creatively to help students in learning.
Contact: Dr. Wesley Fryer
Twitter: @wfryer
A teacher's multi-functional website, containing a plethora of useful stuff regarding educational books, writing, reading, math and science, technology and so much more. The blog is an awesome resource for new teachers, especially those employed in preschool and elementary levels.
Contact: Melissa Taylor
Twitter: @imaginationsoup
Edited by Dr. Inger Mewburn, the blog focuses on all things related to the creation of school thesis. It contains editorial guidelines, useful resources, and also workshops and training opportunities for graduating students. Dr. Mewburn is the Director of research training at the Australian National University.
Contact: Inger Mewburn
Twitter: @thesiswhisperer
A preschool teacher's journal for sharing her daily route towards learning and growing as an educator. Feast your eyes on some DIYs, fun classroom activities, and tons of other helpful stuff about literacy, STEM, art, sensory play, and motor skills.
Contact: Deborah J. Stewart
Twitter: @teach_preschool
The Jose Vilson is a site drafted by an activist, author,

speaker, and a teacher rolled into one. He teaches math in middle school in New York, NY. His website covers a plethora of great topics, including education, resources, writing, and the list goes on.
Contact: Jose Vilson
Twitter: @thejlv
A blog inspired by a community of
teachers who want the best for themselves and their students. The website lets you enjoy valuable inputs about teaching tips, lesson plans, and classroom activity ideas such as dramatic play and learning workshops.
Contact: Vanessa Levin
Twitter: @prekpages
An author/TK-6
makespacer/podcaster's journal on modern education, including tips, techniques, and classroom ideas for today's techie educators. Sam usually posts about programming, technology, STEM education, language arts, creative classroom projects, curriculum, student programs, student behavior, and other teaching-related stuff overall.
Contact:  Sam Patterson
Twitter: @sampatue
Ira is passionate about linking conceptual and historical research with real, on-the-ground, investigation and using best practices to create a unique perspective at educational systems, whether formal or informal. In this blog, he shares enlightening insights about education, technology, and school reforms.
Contact: Ira David Socol
Twitter: @irasocol
Blog emphasizes on learning, leadership, education, schooling, teaching, digital technologies, edutech, books, literature, travel, genealogy, music, photography, citizen science and the impact of social media to students of this generation. Darcy is a father, a traveler, and a deputy principal at NSW Department of Education and Communities.
Contact: Darcy Moore
Twitter: @darcy1968
An online learning specialist's avenue to sharing new innovation in online educational media. Highlighting passion in spreading knowledge, learning, and interaction, the website shares good leads to books, publications, presentations, newsletters, and articles that educators might find useful in their profession.
Contact: Stephen Downes
Twitter:  @downes
A teacher resources website

containing ideas and time-saving resources for busy teachers. Laura's posts consist mainly of teacher hacks, fun activities for kids, professional development insights, student engagement, making connections, and other noteworthy stuff. Laura is an author and teacher based in Fayetteville, NC.
Contact: Laura Candler
Twitter: @lauracandler
An edublog involving a teacher's fun
experiences with six-year-olds in a school in Saskatchewan, Canada. Ms. Cassidy lets you join the joy and excitement of learning, as she shares her Twitter feed and daily activities with her jolly and super curious students.
Contact: Kathy R. Cassidy
Twitter: @mscassidysclass
Sheryl's blog revolves around playful learning, mainly for little kids in preschool and nursery. Get exclusive tips, activity concepts, themes, and helpful content aimed at teachers, preschoolers and toddlers for better and more effective education at the early stage of development.
Contact: Sheryl Cooper
Twitter: @tch2and3yearold
A psychology-themed blog written by a Chartered Psychologist and an Associate Fellow of the British Psychological Society. Most of his articles discuss about teaching theories, learning concepts, education-related research, emotional issues of youth, learning determination, resilience, and general mental health
Contact: Marc Smith
Twitter: @PsychologyMarc
Parent-Friendly Blogs

It's more than just a teachers' website. It's a blog created to promote learning, critical thinking, and effective teaching strategies, associated with valuable content for parents. Take an in-depth look at timely education topics and significant advice on professional growth.
Contact: Terry Heick
Twitter: @terryheick
A writer's website encompassing piles of helpful links for today's educators. Browse through collection of respected blogs of organizations and teachers or scroll through a comprehensive rundown of the best online resources that are not only for teachers, but also for dedicated parents.
Contact: Joanne Jacobs
Twitter: @joanneleejacobs
An educator's blog containing fun children themes and activities that teachers and parents can use in classroom or at home. Obtain interesting concepts for dealing with preschool and kindergarten students using Darla's tips. With blissful and colorful themes, you'd surely get more attention and participation from your students.
Contact: Darla Hutson
Twitter: @pschooltoolbox
EdReform Blogs

An information-packed website that delivers the latest news on educational opportunities, economic outcomes, and innovation. The team is actively working to expand educational opportunities so everyone may achieve the American dream. Its mantra is to combine innovation and opportunity to achieve positive results.
Contact: Jeanne Allen
Twitter: @edreform
An excellence-focused website concentrating on school reforms and its changes over the years. ExcelinEd is created to encourage student preparedness for university and career up ahead so individuals will be able to succeed in this modern and fast changing world.
Contact: Kristin Lock
Twitter: @kristinfsu
An ESL teacher's blog having great compilation of the latest stories in education news and politics. Updated daily by   Arthur Goldstein, it's hardly possible to miss anything big, notable, or life-changing happening in NYC if you're subscribed to this blog's RSS feeds.
Contact: Arthur Goldstein
Twitter: @teacherarthurg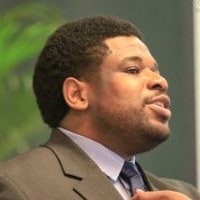 Created in 2014, Edvocate aspires to make education policy shifts and reorganization happen to enhance the quality of education and the learning opportunities that American students deserve. The team strongly calls for relatively radical and comprehensive reform of America's education system.
Contact: Matthew Lynch
Twitter: @Lynch39083
Want To Become A Teacher?
Check out our guide, and get started with our state approved programs.