Teachers of Tomorrow, the nation's largest alternative certification provider, released today results from its national "Teacher Appreciation Survey". The survey's goal is to help the parents and community show their support for their incredible educators that are inspiring future generations. 
The poll surveyed over 1,000 teachers across the country, which revealed a notable key finding that 75% of teachers want to be appreciated through gift cards and having items on their Amazon wish lists purchased.
View this post on Instagram
"Teachers are the backbone of our society, fostering creativity, skills, and curiosity in every classroom," said Trent Beekman, CEO, Teachers of Tomorrow.
"With teachers' tireless efforts and boundless dedication to students, we are honored to play a small role in uplifting the millions of teachers that shape the future of our world. As we help develop the highest quality of educators, this year, we wanted to hear directly from teachers across the United States to ensure their voices are heard and that they feel appreciated for all their hard work." Trent Beekman, CEO, Teachers of Tomorrow.
Aside from learning how teachers prefer to be appreciated, the national survey conducted by Teachers of Tomorrow also asked teachers about their reasons for getting into the education field, their teaching subjects and grades, teaching experience, and summer activities.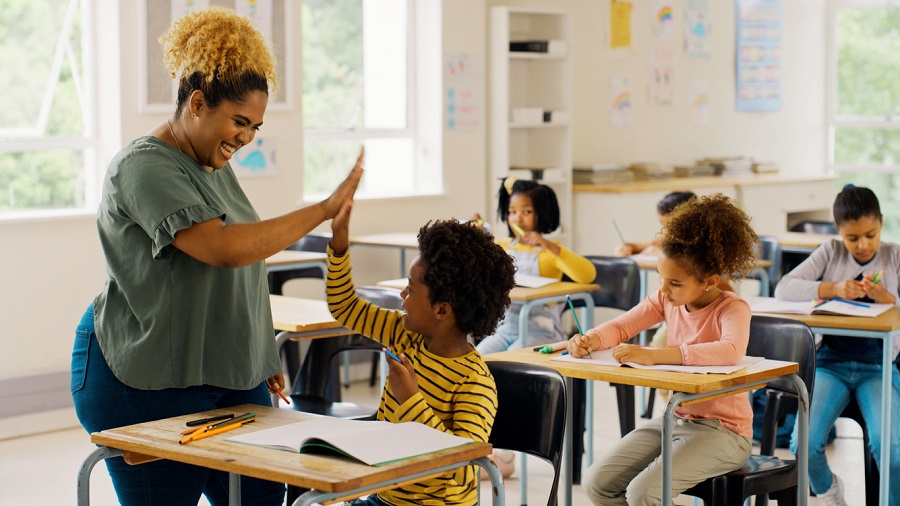 The survey found that most teachers always run out of writing utensils and over 90% of them say that their favorite part of teaching is seeing their students learn new things. Over half of the teachers reported that they became educators to make a difference in students' lives and inspire them to enjoy learning. In fact, during summers, more than a third of these teachers teach summer school or continue their education.
With all of this being said, here are some detailed ideas of how you can show your teachers appreciation in 2023. 
Teacher Appreciation Ideas 
Here's what teachers want to gift them this teacher appreciation week:
Gift Cards
Gift cards are a popular choice for showing appreciation to teachers. Here are some of the most popular gift cards that teachers will love:
Amazon Gift Card

– With a wide range of products available, an Amazon gift card is a versatile option that allows teachers to purchase items they need for their classrooms or personal use.

Barnes & Noble Gift Card

– This gift card is perfect for teachers who love to read or are looking to add more books to their classroom libraries. Barnes & Noble has an extensive selection of books for all ages and interests.

Staples Gift Card

– Staples is a popular office supply store that offers a variety of classroom supplies, including writing utensils, paper, and organizational tools. A Staples gift card can be a great help for teachers who need to replenish their supplies throughout the year.

Target Gift Card

– Target has a vast selection of products, from clothing to home goods, but it also carries a wide range of classroom supplies. With a Target gift card, teachers can purchase both classroom essentials and personal items.

Starbucks Gift Card

– Many teachers rely on caffeine to power through the long school days. A Starbucks gift card is a great way to show appreciation and provide teachers with a well-deserved coffee break.
Personalized Heart-Felt Gifts
If you're looking for a way to express your gratitude for your teacher's hard work and dedication, consider giving them a personalized gift. Here are some heartfelt and thoughtful ideas that are sure to show your appreciation.
Customized Tote Bag

– A personalized tote bag with the teacher's name or a special message is both practical and thoughtful. Teachers can use it to carry their books, papers, and other materials to and from school.

Handwritten Notes

– A heartfelt note expressing gratitude for the teacher's hard work and dedication can be a touching and meaningful gift.

Homemade Treats

– Baked goods, such as cookies or cupcakes, can be a sweet way to show appreciation for a teacher.

DIY Crafts

– Students can create handmade gifts like painted mugs, picture frames, or personalized keychains.

Classroom Supplies

– Students can personalize classroom supplies like folders or notebooks with the teacher's name or favorite quotes.

Potted Plants or Flowers

– A small potted plant or bouquet of flowers can brighten up a teacher's desk and show appreciation for all their hard work.
Remember, the most important thing is to put thought and care into the gift to show the teacher how much they are appreciated.
Additional Ideas To Show Appreciation 
Offer to help the teacher with tasks or projects outside of class.

Organize a class or school-wide appreciation event for the teacher.

Donate classroom supplies or books to the teacher's classroom.

Create a video or slideshow showcasing the teacher's impact on students and the community.

Offer to speak to future students about the positive experiences and knowledge gained in the teacher's class.

Or lastly, simply say – "we appreciate you" 
Truth is, teachers play a vital role in shaping the future of our society by inspiring and guiding our children to reach their full potential. 
It is important to show our gratitude and appreciation for their hard work and dedication, not just during Teacher Appreciation Week, but throughout the year. Whether it's a heartfelt note, a personalized gift, or a simple thank you, every gesture of appreciation can make a difference in a teacher's life. 
Let's continue to support and uplift our educators as they continue to make a positive impact on the lives of our children.