Teachers of Tomorrow announced today that the Michigan Department of Education (MDE) approved their teacher preparation and certification program so that they can begin offering potential teachers a license through the Michigan Alternative Route to Interim Teacher Certification (MARITC). The state legislature created the alternative route to licensure in 2009 through HB5596 but no teachers have been certified through the new route so far.
According to Michigan Title II reports, there has been a significant decrease in enrollments in educator preparation programs. Enrollment dropped from 14,372 in 2012 to 11,099 in 2014; concurrently retirements continue to grow. While some districts are not seeing a teacher shortage, many subject areas such as science, math, special education and English as a second language have extreme shortages; and many rural and urban schools struggle to find the talent they need. Detroit has witnessed significant consequences to their students as a direct result of the ongoing teacher shortage.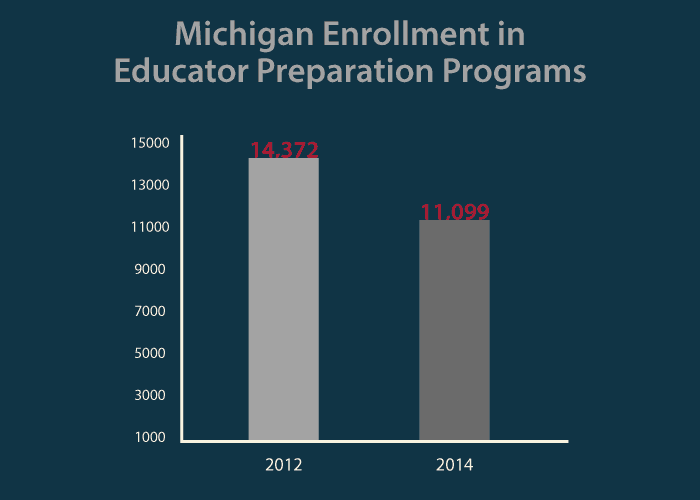 "Michigan, like many states, is now seeing the impact of declining education school enrollment and we are excited to help school districts quickly address a growing teacher shortage," said Vernon Reaser, CEO of Teachers of Tomorrow, "We are honored to be one of the first MARITC programs to be approved to help Michigan schools find the talent they need, and we do it at zero cost to the school and districts."
Teachers of Tomorrow worked closely with the Michigan Department of Education to ensure the program met all state requirements and aligned to all state standards. Teachers of Tomorrow continues to move forward on approval by the Council of Accreditation of Educator Preparation (CAEP), another Michigan requirement that ensures continuous improvement of approved programs.
To quickly address the Michigan teacher shortage, Teachers of Tomorrow has waived the $295 initial program fee so that potential teachers can get started at no cost through October 31, 2017. MichiganTeachers.org has been launched to propel the careers of future Michigan teachers who are transitioning into the classroom from other career paths. Former Superintendent Robert Brooks has been named Michigan State Director, and the Michigan Teachers team of Program Advisors has been trained to help guide teacher candidates through the certification process, from start to finish. Those interested in applying to become a certified teacher in Michigan can submit a free, no-commitment application starting today or call 866-441-7076 for more information.
Teachers of Tomorrow is now an approved teacher certification provider in Texas, Florida, Nevada, Indiana, South Carolina and Michigan.