Alternative teaching certification was originally introduced in the United States to fill severe teacher shortages. This route enables aspiring teachers to become teachers faster.
Alternative certification is a pathway for people interested in becoming teachers but do not have a bachelor's degree in education. Instead of completing a traditional teacher education program, they have a degree in another field. 
Alternative certification programs provide specialized training and coursework to help these prospective teachers develop classroom skills. This approach to teaching certification aims to address teacher shortages and diversify the pool of educators by allowing professionals from various backgrounds to transition into teaching roles.
This guide delves deeper into alternative teaching certification, how it compares to the traditional path, and its requirements.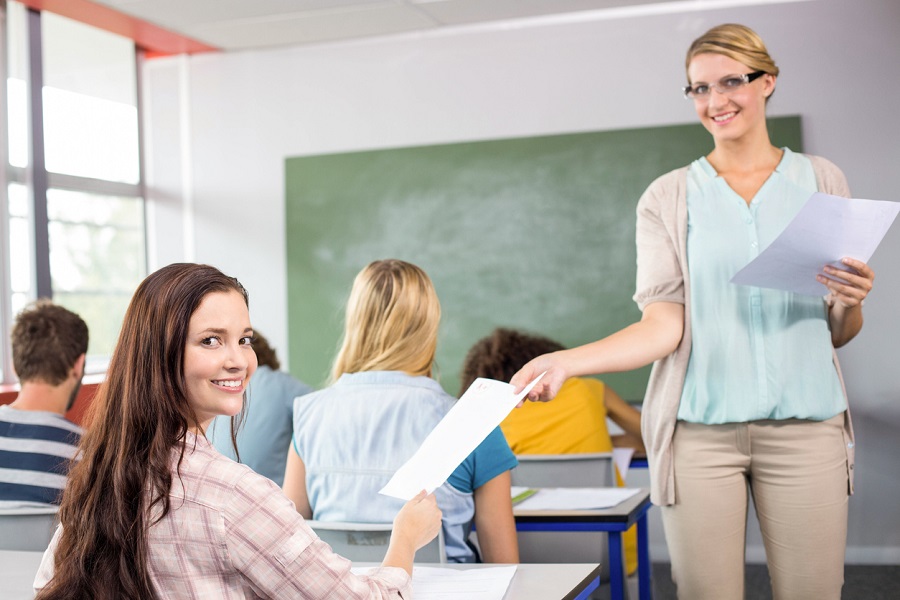 What Is an Alternative Teaching Certification?
An alternative teaching certification is a specialized program that enables individuals without educational backgrounds to pursue a teaching career. 
This recommended path is particularly beneficial for those without a teaching degree because it allows them to meet all the requirements without the extended time commitment of obtaining a traditional teaching degree. 
It offers a way for individuals who have not completed coursework in education to still meet the standards required for becoming a teacher.
Alternative teaching certification is for:
Subject experts:

Experts in subjects facing teacher shortages, such as math, science, or music.

Life experience:

Those with life experiences and skills that can enrich the classroom environment.

Abroad returnees:

Individuals returning from teaching English abroad and have a non-education-related bachelor's degree.
Alternative teaching certification programs are available in the majority of the United States. These programs strategically target areas with the highest demand for teachers, which include:
Urban areas

Rural areas

Specific subject areas, such as Math or Science, where qualified educators are in high demand.
Traditional vs Alternative Teaching Certification
Traditional teaching certification involves completing a bachelor's degree in Education from an accredited college or university. This pathway is the conventional way to start a teaching career.
The table below shows the differences between traditional and alternative teaching certification:
| Traditional Teaching Certification | Alternative Teaching Certification |
| --- | --- |
| Takes around four years to complete a bachelor's degree in Education | Self-paced, allowing completion in months or less than two years. |
| Requires admission to a teacher education program, which can be competitive | Easier to enter because it only requires a bachelor's degree in a relevant field. |
| Follows a structured, full-time format | More flexible, enabling students to work while obtaining certification. |
| Provides comprehensive education-related coursework and pedagogical training. | Focuses on targeted teacher preparation, addressing specific skill sets and knowledge needed for the classroom. |
| Includes student teaching practice, offering a deep classroom experience. | Has modified teaching practice with less classroom time. |
| Geared towards those starting their careers in education. | Allows career changers to transition into teaching and leverages their existing expertise. |
Each of the two pathways to teaching certification has its merits, catering to different individuals and their unique circumstances.
Requirements for Alternative Teaching Certification
The requirements for alternative teaching certification can sometimes vary, however, the general needs are similar across the board. In most states, you must have a bachelor's degree, preferably in the field or subject you hope to teach.
Many aspiring teachers choose alternative teaching certification programs because of their ability to be completed in as little as one to two years, accelerating their journey to working in a classroom.
Alternative teaching certification programs can lead to a post-graduate certificate or a master's degree. In these kinds of programs, candidates engage in more comprehensive coursework, which includes advanced teaching theories, educational research, and specialized topics. 
Additionally, candidates may be granted a provisional or transitional teaching certificate as part of the program in some states, such as California and Texas. The certificate allows them to teach in school while completing their education. 
After completing an alternative teaching certification program, prospective teachers must pass the state's exams required for teaching. For example, they may be asked to complete a Praxis exam—a test that measures the skills teachers need for the classroom. 
Remember: All states are unique in their requirements for teachers, including requirements for alternative teacher certification. Be sure to do your research and complete the correct prerequisites for the state and district you hope to teach in. 
Common Pathways to Alternative Certification
If you are interested in alternative routes to teaching, you may be wondering what some common pathways to alternative teaching certification are. 
In most cases, certification through an alternative route will require completing an approved alternative teaching certification program. It is also typical that states require individuals to seek out approved programs that have been reviewed by the state's teacher licensing board, or the licensing board where the program is located. 
Next, we'll explore the main categories of alternative teaching certification programs: 
Certification through a formal alternative teacher preparation program
Alternative teacher certification programs, such as Teachers of Tomorrow, provide an established and structured pathway for individuals to become certified educators. 
The program offers a flexible curriculum to accommodate the candidates' schedules and learning pace. 
Unlike traditional self-study routes, formal alternative certification programs have a structured framework that guides you through the process. The curriculum is designed to cover essential teaching topics such as pedagogical strategies, classroom management, and subject-specific content.
Teachers of Tomorrow provides you with a range of resources and support. For example, access to experienced educators who serve as mentors, online learning platforms, study materials, and assistance navigating the certification requirements.
You are awarded your teaching certification once you've completed the program's requirements. Certification validates your readiness to teach and meets the standards set by the state's education department.
Note: Alternative teacher certification requirements vary by state. At Teachers of Tomorrow, we tailor our curriculum to meet the specific standards of each state to ensure candidates are well-prepared to succeed in their local education environment.
Transition to Teaching 
Transition to Teaching is a government program that helps to support the recruiting efforts of mid-career professionals and recent graduates who did not major in education in their undergraduate programs.
This program provides an alternative pathway for people with expertise in science, technology, engineering, mathematics, business, and more to enter the teaching profession. 
The Transition to Teaching program specifically targets mid-career professionals in order to leverage their real-world experience and expertise to enhance the educational experience for students. 
The program addresses teacher shortages by tapping into non-traditional candidates, particularly in subjects with the greatest need.
Transitioning to teaching can be challenging. Therefore, the program provides participants with support, including mentorship, professional development, and guidance through the certification process.
The program collaborates with state education departments and school districts to align its curriculum and certification requirements with the local educational needs.
National Board for Professional Teaching Standards certification
The National Board for Professional Teaching Standards (NBPTS) is a nonprofit allowing advanced certification. This organization and certification aims to bring numerous benefits to teachers while helping to improve schools across the nation. 
The NBPTS certification is regarded as one of the highest achievements in the teaching profession. It reflects a teacher's excellence in their field and commitment to ongoing professional growth.
The certification process thoroughly evaluates a teacher's knowledge, skills, and teaching practices. It goes beyond the basic requirements for state licensure, focusing on advanced teaching practices.
Earning NBPTS certification offers a range of benefits to teachers. For instance, it validates their expertise and dedication to teaching excellence, boosting their professional status. Certified teachers often experience increased job satisfaction, recognition, and opportunities for career advancement.
The focus on advanced teaching practices and continuous improvement directly benefits students. Certified teachers are better equipped to create effective learning environments and tailor instruction to individual student needs, improving student outcomes.
Career and Technical Education Certification
Also known as CTE, this certification is great for individuals who do not possess a bachelor's degree, but rather the technical experience to teach specific classes based on their background. 
Typically, a certain number of years in a field is required, and not all states allow this type of certification. 
CTE certification focuses on subject areas aligned with technical skills and trades, such as automotive technology, culinary arts, construction, healthcare, and more. Those with practical expertise in these areas can share their knowledge with students, preparing them for careers directly related to their field of study.
Instead of a traditional education degree, CTE certification requires a specific number of years working in the relevant industry. Hands-on experience ensures educators bring real-world experience and practical skills to the classroom.
CTE educators work in K-12 schools, community colleges, technical institutes, and vocational schools. 
Emergency and Provisional teaching certification
Emergency and provisional certification allows individuals to temporarily serve in the classroom. Typically, they are required to be enrolled in an alternative teaching certification program, and may need to possess a bachelor's degree. 
Emergency and provisional certifications are intended as short-term solutions to address immediate staffing needs in schools. They allow individuals to teach while working towards meeting the full requirements for standard teaching certification.
You must have a bachelor's degree to be eligible for emergency or provisional certification. This degree might not necessarily be in education
These certifications are temporary and are often issued for a specific duration. The goal is for individuals to complete their alternative certification program and meet all the requirements for standard certification within this timeframe.
In-district training 
In-district training is designed for individuals who are already enrolled in a teaching certification program. They are able to work on developing their skills by teaching in the classroom while they complete program requirements. 
In-district training supplements the coursework provided by formal teaching certification programs with hands-on classroom experience. Real-world exposure allows candidates to apply what they've learned in a practical setting.
In-district training often involves a mentorship where candidates work closely with experienced educators who provide guidance, feedback, and mentorship as they navigate the challenges of classroom teaching.
As candidates progress through their certification program, they gradually take on more teaching responsibilities.
Teaching equivalency and portfolio evaluations
Teaching equivalency and portfolio evaluations is offered by a select number of states. Individuals who choose this path can substitute teaching experience in private or post-secondary schools for the requirement of teacher preparation education. 
Teaching equivalency and portfolio evaluations are intended for individuals who have significant teaching experience but did not complete formal teacher education programs. Instead of going through traditional coursework, candidates can use their experience as a basis for certification.
The teaching experience that candidates use for equivalency often comes from teaching in private K-12 schools or at the post-secondary level, such as colleges or vocational institutions.
Those applying for teaching equivalency must compile a portfolio that showcases their teaching experience, expertise, and impact on student learning as evidence of their qualifications for certification.
The portfolio should include documentation of lesson plans, assessments, student work, teaching methods, and examples of how the candidate has positively impacted student learning outcomes.
The portfolio is evaluated by state education authorities or a certification review board. The evaluation process assesses whether the candidate's teaching experience and submitted evidence align with the requirements for teaching certification.
States that offer teaching equivalency and portfolio evaluations still ensure that candidates meet other licensing standards. 
Not all of these pathways are available across the United States, and they all have different qualifications and requirements. However, despite their differences, they also share a lot in common. 
Steps to Alternative Teaching Certification
Below is a list of steps to alternative teaching certification that you can follow. The steps may change depending on the path you take, however, most teachers tend to follow them for certification: 
Apply to an approved alternative route teacher certification program:

You will be required to provide certain information like formal transcripts from an undergraduate program when applying to alternative teaching certification programs. 

Complete the formal coursework required prior to the student teaching experience:

A structured curriculum will be provided and must be completed as part of the program that you enroll in. 

Apply for a provisional teaching certificate to complete student teaching

: The best way to learn is by doing so firsthand. Teaching in person while you complete coursework will help you as you implement what you've learned in your program. 

Pass your state's exams for prospective educators

(note that a growing number of alternative programs may require a passing score on these exams as a condition of admission, which may change the order of the steps): All states require exams to ensure that teaching candidates possess the necessary knowledge to teach students. 

Apply for your professional teaching certificate

: When you apply for your professional teaching certificate, you will need to pay a fee and submit a background check. 
Requirements may change depending on the state and district an individual applies to, therefore, candidates should check with the board of education for the state they want to teach in for current requirements and limitations.
Note: Many states exclude special education and early childhood education from alternative certification pathways because individuals who have obtained a bachelor's degree in another subject cannot meet the coursework requirements for these certifications. 
The Right Alternative Teaching Certification Program for You
Every individual is different, so it is important to find the right alternative teaching certification program. 
The acceptance and approval of alternative routes to teaching continue to grow, meaning many schools offer online alternative teacher certification programs. There are many national and regional transitional programs as well. 
The Teachers of Tomorrow Alternative Certification Program is designed to accommodate aspiring teachers from  diverse backgrounds. 
With a focus on flexible learning, mentorship, and classroom experience, the program offers a supportive environment for your journey into a career in education.
Discover more about alternative teaching certification programs and how they can be a great fit for you!