This article covers the latest salary information for high school teachers in Texas. Plus, learn how Teachers of Tomorrow can help you kickstart your teaching career.
One of our most frequently asked questions from people interested in pursuing a teaching career is, how much money can I make? According to the Bureau of Labor Statistics, the average high school teacher salary in Texas is $56,750 as of April 2023. The compensation you can expect to receive can fluctuate based on a number of factors These factors range from geographic location, education level, professional certifications, extra competencies, and years of experience.
Considering a high school teaching career in Texas?
We're excited you're here! The role of high school teachers in shaping the futures of young adults cannot be overstated. High school educators are essential in giving students the tools they need to find success, both beyond high school and throughout their lives. They provide important skill sets and knowledge that help create a strong foundation for long-term achievements!
What is the definition of a high school teacher?
High school teachers in Texas have an exciting and rewarding career! With the opportunity to work with students aged 14-18, they get to make a real difference as educators. Their day can include teaching a specialized subject in a classroom setting, such as private schools, public districts, and charter schools. On top of that, it's also their responsibility to monitor student progress throughout the year; ensuring each one is on track for success! 
What is the annual salary of a high school teacher in Texas?
As we've discussed, the annual salary for high school teachers in Texas is determined by a number of factors. However, the following salary ranges will give you a good idea of what you can expect depending on where you are in your career.
Low 25%: $46,000

Mid 50%: $56,750

High 75%: $68,500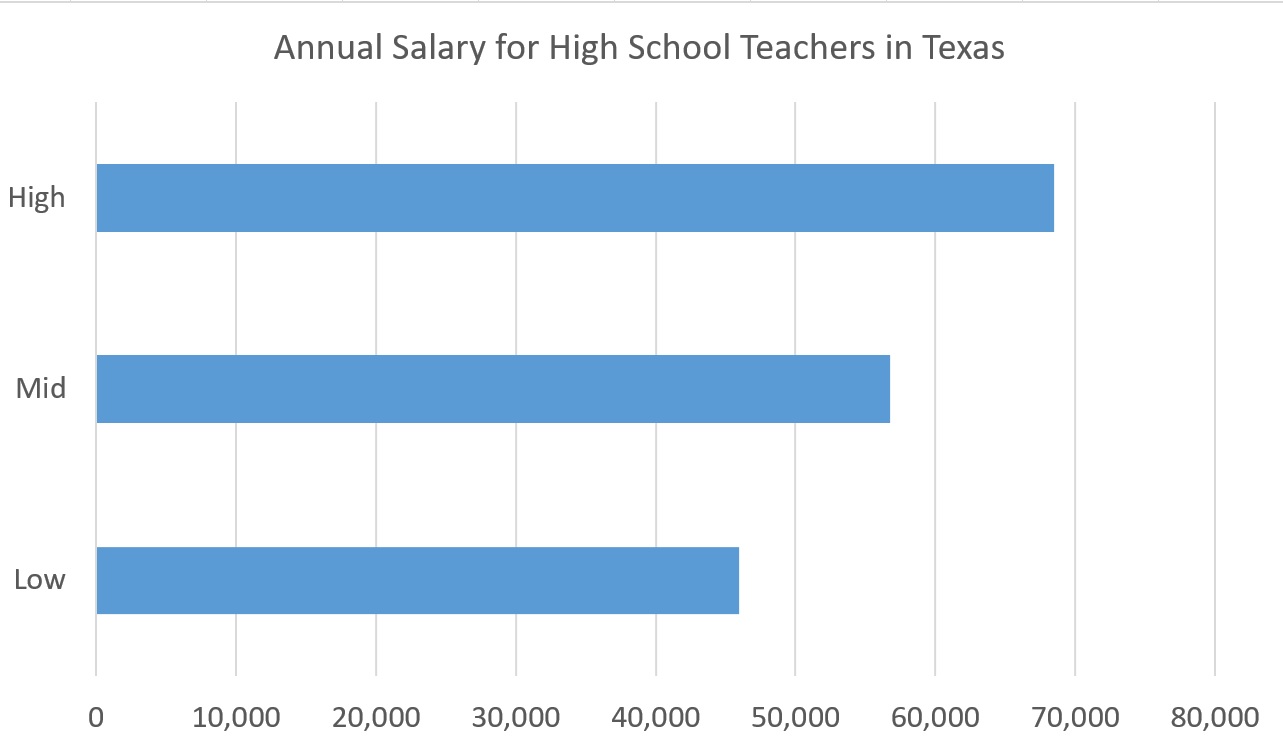 How do I become a high school teacher in Texas?
First of all, you'll need a bachelor's degree in the subject you intend to teach. You can attend any college to get a bachelor's degree, regardless of where you want to teach. Next, you must complete an approved teacher certification program in Texas to gain your certification. With those in hand, you can apply for a Texas teaching license. Remember: you will need a teaching license specific to the state in which you intend to teach. For more detailed information, refer to our guide on how to become a high school teacher.
What impacts my earning potential as a high school teacher in Texas?
The factors that impact your earning potential as a high school teacher include: 
Experience

: Seasoned educators will likely qualify for higher pay than teachers who are just starting out. 

Education level

: While you don't need a master's degree or advanced certificate to be a teacher, it certainly helps if you're looking for a higher salary! 

Geographic location

: Well-funded school districts are able to pay their teachers a higher salary. Where you live and the cost of living in the area directly impacts your earning potential. 

School type

: Private and charter schools can differ from public school teacher salaries. Despite what many think, public school teachers typically make

more

than their private and charter school counterparts. 
What are the highest and lowest paid teaching positions?
If you're going for the highest salary possible, you'll want to ensure you can teach a specialized subject in an affluent area with a higher cost of living. "Specialized subjects" may apply to those who can teach Advanced Placement (AP) subjects or STEM-related subjects. On average, teachers who are just starting out and/or those teaching in rural or economically disadvantaged areas can expect to receive salaries on the lower end of the spectrum.