A kindergarten teacher helps integrate young children into learning by teaching basic learning concepts such as numbers, letters, colors, and social skills.
A kindergarten teacher also provides a nurturing learning environment and works closely with parents to support the development of every learner.
Becoming a kindergarten teacher is rewarding and creates a flexible work-life balance.
You may find joy in becoming a kindergarten teacher if you:
Are passionate about working with young children

Enjoy preparing fun, and creative lessons

Are patient, as kids come with different personalities.
If that sounds like you, this guide takes you through the career requirements, salary information, and all the practical information you need to become a kindergarten teacher.
Let's dive in.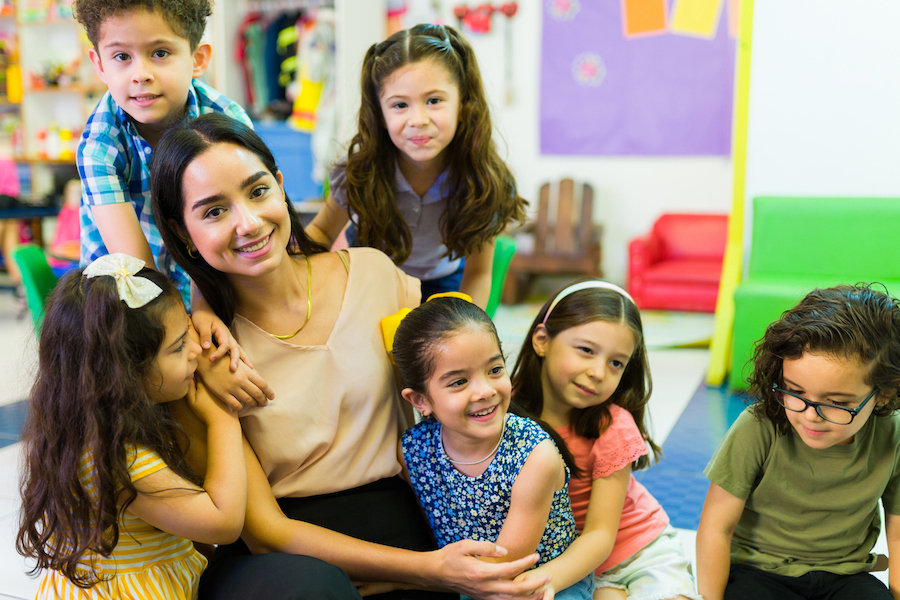 Kindergarten Teacher Job Description
Kindergarten teachers work in private and public schools to help young children between the ages of 4 and 5 develop learning and social skills. They prepare them for further learning by introducing simple learning concepts tailored to each child's individual needs.
Kindergarten teachers are also responsible for assessing their student's learning progress and development.
They work closely with fellow educators, such as speech therapists and special education teachers, to ensure all learners receive all the support they need. They also keep parents involved and inform them of their child's progress and concerns. 
Daily Tasks and Responsibilities of a Kindergarten Teacher
A kindergarten teacher performs various tasks and responsibilities daily and others as needed. 
The following are the responsibilities of a kindergarten teacher:
Designing a complete teaching plan, including creating lesson plans and gathering teaching materials.

Teaching alphabets, numbers, and colors as well as social skills such as sharing and emotional skills.

Using songs, stories, and games to keep learning exciting and motivate children to participate.

Evaluating children's performance and progress and identifying children with performance and development gaps.

Monitoring and assessing students' progress.

Communicating regularly with parents to keep them informed about their child's progress and any concerns.

Supervising students during playtime, recess, and other outdoor activities.

Managing classroom behavior and addressing any disciplinary issues that may arise.

Maintaining a clean and organized classroom environment.
Benefits of Becoming a Kindergarten Teacher
Becoming a kindergarten teacher can provide several benefits professionally and personally. 
For example, you get to earn a living while positively impacting children and preparing them for future success.
Other benefits include:
Stable job:

A kindergarten job is secure with benefits such as health, dental and disability insurance.

Long vacations:

The job comes with long holidays where you still get paid for the time off.

Flexibility:

A kindergarten teacher job gives you ample time to engage in other things you love.
How to Become a Kindergarten Teacher
Before you're licensed to teach students, you must go through the step-by-step process as required.
1. Get a Bachelor's Degree
To become a kindergarten teacher, you require a minimum of a bachelor's degree. An undergraduate degree in any field is ok, although you still have to go through other steps before teaching in a kindergarten classroom.
Some degree programs may help fasten the process of achieving your license.
Recommended Degree Programs
Here are some recommended degree programs to aid your process of becoming a kindergarten teacher.
Bachelor's in Child Development

Bachelor's in Elementary Education

Bachelor's degree in Early Childhood Education
Kindergarten Teacher Courses
The table below shows examples of courses that may be included in a bachelor's degree program for kindergarten teachers:
| | |
| --- | --- |
| Course | Covers |
| Child Development | Physical cognitive and emotional development of children  |
| Curriculum Development | Planning and implementation of teaching plan |
| Classroom Management | Strategy for managing classroom behavior |
| Math and Science for Children | How to introduce math and science concepts to young children |
| Special Needs | How to identify and instruct children with special needs |
| Literacy Development | How to develop reading and writing in young children |
| Technology and Young Children | Introducing digital literacy to young children |
| Assessment | How to evaluate different children learning progress |
Note: The names of the courses may differ from one university to another, but the concepts remain the same.
2. Complete a Student Teaching Program
Prospective kindergarten teachers must complete a student teaching program to obtain a license. Students complete a teaching program in college if they have a major in education or elementary education. In most bachelor's degree programs, the student teaching program is structured toward the end of the degree completion.
Here, prospective kindergarten teachers are paired with a mentor teacher and teach in a real classroom to gain hands-on experience.
3. Obtain State Licensure
After obtaining a bachelor's degree and passing the teacher preparation program, you'll need to pass a background test to acquire a state license to teach in a public school. Private school teachers may not need a license.
Some states may also require you to pass their state certification test or tests before you can teach in a classroom. 
4. Consider Getting a Master's Degree
You should consider advancing your career further by getting a master's degree.
Getting a master's degree in Early Childhood Education can help you become a better teacher, especially for hyperactive or capricious learners. It also opens up opportunities for you, such as administrative positions, becoming a lead teacher, and more. 
5. Apply for a Kindergarten Teaching Job
Once you've attained all the kindergarten teacher requirements, you're free to apply for kindergarten teacher jobs in your state.
Here are some ways you can find a job as a kindergarten teacher:
Check job postings on school districts and private schools websites, as well as on job search websites such as Indeed, LinkedIn, and Glassdoor.

Reach out to other teachers, school administrators, and professors to ask about job openings. 

Colleges and university career centers can help students and alumni find job openings.

Kindergarten Teaching Skills
We're now going to look at the skills a kindergarten teacher must have to succeed. 
Subject Knowledge
A kindergarten teacher needs to have a solid knowledge of the curriculum to create lesson plans that align with state standards and to structure teaching plans that favor each child's learning requirements.
The teacher must also understand child development in order to instruct different student personalities.
Communication
A kindergarten teacher must speak and listen to learners who use non-verbal gestures, talk, and even dance. Good communication skills teachers to explain different learning concepts in a way young children can understand.
A kindergarten teacher should also be able to communicate effectively with colleagues, support staff, and parents. 
Creative and Artistic Skills
A kindergarten teacher is expected to develop fun and creative ways to convey knowledge to young children.
The teacher must also be artistic to help children create drawings and art that make a classroom more colorful and welcoming.
Organization
A kindergarten teacher helps children maintain their belongings and learning materials.
This helps keep a classroom organized and teaches children to keep their environment clean.
Planning
A kindergarten teacher must be an excellent planner to stay ahead of the multiple tasks and responsibilities.
For instance, planning lessons and outdoor activities, grading, and contacting parents. 
Reasons to Become a Kindergarten Teacher
Besides making a decent living, there are several reasons to become a kindergarten teacher.
For example:
Inspiring young children:

You get to be at the forefront in introducing young children to learning and understanding the value of education in their lives.

Growth opportunity:

There's numerous room and time for you to grow in your career, and you receive professional development assistance if you work in a public school.

Sense of community:

You become part of a community of educators and support staff who contribute to achieving the school's mission.

 
Kindergarten Teacher Salary
The average kindergarten teacher in the United States makes $59,814. The highest earning for a kindergarten teacher is $71,910, and the lowest is $49,568 annually.
This wide variation may be caused by education level, certifications, geographical location, and the number of years spent as a kindergarten teacher.
Kindergarten Teacher Job Outlook
The Bureau of Labor Statistics projects that the overall employment of kindergarten and elementary teachers is expected to grow by 4% between 2021 and 2031.
Over the next decade, there will be over 120,300 job openings for kindergarten and elementary teachers per year.
These openings are precipitated by the need to replace retiring teachers and also by the need for smaller classroom sizes.
Tips on Becoming a Successful Kindergarten Teacher 
To connect better with your students and impart knowledge to their young minds, there are things you can include in your teaching routine.
Follow these tips to succeed as an early childhood educator.
1. Build and Maintain Routine
A daily routine provides predictability for the students and helps you stay organized as a teacher.
It helps you manage your classroom better and helps your learners transition smoothly from one activity to the next.
This helps children develop independence and creates a positive learning environment for everyone. 
2. Add Fun to Your Teaching
You should add fun to your teaching strategies as it helps improve engagement in your classroom and helps your students retain new information.
Some examples of fun teaching strategies include:
Using blocks and play dough, and other hands-on activities to teach concepts to learners.

Incorporating games and exercises that involve movement, such as Duck Duck Goose and Hokey Pokey.

Incorporating outdoor activities such as nature walks, gardening, and playground games.
3. Break Your Lessons into Chunks
Little children get overwhelmed easily when bombarded with tons of information at once. Break your lessons into smaller chunks to help them retain attention and allow them to digest information at their own pace.
For instance, you can divide lessons into smaller, more manageable segments in your teaching plan. You can also achieve this by teaching one concept at a time.
For instance, one letter at a time when teaching the alphabet. Ensure you've taught and practiced each letter before moving to the next.
4. Build Relationships with Your Students
Building a relationship with your students can help build trust and motivate them to communicate better with you and other students. It also helps build a bond between you and the parents or family of your students.
You can do this by knowing each student by name and showing genuine interest in their lives outside school.
Showing empathy when the children are having a difficult time outside of learning can also help you build a strong relationship with them.
5. A Well-Rested Teacher Is a Successful Teacher
As much as you're having so much fun teaching and engaging with your students in many activities, it's good to take time to recharge.
Rest when it's not working hours, take a walk, hike, or even play your favorite musical instrument or do something fun.
Resting well helps keep you mentally and physically healthy and inspires creativity for the next time you go to work.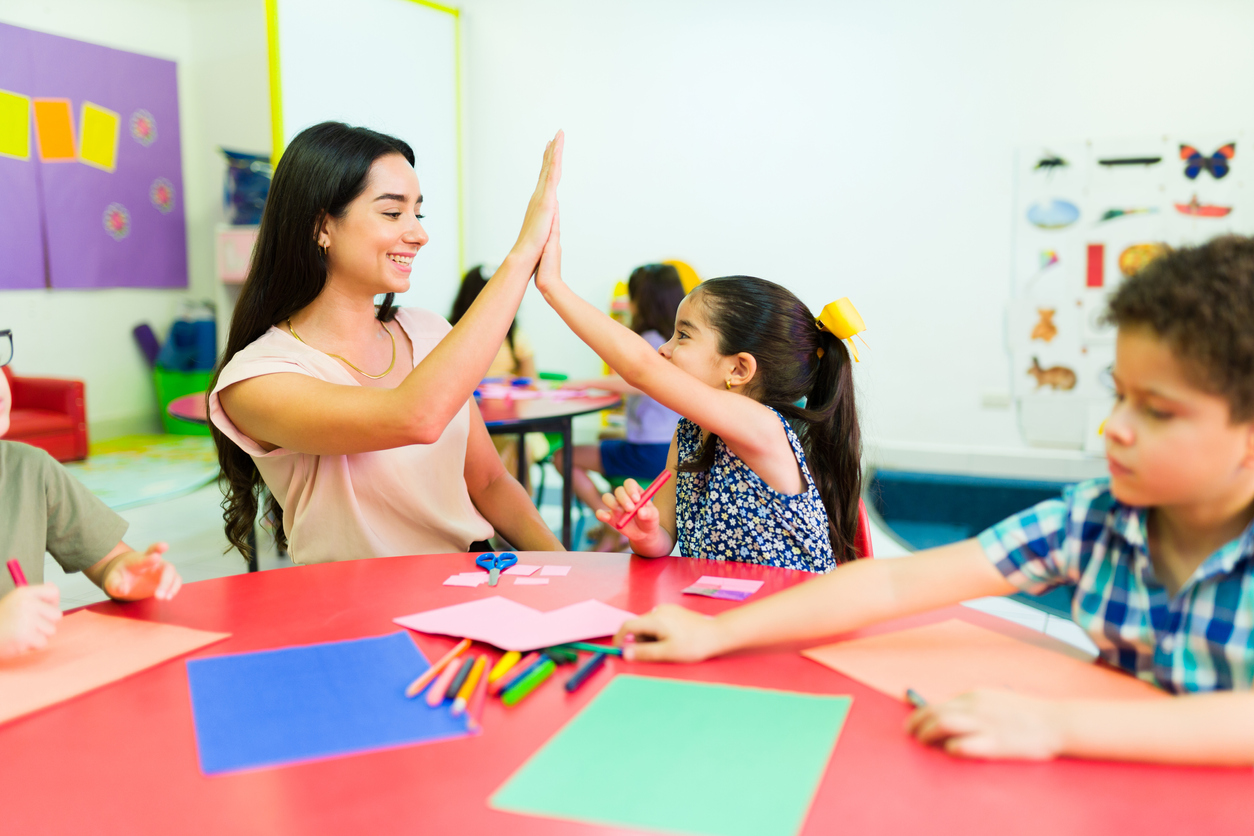 Become a Kindergarten Teacher
Becoming a kindergarten teacher is both rewarding and challenging. 
With the academic requirements and skills we've shared, you, too, can become a kindergarten teacher.
If you're passionate about working with young children, check out the alternative teacher certification requirements and start your journey toward becoming a kindergarten teacher today.