Becoming a teacher in Iowa is an opportunity to work in an energizing environment while helping to provide a future for our youth. The profession often has a family-friendly work schedule and is an excellent outlet for creativity. Also, Iowa is a state that takes pride in education, ranked as having the highest graduation rate in the country in 2022. 
The path to becoming a teacher depends on the state, as each has slightly different educational and licensing requirements. However, all are experiencing a shortage of quality educators. For instance, Iowa had approximately 35,535 teachers in 2022, which still isn't enough to meet the state's educational needs.
Iowa's need for quality teachers and commitment to education make it an attractive place to join the rewarding vocation. To help you begin your journey to becoming a teacher in Iowa, we've compiled a guide outlining the necessary steps and information.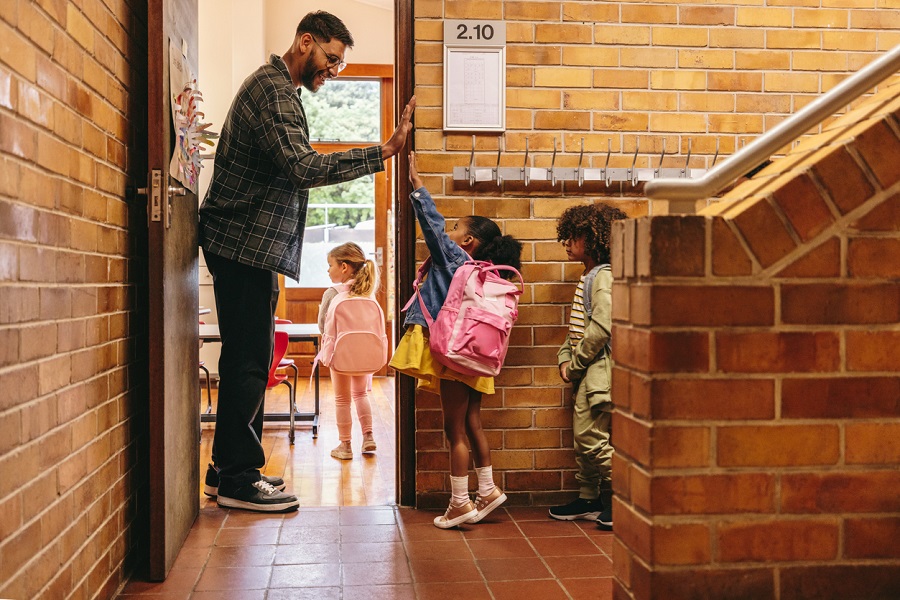 Is Teaching the Right Career for You?
Teaching is a fulfilling vocation that touches lives in the classroom and community. But the profession is challenging, requiring diplomacy, empathy, resourcefulness, excellent listening skills, and enthusiasm. 
Many people feel called to the profession, wanting to make a difference while instilling a love of learning. They enjoy collaborating with others, including their colleagues and parents, to create activities that enrich their learners and the community. 
While money is not the motivation to embark on a career in education, teaching often comes with excellent packages, including healthcare and dental. However, the exact benefits and salary depend on the state. For instance, the average annual salary in Iowa for 2023 is $59,262, whereas in Indiana it is $54,126. 
State Requirements for Teaching in Iowa
State requirements for teachers vary across the country, each with their own educational requirements and licensing exams. 
Even within a state, there may be differences depending if there is a shortage in that area, your chosen specialty, or the educational level you wish to work with: primary, secondary, or high school. 
The Iowa Department of Education (IDE) determines the state's requirements. Historically, the Iowa Board of Educational Examiners (BOEE) established the licensing and renewal requirements, although they are currently in the process of merging with the IDE. 
Bachelor's Degree
A bachelor's degree is mandatory in Iowa, as it is in all states, regardless of whether you take the traditional or alternative pathways to become a teacher. IDE-approved traditional educator preparation programs are available in 29 of Iowa's colleges and universities. 
A bachelor's degree is also required to use Iowa's two alternative licensure programs. However, these are only available for those wishing to teach high school. 
Obtaining a bachelor's degree provides you with crucial knowledge and skills to help you flourish in your chosen career path, including the following:
Learn how to supervise and support students in classroom activities

Gain an understanding of how learners grow and develop

Learn how to plan for instruction, helping each learner meet their educational goals

Gain a variety of instructional strategies to keep content fresh and meaningful
Here are some bachelor's degree programs that lead to initial teacher licensure in Iowa. 
Bachelor of Arts in Education (Elementary or Secondary)

Bachelor of Science in Education (Elementary or Secondary)

Bachelor of Science in Education, with International Teaching (Elementary or Secondary)

Bachelor of Science in Education, with a concentration in Behavioral Analysis of Developmental Disabilities (Elementary or Secondary)
Complete an Accredited Teacher Preparation Program
Candidates in Iowa pursuing the traditional teacher certification program must complete one that meets the IDE's standards to be certified to teach. The licensing and certification process aims to ensure candidates meet the needs of Iowa's learners. 
The IDE provides a complete list of institutions that offer state-approved traditional teacher preparation programs. 
Candidates wishing to use Iowa's alternative license pathway must follow the IDE guidance. Please note this pathway is only available for those wishing to teach high school.
Examples of some of Idaho's endorsements and certificates provided by the approved traditional teacher preparation programs include:
Art (K-6)

Mathematics (K-6)

Physical Education (K-6)

Science (5-12)

Foreign language (5-12)

Social studies (5-12)

Physical education

(K-12)

Athletic coach (K-12)
Gain Student Teaching Experience
Iowa's traditional teacher-prepared programs require candidates to gain at least 14 weeks of student teaching. 
The Iowa alternative licensure programs provide candidates with an intern license for a year after completing 12-18 credits of coursework. 
Hands-on classroom teaching experience will equip you with skills in classroom management, lesson planning, and overseeing activities while providing valuable feedback and instilling confidence. 
Pass a Background Check
Background checks are used to confirm a candidate's identity, professional history, education and see if the individual has a criminal record or records of professional misconduct. The checks ensure the candidate has the qualifications they claim, is in good standing, and helps ensure learners are not abused, neglected, or mistreated. 
BOEE's background checks have shifted in 2023, and Fieldprint now completes the federal portion of the process. 
Iowa may deny a license, authorization, or certificate to a candidate if the background check reveals:
The candidate failed to be truthful

The candidate has a serious criminal history

The candidate provided a fraudulent license or other documentation

The candidate's teaching license or certification was revoked or suspended in another state
Get Certified
Getting certified must be done in the state where you intend to work, as the certification process or licensure exam for educators differs depending on where you live in the country. 
Iowa's requirements to be a certified teacher in the traditional program include:
Completing a bachelor's degree in an IDE-approved educational program

Gaining a minimum of 14 weeks of student training experience 

Passing the background check

Submitting bachelor's degree and relevant teacher preparation coursework to BOEE

Submitting application and fee to BOEE
Iowa's requirements to be a certified teacher in the non-traditional pathway include:
Completing a bachelor's degree

Minimum of three years post-baccalaureate work experience

Completing all credits in the alternative licensure program

Working for a year as a full-time teacher under an intern license 
Unlike many states, Iowa doesn't require extra licensing exams. Instead, the necessary coursework and requirements are done through the endorsements taken in either the traditional or non-traditional pathway. The endorsements selected are chosen in regards to the grade levels and subjects a candidate wishes to teach.
Certifications in Iowa come in three types:
Initial

Standard

Master Educator
The initial certification is issued for the first two years of a new teacher's career. Once they've completed two years at a public school or three in a private one, they may apply for the Standard License, valid for five years. Alternatively, they can renew the initial certification.

A Master Education License is also valid for five years. It is granted to those who have taken a master's program. However, due to Iowa's continued education requirements, many teachers in the state eventually end up with enough credits for a master's. 
Consider Getting A Master's Degree
A master's degree isn't required to teach in Iowa. Still, it can give you the edge when applying for a position, may lead to better pay, and open other career opportunities within the education sector. In addition, the Iowa teacher certification licenses do encourage achieving a master's. 
The type of master's available depends on the institution. For instance, candidates may obtain:
Master of Arts in Education (MAE)

Master of Arts in Teaching (MAT)

Master of Science 
Morningside, one of Iowa's two alternative license pathways, awards an MAT after successful completion. 
Alternative Route To Teaching in Iowa
Idaho has two alternative pathways to teaching for those who already have a bachelor's degree. Both institutions offer a two-year program, preparing candidates for professional licensure in secondary education, so they do not have to obtain a new four-year degree in education. However, only Morningside University's program will result in an MAT degree upon completion.
The institutions authorized for Iowa's alternate license programs are:
The programs consist of 12-18 credits the first year and working as a paid, full-time teacher in a high school the second year with an intern license. Once the internship has concluded, the candidate must complete any remaining credits before becoming a licensed teacher. 
To qualify for either alternate license program, the candidate must meet the following:
Have a bachelor's degree

Have at least three years of post-baccalaureate work experience
Getting Hired as a Teacher
Once you've completed Iowa's necessary education, in-class experience, and certification, you're ready to begin your journey toward getting hired as a teacher.  
To help stand out from the crowd, pay careful attention to the following elements when looking for a teaching position. 
Polish Your CV
Make sure your CV is up-to-date and free of typos. Also, pay attention to its layout and design. It should be clean and readable but also show a touch of personality or creativity. If you are looking for ideas, find examples on the internet, such as Pinterest, or talk to anyone you know in education and ask if they mind sharing a copy of their CV. 
When you think you are done, show it to a trusted individual and ask them to proofread it.
Finally, when your CV is perfect, save it as your template. Before sending it to any job opportunity, customize the template so your CV is framed for that precise opportunity. 
Upgrade Your Skill Set
Teachers are like their learners; they never stop learning and polishing up essential skills. Look for ways to demonstrate you've upgraded your skill set, such as tutoring, volunteering, or through your current employment. 
Essential skills that will be valuable in a teaching career include: 
Conflict resolution:

Learners don't always get along, and the friction can cause sparks. It's up to teachers to cool things down and help form bridges of understanding. In addition, parents and guardians can bring heated feelings, sometimes about learners, that are not their own. Again, teachers need to soothe the tensions and find ways to mediate. 

Empathy

: Learners are rarely at school by choice. Nor are their lives necessarily easy. The learner that doesn't seem to care about anyone may be the one that needs your empathy the most. 

Motivational

: Learners get tired, frustrated, and bored like anyone else. They will require encouragement and enthusiasm to help them stay focused and feel confident enough to apply themselves. It's also essential to acknowledge their good behavior and their accomplishments. 

Organization:

Teachers are balancing lesson plans with a multitude of activities. There are also classroom supplies, papers to grade, and learners keeping track of (and losing) their items. Excellent organizational skills keep classrooms running smoothly and make the job feel much more manageable. 

Technical

: Chalkboards have faded into history, and many whiteboards have gone "smart." PowerPoint, Google Classroom, and Zoom have all become part of the teacher toolbox. Many schools are also integrating tablets and other devices into the classroom. 
Begin Your Job Search
Begin your job search in Idaho with these recommended sites:
Also, seek out and contact districts you are interested in by email or phone. Even if they're not hiring, it's an opportunity to connect and get your CV on file so they'll think of you when a position becomes available. 
Join a Professional Organization and Network
Teachers often find themselves as the only adult in the classroom. That's why joining a professional organization and network is so helpful. Connecting with your peers will build a foundation of support and keep you in the loop of changes and opportunities within the profession. 
Some professional organizations available in Iowa include the following:
Ace Your Job Interview
An interview is an essential part of the hiring process for teaching in Iowa. Ace your job interview by preparing well before the big day. We've compiled some of our favorite tips to get you through the process and hired you for the teaching portion. 
Brush up on the latest educational buzzwords

. Every industry has its own terminology. But it moves and evolves almost as fast as slang in the playground. While you might want to go easy on saturating your answers with the latest buzzwords, you must understand it. You don't want to find yourself blinking in confusion at a question with no idea what the words mean. 

Practice before the big day.

Don't go into your interview cold. You may have done all your research and have answers ready, but if you haven't practiced answering them to a person, you risk sounding like an android. Your responses need to appear thoughtful and natural, not rehearsed. Have a friend ask you some teaching interview

questions

. If they can't do it in person, use Zoom. 

Have questions of your own.

It is common in an interview that you'll be asked if you have any questions. Use it as an opportunity to learn about the school while demonstrating more about yourself. Have at least three non-financial questions already prepared, and select the ones that have not already been addressed during the interview. Center the questions away from yourself and focus on the learners, extracurricular activities, school ethos, or what a typical day looks like.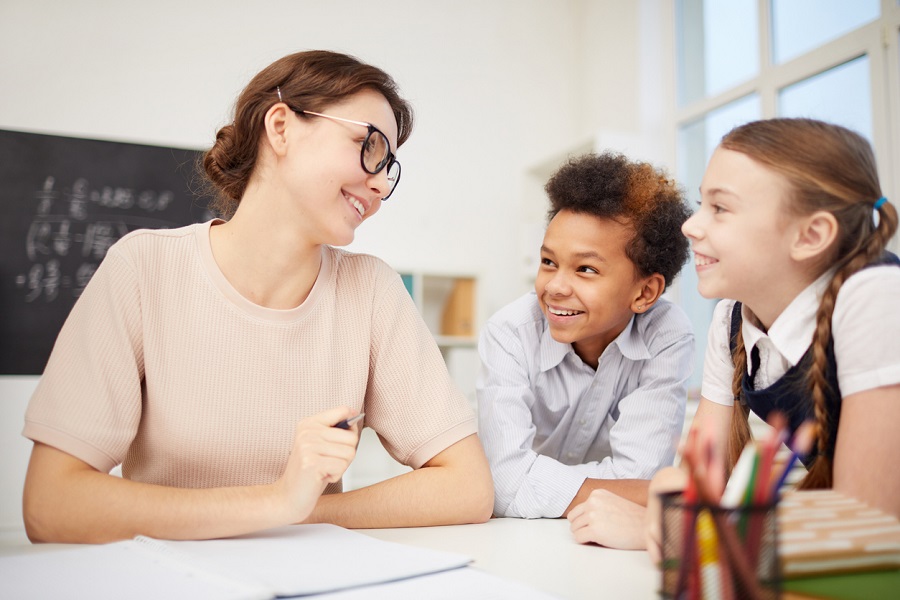 Career Outlook & Salary in Iowa
Like much of the United States, teachers are in high demand in Iowa. For instance, the state predicts an 11% job growth in secondary school teachers from 2020-2030, surpassing the 5% projected national average. 
In addition to Iowa paying teachers an above–average salary, they provide additional financial compensation and leadership opportunities to effective teachers through the Iowa Teacher Leadership and Compensation (TLC) system. 
Iowa also tries to set up new teachers for success by using the Iowa Mentoring and Induction program (M&I). It provides support for those starting in their educational careers, has enhanced student achievement, and increased the retention of beginning teachers. 
According to the 2022-2023 US Department of Education Teacher Shortage Area report, Iowa has a shortage in areas such as physics, family and consumer science, art, special education, world languages, earth and space science, English, mathematics, music, gifted education, physical education, and more. 
Become a Teacher in Iowa
Iowa provides teachers with an above-average salary with a below-average cost of living. Housing is 28% below the national average, and utilities are 6% lower. Iowa has a long history of farming, possibly one of the reasons it is one of the country's safer states. 
Altogether, Iowa is a fine place to be a teacher. 
If you are ready to start your journey towards a teaching career in Iowa, Teachers of Tomorrow, the largest national alternative certification provider, will guide you into becoming an award-winning educator.