High school teachers equip students with the knowledge, skills, and guidance to reach their full potential. They also help students in their personal development by inspiring curiosity and fostering critical thinking. Nevada offers attractive working conditions if you're aspiring to be a high school teacher– or a teacher who just wants to relocate.
The average high school teacher's annual salary in Nevada as of May 2022 is $66,620. However, salary ranges can vary widely depending on the city and many other important factors, including the level of education, certifications, additional skills, and the number of years you've spent in your profession.
In this article, Teachers of Tomorrow delves into your earning potential as a high school teacher in Nevada. We will also highlight the steps you need to take to become a high school teacher, and how you can achieve the goal faster with alternative teacher certification.  
Let's dive in.
What Is a High School Teacher?
A high school teacher specializes in delivering subject-specific instructions to students in grades 9–12. You'll help prepare students for higher education, careers, and adulthood.
High school students are typically aged 14–18 years. During this time, they're going through many physical and emotional changes. Therefore, you must have excellent classroom management skills in order to maintain discipline, manage student behavior, and create a safe learning space.
Other key skills needed to become a successful high school teacher include:
A strong command of the subjects they teach.

Effective communication to explain complex concepts and engage students in discussions.

Adaptability to accommodate diverse learning styles, abilities, and interests. 
Your tasks and daily responsibilities can vary depending on the subject area, school policies, and instructional methods. Some of your everyday responsibilities include:
Developing and delivering lesson plans aligned with curriculum standards. 

Assessing student understanding and progress through tests, projects, presentations, and homework. 

Organizing and managing classroom activities, such as individual and group work, hands-on projects, discussions, and experiments. 

Supporting students' social and emotional growth by providing guidance, mentorship, and counseling when necessary.
As a high school teacher, you are expected to stay informed about educational advancement, participate in professional development to enhance instructional practices, and improve student outcomes.
How Much Does a High School Teacher Earn In Nevada?
According to the Bureau of Labor Statistics, as of May 2022, these are the salary ranges for high school teachers in Nevada: 
Lowest – $48,510

Average – $66,620.

Highest – $84,800.
This variation is caused by factors such as your education level, years of experience, location, and the specific school district. 
For example, school districts with a higher cost of living or those facing teacher shortages may provide additional compensation or benefits.
Some school districts may offer higher salaries with advanced degrees and certifications.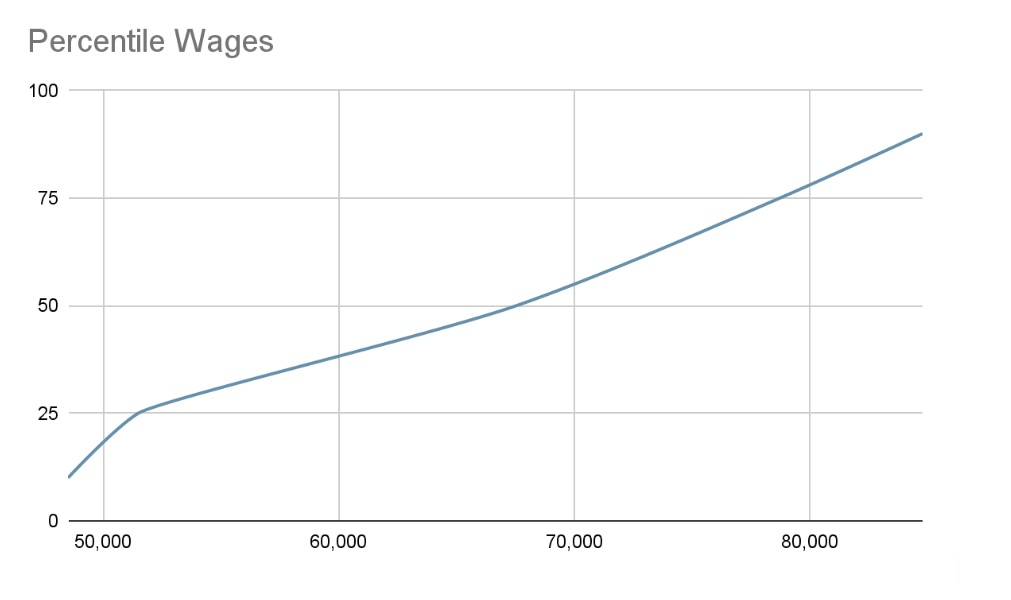 The Percentage of High School Teachers in Nevada and Their Average Earnings
How to Become a High School Teacher in Nevada
To become a certified high school teacher in Nevada, you need to follow these steps:
Earn a bachelor's degree:

Obtain a bachelor's degree from an accredited institution. Your degree should be in the subject area you wish to teach. 

Complete a teacher preparation program:

Enroll in a teacher preparation program approved by the Nevada Department of Education (NDE). 

Pass the state-required exams:

Nevada requires prospective high school teachers to pass the Praxis Core Academic Skills for Educators exam, subject-specific Praxis II exams, and the Principles of Learning and Teaching exam.

Apply for a teaching license:

Apply for a teaching certificate through the Nevada Department of Education. 

Complete a criminal background check:

Before you're licensed as a teacher in Nevada, you must pass a background check to ensure the safety and well-being of students.
Once you receive your teaching license, you can search for high school (link to future article: How To Become a High School Teacher in Nevada) job opportunities in Nevada's school districts. Visit the websites of different school districts and check the career section for available opportunities. You can also check job sites like Indeed.
Note: Some school districts in Nevada may have additional requirements for hiring teachers, so make sure that you're aware of any district-specific guidelines.
Remember: Becoming a teacher means embracing lifelong learning. Throughout your teaching career, engage in ongoing professional development activities to stay up-to-date with best teaching practices and educational advancements.
Alternative Certification for High School Teachers in Nevada
Alternative certification is a pathway for individuals who obtained a bachelor's degree but did not major in education.
In Nevada, the Alternative Route to Licensure (ARL) program is available for aspiring high school teachers. The program allows you to teach in a classroom while you pursue permanent teaching certification.
To become a high school teacher in Nevada through alternative certification, you must follow certain steps:
Hold a bachelor's degree from a recognized learning institution.

Pass the Praxis Core Academic Skills for Educators exam and the Praxis II Subject Area exams to demonstrate proficiency in your areas of specialization.

Secure a teaching position in a Nevada school district or charter school. The school will assign a mentor to support and guide you throughout your teaching journey.

Collaborate with your mentor to develop a personalized Professional Learning Plan (PLP) outlining the specific requirements and coursework you must complete for full licensure.

Undertake the required coursework and engage in professional development aligned with Nevada state standards. 

Apply for a Provisional License, which allows you to teach while you work towards fulfilling the remaining requirements for full licensure.

While teaching under a Provisional License, pass the Principles of Learning and Teaching exam and fulfill any other stipulations outlined by the ARL program.
Once you've completed all the program requirements, including coursework and exams, you can apply for a full high school teaching license in Nevada.
The Highest and Lowest Paying High School Jobs In Nevada
High school teachers in Nevada can teach in different settings aside from public schools:
Private high schools

Charter schools

Online teaching

Career and technical schools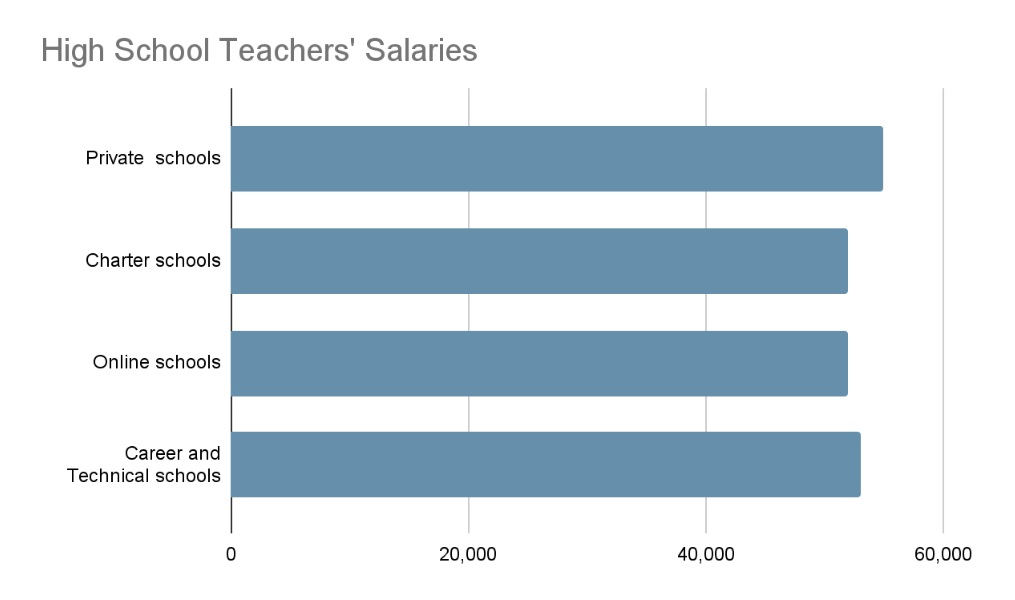 A comparison of Different Average Salary Ranges for High School Teachers in Nevada
At Teachers of Tomorrow, we can't wait to join your journey in becoming one of the best high school teachers in Nevada. What are you waiting for? Make a difference!
Related Teaching Careers
8 Most Common Interview Questions for Teachers
How Much Does an Elementary Teacher Make In 2023?