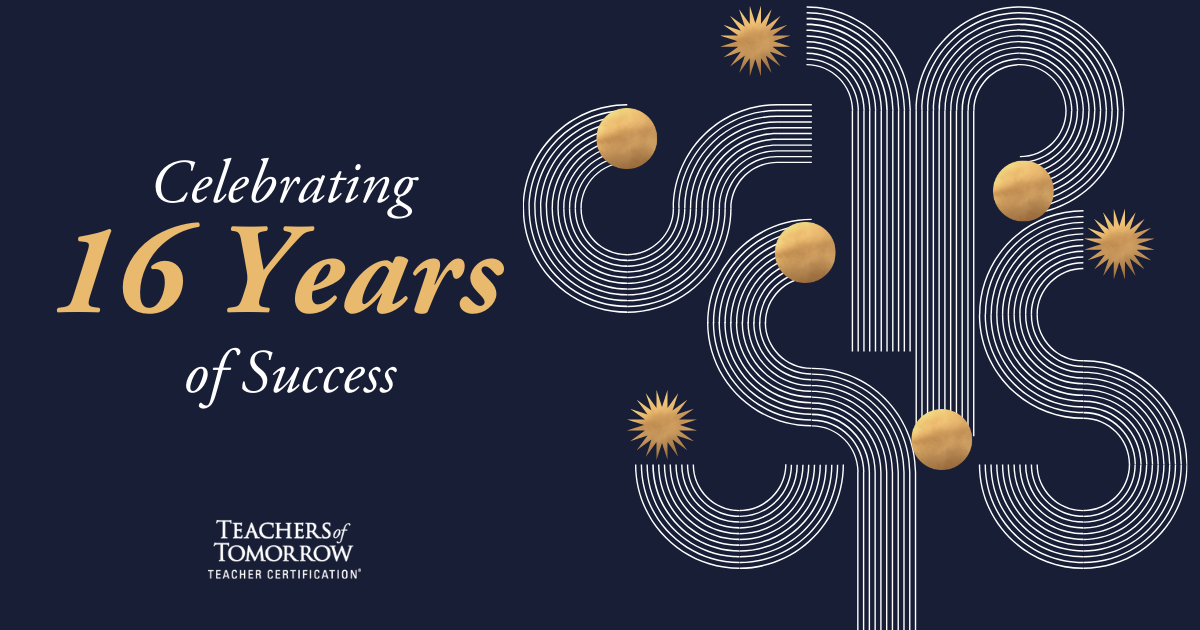 Teachers of Tomorrow is celebrating 16 wonderful, successful years! In 2005, our co-founders had a mission to make sure students had qualified, dedicated teachers to ensure a well-rounded education. Since then, our program has reached an incredible milestone: we have helped certify 70,000 teachers. 16 years ago, Teachers of Tomorrow set out on a mission to help combat the teacher shortage – and thanks to YOU – we are making incredible progress.
Expanding Nationwide

Our program originally started in Texas and quickly rose in the ranks as one of the fastest-growing programs in the state. It became recognized as one of the most reputable programs by both districts and candidates. We then became committed to helping other people across the nation reach their true potential in becoming the teacher they were meant to be. Now, we certify teachers in nine different states!
We're Here for You

We've come a long way from our team of two! With our ever-growing team of over 200 employees, we pride ourselves on making sure we're communicating effectively with our candidates and providing them the support they need to succeed. Our innovative program allows candidates flexibility so they can get into the classroom at their own pace, without having to sacrifice integrity. This flexibility and constant personal support are what make our program stand out from the rest.
District Preferred

Through our hard work and commitment to our vision, Teachers of Tomorrow has become the #1 district preferred program! We've identified the challenges education recruiters face, and we've worked to make sure our candidates are trained to enter the industry and stay there. We strive to provide qualified, dedicated future teachers with the highest caliber of training. This is reflected in our 70% retention rate – which is well above the national average of 50%. It is because of these things that school districts prefer and are consistently satisfied with our candidates!
Last Year in Review

RECORD NUMBERS
While 2020 was certainly a challenge, we were taken about by record numbers of individuals stepping up to answer their calling and join the teaching profession. Last year alone, we helped certify over 10,000 teachers, which is truly incredible.
AAQEP ACCREDITATION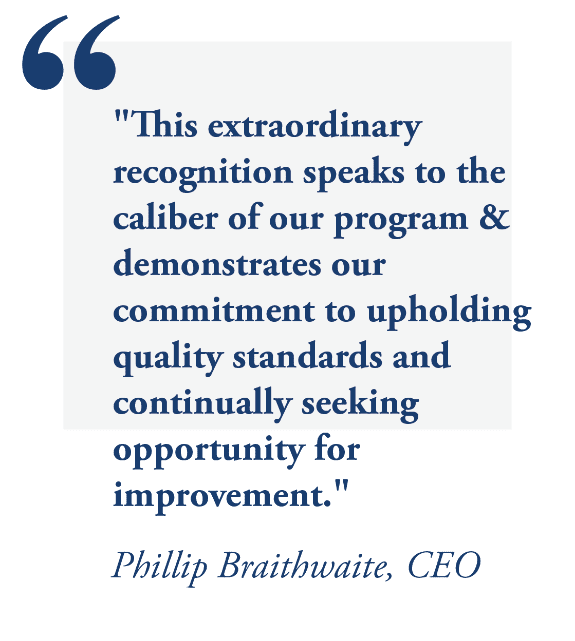 Alongside hitting record numbers, we are exceptionally proud to announce that we were granted full seven-year accreditation from the Association for Advancing Quality in Educator Preparation (AAQEP). AAQEP is a distinguished organization that helps monitor the success and impact of both education preparation programs and universities alike. As one of the most trusted programs, receiving national accreditation validates the success of the program. While Teachers of Tomorrow continues to expand, we can expect to see continued program improvements, more holistic support for teachers, curriculum advancements, and ongoing district and candidate satisfaction.
MEET OUR NEW PARTNERS
SimpleK12: Here at Teachers of Tomorrow, providing candidates with the highest caliber of teacher preparation has remained central to our mission of equipping districts with qualified teachers. We are proud to extend our range of support from pre-certification training to ongoing development in the classroom. Teachers of Tomorrow is honored to introduce you to our newest company, SimpleK12, an award-winning professional development platform for educators. SimpleK12 provides premium professional development content via a user-friendly, video-based platform and is the nation's largest provider of online training in Continuing Education Units. To further our mission of providing students with great teachers, we are happy to offer Simplek12 professional development is available to all educators.
To learn more about our SimpleK12 acquisition, please view our press release here.
The Learning Liaisons: As Teachers of Tomorrow continues to build our portfolio of teacher services, we are delighted to introduce you to yet another acquisition: The Learning Liaisons! The Learning Liaisons is a top-performing platform that delivers teacher exam preparation through interactive video courses and workshops. Providing quality test preparation for teachers is essential to ensuring their success when entering the education workforce. As The Learning Liaisons joins Teachers of Tomorrow, teachers across the United States can expect a broader selection of preparation for certification exams.
To learn more about The Learning Liaisons acquisition, please view our press release here.
Always Innovating and Improving

With our program constantly expanding, we are always looking for innovative ways to improve. We are constantly updating our curriculum and enhancing our resources to empower our candidates. This way, our teachers are constantly evolving and being the best the country has to offer!
The Future

We are extremely grateful to all the candidates, school districts, HR representatives, and principals for their continuous support during this 16-year journey. We promise that we will never settle for less and to continue upholding our vision of providing students and districts the top-quality teachers they deserve. We will continue to provide the teachers of tomorrow the tools they need to achieve their dreams. May our 16th year be one of an enduring partnership and boundless accomplishment. Together, we are changing the future – one teacher at a time!