High school teachers play a huge role in their students' lives, influencing the shape of their future education and career prospects. It is a dynamic age to work with, as the learners can think critically and debate ideas. Michigan's shortage of quality teachers means it's an excellent time to join this rewarding vocation.
The average high school teacher salary in Michigan as of May 2022 was $66,840. Salary ranges can vary widely depending on the city and many other important factors, including education, certifications, additional skills, the number of years you have spent in your profession.
In this guide, Teachers of Tomorrow provides an overview of salaries for high school teachers in Michigan. We'll also provide the state's requirements for becoming a high school teacher and available alternative teacher certification options.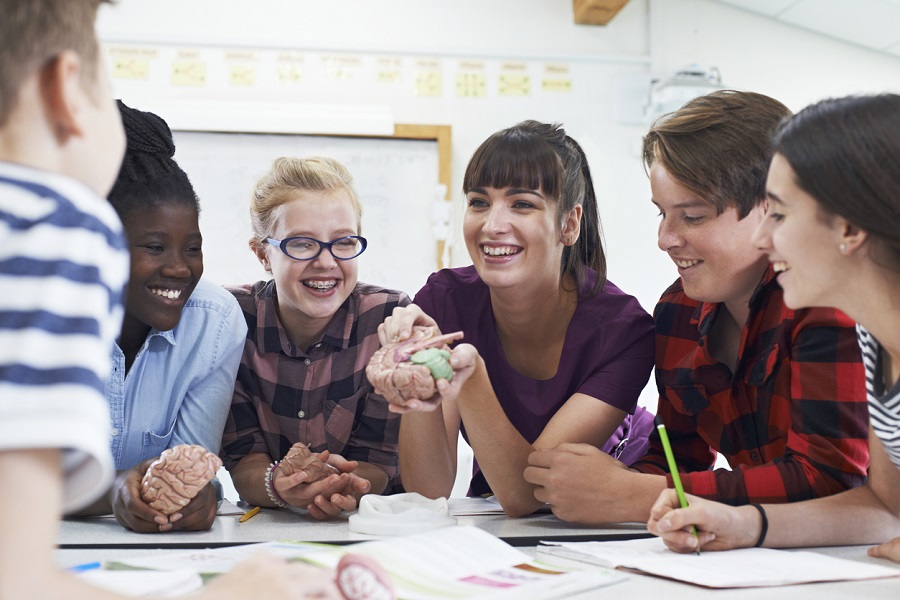 What Is a High School Teacher? 
A high school teacher in Michigan generally teaches grades 9-12 but is qualified to teach as low as grade 7 due to Michigan's unique teaching grade bands. Students may be no older than 20 as of September 1st of that school year to be enrolled in high school. 
High school teachers focus on particular subjects, such as math, science, or English. Students achieve a more in-depth grasp of the material while utilizing critical thinking skills. Educators also encourage and guide learners to take on more personal responsibility as young people prepare for adulthood. 
Successful high school teachers have a variety of characteristics and personalities. However, they share crucial skills, such as the following:
Compassion

: High school is a daunting and exciting time in students' lives where they are asked to make huge decisions that will impact their futures. In addition, their relationships are becoming more serious, and they might be taking on fairly adult responsibilities at home. Excellent teachers have compassion for where their students are at. 

Leadership:

Students require a confident teacher who allows room for discussion and critical thinking while keeping the classroom focused. Excellent leadership also requires teachers to forge connections with parents, guardians, and co-workers to ensure students receive the support they need to reach their goals. 

Openness:

High school students come from various backgrounds and are trying out new ideas and viewpoints. It's a time of discovery and finding the self. Excellent high school teachers listen and are open to discussion as students critically explore these alternative ways of thinking and being.  
High school teachers also have numerous responsibilities, such as:
Creating engaging lesson plans that meet curriculum guidelines and higher education readiness.

Preparing students for adulthood. 

Assessing students and providing feedback and mentoring as required. 
How Much Do High School Teachers Make in Michigan?
The average annual salaries for high school teachers in Michigan as of May 2022, according to the Bureau of Labor Statistics:
Highest salary – $93,840

Average salary – $66,840

Lowest salary – $40,980
High school salaries in Michigan vary, depending on where in the state they work, the subject(s) they specialize in, unique skills, and years of experience.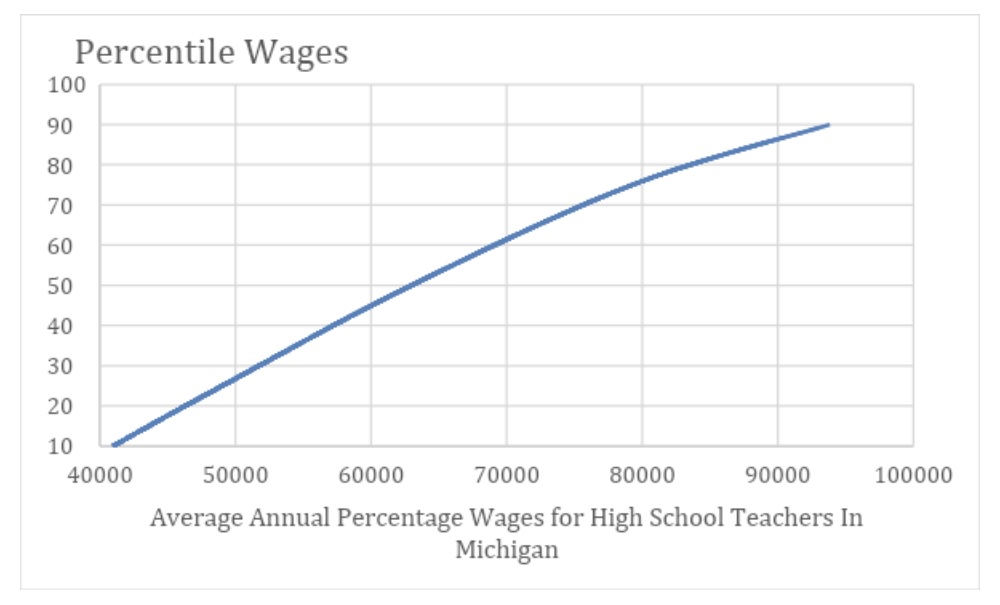 How to Become a High School Teacher in Michigan
Becoming a high school teacher in Michigan requires a bachelor's degree, as it does throughout the United States. However, each state has particular steps and rules regarding licensing and certification. 
According to the Michigan Department of Education (MDE), the following steps are required to become a high school teacher:
Alternative Route to Certification for High School Teachers
Michigan allows alternative routes to certification through approved programs such as those provided by Teachers of Tomorrow. 
MDE's alternative route to teacher certification includes the following steps: 
Already have a bachelor's degree with a minimum of 3.0 on a 4.0 scale

Enroll in an alternative route preparation program

Pass the appropriate MTTC(s)

CPR/First Aid certification

Criminal background check
A candidate may apply for an Interim Teaching Certificate (ITC) once they have met the MDE's alternative route qualifications. The ITC is a non-renewable 5-year teaching certification that enables candidates to work while completing their training at their own pace. 
Alternatively, MDE has the rigorous Expedited Educator Preparation Programs. Candidates co-teach with a mentor or serve as the teacher of record under a mentor while on a valid substitute permit. The candidates must also complete coursework provided by an approved provider, typically conducted on a set schedule.
What is the Highest and Lowest Paying High School Teaching Job?
As a certified high school teacher in Michigan, you can work in various settings:
Public schools

: Salaries in Michigan's public schools tend to be the highest, but the pay is heavily influenced by district, years of experience, and the subject taught. 

International schools

: International schools have a more rigorous curriculum than most public schools nationwide. Subjects such as math and science tend to pay the higher salaries.

Online teaching:

High school remote teaching salaries have a similar range to international and private schools. 

Private schools

: Michigan's 900+ private schools run on vastly different budgets, depending on their admission fees. Institutions in the more exclusive price range tend to pay better high school teachers' salaries.

Charter schools

: Michigan's 370 charter schools are not privy to the same funding as public schools, so they run on tighter budgets. Consequently, their high school teaching salaries are lower than Michigan's public schools.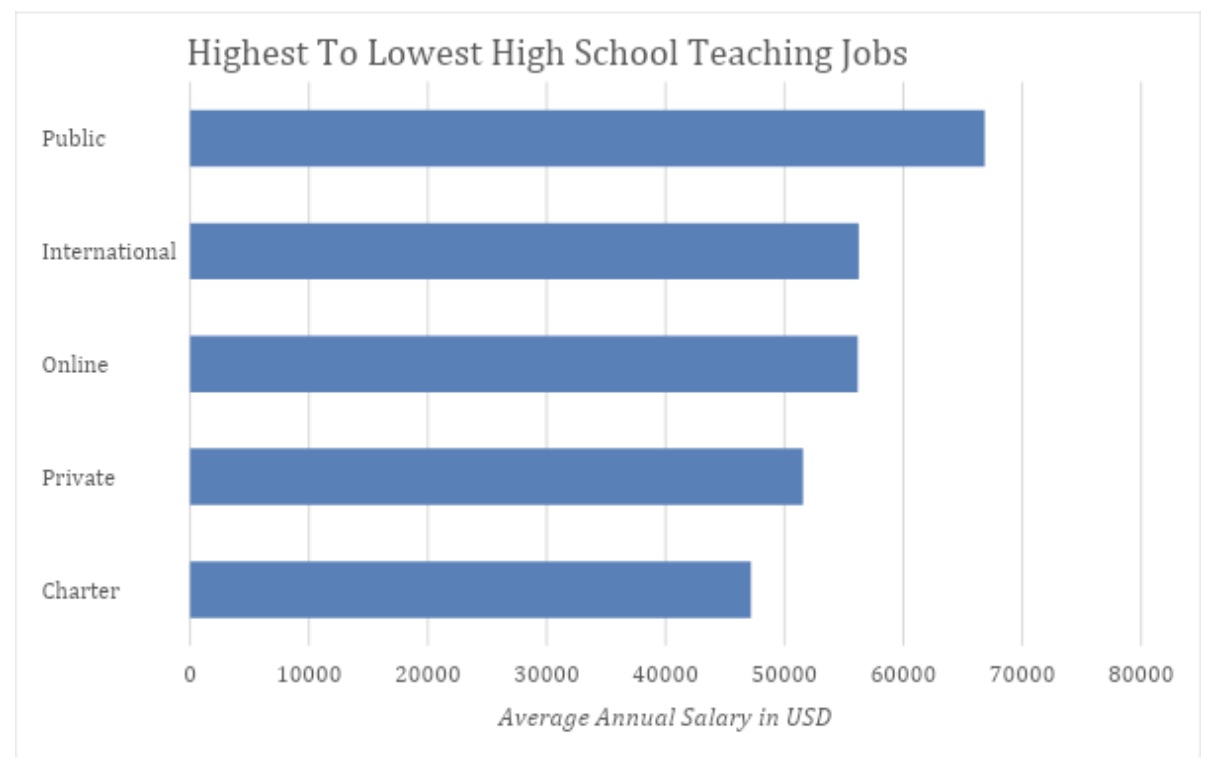 At Teachers of Tomorrow, we are here to help you reach your goal of becoming one of Michigan's valued high school teachers. Begin your journey now.
Related Teaching Careers
The 4 Best Ways to Become a Teacher 
How to Become an English Teacher: A Detailed Step-By-Step Guide
How to Become a Science Teacher
Related Articles 
High School Teacher Salary in Texas 
How Much Does a High School Teacher Make? Salary and State Guide
How Much Does a Middle School Teacher Make? Salary and State Guide