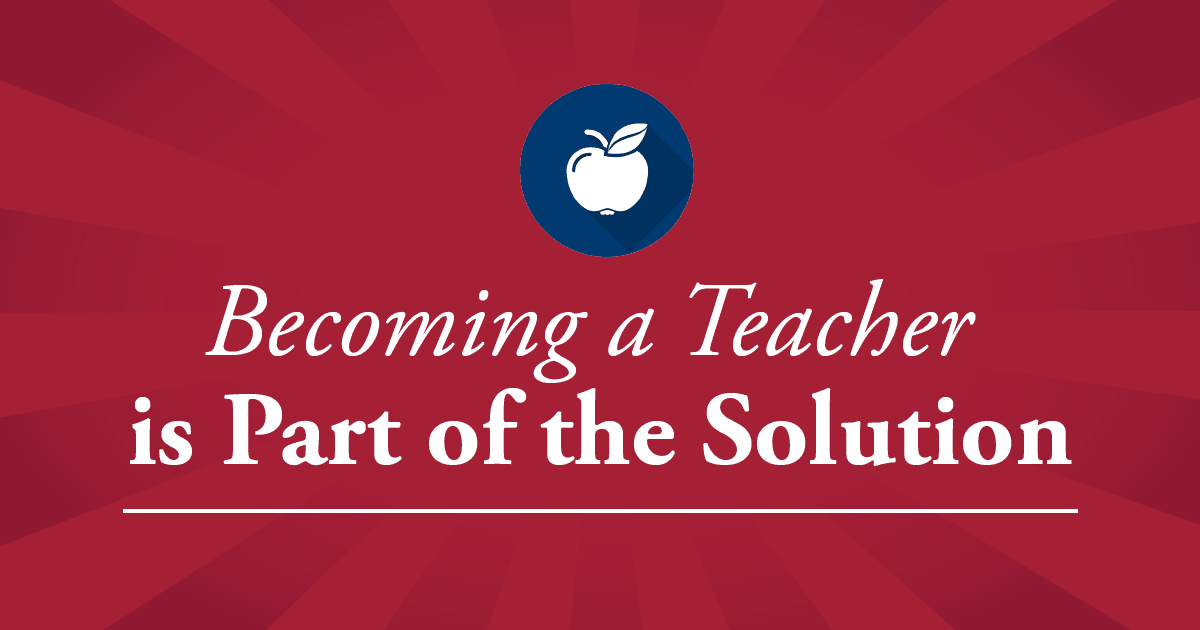 A sobering pandemic leaves teachers and students scrambling to find solid ground. The only thing we know for sure is that today looks very different from yesterday. We also know that today will likely look different from tomorrow. As waves of uncertainty wash over us, it's possible to dock safely, if we choose the best path forward. Uncertainty is compounded in layers of uneasiness, doubt and fear. We must challenge ourselves to peel away these layers until we reach its core: choice. With uncertainty comes choice. Together, we can be stronger than the crisis. The betterment of our future depends on the choices we make today. Choose our children. Choose education. Choose to be part of the solution with Teachers of Tomorrow.

In late March, a historic $2 trillion stimulus bill was passed by congress to help support American's through this unsettling time. Of this monstrous sum, $13.5 billion has been allocated for K-12 education stabilization. Almost overnight, the face of learning has taken new shape. Students and teachers across the nation have adopted virtual learning. This abrupt change is anything but a seamless transition and is not without its flaws. Even so, we witness teachers creating igneous solutions to fill the cracks in our currently fractured education system. The dedicated funds are a recognition of the weakening structure and aims to help strengthen and sustain educators and students. State governors may use their portion of the funds as they see fit.

The majority of these funds will likely be used to provide aid to our marginalized students who do not readily have access to internet or computers. In fact, educational analysts predict the transition to remote learning will "[widen] the gap, placing children and students from families with low incomes as well as children and students of color at an even greater disadvantage." Many schools have already announced their intent to stay closed through spring. We have worked too hard for too long to close the gap to watch it widen before our eyes. Education is and will always be a priority. We must band together to support our local communities and find ways to contribute.

Encourage your governor to invest in the E-Rate Program, which provides public and private schools and libraries affordable access to provide internet connectivity for its pupils. With students unable to physically attend school, teachers are providing lessons remotely. For those who do not have access to the internet, their learning has effectively elapsed. This program could help supply students with personal one-on-one devices. If the new educational medium is online instruction, it must be available to all. It is important to remember that public education is a right to Americans and relying on internet accessibility reduces educational equality. By helping all students attain internet connectivity, we can uphold equity to education.

Refuse to allow the teacher shortage to grow. The only way to combat the growing need for teachers is to supply more teachers. $13.5 billion is funneling into to our havocked educational system. In the long run, this is only a small token, but teachers are notorious for turning little into abundance. What our system needs, more than anything, is more teachers. Teachers of Tomorrow is calling on you and your assistance to fulfill this goal. Don't allow students across the nation to undergo learning loss. Help reduce an over-taxed system and become one of the many needed teachers. You have the resources needed to become a teacher today. Every student deserves a teacher. Are you ready to become the teacher they need? Be part of the solution and become a teacher today.

Source:
Anguiano, Viviann, et al. "Congress Needs To Ensure Educational Equity in the Wake Of the Coronavirus Pandemic." Center for American Progress, 2 Apr. 2020,   www.americanprogress.org/issues/education-k-12/news/2020/04/02/482497/congress-needs-  ensure-educational-equity-wake-coronavirus-pandemic/.