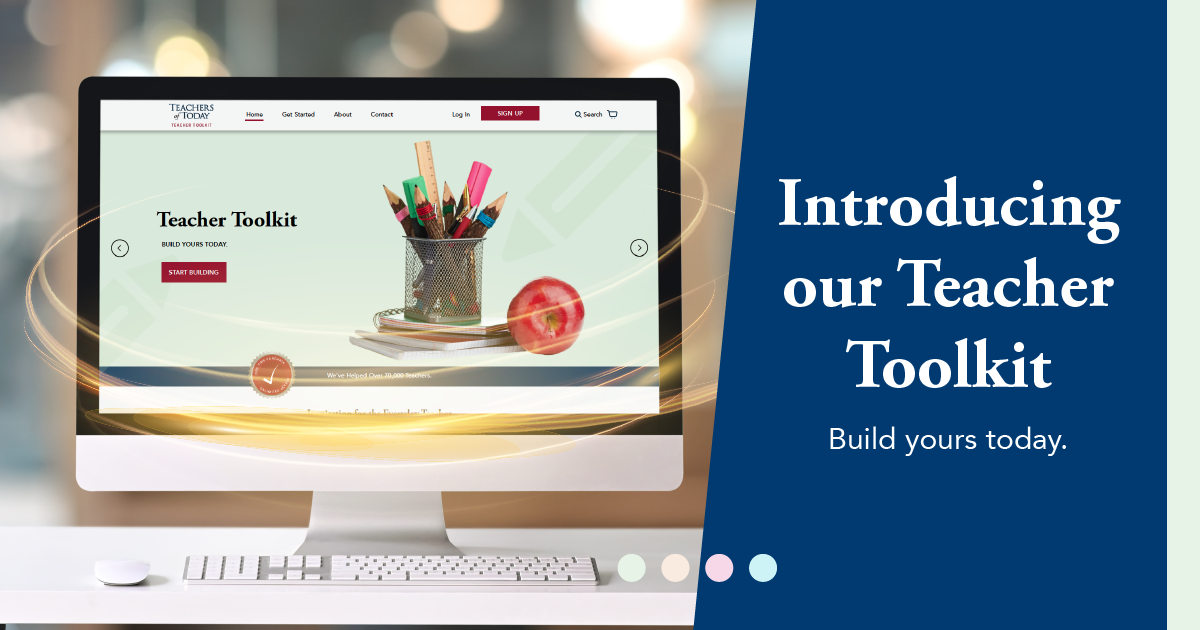 Teachers, we've struggled to keep what we've been working on over the past year a secret, but now we're ready to spill the details! We are excited to announce the launch of Teachers of Today!
What Is Teachers of Today?
Teachers of Today is a subscription package designed to help you build your personalized teacher toolkit for our First Year Teachers and our Alumni. We are so proud of how hard you've worked to make it to the classroom! Just as we've always said, we remain your committed partner! To show our support, we've created a place for you to curate a collection of teacher tools – your personal teacher toolkit.
Teachers of Today's Mission

Our mission is to help teachers succeed in the classroom – today, tomorrow, and forever – by procuring a limitless supply of robust and versatile tools.
Our Teachers of Today subscription is designed for you – the busy, dedicated teacher. We've been working diligently over the past year with a team of skilled educational experts, curriculum developers, and instructional coordinators to grow a portfolio of high-quality tools.
How Does the Subscription Work?
Our Teachers of Today subscription is a one-time annual purchase that grants you access to our tools. Once you've subscribed, you can even send us suggestions of new tools you'd like us to create! Our Toolkit Creator team releases new tools each month, so you can forever expand your teacher toolkit.
What Will I Find at Teachers of Today?
Browse from hundreds of different PreK-12 resources! You'll find quizzes, lesson plans, guides, worksheets, videos on-demand, extended learning, and more. To help fuel your search, we've created four main groups of tools: Digital Downloads, Live & On-Demand Webinars, Extended Learning for Educators, and Career Services. We believe that helping students succeed begins with helping teachers succeed. Teachers of Today will help provide you with a versatile set of quality tools to triumph in the classroom.
What Are Teachers Saying?
We wanted to make sure our Teacher Toolkit subscription was teacher-tested and approved before sharing it with you! We asked teachers who were given early access to describe their toolkit in three words. Here's what they said:
Simple. Effective. Time-Saver.
How Will This Help Me?
Here's a sneak peek of the benefits Teachers of Today has to offer:
            Maintain Student Engagement            
Find fresh ideas to spark engagement in your classroom.
          Improve Digital Literacy            
Build a solid understanding of the most utilized didactic digital tools.
          International Availability           
We support teachers around the world.
            Accredited Curriculum          
Quality matters. Our curriculum exceeds state standards.
            Improve Student Outcomes            
Find resources to update and strengthen your teaching methods.
            Personalize your Toolkit        
Curate a toolkit as unique as your teaching style.
          District Preferred           
Strong district relationships aligned with your needs.
            Easy Solutions            
Search for what you need by grade, subject, topic, or title.
          Save Time            
Prepping just got easier. Find everything you need, all in one place.
          Extended Learning            
Elevate your professional understanding and advance your career.
Ready to Join Thousands of Happy Teachers?
For a limited time, Teachers of Tomorrow is offering our Teacher Toolkit Subscription for only $59.00 $99.  Are you ready to join thousands of teachers who have discovered how to save time planning with easy classroom solutions? Get started today and unlock your Teacher Toolkit Subscription with a low, one-time annual purchase to gain access for a year to a growing database of premium teacher resources.
Your Toolkit Is Waiting for You