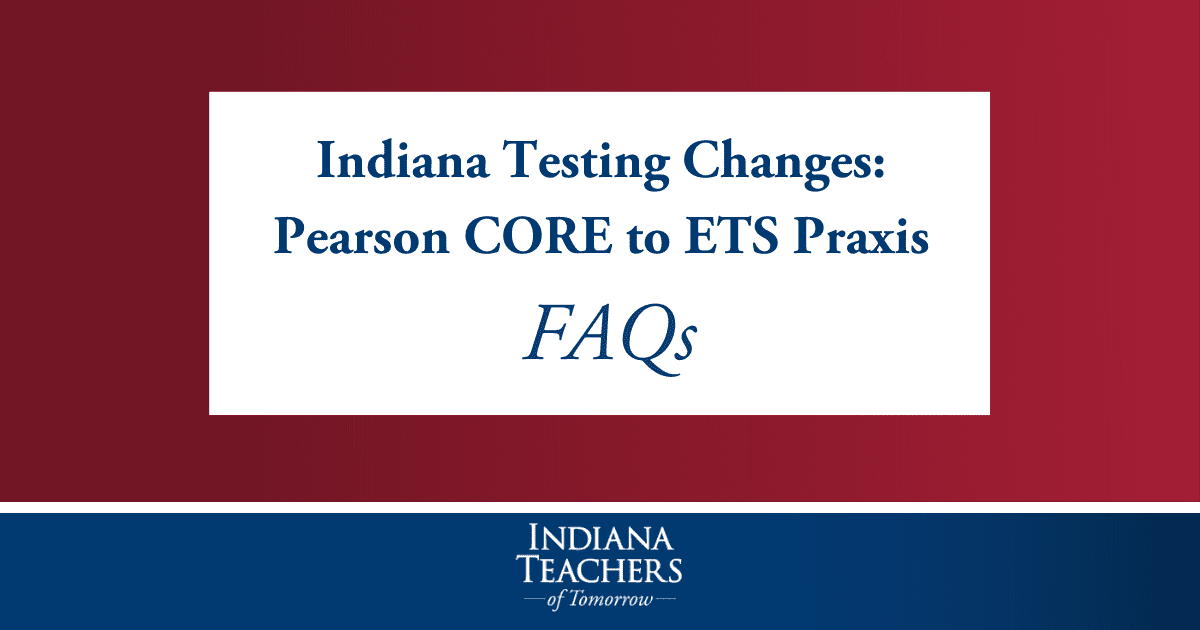 You're currently taking your next steps towards becoming licensed to teach in Indiana! If you've been keeping updated with the Indiana Department of Education, you know that they are currently transitioning from the Pearson CORE exams to the ETS Praxis exams. Indiana Teachers is committed to your journey towards licensure, so we've decided to answer your questions about this process. In this blog, we'll break down the process so you can focus on acing your exams!
When will the transition from Pearson CORE to ETS Praxis take place?
The transition from CORE to Praxis started on July 1st, 2021. This transition period will last until August 31st and during this period, you may take the CORE exams OR the Praxis exams. September 1st marks the day that the transition period is complete, Indiana Teachers and the IDOE will NOT be accepting CORE exam scores. Please click here to be directed to the IDOE webpage detailing this transition.
If I've already passed my CORE exams and sent in my scores, do I need to take the Praxis exams?
No, you do not need to take the Praxis exams unless you are considering pursuing another licensure area! Once you've taken your necessary exams, you're ready to #GetHired.
If I've scheduled my CORE exams during the month of August, do I need to cancel them and sign up for a Praxis exam?
No, you will not need to cancel your exam. CORE exams taken during the months of July and August will still be accepted by both Indiana Teachers and the IDOE. You'll only need to reschedule or cancel an exam if you cannot take it during the time or day you've originally selected.
If I send my CORE exam scores after September 1st, will Indiana Teachers and the Indiana Department of Education accept my scores?
If you have taken a CORE exam prior to September 1st and send in your scores after September 1st, those scores are still acceptable and counted towards your certification. Only the scores of CORE exams taken AFTER the September 1st deadline are not acceptable.
If I've taken one CORE exam but still need another exam to get licensed, can I take a Praxis exam?
The IDOE is currently accepting certain test combinations for specific content areas. These licensure areas include Early Childhood Generalist, Elementary Generalist, Fine Arts: Instrumental and General Music, Fine Arts: Choral and General Music, and Exceptional Needs: Mild Intervention. To see a full list of the allowed test combinations, please click here.
How do I know which Praxis exams to take for my desired licensure area?
The IDOE has a full list of license areas and the corresponding Praxis exam. To take a look at this list, please click here.
How do I register for the Praxis exam?
On the ETS Praxis Test Registration page, you'll find details on how to register for your exams. Once you create your account, you'll get access to available testing dates, a registration link for the exam you'd like to take, and information on at-home testing, fees, and ID requirements.
How do I study for the Praxis exam?
The ETS Praxis website provides interactive practice exams, as well as other leading professional resources. On our State Tests resource page, you can find some of our top test prep programs, such as The Learning Liaisons, Study.com, and more, along with our exclusive discount codes!
How do I send in my Praxis scores?
When you are registering for your Praxis exam, you will need to select 'IN Teachers of Tomorrow' from the list of program options. This ensures that your scores are sent to us automatically. If you've forgotten to complete this step, don't worry! When you receive your scores in PDF format in your email, simply forward them to us at Teach@INTeachers.org. Once we've received and processed your score report, we will update your Intern Portal. This usually occurs within one week of scores being reported.
To confirm we have received your scores, go into your Intern Portal, and look at the 'Pass Exam' section on the 'What's Next Checklist'. There will be a checkmark by 'Pass Exam' if we've received your scores.
After I take my exams, are there any other steps I need to take before I become eligible for hire?
After you've taken your exams, you'll need to make sure you've completed your CRP-Heimlich Maneuver-AED certification and your Youth Suicide Prevention certification. These certifications are required by the IDOE to become licensed to teach in the state of Indiana. To see more details on these certifications, check out this blog post.
Get Licensed Today, Teach Tomorrow!
Taking your exams is the next step towards becoming a fully licensed teacher in the state of Indiana! If you'd like more details about this testing transition, check out our blog post here. At Indiana Teachers, we strive to ensure you are fully equipped with the knowledge you need to achieve your goals. If you'd like more information about the licensing process or how you can get ready for full licensure, check out our Enrolled Candidates Resource page!