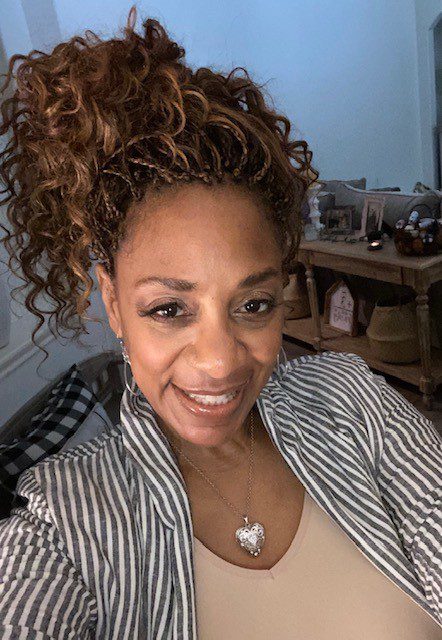 "Our Vision is to make a lasting impact on our children and communities by being the Nation's Leader in developing Quality Educators."
Educators transform a child's curiosity into excitement and understanding, work with parents to ensure our children succeed, and help shape the leaders of tomorrow. What students learn from the actions of our teachers not only stays with them for the rest of their lives but also provides the knowledge and hope for a brighter future. This is why Teachers of Tomorrow employees display such a high degree of enthusiasm and commitment to the dedicated educators we serve.
As part of our mission to make a positive impact in the classroom and beyond, each Teachers of Tomorrow employee strives to contribute daily to the vision of being the Nation's Leader in developing Quality Educators, and no one has been a better example of that than our very first "Living the Vision" Award winner, Erika Johnson!
The Living the Vision Award is a quarterly award given to Teachers of Tomorrow employees that display the highest quality of service, teamwork, and dedication to ensuring the success of our teacher candidates and the Teachers of Tomorrow program.
To choose the winner of our first-ever Living the Vision Award, Teachers of Tomorrow employees submitted nominations of their peers who continue to go above and beyond in service of teacher candidates and our vision. For anonymous deliberation, the names of the nominees and employees who nominated them were redacted and replaced with a number before the review and selection process. Of the nominees, members of the board submitted secret ballots to select three finalists to choose from. Two of the three remaining nominations were for Erika!
These two heartfelt nominations by Teachers of Tomorrow advisory team members Sarah Hengstenberg and Crystal Macafity described Erika as, "such a light to the team," and someone who, "treats every applicant like gold."
"She is a pacesetter," Hengstenberg said. "She sets the example for the team with her actions.  She helps train new hires and establishes the expectation for them providing an excellent example of the role of an advisor." Always pushing her team to give a positive and refreshing customer experience, in team huddles she never fails to encourage everyone to provide teacher candidates with their best. Why? Because Erika lives by a simple philosophy that she readily offers to others:
"Get inspired by what you do, so that you can inspire others to be who they need to be!"
Her impact on others has helped not only teacher candidates but inspired her fellow advisors to bring the same level of excitement, care, and commitment to their calls, which is why all of us at Teachers of Tomorrow wholeheartedly agree with the concluding statement of Macafity's nomination, "I'm so happy I have a team member like Erika to continue to push me to give our interns 5-star service! Go, Erika!!"
Don't just take it from us. Read what Erika has to say about her role at Teachers of Tomorrow in our exclusive interview below!
Q: What did you think when you won the award?
A: I'm just humbled. I'm thankful. This is just something I love doing. I've been doing this my whole life. I take care of an elderly parent, lost a mother, and I'm a caregiver. But I'm also a mother. I'm a wife of 25 years. You know… I have a fur baby, so I'm constantly serving and so I just have a passion and a love for people. And I think that's just been ingrained in me over the years.
Q: Is that what made you want to work at TOT? Like, did that transition perfectly for you making it an instant click?
A: Oh, yes! Because everything I did, if I look back on my career, was always working with people in some type of fashion whether it was sales or marketing. I worked for JP Morgan for almost 6 years, I've been in management, and I've been admissions director for a nursing facility. I've even had my own non-profit working with troubled teens. I've always had that passion for serving. I think it's just in me to want to help people, and so working with Teacher of Tomorrow, I just love it. I love the fact that we can inspire people to do something they love to do. It's always good helping others find their passion or find their way, and so I absolutely love it. It's more than a job for me. It's helping someone bring their vision to life.
Q: From day to day, the passion that you bring to your job, is that directly related to what you do? To that point, you said you feel like you've been doing this your whole life, so can you expand upon that for us to give some insight?
A: I don't know if you've ever heard the saying, "what you go through in life is really not for you," I think it's always for the other person. So, I have just had experiences in my life that, when I take on a new career, I don't ever look at it as a job. I guess I never did. People used to ask me even when I worked for JP Morgan, "How do you make you make your sales goals or how do you do this." But I always tell people that I form relationships, I don't sell. I just make people comfortable and make their vision come to life. So, I'm more of a partner with them. So, I guess that's how I always made my sales goals, but I take on every person I talk to as an individual that I can inspire, that I can learn from, that I can take experience from and from one call to the other try to be even better. I just try to make a positive impact, so when they hang up the phone, they've at least heard something positive.
Q: How do you hope people see or perceive TOT employees?
A: I hope they see that we care, that they're not just a number coming through the program. I want them to know that when I'm on the phone with them, they're the only person that I'm thinking of. That I'm taking care of their needs. That I'm answering every question. I try to go over the program in detail. I'm not someone who wants you off the phone so they can get to the next person, but I make sure they're the center of attention. I make sure that they get the white glove treatment, I've always been taught that. I want them to know we connect with them, that we understand, and not just throw out words that we've learned but have a passion behind that for helping them.
Q: How do you feel that quality of work impacts everyone else around you on the team? Both people said you either bring light to the workplace or inspire others with your dedication.
A: Wow! I never knew that. We all have our days when we're tired or we have things going on, and when I get somebody on the phone I get so excited to help people that I forget what my day is like, or what's happening to me, or what I need to complete. I really, really do! So, I'm thankful to my coworkers. I want to make sure that whatever I'm doing I'm making a positive impact. And I'm always conscious of that too. It's not just at work, it's even when I'm at home. How are my children seeing me? What am I? Because what I do is going to impact negatively or positively for somebody. So, it's not something that I think about, per se, I just do it.
I don't ever think about it. I just know that every day I come in contact with somebody, coworkers, etc and I just know I have to make a choice and I just know in the back of my mind I want to make a positive impact on everybody that I touch.
Q: How long have you been working with TOT?
A: It will be a year in June.
Q: "What would you like to say to future teachers pursuing their certification? If I was someone who hadn't called you yet, what would you want to say to me."
A: I would say, what a wonderful thing. What a wonderful calling. I say it all day, every day. And I really mean it. Some kids do not have that at home. They don't have a model of a mother, parent, or anyone in the home who can push them to be who they might want to be. So, having a good teacher in the classroom to make that positive impact on a child, I would say to any teacher, "What an awesome, awesome, calling. And thank you so much for wanting to do this." We all have a story, and I can remember my 3rd-grade teacher, who I loved a lot, and going through things as a child and having that positive teacher in that classroom. So, I would tell any teacher what an awesome calling in their life, and we're here to help them and partner with them in perusing that calling and that certification to help them so that they can change a life and make that positive impact on a child's life because I surely remember some of my teachers.
Q: You mentioned your 3rd-grade teacher specifically? Why her? What impact did she have?
A: Yeah, Mrs. Benjamin! Mrs. Benjamin was my 3rd-grade teacher, and Mrs. Benjamin was very loveable. I didn't come from a home where it was a lot of hugs or love… so having a teacher like Mrs. Benjamin I could still remember her smell or her hugging me, pushing me to do my best. I still remember that. Some teachers don't understand that some kids don't have that at home. They really don't. So, they get a chance to make that positive impact on that particular child. And you never know who or what that child will be. You could be talking to the next mayor or teaching the next governor. And I know that Mrs. Benjamin made a positive impact on my life with just her presence, her hugs, and her love that I could feel.
In every career, in every position, you're going to have somebody go into it for different reasons. I like to also get to know everyone I talk to. I want to hear why they want to pursue teaching and get the certification. That's one of the questions we need to ask, but I ask it because I want to hear and get to hear them explain. In some instances, I even feel like a counselor because some of the things I hear are just astonishing. And I understand. That's why I say, sometimes, what you go through in life isn't for you.
Q: What's it like to be there for a teacher? To be the person to guide an educator.
A: That's the best thing because Teachers of Tomorrow, we have an awesome program… I find it fulfilling like I'm helping someone who is an educator to get them prepared and ready to help them with what they are going to be doing for the rest of their life.
Q: Anything you want to share with TOT employees or people interested in TOT?
A: Get inspired by what you do, so that you can inspire others to be who they need to be! I've had an awesome time here so far. I'm excited. I think anyone working here would greatly benefit from being here. You get to help educators get into the classroom. That is an awesome opportunity. Even learning. Because I've learned a lot that I can tell my kids who are students. I've learned a lot about what educators do, what they go through, how they do it, and what is required. So, I would just tell anybody, "Be inspired by what you do, no matter what you do."
I always tell educators that we want them to love what they teach. That's what I love about Teachers of Tomorrow, they don't limit you by what your degree is in. We want you to love what you teach. So how can we get you there? Nobody wants to go to a job where they don't want to be. And that's why a lot of teachers do come to Teachers of Tomorrow. They'll tell me I left another program because I had to teach in only this area, and they wouldn't allow me to explore and go to another area. Like I graduated in finance, and I really want to teach science. And I love it. We want you to absolutely go to your classroom just excited and enthusiastic about teaching what you love.
Teachers of Tomorrow could not be more thrilled to award Erika with our Living the Vision Award. Her dedication and passion in providing a quality experience for our future educators is an inspiration to us all. So, Congratulations on your first year with Teachers of Tomorrow, Erika! Thank you for choosing Teachers of Tomorrow. Thank you for your commitment to helping teachers Choose Work That's Worth It!