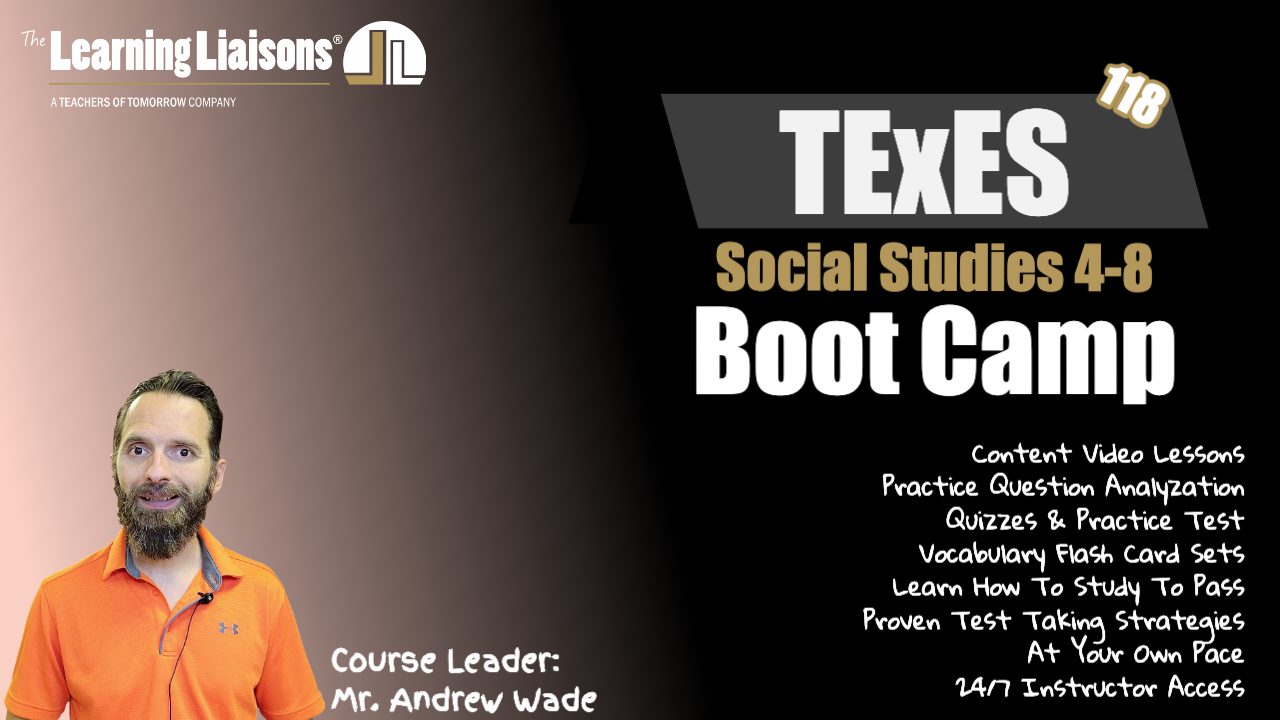 TExES 118 Social Studies 4-8 Boot Camp 
Wouldn't it be great to have a rock star teacher on your side to clear up any confusion on your Social Studies 4-8 Test?  How about honing in on the specific skills needed to pass this test?
Finally, this step-by-step on-demand video course features our Social Studies Specialist, Andrew Wade.  Work at your own speed and learn all of the social studies concepts tested on this test, per the state of Texas Department of Education.
Learn the tips, tricks, and strategies needed for first attempt success.  Don't take our word for it!  Check out reviews on Facebook & Google.  Check out a sample video on the page below.
This course features:
Content Lessons On All SEVEN Competencies Tested
Pre-Quizzes & Two Practice Tests
Practice Question Analyzation Videos
Vocabulary Flash Cards [150+ Terms] & Vocabulary Activities
Test Taking Strategies
24/7 Instructor Access in Private Customer FB Group
Register today and get everything you need to pass this exam, so you can get on to more important things, like teaching your students. As a top-rated Teacher Certification Prep resource, Dr. A works with dozens of school districts and universities to help educators prep smarter for their Certification Exams. Save money and time by attending and getting what you need for 1st attempt success. The Learning Liaisons have helped over 8,500 teachers pass their various certification exams over the past few years. Don't take our word for it! Check out reviews on Facebook & Google!
Our students have a 90% pass rate. Want to become one of those students? Let's go!