How to Get Hired Virtually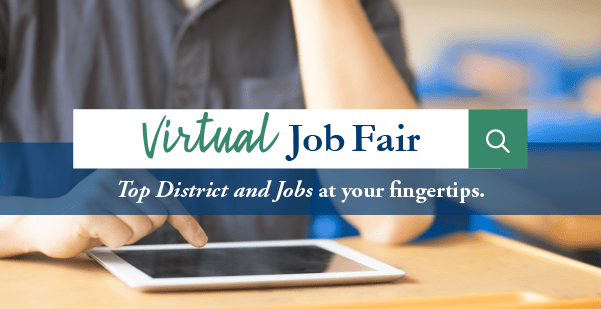 While it's possible to get hired during any month, peak teacher hiring season is soon approaching! To help you take full advantage of ample opportunity to land your dream job, right NOW is the perfect time to #GetReady. If you are a Texas Teachers' candidate and secure your SOE, we will invite you to the hottest hiring event of the year: our Texas Teachers' Virtual Job Fair! Our Virtual Job Fair is invite-only, and we'd love to add your name to the list! For an exclusive invite, be sure to complete your requirements to be eligible to attend!
How to Get Your Name on the Invite List
To get your name on the invite list to our Texas Teachers' Virtual Job Fair, you will need to obtain your Statement of Eligibility (SOE). To earn your SOE, you must complete the following requirements:
Pass your Content Exam
Complete your pre-service training courses
Complete your classroom observation (FBE) hours
Pass the Science of Teaching Reading (STR) Exam (if required)
Once you have completed all requirements, your SOE will auto-populate in your Intern Portal and be available for download.
Unsure how to obtain your SOE? Take our quiz to find out!

Unsure if you need to take the STR Exam? Take our quiz to find out! 
8 Reasons to Attend Our Virtual Job Fair
Wondering what to expect at the Virtual Job Fair? Here are 8 stellar reasons why you should attend!
1. It's Good to Network
Taking the time to attend a virtual job fair is excellent for networking. You can meet new people in your industry and build rapport with someone you might need to use as a reference down the road. The more connections you can build early on in your career, the better it will serve you in the long run.
2. See What Teaching Jobs Are Out There
It's much easier to get a feel for what positions are available when you attend a virtual job fair. You can communicate with prospective employers directly and develop a professional relationship. You might find out that a position you were previously interested in is different than what was described in the description online. Clarifying with the school directly can alleviate any misunderstandings about the position.
3. Build Confidence
Practicing interview and communication skills, in general, is always a good idea. Practice as much as you can when it comes to interviewing. You will also build greater confidence when you log more hours in this area. The greater confidence you exhibit, the more likely you are to win the interview!
4. See What Kind of Schools Are Hiring
If you are searching for open positions at locations with which you are unfamiliar, it can be helpful to get a broader perspective on the type of schools that are hiring before applying for jobs. If you are looking for a specific type of school or building culture, your sense will be much more accurate after attending the fair and interacting with multiple employers.
5. Practice Interpersonal Skills
As a teacher, interpersonal skills are invaluable! At a virtual job fair, similarly to an on-site job fair, you can practice the kind of soft skills that will help you navigate through parent-teacher conferences, daily interactions with colleagues, and professional communication such as email.
6. Meet Other Teachers
Teachers are an incredible resource both in experience and knowledge. At a virtual job fair, you will be able to connect with teachers from various cities around the country. You can swap teaching pointers, ask questions, and get a better idea of your competition in the market.
7. Stay Current
You must stay up to date in the field of education. The lingo changes frequently and you will want to stay current with any trends in education. An easy way to remain relevant in education is to stay connected and remain in the conversation. A virtual job fair will provide you with both of those opportunities!
8. Land Your Dream Job!
We saved the best for last. Attend our Virtual Job Fair, and there's a decent chance you may land your dream job. Previous events have proven very successful and many candidates report having been hired at, or as a result of attending, our Virtual Job Fair! Just think – YOU could be the next success story!
Save the Date!

Our next Texas Teachers Virtual Job Fair is on September 16th! Secure an invite and you could land your dream job, or at the least, gain countless opportunities and essential skills.
Need Help Securing Your Virtual Job Fair Invite?
We're here to help! Check out our FREE candidate webinars. Browse topics and find help studying and passing your exams, get tips and tricks on how to best update your resume, or discover what HR professionals look for during interviews. Wherever you may need extra support, you're guaranteed to find additional help from our expertly crafted webinars!