Texas Teachers of Tomorrow, the nation's leading alternative teacher certification provider, was recently awarded full seven-year accreditation by the Association for Advancing Quality in Educator Preparation (AAQEP). AAQEP is a distinguished organization that helps monitor the success and impact of both education preparation programs and universities alike.
Understanding National Accreditation
National accreditation assures the quality of professional preparation programs through a nongovernmental, nonregulatory process of self-study and peer review. Attaining accreditation is a thorough and rigorous process that requires documented proof to demonstrate a program's ability to equitably serve all students, schools, and communities. Texas Teachers of Tomorrow's curriculum was evaluated by field experts from the AAQEP Accreditation Commission. Once deemed evident that it successfully met standards, the AAQEP President and CEO Mark LaCelle-Peterson commented, "the program clearly documented its broad outreach to prospective teachers and its capacity to meet workforce needs and increase the diversity of the Texas education workforce."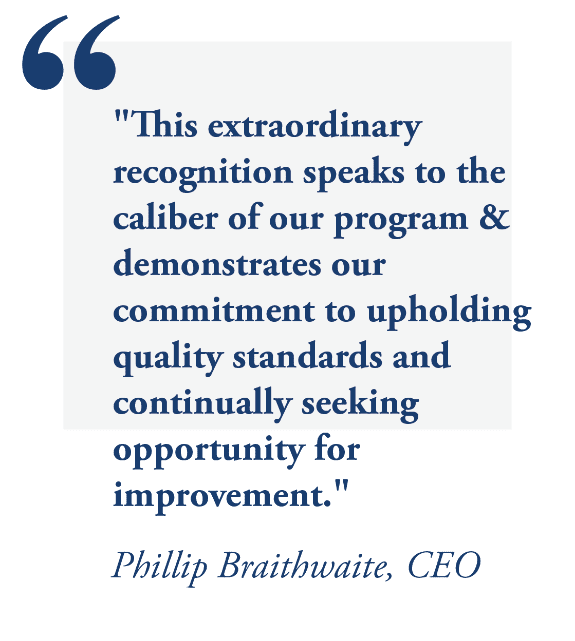 The Importance of National Accreditation
To ensure the program meets high standards, receiving national accreditation was an essential milestone. "At Teachers of Tomorrow, we provide our candidates with researched-based, engaging preparation, designed to foster well-qualified educators," said Phillip Braithwaite, CEO for Teachers of Tomorrow. "This extraordinary recognition speaks to the caliber of our program and demonstrates our commitment to upholding quality standards and continually seeking an opportunity for improvement." By imposing a set of quality assurance standards, Texas Teachers of Tomorrow can affirm that educators who earn teacher certification through the program are prepared with the requisite skills to successfully enter the teaching profession.
Texas Teachers of Tomorrow's Success
Over the past 16 years, Texas Teachers of Tomorrow has steadily risen as an industry leader and is now the largest alternative teacher certification provider in the nation and proudly serves districts across the entire state. Having helped more than 70,000 teachers reach the classroom, the company remains committed to training reliably qualified teachers. Founded on effective communication and unparalleled support, the now nationally accredited program helps train teachers who enter the industry – stay in the industry. As one of the most trusted programs in the state, receiving national accreditation validates the success of the program. While Texas Teachers of Tomorrow continues to expand, we can expect to see continued program improvements, more holistic support for teachers, curriculum advancements, and ongoing district and candidate satisfaction.