Texas Teacher of the Year 2021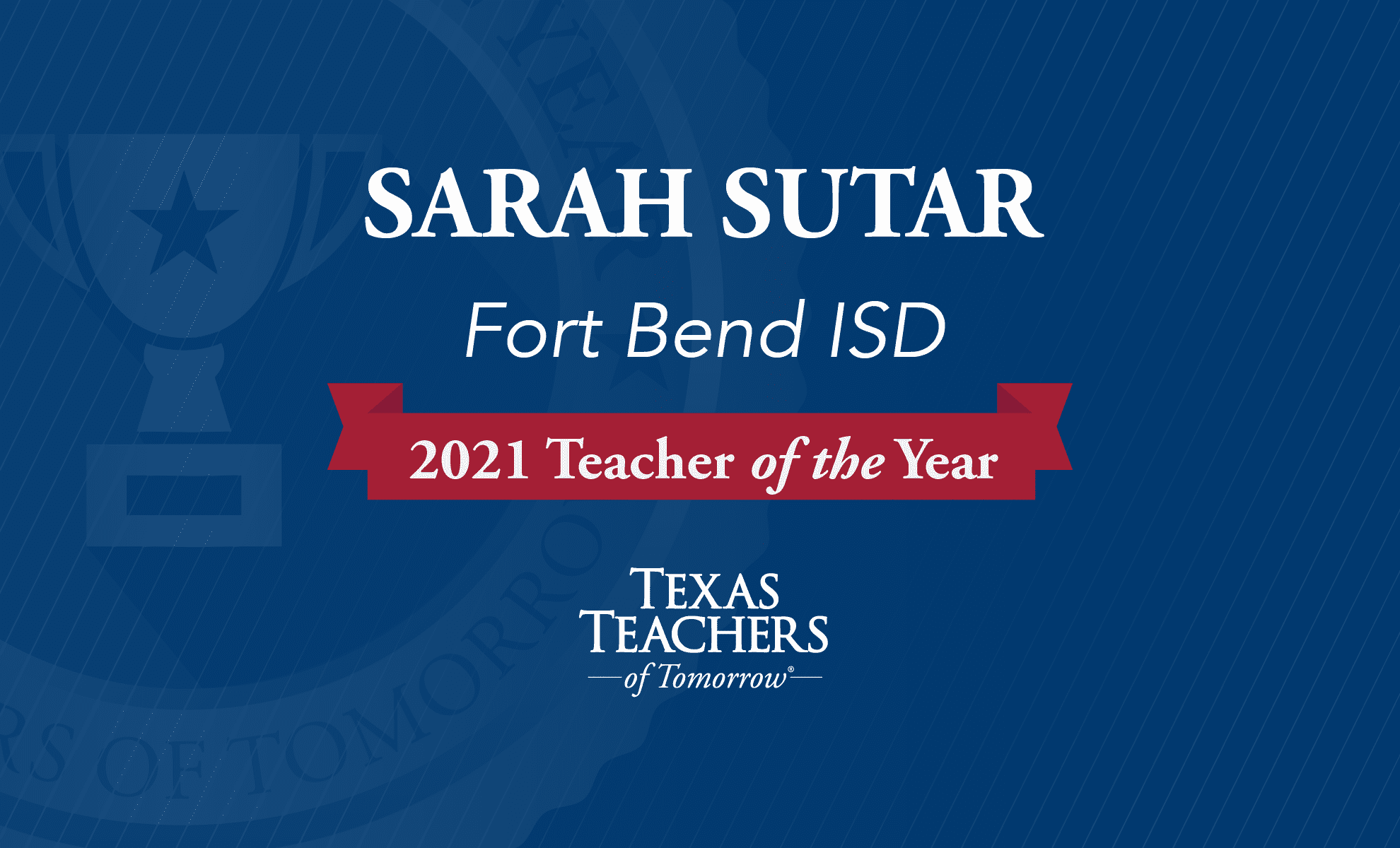 A 16-Year Tradition Continues
Nominating a Teacher of the Year is an important tradition here at Texas Teachers. We are provided with an opportunity to give back to our amazing candidates who are truly helping change the future for the better. Texas Teacher of the Year began in 2005 as a way to recognize excellence in teaching. Sixteen years later, we are proud we continue this tradition!
The Process
In April, District Principals and Field Supervisors (veteran teacher mentors who work closely with our teacher candidates) were invited to submit nominations for outstanding first-year teachers. During Teacher Appreciation Week, May 3 – 7, we shared the six finalists online and encouraged the community to partake in the vote. All finalists truly demonstrate a commitment to their students and are the definition of excellence in teaching itself. We are endlessly proud of their work and are honored to include them in our Texas Teachers family. After nearly 18,000 votes were cast, we tallied the numbers and were thrilled to surprise Sarah Sutar at Sienna Crossing Elementary of Fort Bend ISD with the well-earned title of Teacher of the Year 2021.
Congratulations to Sarah Sutar, 2021's Texas Teacher of the Year!
Meet Sarah Sutar
One of our greatest pleasures associated with this event is sharing in the excitement of awarding this honor. Last Friday, May 7, our Texas Teachers' team had the privilege of surprising Sarah and her 5th-grade students in her classroom! Through cheers and congratulatory shouts, we presented Sarah with a grand prize of $5,000. While astonished and overcome with sheer joy, she expressed her sincere gratitude. With enthusiastic encouragement from her students, district administration, fellow teachers, and even her principal, Sarah humbly accepted her award.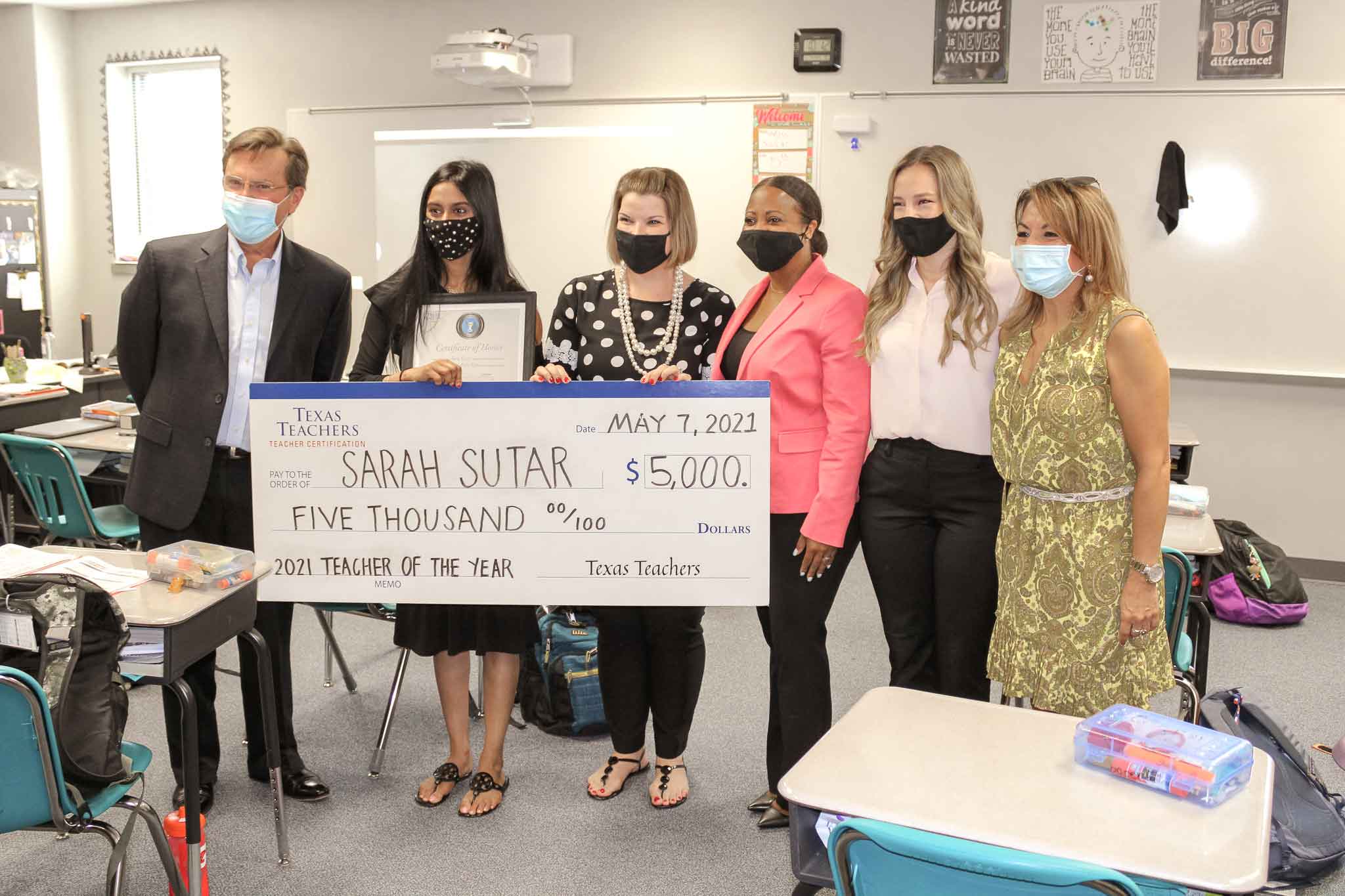 After speaking with Sarah's coworkers and students, it is quite clear why she was selected as this year's Texas Teacher of the Year by her peers, colleagues, and community. One of Sarah's biggest supporters is her school principal, Rachel Rosier! Her devotion to her work, paired with a flawlessly optimistic outlook, truly makes her excel as a teacher. She gives every child her very best each day while instilling a love for learning.
Become the Next Texas Teacher of the Year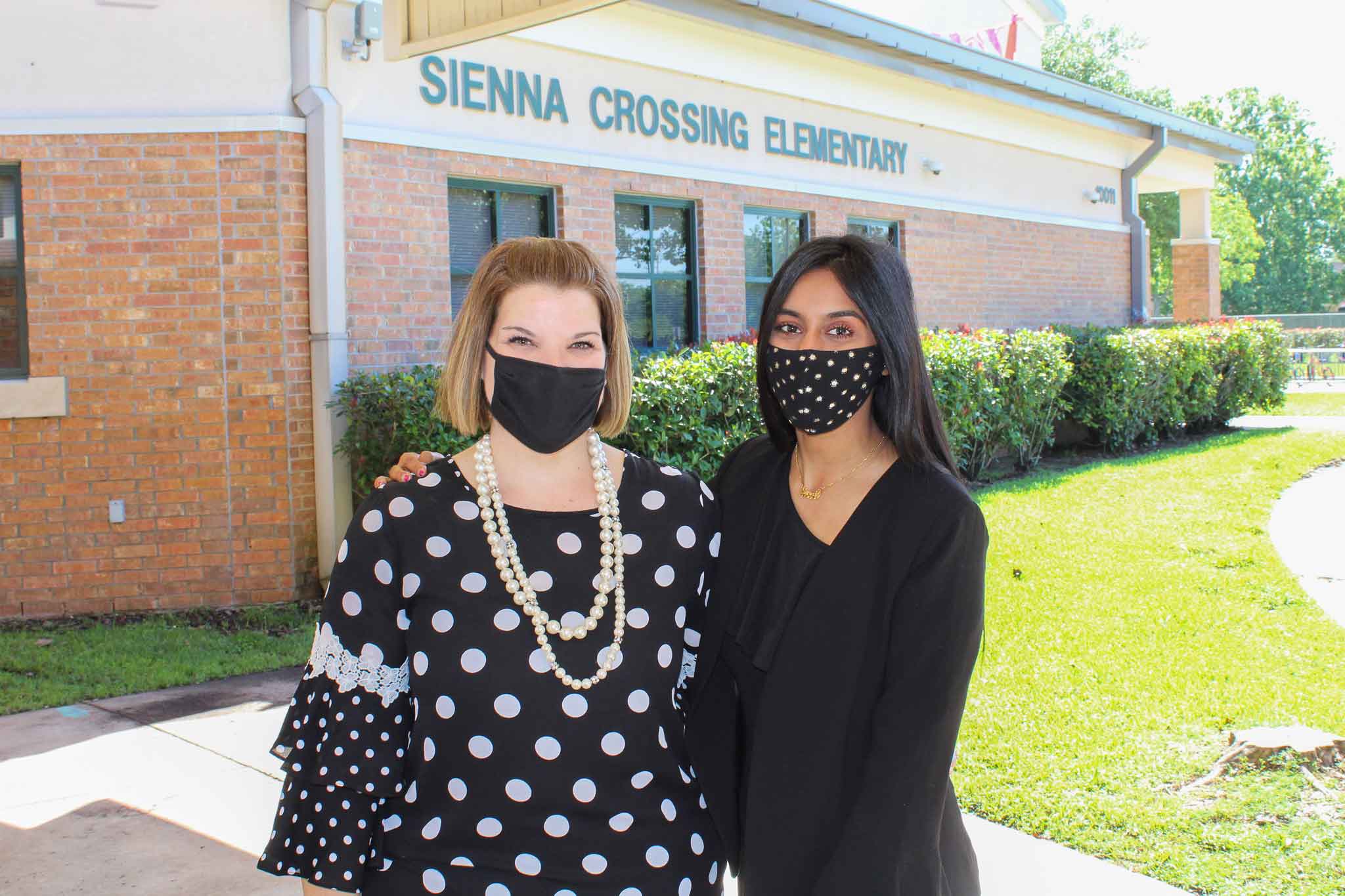 Sarah's incredible journey is just getting started. Here at Texas Teachers, we pride ourselves on preparing our candidates for the classroom. Her success in the classroom serves as a testament to our team's commitment to supporting our candidates from start to finish and beyond.  Events and stories such as these reaffirm the importance of our work! We are exceptionally proud of Sarah for her remarkable achievement and cannot wait to see what she will accomplish in the future! Follow in her footsteps, and you could become the next Texas Teacher of the Year!
Start your teaching journey and submit a free application today!