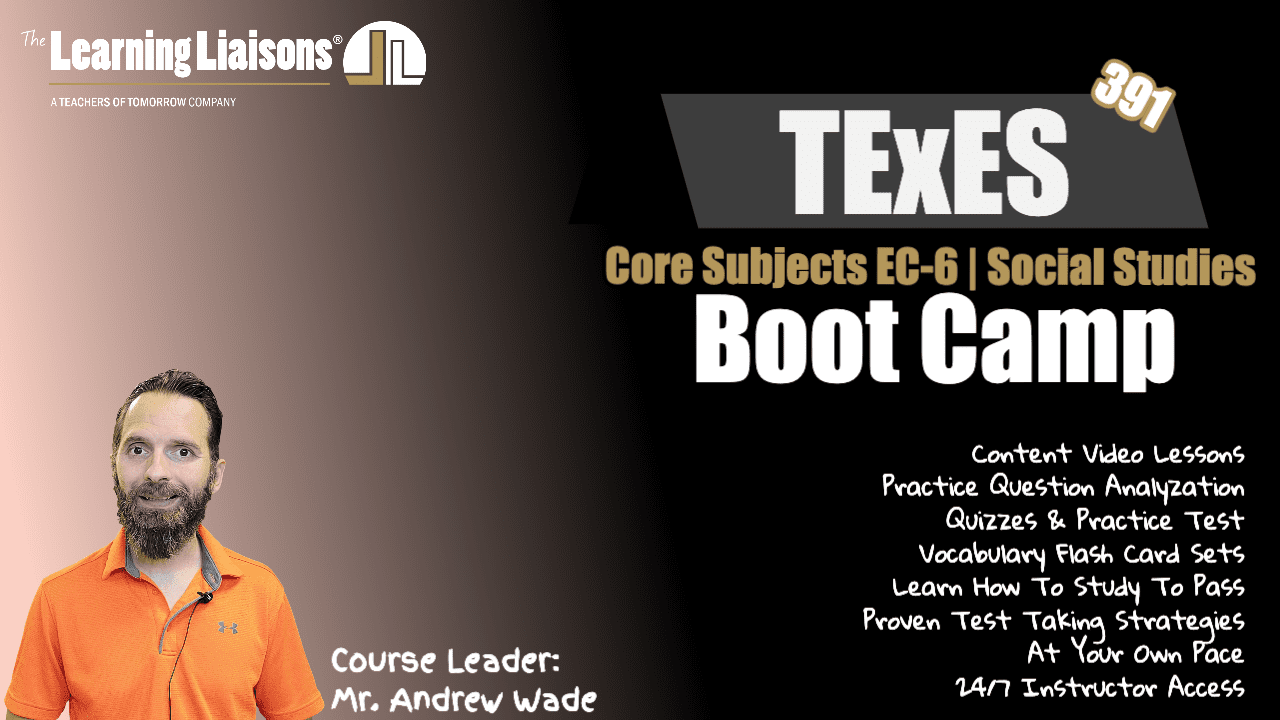 The Best Test Prep to Ace Your Content Exams!
Wouldn't it be great to have a rock star teacher on your side to clear up any confusion on your Social Studies subtest on your TExES EC-6 391 Test?  How about honing in on the specific skills needed to pass this test?
Your search for amazing, all-rounded test prep is over! This step-by-step on-demand video course features our Social Studies Specialist, Andrew Wade.  This course is offered online with many extensive resources, so you can work at your own pace and learn all of the social studies concepts tested on this subtest, per the Texas Department of Education.
This test prep is comprehensive, so you won't need any other study resources!  Learn the tips, tricks, and strategies needed for first attempt success. Don't take our word for it! Check out reviews on Facebook & Google and take a look at a sample video on our page!
TExES Core EC-6 Social Studies Course Features:
Content Lessons On All FIVE Competencies Tested
Five Pre-Quizzes & One Practice Test
Vocabulary Flash Cards [150+ Terms] & Vocabulary Activities
Test Taking Strategies
24/7 instructor Access In Our Private Customer FB HUB
Meet the Instructor

Andrew Wade is an enthusiastic educator with a love of bringing history alive for his students.
Mr. Wade has his Bachelor's degree in Social Science Education and is certified in Social Science 6-12 as well as Mathematics 5-9.  He is currently in his 13th year as an educator, and in that time has served as Grade Level and Social Studies Department Leader.  He has led training in his district regarding the use of technology in the classroom and flipping your class.
He runs his very own Youtube channel to accomplish the flipped model for his students.  He has also led training on the implementation of scales and standards-based grading in Social Studies. He has taught 6th, 7th, and 8th grades while covering World History, US History, and Civics.
He has also worked for two years as a New Teacher Center Trained Mentor to new teachers coming to his school. Mr. Wade has also taken part in multiple grants through the Teaching American History program to enhance his craft.  These have involved field studies across the country led by scholars of the period being studied.  A big part of this training has been put on the use of primary sources in Social Studies. He is very passionate about bringing these lessons to his students, engaging with the students using the content, and implementing all this in a way that his students can draw connections to their own lives.
Ready to get started? Click here to learn more about the program and check out our YouTube page!
Want more information on state testing? Check out the Texas Teachers Testing Resources page for more!