Middle school teachers never have a boring day at work. Their learners are transitioning from childhood to teens, with a sense of humor and emotions leaping between the two extremes. It's an exciting, challenging, and rewarding age group to teach. Michigan is experiencing a shortage of qualified educators and is working hard to attract and retain talent to the profession. 
The average middle school teacher salary in Michigan as of May 2022 was $64,880. Salary ranges can vary widely depending on the city and many other important factors, including education, certifications, additional skills, the number of years you have spent in your profession.
In this guide, Teachers of Tomorrow looks at the salaries for middle school teachers in Michigan. We'll also share the state's requirements for becoming a middle school teacher and available alternative teacher certification options.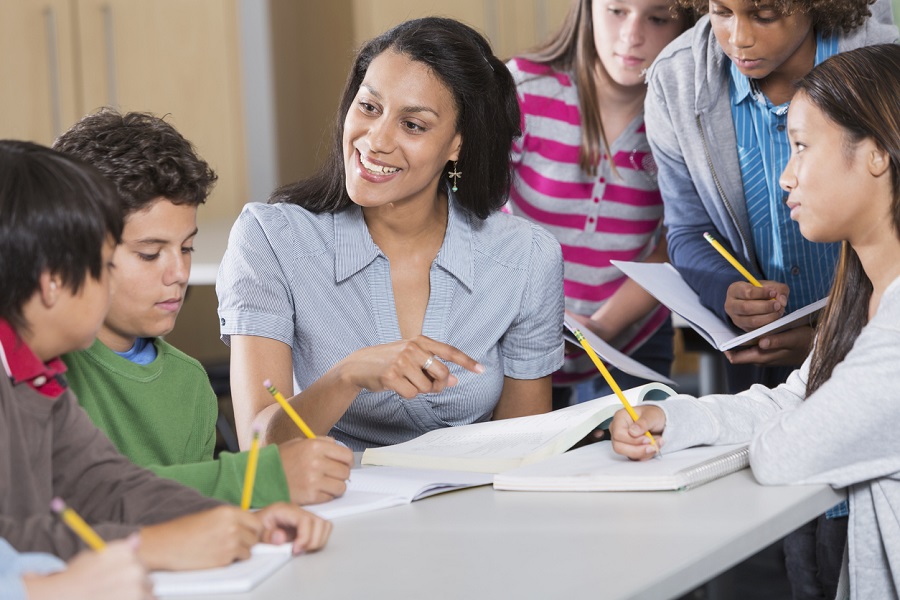 What Is a Middle School Teacher? 
A middle school teacher in Michigan generally teaches grades 5-9 with learners ages 10-15. However, due to Michigan's unique teaching grade bands, a high school teacher may also teach middle schoolers in grades 7 and up, and with the correct endorsements, an elementary school educator can teach middle schoolers in a self-contained classroom. 
Middle schoolers are generally taught subjects by teachers who have specialized in a field or subject. The four main focuses in middle school are English language arts, mathematics, science, and social studies. Thus, those wishing to teach middle school science should do the endorsements for grades 5-9 and may also consider doing the ones for grades 7-12.
Successful middle school teachers all have their unique strengths. However, they often share similar skills, such as the following: 
Empathy

: Middle schoolers are going through a lot while trying to figure out who they are and where they fit in. Consequently, they need empathetic teachers who can care about their problems even if they seem minor to an adult's perception.  

Conflict Resolution

: The students are at a highly emotional age, which results in lots of drama. It isn't always the teacher's responsibility to solve the issues, but a good classroom leader guides the students to reaching a resolution. 

Adaptability

: The emotional temperature of a middle school classroom can shift in a blink. An excellent teacher can switch it up just as fast to ensure they hold their students' focus and communicate what needs to be heard. 
Middle school teachers also have many responsibilities, including the following:
Prepare students for

assessments

, such as the M-STEP and PSAT. 

Monitor and evaluate students' development academically, socially, and physically.

Adjust instruction methods to meet students' various needs. 
How Much Do Middle School Teachers Make in Michigan?
The average annual salaries for middle school teachers in Michigan as of May 2022, according to the Bureau of Labor Statistics:
Highest salary – $96,110

Average salary – $64,880

Lowest salary – $39,110
Middle school salaries in Michigan vary, depending on special skills and qualifications, how many years the teacher has worked, and where the role is located.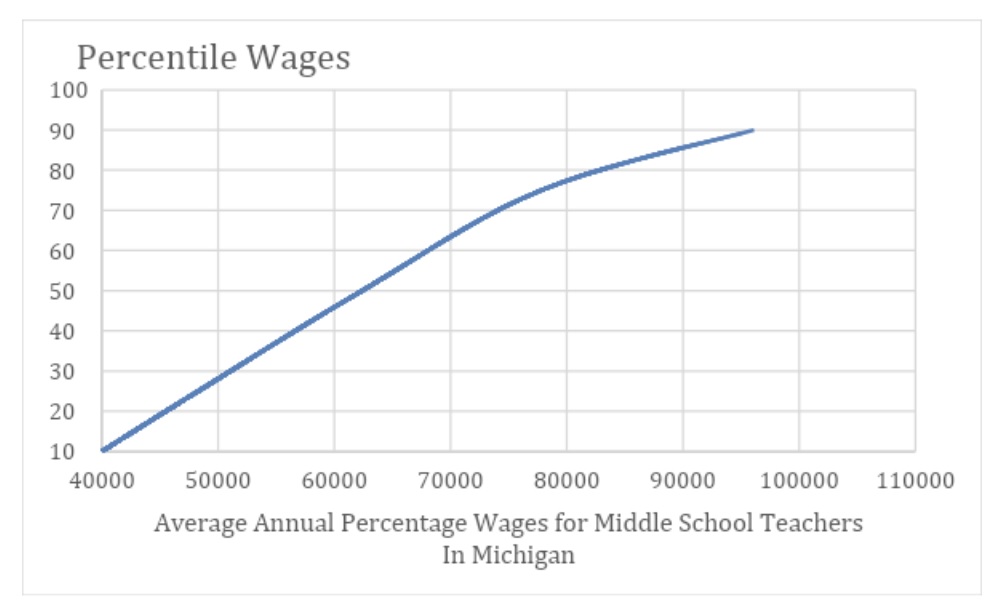 How to Become a Middle School Teacher in Michigan
Becoming a middle school teacher in Michigan requires a bachelor's degree, as it does throughout the United States. However, each state has particular steps and rules regarding licensing and certification. 
According to the Michigan Department of Education (MDE), the following steps are required to become a middle school teacher:
Alternative Route to Certification for Middle School Teachers
Michigan allows alternative routes to certification through approved programs such as those provided by Teachers of Tomorrow. 
MDE's alternative route to teacher certification includes the following steps: 
Already have a bachelor's degree with a minimum of 3.0 on a 4.0 scale

Enroll in an alternative route preparation program

Pass the appropriate MTTC(s)

CPR/First Aid certification

Criminal background check
A candidate may apply for an Interim Teaching Certificate (ITC) once they have met the MDE's alternative route qualifications. The ITC is a non-renewable 5-year teaching certification that enables candidates to work while completing their training at their own pace. 
Alternatively, MDE has the rigorous Expedited Educator Preparation Programs. Candidates co-teach with a mentor or serve as the teacher of record under a mentor while on a valid substitute permit. The candidates must also complete coursework provided by an approved provider, typically conducted on a set schedule.
What is the Highest and Lowest Paying Middle School Teaching Job?
As a certified middle school teacher in Michigan, you can work in various settings:
Public schools

: Salaries in Michigan's public school system vary depending on the teacher's years of experience and skills. The tax base of a school district also heavily influences pay ranges. 

International schools

: International schools have a more rigorous curriculum than most public schools in the country. The best-paying jobs are for teachers in math, science, and at the high school level.

Online teaching:

Online teaching for middle school teachers is often fairly competitive when compared to international or private schools. 

Private schools

: The pay scale of Michigan's 900+ private schools greatly varies. The schools that charge the highest attendance fees tend to pay their teachers the best. 

Charter schools

: Michigan's charter schools are mostly located in urban areas and run on a much tighter budget than public schools. Thus, they tend to offer the lowest-paying teaching positions.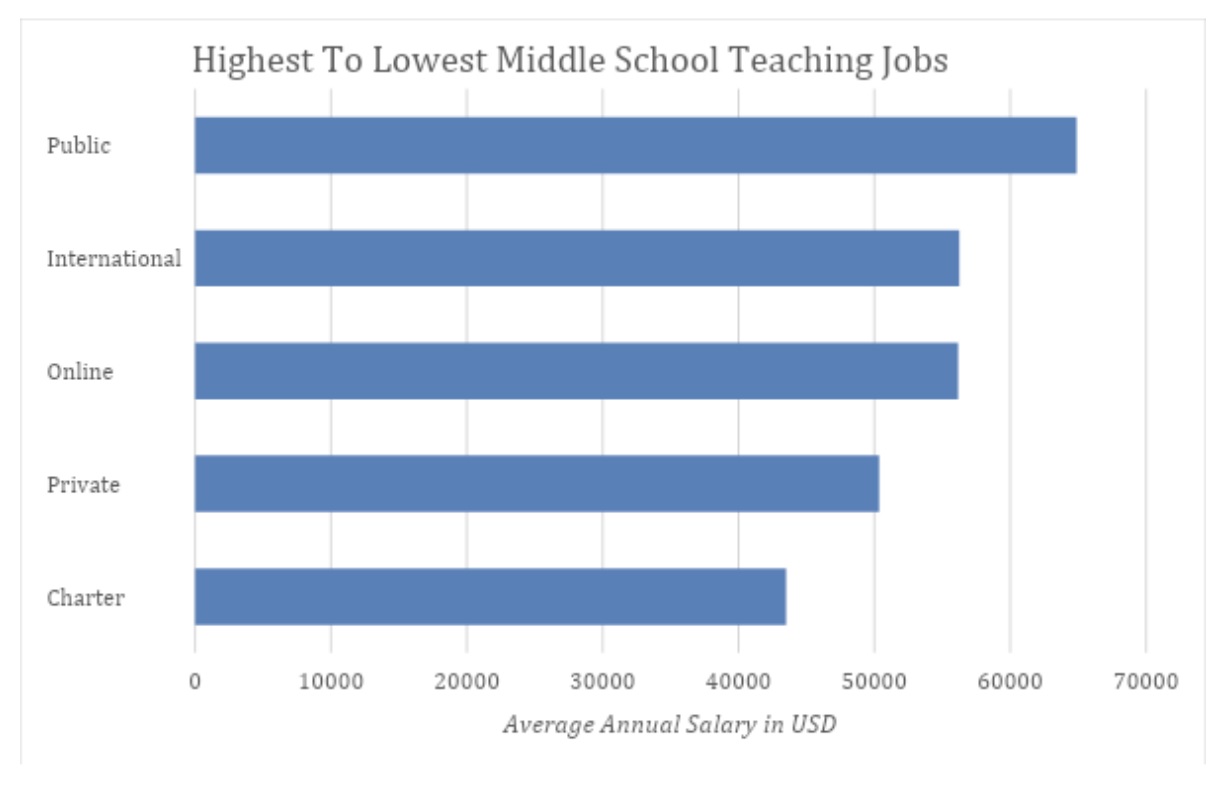 At Teachers of Tomorrow, we are excited to help you reach your goal of becoming one of Michigan's top middle school teachers. Don't wait to begin your opportunity to make a difference.  
Related Teaching Careers
How to Become a Substitute Teacher in Michigan 
How to Become an Online Teacher 
Related Articles 
How to Become a Teacher in Michigan
How Much Does a Middle School Teacher Make in Indiana
Middle School Teacher Salary in Texas